Linda Thompson's Autobiography
Reveals Elvis the Man, Not the Myth
"It makes me feel really lonely to know that not many people know me, the real me. But you do, Ariadne. You know who I am, and you love me, and one day maybe you'll write a book about me. About the man, not the myth."
 — Elvis Presley to Linda Thompson in 1974
---
So why did it take Linda Thompson, Elvis Presley's girlfriend from 1972-76, so long to write the book that Elvis had given her permission to write over 40 years before? She answered that question in the Introduction to her 2016 autobiography, "A Little Thing Called Life." She says she turned down an offer to write a book about Elvis soon after he died in 1977. "I didn't accept because I never wanted to be thought of as someone who exploited my relationship with Elvis," she explained. "There was already an abundance of those opportunistic individuals." She added,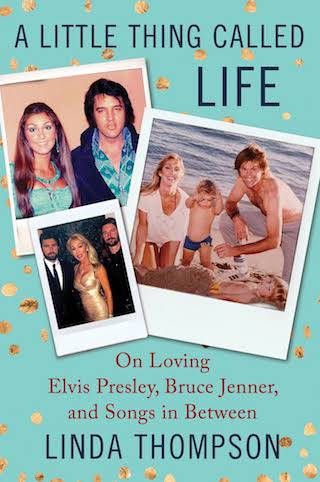 "I knew, eventually, it would be important to discuss my time with him, to detail the man I knew for fans and cultural historians alike. I knew that by waiting until I had carved out my own way in the world and lived my life more fully, my inclusion of the Elvis years would carry more dignity and credibility."
Taking four decades to live her life "more fully," however, gave Linda Thompson much more than Elvis to write about, as indicated in her book's sub-title: "On Loving Elvis Presley, Bruce Jenner, and Songs in Between." The first half of her book focuses on her four-and-a-half years with Elvis, with the second half covering the four decades of her eventful life since parting with Elvis in 1976. She clearly knew, though, that Elvis fans would comprise the main market for her memoirs.
"After nearly forty years of harboring his special words and deeds to myself, I now feel compelled to share Elvis with those who love him still," she explained. And it doesn't take long for the reader to realize that her target audience consists of mainly Elvis' female fans. Thompson gives the countless women who have ever imagined being Elvis Presley's girlfriend a window into that fantasy world. She uses romantic language to describe her love affair with Elvis. His lips were as "sweet and soft" as the "puffiest marshmallows," and Elvis made love the same way he kissed—"with his whole being."
Other topics along the way will be of interest to the women who still love Elvis, while inviting his male fans to do some scanning. Fashion, for instance. Thompson revels in describing the clothes she wore during her Elvis years, including the night she first met him in 1972. "I smoothed down my short silk skirt, which was fitted at the waist and flouncy. I was wearing it with a matching cream-colored bodysuit printed with lavender flowers, and lavender suede high-heeled sandals." Then there's the time Elvis sent her out to buy a whole new wardrobe in Las Vegas: "I bought these stunning, sleek jersey dresses that fit me like a second skin, and would peer at myself in the mirror with wonderment at my good fortune." You get the picture.
• Love at first sight at the Memphian
Thompson's story opens with a phone call on August 16, 1977, from a distraught Lisa Marie telling her that Elvis is dead. Having parted with Elvis just the previous December, Thompson did her best to comfort Lisa Marie. Once the shock past, Linda asked herself a pivotal question: "What would he want me to wear to the funeral?" It seems a shallow thought at first, but as subsequent chapters reveal how Elvis had micro-managed her appearance in their years together, it seems like a natural question.
Thompson then briefly recounts her growing up in Memphis. An Elvis fan, she saw all his movies at the Strand Theater and memorized all the lyrics to his songs. Like many other Memphis teenagers, she made the pilgrimage to Graceland's gates to get the King's autograph.
Her narrative then jumps forward to describe in detail the evening of July 6, 1972, when, at the age of 22, she met Elvis Presley at the Memphian Theater. They were drawn to each other immediately, and spent hours that night making out in the theater. He invited her to Graceland to meet his father the next day before she left town on a family vacation the next day. When she later returned to Memphis, she learned Elvis had been frantically trying to find her.
"Sweetheart, you told me you were going on vacation. You didn't tell me you were going to drop off the face of the earth for two weeks. I've been going crazy trying to get a hold of you. Who do you think I am? Who the hell do you think I am? What do you think I meant when I said I want to be with you? I meant every word I said to you! I want to be with you."
This directly quoted rant by Elvis is an example of an unusual feature of Linda Thompson's story. Throughout she provides similar quotes from Elvis and many others, including herself. One of the tenets of journalism is that quotation marks should only be used to relate the exact words spoken or written by the person being quoted. Now, there is no way Linda Thompson could remember the exact words Elvis spoke on the above occasion or on the many others occasions that she quotes him directly. Therefore, the reader has to trust that she constructed these quotes based on vivid memories of what Elvis actually said.
Keeping that reservation in mind, though, Thompson's strategy of using direct quotes is very effective in bringing Elvis to life in her narrative. Paraphrasing, which is what authors usually do in such cases, would not capture the emotional communications that Elvis Presley and Linda Thompson obviously shared during their relationship. Still, it must be noted that when Thompson quotes Elvis, it is not exactly what he said.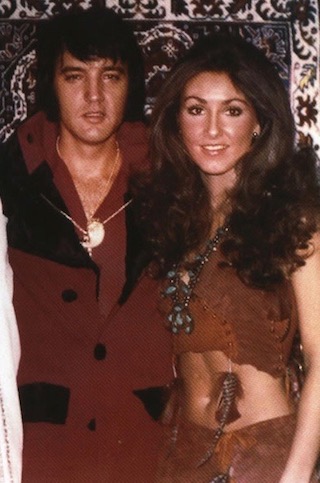 Thompson describes how she and Elvis immediately became soul mates. "Those first few days with Elvis were sublime," she recalls. "He was incredibly romantic, tender, thoughtful and loving." She was more than willing to merge her life fully with his. "From the start, my life revolved around him and his schedule, and making him happy, which along with his laughter, became the greatest source of my own happiness." Incredibly, Thompson reveals that during their first year, they were together 24 hours a day, 7 days a week, except for Elvis' occasional excursions to Thunderbird Jewelers in Las Vegas to buy presents for her. 
Theirs was a deeply woven, multi-layered relationship, according to Thompson. She spends a good portion of her text explaining the intricacies of the bond between them. The following passage summarizes it best.
"Ours was a complete relationship—when the need arose, we got to be everything to each other. He was almost sixteen years older than I and so it was natural for me to sometimes be the little girl, with him playing the daddy. More often than not, though, I was the mommy, and he was the baby. Sometimes we were lovers. Sometimes we were brother and sister. Sometimes we were best friends. We were all things to each other at one time or another. And Elvis was always, always everything to me."
• Linda Thompson was a perfect fit for Elvis?
Of course, Elvis' female fans will want to know why Elvis chose Linda Thompson from among the multitude of women who aspired to become his girlfriend. She believes the answer lies in their common backgrounds. Both were raised in poor Southern families with mothers who expressed their love through baby talk. 
Thompson says one of the wisest and most memorable things she ever said to Elvis was on the night they met: "You should have married a Southern girl." He readily agreed. "I was that Southern belle," she noted, "who lived for her man and catered to his every whim. I was pretty much a perfect fit for him 'right off the rack'—no alterations needed."
The author takes time to describe the relationships she had with other important people in Elvis' life. "As loyal as they were to him, I think the guys really loved me," she writes of the Memphis Mafia gang. "We spent countless hours together because I was like the fourteenth steady guy in the crew. They knew beyond a shadow of a doubt that I took good care of Elvis, and it made their jobs easier. When I was around, they didn't have to check on him every few minutes."
Linda first met four-year-old Lisa Marie at Elvis' Los Angeles home in 1972. They brushed each other's hair, and "were close from that moment on," Thompson says. Elvis and Priscilla were working through their divorce when Linda came on the scene. She describes only limited and cool but cordial contact with Lisa Marie's mother. Colonel Parker entered Linda's world only when she accompanied Elvis on tour. She believes Elvis's manager held him back in those years, both from performing overseas and returning to acting, which she says Elvis wanted to do.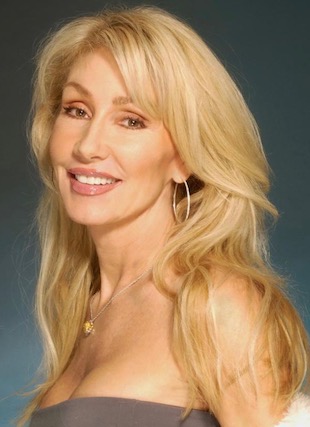 Of Elvis' entertainment career during her years with him, Linda Thompson has little to say in her book. She indicates that she was seated in the audience for his Las Vegas shows, but she does not offer an opinion about them. She does praise his 1973 "Aloha From Hawaii" special as "an amazing show for fans the world over." If she ever attended a Presley recording session during those years, she doesn't mention it. 
While not commenting directly on Elvis' stage work in Las Vegas, Thompson does describe his afternoon preparation in their Hilton suite for those shows.  
"He began getting ready for his shows with a routine he'd perfected by this point in his career. This meant steps to care for his voice, including a saltwater nasal douche to clear out his nasal passages, followed by all of these god-awful sounds, and spewing and spitting. It wasn't the most romantic or attractive thing in the world, but he applied himself to his preparations with special attention … God had imbued him with his incredible, incomparable gift, and he felt a great responsibility to maintain what he had been given, caring for his voice in a way that he did not employ with his body."
• Elvis' passage toward the dark side
Of course, Linda Thompson experienced Elvis' dark side, and discusses his prescription drug use, his explosive temper, and his infidelities during their years together. She mentions no physical abuse of her, but his intense jealousy at times erupted against her if he thought she looked at or spoke familiarly about another man.
One telling temper tantrum occurred in the months after the "Aloha" special, when Elvis started putting on weight. Thompson says he loved ice cream sandwiches and at times would eat a whole box of them one after the other. At times he sent her downstairs at Graceland to get them one at a time for him. Once on her mission to the kitchen, Charlie Hodge told her not to give Elvis another ice cream bar because he was putting on weight. Linda says Elvis overheard Charlie, and exploded at his old friend.
"Don't you ever tell her what to do or not to do in my house. This is my house and she's doing this for me. She tries to tell me, but it's up to me what I'm eating and not eating. If she doesn't get me what I want when I want it, goddamnit, then I'll just get pissed, and I'll go down and get it myself. So just shut the fuck up!"
(That kind of angry reaction by Elvis should be a revelation to those of his fans who wonder why the guys around him didn't do something to stop his self-destructive behavior. - AH)
Early in 1974, the gathering storm that would end Thompson's relationship with Elvis, and eventually his life, began to grow in strength. She describes the hospital stays, the drugs, the guns, the obesity, and the other women. She left him briefly in mid-1974, but went back quickly. She finally moved out of Graceland for good in December 1976. I suspect most Elvis fans will find this section of Linda Thompson's story unpleasant, but for those who want to know it all, it's there.
• Some special stories and words of wisdom
Linda Thompson's book contains many interesting sidebar anecdotes. She reveals her personal recipe for making Elvis' favorite peanut butter and banana sandwiches. There are interesting little stories, such as the time a bullet Elvis fired came through the wall, barely missing her in a Las Vegas bathroom, and the time Elvis almost drowned in his chicken noodle soup. There's not a whole lot of humor in Thompson's book, but I laughed out loud when she explained why Elvis wore high-necked collars and what Elvis did when he had to take a piss while watching Don Rickles' show in Las Vegas.
Finally, here are two of the best lines about Elvis in Linda Thompson's book. (1) On why Elvis wore sunglasses even at midnight: "because when you're that cool, the sun shines on you twenty-four hours a day." (2) "There's right, there's wrong, there's black, there's white, and then there's Elvis Presley."
So, should Elvis fans read Linda Thompson's book? Sure. There's lots of new information here, and it comes from someone who was very close to Elvis during the last years of his life. Most importantly, Linda Thompson displays no agenda beyond revealing the deep love she felt for Elvis Presley. I trust her memories a lot more than any of the others in his inner circle in the mid-seventies. — Alan Hanson | © January 2017
Reader Comment:  I think is wonderful they had time together and remained friends. It shows her character to remain friends with the family. But to say if they stayed together, she might have been able to save him is demeaning to both her and Piscilla. Elvis was his own man. He wouldn't let anyone stop him from doing what he wanted to do, even to the point of firing supposed friends for not doing what he asked. He was a prisoner of his own fame, which is also a reason for his drug use. And he was a unfortunate to be born just short of it being acceptable to get help. (Re: Betty Ford Clinic.) So everyone wanted to help. He couldn't or wouldn't accept it. That doesn't make him bad. It just makes it God's will. He's with his Mom And Dad. And he has divine understanding, so he truly understands the love he had on earth. And I'm sure he is looking forward to seeing the rest of his family and friends and maybe fans too some day. — Mary (July 2018)
Reader Comment:  I so agree with you about trusting Linda Thompson's memories more than most others in Elvis' inner circle during the 70s. What a blessing Linda did not do drugs with Elvis and therefore was aware and able to help temporarily save/extend his life. Linda's choices, words, and intentions proved as real as yours also have as a lifelong Elvis fan and blogger. — Marilyn (August 2023)