Live a Little, Love a Little
Behind the Scenes of Elvis Presley's 1968 MGM Movie
On February 22, 1968, Elvis Presley flew from Memphis to Los Angeles, where he moved into a rented house on Hillcrest Drive. Although he had come west to start work on his twenty-eighth motion picture, his mind was on other events. His daughter Lisa Marie had been born just three weeks earlier on February 1. Also, he was anticipating his upcoming NBC-TV special, work on which was scheduled to begin the first week in June 1968.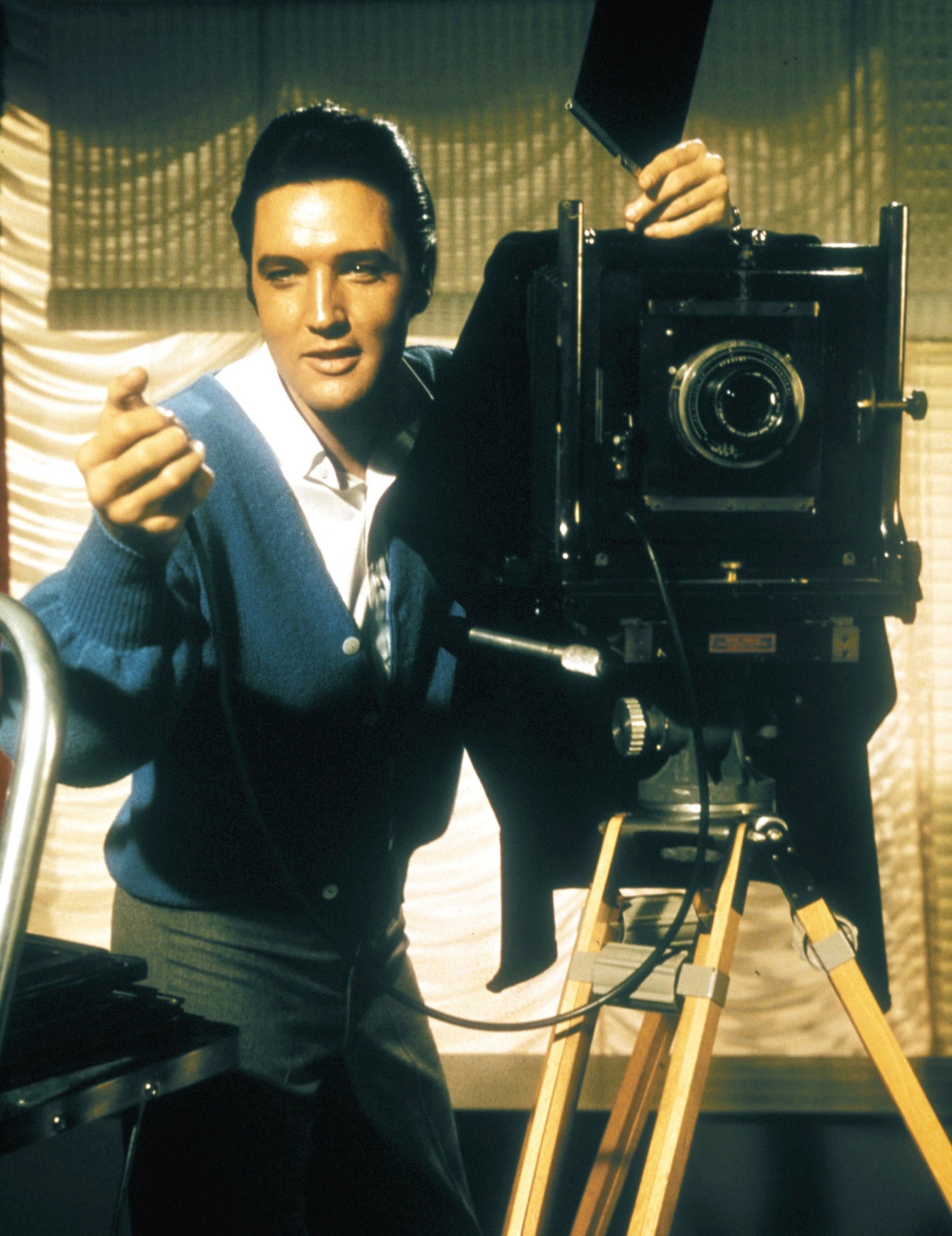 MGM, then, had just a three-month window in the summer of 1968 to film its latest Elvis Presley film. That put the studio under the gun, despite already having two Presley films — Speedway and Stay Away, Joe — in the can and pending release.
Of course, the studio and Colonel Parker began feeding the Hollywood press details about the upcoming new Presley movie long before the cameras started rolling. The film was first mentioned in Florabel Muir's Hollywood column on December 22, 1967.
"Metro may really succeed in changing the Elvis Presley image with his next film. It will be his eleventh for the studio, 'Kiss My Firm But Pliant Lips,' by Dan Greenburg. The emphasis will be on comedy rather than song."
A week later, the Memphis Press-Scimitar added that the offbeat title was based on Greenburg's novel of the same name. (After screenwriter Michael Hoey adapted Greenburg's story for MGM, the movie's title was changed to Live a Little, Love a Little.) Douglas Lawrence would produce the film with Norman Taurog directing his ninth film with Elvis. Taurog first worked with Elvis in G.I. Blues, and subsequently on Blue Hawaii, It Happened at the World's Fair, Spinout, Double Trouble, and the unreleased Speedway.
Producer Lawrence declared there would be no deviance from the structure of previous MGM Presley films. "Any producer who tries to change Elvis Presley's image is off base," he explained to Hollywood columnist Harold Heffernan. "I don't experiment with anything successful," he added. In his April 24 column, Heffernan revealed the film's basic storyline. "Elvis plays a photographer, who attempts to juggle a pair of contrary jobs, one for a reputable advertising agency, the other for a bawdy men's magazine." Columnist Jack Bradford later explained, "To keep up with the changing times, Elvis will have three affairs with his leading lady … but Pres wants you to know: 'It's not a dirty film — just a little crazy.'"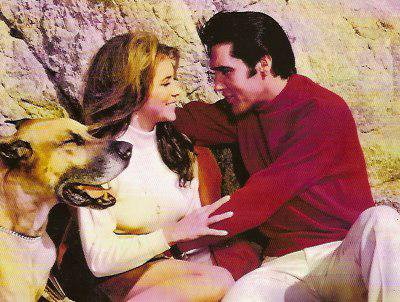 • Two leading ladies cast
The Hollywood press learned in early March that Michele Carey, a 25-year-old brunette, had been chosen as Elvis' twenty-first leading lady. One LA writer claimed Carey had won the part with Elvis, "following interviews with more than 100 young actresses here and in New York."
Nashville's The Tennessean, provided the following profile of Carey in a January 12, 1969 article.
"Michele's good omen is that she's a discovery of producer-director Howard Hawks, who launched the careers of Lauren Bacall and Jane Russell. He directed her movie debut movie, El Dorado, and she has subsequently appeared in The Sweet Ride and Changes. The daughter of a former Mayo Clinic surgeon, Michele was born in Annapolis, Md., and brought up in Rochester, Minn., and Fort Collins, Colo. At the age of 13, she was a piano prodigy, appearing with the Rochester Symphony Orchestra. After high school, she became a model in Denver and moved on to Hollywood, where she caught Hawks' eye."
As a rival for Elvis' attention in the film, producer Lawrence cast Celeste Yarnall. The blue-eyed blonde had given up a career as a top commercial and photographic model to pursue a career in motion pictures. A New York newspaper profiled her in October 1968.
"Her unusual, Nordic-like beauty led to the coveted Miss Rheingold crown. Winning a one-year contract, she traveled the world as spokesman for the company. Next came guest-star roles in TV series. At '67 Cannes Film Festival was voted 'Most Photogenic Beauty.'"
Many other young actresses were cast as models for Presley's work as a commercial photographer in the film. Susan Henning, a former Miss USA, signed on as a mermaid, and Miede Jensen, who had appeared on the covers of over two dozen magazines got her first film job as one of Elvis' models. A May 12, 1968, Hollywood column listed a half-dozen more girls who got roles in Live a Little, Love a Little.
"A sextet of young actresses will play Kitty Girls opposite EP in his latest MGM musical comedy, Live a Little, Love a Little, now before the cameras at the Culver City Studio. The girls are Carolyn Antonson, Bonnie Bohm, Kathy Dawson, Vikki Parker, Sunny Tomblin and Susan White who will appear in the film's takeoff on a prominent national magazine."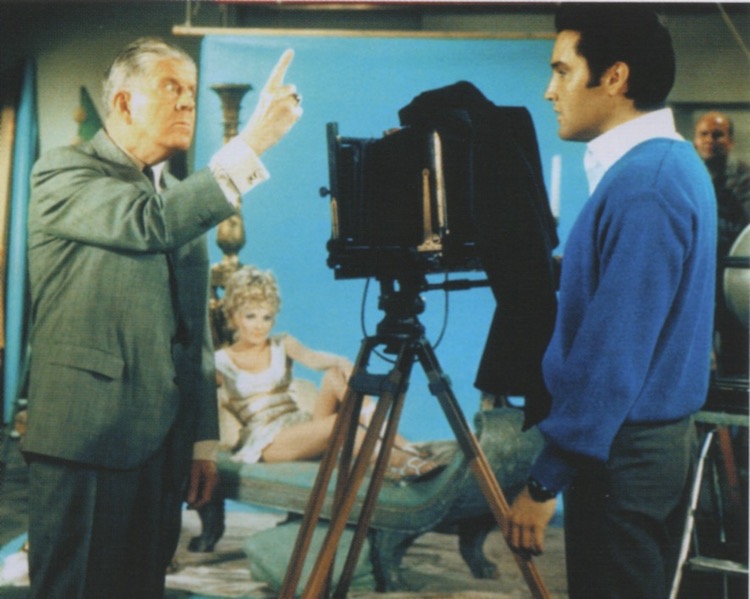 • Rudy Vallee topped lucky male cast
The three top male supporting roles went to Rudy Vallee, Dick Sargeant, and Don Porter. Sargeant played Bernice's persistent but rejected lover, while Porter portrayed the editor of a Playboy-type magazine. Vallee, as the editor of a respectable ad agency, was a surprise choice, as the New York Daily News noted in a March 11, 1968, article.
"The Vagabond Lover of the 1920s will join the hip-swinger of the 1950s in a new comedy rolling this month at Metro. Rudy Vallee co-stars with Elvis Presley, who plays a roving photographer. Rudy will be seen as the pompous head of an advertising agency who clashes with him. One of the most popular and versatile performers in show business history, Vallee has been a singing star, radio personality, bandleader, as well as stage and screen actor. His most recent film was How to Succeed in Business Without Really Trying, recreating the award-winning role he played in the Broadway production." 
Elvis reported for pre-production work on his new MGM film on March 4, 1968. The first week he participated in script rehearsals and recorded four songs for the soundtrack — "Almost in Love," "A Little Less Conversation," "Wonderful World," and "Edge of Reality" — at Western Recorders studio on Sunset Boulevard. Billy Strange, a young composer-conductor-arranger, managed the session and wrote the film's musical score.
Principal photography for the film began on March 13. To avoid problems with the throngs of spectators Presley attracted whenever he appeared in public, almost all the scenes for Live a Little, Love a Little were shot at the studio's Culver City lot.
• Mermaid scene shot at Marineland
The script called for one scene to be shot at a popular tourist site. On March 15, director Taurog planned to secretly move his cameras 20 miles down the coast to Marineland to film a mermaid sequence. In his Hollywood column, Harold Heffernan revealed what happened when the word got out that Presley was coming.
"The beautiful park appeared serene when the company of 50 trucked their equipment onto the porpoise area of the park. Within an hour, however, the grapevine had spread the sensational news, not only to customers inside, but apparently to outsiders for miles around. As the throngs closed in on the poolside, director Norman Taurog hastily phoned for additional guards, who in moments arrived by helicopter.
"Elvis plays a photographer, who attempts to juggle a pair of contrary jobs, one for a reputable advertising agency, the other for a bawdy men's magazine. This segment has brought him to Marineland to get photos of a scantily-clad mermaid. She's a fraud, of course — actually its actress Susan Henning, a former Miss USA — but she's luscious all the same.
"The growing crowd around the porpoise tank doesn't care. There're intrigued. They are interested in seeing the mysterious Presley in the flesh as he chats casually with the incapacitated lady from the sea. Occasionally, Elvis turned and flicked a smile toward the onlookers.
"Suddenly the casual atmosphere changes, everything becomes serious. Taurog … signals for lights to go up and for the grips to tenderly lift Miss Henning out of her chair and onto the precarious end of the 'feeding board.' Taurog calls 'action' and Elvis begins clicking his camera at the mermaid. Even the porpoises began jumping out of the water right on cue. As the star begins delivering his lines, Miss Henning, eating what answers for a hunk of Danish pastry, looks up as Elvis says: 'Hot damn! I've got to be at the music center in 20 minutes."
The cameras stop. Elvis signs a few autographs, then disappears into his trailer. The crowd, Heffernan noted, "grudgingly, began to disperse."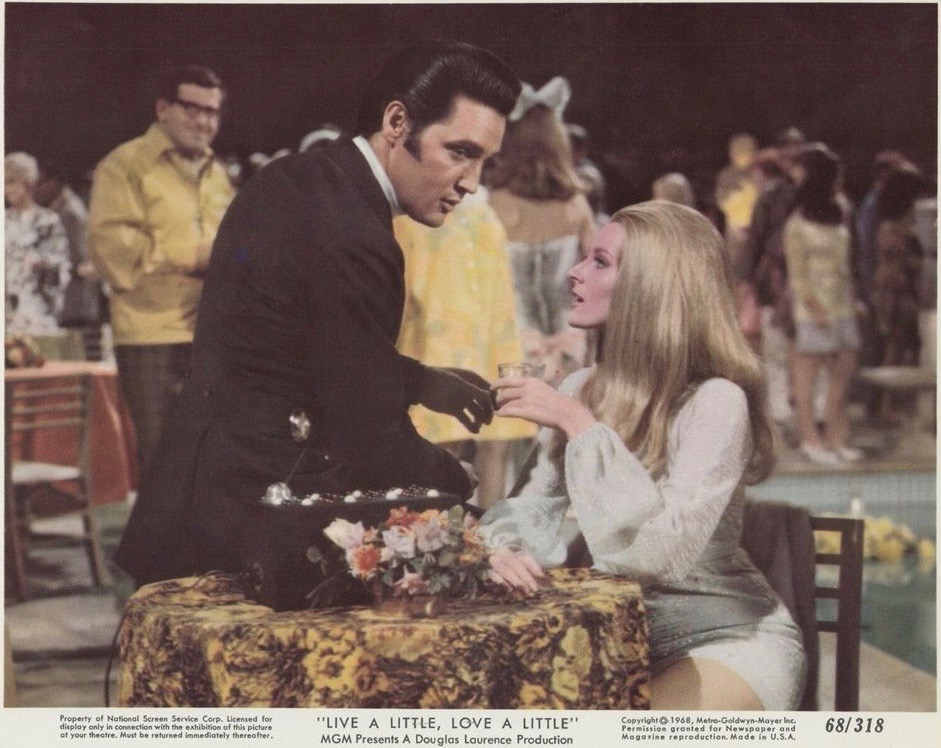 • Visitors Observe Action on the MGM lot
Unlike Hefferman, fellow Hollywood columnist Dorothy Manners couldn't get close to Elvis. She knew someone who could, though. Dorothy's mother, Gertrude Winnett, was a friend of Virginia Ream, who happened to be director Norman Taurog's mother-in-law. Using Virginia's "pull" with the director, the two women were invited to visit the set of Live a Little, Love a Little, where Elvis posed for a picture with them. Later Dorothy tried pumping her mother for some information for her column. "Did you ask him about the baby?" she asked. "I did," her mother responded, "and he said it made him nervous to hold her because her neck is still wobbly." Dorothy noted, "It's the last time I send a relative out as a reporter."
Los Angles Herald-Express gossip columnist Harrison Carroll was one of Colonel Parker's favorites. In the early and mid-sixties, Carroll often viewed and described in his columns the action on the sets of Presley's movies. He was there when Live a Little, Love a Little's "party" scene was set up and filmed. The girly-magazine editor played by actor Don Porter was hosting the party. "Pussycats" (well-rounded girls in skimpy costumes with simulated cat fur, ears, and tails) were scattered all about.
While waiting for director Taurog to start the action, Carroll talked with Porter. "My first scene was what sold me on the picture," the actor said. "I'm lying on a massage table. One girl is giving me a manicure, another a pedicure. A Japanese beauty is walking up and down my spine. I couldn't resist the part. I told my wife she was barred from the set. All my men friends wanted to be my stand-in."
Looking around at the sixty extras, mostly attractive girls, on the set, Carroll asked the director, "Aren't you getting a little old to direct all these pussycats?" "Not at all," Taurog declared. "I'm just an old cat looking around."
Carroll then spotted Elvis. He was wearing a fancy blue suit, with four buttons down the front, buttons on each pocket and two in the back. Also a white turtle neck sweater. "You wear turtle neck sweaters in real life?" Carroll asked. "Sure. I love them," the star responded while smoking a thin cigar. "Now that he's a married man," Taurog explained,  "we let him smoke."
• Second female lead makes her entry
It's Celeste Yarnall's big episode in the movie. Elvis' character kisses her twice, although she loses him to Michele Carey's character in the end. Still it was enough to make a dream come true for Celeste. A few days before Live a Little, Love a Little was released nationwide in October 1968, she told a New York City columnist the following.
"I may sound as though I were making it up, but as a high school girl, my dream was to become an actress and star opposite my idol, Elvis Presley. Now that I have worked with him, I can say that he is everything I expected and more. One of the grooviest men I've met. He's so real he's unreal, if you know what I mean."
After the party scene, filming on Live a Little, Love a Little wound down. Principal photography concluded on May 1, 1968, which just happened to be Elvis and Priscilla's first anniversary. Columnist Gene Handsaker reported some post-production comments by some of the principal participants. Director Norman Taurog: "Elvis has matured. His outlook on life has changed. He enjoys his work, reads quite a bit and analyzes a script better than ever." Producer Douglas Lawrence: "I don't know where this boy's capabilities end." Leading Lady Michele Carey: "He's very sweet."
*     *     *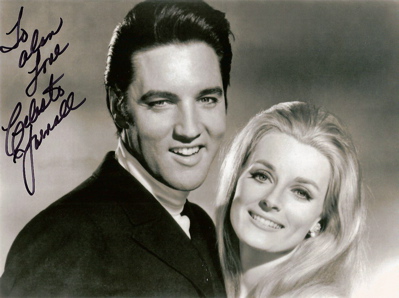 Postscript: I met Celeste Yarnall in 2007 during Elvis Week in Memphis. I was there selling copies of my recently published book, Elvis '57: The Final Fifties Tours, and Celeste was there posing for pictures and sharing memories of her movie with Elvis Presley nearly 40 years before. The years hadn't changed her appearance much in my mind's eye. Sadly, she was diagnosed with ovarian cancer in 2014. She died from it on October 7, 2018, at the age of 74. Coincidentally, just 45 days later, Michele Carey, Yarnall's rival for Elvis Presley's affection in Live a Little, Love a Little, died of "natural causes" on November 21, 2018, at the age of 75. — (Alan Hanson (© June 2023)
Comment: I enjoy this movie and once again find Elvis to be relaxed and great in this as he was in Stay Away Joe and Change of Habit. I don't understand why people criticize Elvis movies for plot holes when the vast majority of movies made have unrealistic scenarios. But, Elvis is great in this, and I enjoy the on location filming. — Robert (2023)