Love Me Tender

It Caused Problems in 1956
For 20th Century-Fox
When Love Me Tender was being prepared by 20th Century-Fox for national release in the fall of 1956, the concept of an "Elvis Presley movie" had yet to be determined. Instead, nervous industry insiders displayed indecision and concern as Presley's debut vehicle headed to hundreds of American theater screens in November 1956.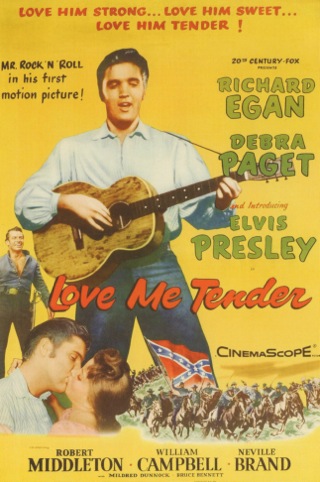 Elvis' road to Love Me Tender began eight months earlier on March 26, 1956, when he started three days of screen tests for Hal Wallis at Paramount Studios in Hollywood. A week later Wallis offered Elvis a contract for one film with an option for six more. After negotiations between Wallis and Colonel Parker were finalized, Elvis signed his first motion picture contract on April 25. When Wallis was unable to come up with an appropriate script for Presley, he agreed to loan the actor out to Fox for his first picture. Principal filming on The Reno Brothers began August 22 in Hollywood and finished up on September 21.
When Elvis signed his Paramount contract in April, he was a rising but untested name in the music business. However, by the time The Reno Brothers started filming in late summer 1956, controversial appearances on The Milton Berle Show and The Steve Allen Show had made him the country's top recording star. To take advantage of the hoopla, Fox executives decided to have Presley perform four songs in what had been planned as a straight acting role. Then, when RCA Victor chose one of the four tunes, "Love Me Tender," to be Elvis' next single release, Fox decided to take a ride on what was sure to be a popular record and gave Presley's movie the same name.
• Should Elvis live or die — or somewhere inbetween?
As the film was being prepared for distribution, second-guessing began at Fox concerning Elvis' final scene in the picture. Hollywood writer Harold Heffernan reported on Fox's plans to change the film's ending.
"Whether Elvis Presley was to remain alive at the finish of his first movie, 'Love Me Tender,' or meet the violent death written into the original script posed a problem so grave for the box-office experts at 20th Century-Fox studio that the board of directors almost had to be called in for a vote." According to Heffernan, a compromise was reached after several "tumultuous" meetings of studio big shots. "Elvis will die from gunfire in a heroic stand to save the life of his brother (Dick Egan) — but then will come a tag shot designed to appease the Presley clan.
Their hero will be shown picking himself up and walking toward the heavens, guitar in hand and singing the theme song, 'Love Me Tender.' The idea also is to milk the ditty for a few extra tears." Of course, the amended ending wound up being not quite as Heffernan described it. Elvis' character did not literally "rise from the grave" in the film's final edit, but instead appeared in a shadowy inset, singing a few lines of the title tune as his family walked away from his grave."
Surprisingly, Heffernan had also been told that the film finale had been edited so that theaters could chose between two different endings. "Exhibitors can either let it run or snip it off," Heffernan revealed of the new ending, "depending on what type of Presley hysteria happens to afflict their customers. Surveys, however, indicate that a majority of theater operators want the softer fadeout. They don't wish to chance their emporiums being vandalized by anguished Presleyites venting their sorrow on everything from seats and screens to carpets and popcorn machines."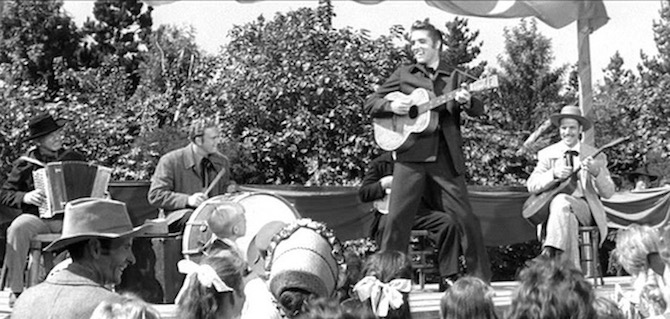 • Richard Egan praised Elvis in Love Me Tender
Much speculation concerning Presley's acting talent also accompanied the coming release of Love Me Tender. His raucous stage reputation preceded him in Hollywood, and many in the film's cast and crew had reservations about him initially. His biggest supporter in the press, however, turned out to be costar Richard Egan, who was actually the lead actor in Love Me Tender. While another established actor might have resented being overshadowed by a beginner like Presley, Egan had nothing but praise for Elvis. "This guy is genuine," Egan told Charles Gruenberg of The New York Post. "There's nothing phony about him and he works hard. He's not conceited. He IS self-assured, but that's fine with me. I'm all for him and all of us associated with him in the picture are rooting for him."
Egan continued to praise Presley in Sheilah Graham's "Hollywood Today" column. "I even grew sideburns because I'm playing his older brother," Egan kidded. "Elvis is a surprising type of actor. He's the male Monroe. He's completely without guile. You give him lines and he says them the way he would in real life. And that's the best kind of acting — when you're not."
Just where to debut Love Me Tender was the next concern of Fox officials. Elvis wanted the film's first showing to be in Memphis. ""I'm working to get the premiere held here on Thanksgiving Day and I think I can do it," he told the Commercial Appeal in October. "And I've asked Kim Novak to come here for the premiere," he added. "Why Kim Novak?" "Because I like her."
Fox, however, decided to give Love Me Tender a traditional opening on Broadway at the Paramount Theater in New York on November 15, 1956. Even though Fox execs generally believed the film would do well at the box office, they were concerned that Presley's personal appearance schedule might reduce ticket sales during premiere week. In fact, Elvis' New York fans may have the Paramount theater chain to blame for their idol never appearing on stage in the city during the 1950s.
An article in Variety on October 17, 1956, reported that, "A deal had been in the works for Presley to go into Loew's State, N.Y., around November 1 on a percentage deal. However, the nearby Paramount objected to that date because of the fact that the Presley pic 'Love Me Tender' would be current at the theatre around that time, and Presley thus would be creating his own competition to his picture."
• Colonel Parker and Elvis kept the money rolling in
Of course, Colonel Parker would later embrace the strategy of minimizing Elvis' public exposure to maximize movie ticket sales, but, according to Variety, at the time of Love Me Tender Parker believed in working Elvis on all cylinders. "Presley's one-nighters have been hitting top takes, and he, together with his manager, Col. Tom Parker are loathe to give up that kind of coin even to increase the film gate." The New York appearance was dropped to appease the Paramount and Fox, but Elvis continued to appear elsewhere during November.
This gave the studio a "headache," according to another Variety article a week before the New York premiere of Love Me Tender. "They wish they could keep their hip-gyrating hero under wraps until the picture launches on its 600 saturation dates on Thanksgiving," Variety noted of Fox promoters. "20th is mighty disturbed over reports that Presley's manager, Col. Parker, has booked the singer for a series of public appearances coinciding with the opening of the film. Coast reports that Presley is booked into the Toledo Auditorium Nov. 22, and will swing through Kentucky, Ohio and other states after that."
The reports were true. Love Me Tender opened at the Paramount in Toledo on Wednesday, November 21, just one day before his stage show played the city's Sports Arena on Thanksgiving Day. But, as Mitch Woodbury reported in his Toledo Blade column, "Elvis in person didn't prove much competition for Elvis on film. His presence in 'Love Me Tender' attracted the heaviest single day patronage the Paramount has enjoyed in a long time." Meanwhile, according to Variety, the highest gross for a single day was racked up by Elvis Presley in the mammoth Sports Arena on Thanksgiving Day."
• Love Me Tender a disappointment on Broadway
Meanwhile, back in New York City, Love Me Tender was teaching Hollywood moguls some lessons that would be useful in booking subsequent Presley films. "Presley Draw Up-and-Downish On Broadway" read the November 21 headline in Variety. The article explained that Love Me Tender opened to a full crowd of teenagers on Thursday, but fell off sharply that night and didn't revive until Saturday.
"Juve idols like Presley, whose fascination for the teeners is somewhat difficult to fathom, hold little more than a curiosity interest for the adult audience," Variety concluded. "Speaking generally, observers are wondering whether the strictly juve appeal — as contrasted with 'family' appeal — can really pay off for the [theaters] who stand in danger of losing their evening biz." Fox, however, was still enthusiastic about Love Me Tender going into the Thanksgiving weekend. "In the minds of 20th execs," noted Variety, "while the Paramount Theatre experience represents a disappointment, 'Love Me Tender' is going to 'clean up' in the neighborhoods where kids have an easier access to the attraction.
"Even at 20th, however, it's regretted that it takes something like 15 to 20 minutes before Presley shows up in the picture." Clearly, the behavior of teenagers in the theaters helped keep the adults away. Boyd Martin's review of Love Me Tender in the Louisville Courier-Journal outlined the problem as follows: "If you can stand the catcalls, insinuations, jibes, frenzied screams of highly emotional young girls, you will find that 'Love Me Tender' is exceptionally well done and interesting throughout. It is only the audience that is nauseating."
• Hal Wallis went to school on Love Me Tender
Ultimately, Hal Wallis learned three lessons from 20th Century-Fox's experience with Elvis. First, scrap the Broadway premiere and go right to where the teenagers live. Paramount's Loving You had no official premiere in July 1957. Instead, it opened with a saturation booking in neighborhood theaters around the country, some 90 houses in the New York metropolitan area alone. Second, downplay the acting and highlight Elvis' vocal talents. In the three Presley films that followed Love Me Tender, Elvis portrayed professional singers. Finally, Wallis learned to put Presley's name at the top of the marquee and let him carry the movie from beginning to end.
While Love Me Tender opened to generally negative reviews in 1956, in one important respect, it could be considered the most significant film of his career. The flaws in Love Me Tender helped Hollywood producers, for better or for worse, quickly identify the most successful way of using Elvis in films. The "Elvis Presley movie" formula was starting to come into focus. — Alan Hanson | © 2010