Ursula Andress
Elvis' Leading Lady in "

Fun in Acapulco"
"Can't remember when I last had news about Ursula Andress. But up she crops with Elvis Presley in 'Fun in Acapulco' for Hal Wallis. As I remember Ursula, I'd hardly have picked her as a vis-à-vis of Elvis—but it has been so long since I've seen her, she may have changed. The last news of her was when she and John Derek were married and went to Europe for movies. Her latest over there was 'Dr. No' in London. Anyway, Ursula is off to Mexico with Elvis and company right after the holidays." — Hollywood columnist Louella Parsons, December 6, 1962.
---
At the time, Louella's lukewarm comments about Ursula Andress were understandable. Although a young actress under contract in Hollywood in the mid-fifties, Andress had never appeared in an American film. Now she was back in Hollywood after what she called a "short retirement" of six years. Louella had not yet seen "Dr. No," the British made James Bond film that featured Ursula as the first "Bond girl." When it was first released in the U.S. five months later, Andress suddenly became a hot prospect in Hollywood.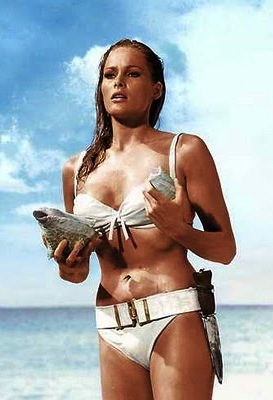 Ursula Andress was born in Switzerland on March 19, 1936, to a Swiss mother and a German father. She left home at age 17 and went to Rome, where she did some modeling. In a 1963 interview, she recalled how her acting career got started. "In Rome any girl with blonde hair—well, the Italians approach you on the street and they throw all kinds of fits and right away they say, 'You must be in pictures. You must.' So I somehow wound up in films." She had small parts in only three or four low-budget Italian films, but it was enough for Paramount Pictures to notice her and offer her a Hollywood deal.

Since she didn't speak English, she was first sent to London, where she stayed with Audrey Hepburn's mother. When she had trouble learning English, the studio let her play a pussycat in her screen test. "And that's how I got to Hollywood at $50 or $100 a week, I forget which," she said.
Paramount brought her over as an exciting teenager in 1955, but Ursula struggled in her first Hollywood stint. Still unable to master English sufficiently, she was shielded from the press by the studio. "I spent most of my time watching all the old Marlene Dietrich movies in projection rooms," she told columnist James Bacon in 1963. "I'll tell you frankly, I've never been ambitious and I wouldn't spend any time learning English. I was lazy and lacked incentive and wouldn't study. I never had the courage to prove myself."
Paramount eventually dropped her, as did Columbia, which had picked her up for a short time. In 1957 she married actor John Derek. The couple left Hollywood and began roaming the world, making films. Then came her breakthrough role as Honey Ryder opposite Sean Connery in "Dr. No." Producer Albert "Chubby" Broccoli recalled how she was cast. "We picked her picture out of a pile of rejects. She was dripping wet, and she looked beautiful. So we made a deal for her. When I got to Jamaica for the filming, there was this beautiful creature. I knew then that she was the type of girl we should use for future leading ladies." Many consider her emergence from the water onto a Jamaican beach the most iconic scene in all of the Bond films. "This bikini made me into a success," Ursula admitted. "As a result of starring in Dr. No as the first Bond girl, I was given the freedom to take my pick of future roles and to become financially independent."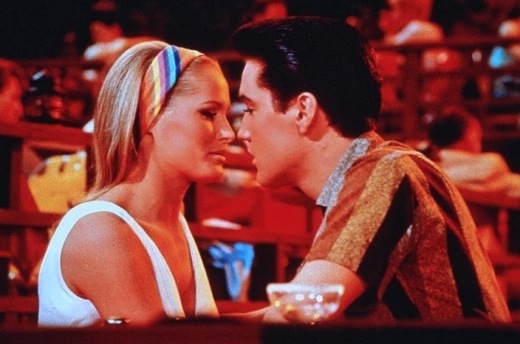 By the time Ursula returned to Hollywood in 1962, she had learned to speak English. (She was also fluent in French, German, Italian, and Swiss-German.) Producer Hal Wallis, probably familiar with her from her time with Paramount six years earlier, quickly signed Ursula for her first American film as Elvis Presley's leading lady in "Fun in Acapulco." It was also the first major film in which her voice was heard. (Her thick accent caused "Dr. No's" British producers to overdub her speaking parts in the film with another actress' voice.) There was some irony concerning her voice in "Fun in Acapulco." "I play a European princess who meets Elvis Presley in Acapulco," she told James Bacon. "Now I, who speak such good English, must develop an accent. Crazzee business, isn't it?"
This time in Hollywood, things happened quickly for the once discarded actress. Wallis announced her signing for "Fun in Acapulco" on December 12, 1962. Production of the Paramount film began less than a month later on January 5, 1963. Andress had already finished her work on "Fun in Acapulco" by the time "Dr. No" opened in the United States in May 1963. The Presley film opened nationwide on November 27, 1963.
Between the releases of the Bond and Presley films, the Hollywood press vigorously promoted Andress' erotic qualities. "Ursula Andress: Hollywood's New Sex Goddess," was the title of Lloyd Shearer's article in Parade magazine on June 23, 1963. "Hollywood equates sex appeal with a large bust measurement," the author declared. "Ursula measures 38, so she easily qualified on that score. She is 27, 5-feet-5, weighs 120 pounds and boasts a fantastically curvaceous figure plus a firm, provocative musculature which is tinder that will set any man aflame."
In the Presley film, she played Marguerita ("Maggie") Dauphin, the assistant social director at an Acapulco resort where Presley's character doubled as a singer and a lifeguard. Variety's review of the film on November 20, 1963, made no comment on Andress' acting ability but did describe her as "a fine-looking specimen." Many other reviews of "Fun in Acapulco" commented on her physique. Stanley Eichelbaum in the San Francisco Examiner judged her "delectable" and noted, "Miss Andress looks even more alluring in a bikini than she did in "Dr. No." The smoldering screen aura she displayed in the Bond movie, however, was softened in the Presley film. She expressed no need or desire to consciously project sex appeal. "I don't use my body to seduce," she later said. "I just stand there."
In "Fun in Acapulco," she does a lot of just standing there, along with a good amount of walking and sitting. In the film, she never flirts, dances, or in any way uses her body to send out sexual signals. In the film's closing production number, she can be seen in the crowd gently swaying to the music, but not even then does it draw attention to her physical attributes.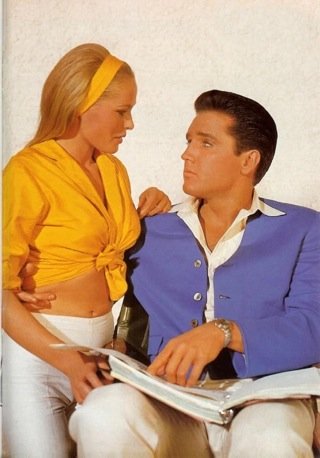 In fact, in the Presley movie, Ursula has only a few of what could be called "action" scenes. Twice she is seen swimming in the hotel pool, but only for a few seconds each time. Other than that, her only other scene requiring physical exertion takes place while she is sitting at her desk in the hotel. Angry with Elvis about his date the night before with Dolores Gomez (Elsa Cardenas), Maggie throws a book at Elvis as he walks out the door. In The Los Angeles Times, John L. Scott explained that it turned out to be a difficult scene for Andress.
"Prop man Bob McCrillis, an old pro at this sort of thing, chose a hardcover edition of Homer's 'Illiad' for Ursula to throw—not because of the book's title or literary content, but for the reason that the prop department somehow had seven copies, all of them expendable. In 13 hard tosses, Miss Andress ruined four books and one valuable tropical plant that became a sort of innocent bystander. Her aim was wild, but her timing was perfect; Elvis escaped unscathed each time."
The actress' shoulders turned out to be her most prominent physical feature in "Fun in Acapulco." In close ups, her large shoulders extend out of the frame on both sides. Presley biographer Peter Guralnick states that Elvis calmed Priscilla's jealousy concerning Andress by saying he could never fall for a girl whose shoulders were broader than his. The reference to Ursula's shoulders relates to a comment Elvis made at Graceland after finishing work on "Fun in Acapulco." Elvis associate Alan Fortas recalled the incident in his 1992 book. 
"When we came back from Hollywood and somebody brought up her name, Elvis blushed a little and said something about how big her shoulders were. 'I was embarrassed to take my damn shirt off next to her,' he said, laughing."
Andress knew she had big shoulders and was proud of them. During an interview on the set of "Fun in Acapulco," Hollywood columnist Harrison Carroll asked Ursula if she was a good swimmer. "Oh yes," she replied. "Back in Germany, I used to be a competition swimmer. That's how I got my enormous shoulders and rib cage."
Ursula Andress first appears in "Fun in Acapulco" 25 minutes after the opening credits. She emerges from the hotel pool wearing a two-piece red bathing suit, one not nearly revealing enough to be called a bikini. She accompanies Moreno (Alejandro Rey) to the beach, and is sitting there on a blanket with him when Mike Windgren (Elvis) walks up to talk with them. From then on Ursula's screen time in the film is second only to Elvis'. She appears in the employees' lunch room, in night clubs, at the cliff divers' restaurant, and most often around the hotel swimming pool. In almost every scene, she wears different clothes with colorful combinations—shorts, slacks, dresses, and shirts tied up to expose her midriff. She's seen in a second two-piece swimsuit, this one pink and a little more revealing than the red one, but still quite modest compared to the famous bikini she wore in Dr. No. She plays her part unassumingly, displaying emotions of anger, frustration, and affection effectively with facial expressions. To those who had seen Dr. No before seeing "Fun in Acapulco," Ursula must have seemed like an altogether different actress.
Maggie's relationship with Mike is subdued, even for a Presley movie. Very little physical contact takes place between the two. Twice they nearly kiss, but lip contact is halted both times, first by an interruption by Dolores and second by a camera fadeout. Meanwhile, Elvis kisses Elsa Cardenas several times. It isn't until the film's final production number that Elvis finally kisses Ursula, and the two of them walk off hand in hand as the closing credits begin to roll. Each commented about the other to Harrison. "Elvis has so many talents. He works so hard," Ursula said of Elvis, and he declared, "That girl is dynamite."
Of course, as with all of his leading ladies, Elvis fans with "inquiring minds" have wondered about the existence of a romantic relationship between Elvis and Ursula Andress. Several Elvis insiders have addressed the issue over the years, and they all generally agree that there was no affair. Alan Fortas wrote in his book, "Ursula was married to John Derek, and Elvis didn't fool around with married women … she wasn't his type—neither dark-haired or petite."
As for Ursula, she had only fond memories of Elvis and the time they worked together on "Fun in Acapulco." "I adored Elvis," she later said. "He was the kindest man there was. At the beginning, I was not fond of him. You know, you judge people by what you read about them. But Elvis was adorable, so sweet, nice, and kind. We continued to be friends, and I saw him once or twice a year."
After Elvis and Ursula's work together in "Fun in Acapulco," each made another major film in 1963. While Elvis moved on to work with Ann-Margret in "Viva Las Vegas," Andress co-starred with Frank Sinatra and Dean Martin in "4 for Texas." Suddenly, thanks to her exposure in "Dr. No" and "Fun in Acapulco," Ursula Andress had become a hot property in Hollywood. Her asking price per picture jumped to $30,000 and then again up to $75,000. "I am still the same girl," she insisted, "not very serious. I like to work whenever I feel like it. I'm what you would call a hopeless child of pleasure. I just refuse to grow up. I just want to be loved by everyone, especially men."
Ursula Andress went on to have an active film career through the 1980s, appearing in movies and TV shows of her own choosing. The many films in which she appeared include "She" (1965), "What's New Pussycat" (1965), "The Blue Max" (1966), "Casino Royale" (1967), and "Clash of the Titans" (1981). In 1965 she posed for Playboy, the first of seven times she would do so. ("Because I'm beautiful," was her calm response to why she was willing to pose nude.) In the 1990s, her acting roles began to diminish. She last appeared in a film in 2005.
In 1995 Ursula Andress was named one of the "Sexiest Stars in Film History" by Empire magazine. Her IMDb biography lists her on-screen trademarks as her "platinum blonde hair, large brown eyes, voluptuous figure, and seductive deep voice." The biography sums up her early screen legacy as follows:
"Her striking beauty and smoldering screen presence made a strong impression on moviegoers, immediately establishing her as one of the most desired women in the world and as an ornament to put on-screen alongside some of the most bankable talent of the era, such as Elvis Presley in Fun in Acapulco."
The entertainment world is fortunate that there exists a permanent record on film of when the fascinating lives of Elvis Presley and Ursula Andress briefly crossed paths in 1963. — Alan Hanson (2019)