Ursula Andress …
Elvis' Leading Lady in Fun in Acapulco
"We always tried to get a girl who was like Ursula. She was an unknown when we cast her. We picked her picture out of a pile of rejects. She was dripping wet, and she looked beautiful. So we made a deal for her. When I got to Jamaica for the filming, there was this beautiful creature, and I thought she was great, and I knew then that she was the type of girl we should use for future leading ladies — an unknown with a new face who wouldn't demand an outrageous salary.''
— Albert "Cubby" Broccoli, producer of Dr. No and many other James Bond films
---
Ursula Andress, Elvis Presley's costar in 1963's Fun in Acapulco, celebrated her 80th birthday on March 19, 2016. It's an occasion to take a closer look at the sultry Swiss born actress. In Elvis Presley circles, comparatively little note has been taken of her through the years, partly because no romantic link was ever made between the two and partly because the costars only sparingly commented about each other in public. Most of what is known about the relationship between Ursula and Elvis is based on observations by Presley entourage members in the early 1960s.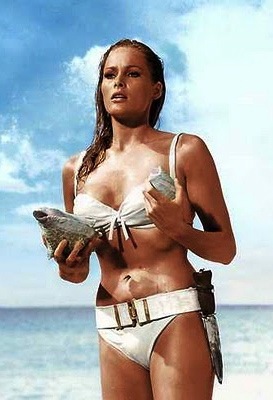 Ursula Andress was born in Switzerland on March 19, 1936, to a Swiss mother and a German father. According to her Internet Movie Data Base (IMDb) biography, she ran away from home at the age of 17. Work as an art model in Rome led to small parts in three low-budget Italian films. In was enough, though, for Paramount Pictures to notice her and bring her to Hollywood under contract.
Despite marrying actor-turned-producer John Derek at age 19 in 1957, Andress struggled in Hollywood. "I didn't speak English, didn't know the business, and didn't know people," she recalled in a 1965 interview. "The studio expected me to be the 'new Garbo,' but I wasn't sure of myself. I never had the courage to prove myself." No films were made under the Paramount contract, and unable to master English sufficiently and with her visa expiring, she bought herself out of the contract and returned to Europe. (She eventually became fluent in English, French, German, Italian, and Swiss-German.)
Then came her breakthrough role as Honey Ryder opposite Sean Connery in Dr. No. Her emergence from the water onto a Jamaican beach is considered by many as the most iconic scene in all of the Bond films. "This bikini made me into a success," Andress admitted. "As a result of starring in Dr. No as the first Bond girl, I was given the freedom to take my pick of future roles and to become financially independent."
• Fun in Acapulco … Ursula's first American-made film
Andress accepted her next film role quickly. Dr. No made its world premiere in London on October 5, 1962. Production of Paramount's Fun in Acapulco began in Hollywood 3 ½ months later on January 5, 1963. She had already finished her work on Fun in Acapulco before Dr. No opened in the United States in May 1963.
In the Presley film, she played Margarita Dauphine, the social director in an Acapulco resort where Presley's character doubled as a singer and a lifeguard. Variety's review of the film on November 20, 1963, made no comment on her acting ability but did describe her as "a fine-looking specimen." The smoldering screen aura she displayed in Dr. No was softened in the Presley film. She felt no need to consciously project sex appeal. "I don't use my body to seduce," she later said. "I just stand there."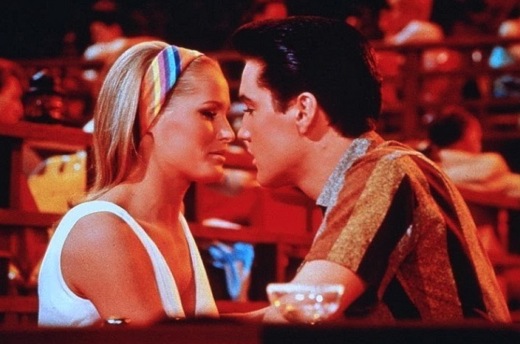 Fun in Acapulco was Andress' first American-made film and the first major film in which her voice was heard. (Her thick accent caused Dr. No's British producers to overdub her speaking in the film with another actress' voice.) She accepted Fun in Acapulco for what it was. In a 1965 interview, she said, "Most of the people don't really know me. Most of the films I did weren't profound enough to really show myself."
The guys in Elvis' entourage who have mentioned Ursula Andress in interviews or in their books all agree that she was pleasant to be around during the filming of Fun in Acapulco. Alan Fortas called her "one of the nicest people we ever worked with," and Marty Lacker noted that Elvis "just enjoyed being with her." Elvis' cousin Billy Smith added, "She scared him a little, I think, but Elvis was more fascinated by her than anything." In a 2015 interview, Sonny West said, "He got along with her all right. They were very close; they worked together well and had a great time."
In Careless Love, the second volume of his Presley biography, author Peter Guralnick mentioned Ursula Andress just once. Guralnick made a connection between the young Priscilla's persistent jealousy and a part of the actress's anatomy:
"She was jealous about what she read about Elvis and his co-star Ursula Andress in the movie magazines. She didn't believe him when he said that he could never fall for a girl whose shoulders were broader than his."
• Elvis intimidated by Ursula's shoulders
The reference to Ursula's shoulders relates to a comment Elvis made at Graceland after finishing work on Fun in Acapulco. Elvis associate Alan Fortas recalled the incident in his 1992 book: 
"When we came back from Hollywood and somebody brought up her name, Elvis blushed a little and said something about how big her shoulders were. 'I was embarrassed to take my damn shirt off next to her,' he said, laughing."
Of course, as with all of his leading ladies, Elvis fans with 'inquiring minds" have been interested in the possible existence of a romantic relationship between Elvis and Ursula Andress. Several Elvis insiders have commented on that, and they all generally agree that there was no affair.
"There was a lot of speculation that she and Elvis were having an affair, but Ursula was married to John Derek, the actor-turned-producer-director, and Elvis didn't fool around with married women … she wasn't his type — neither dark-haired or petite." — Alan Fortas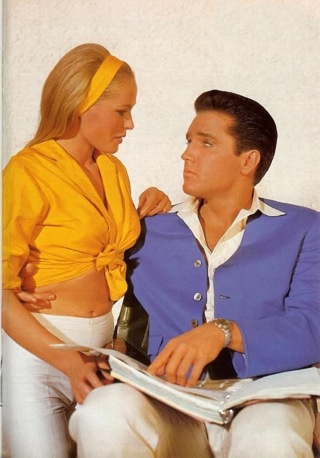 "There's picture of Elvis and Ursula in the booklet for RCA's From Nashville to Memphis boxed set, where they're gazing at each other on the movie set, like they're ready to gobble each other up. But that wasn't any real big romance." — Marty Lacker
"She went after him. She wanted him bad. And Elvis told us never to leave him alone with her. It's because he had a thing: he never went for married women. And she was married to John Derek at the time they worked together. John was almost as pretty as Elvis; he was a good-looking guy. So nothing ever happened." — Sonny West 
As for Ursula, she had only fond memories of Elvis and the time they worked together on Fun in Acapulco:
"I adored Elvis; he was the kindest man there was. At the beginning, I was not fond of him. You know, you judge people by what you read about them. But Elvis was adorable, so sweet, nice, and kind. We continued to be friends, and I saw him once or twice a year. But he was a troubled person."
• "Operation Ursula" when the phone rang at Graceland
Becky Yancey, once Elvis' secretary, confirmed that Ursula would occasionally call Elvis at Graceland. Elvis' cousin, Billy Smith, explained the process that went into effect when she called: "She wouldn't ask for Elvis because she knew Priscilla was there. So she'd ask for Alan (Fortas). And then the secretaries would tell Alan that Ursula called, and Alan would call her back, and Elvis would get on the phone."
Marty Lacker also remembers that Ursula "came to visit Elvis on the Roustabout set later on and maybe on another picture."
After Elvis and Ursula's appearance together on Fun in Acapulco, each made another major film in 1963. While Elvis moved on to work with Ann-Margret in Viva Las Vegas, Andress co-starred with Frank Sinatra and Dean Martin in 4 for Texas. 
Ursula Andress went on to have an active career through the 1980s, appearing in many movies and TV shows of her own choosing. She is said to have turned down Raquel Welch's role in One Million Years B.C. in 1966 and Sharon Tate's role in Valley of the Dolls in 1967. In 1965 she posed for Playboy, the first of eight times she would do so. ("Because I'm beautiful" was her calm response to why she was willing to pose nude.) In the 1990s her acting roles began to diminish. She last appeared in a film in 2005.
In 1995 Ursula Andress was named one of the "Sexiest Stars in Film History" by Empire magazine. Her iMDb biography listed her on-screen trademarks as her "platinum blonde hair, large brown eyes, voluptuous figure, and seductive deep voice." The biography summed up her early screen legacy  as follows:
"Her striking beauty and smoldering screen presence made a strong impression on moviegoers, immediately establishing her as one of the most desired women in the world and as an ornament to put on-screen alongside some of the most bankable talent of the era, such as Elvis Presley in Fun in Acapulco."
In 2003 Ursula Andress declared, "My home is the world. I live a little in Spain, the U.S., Italy, and Switzerland." The entertainment world is fortunate that there exists a permanent record on film of when the fascinating lives of Elvis Presley and Ursula Andress briefly crossed paths in 1963. — Alan Hanson |© May 2016