"Wild in the Country"
Behind the Scenes of Elvis Presley's
Most Dramatic Film
Among the seven Hollywood film studios that produced Elvis Presley films in the 1950s and 1960s, only Twentieth Century-Fox provided Presley multiple opportunities to display his acting talent. Between them, Paramount and MGM produced 22 of Elvis' 31 Hollywood movies, all of them with scripts built around his music. Fox's three Presley movies all had dramatic storylines dusted with a modicum of music to appease the singer's young fans.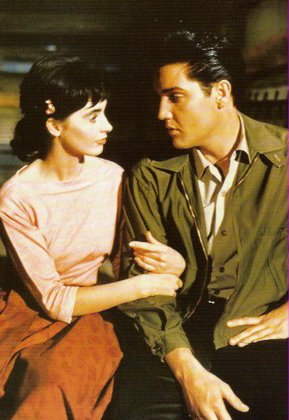 In particular, Fox's 1961 film Wild in the Country was pivotal in Presley's Hollywood career. During his rise to fame in the late 1950s, Presley's recording and acting work became intertwined, but following his departure from the army in March 1960, those ties significantly weakened. None of his first four post-army single record releases came from his movie soundtracks, and, after G. I. Blues, his next two movies, Fox's Flaming Star and Wild in the Country, were primarily dramatic vehicles for Elvis. When his acting in the Western flic drew positive reviews, Presley's performance in Wild in the Country became the test case. Could Elvis continue to move forward with a successful screen career separate from his one as a vocalist?
At 20th Century-Fox, Elvis' fate was put in the hands of a production team that included producer Jerry Wald, screenwriter Clifford Odets, and director Philip Dunne. Going in, all three had solid credits. Wald had recently produced the romance An Affair to Remember (1957), the melodrama Peyton Place (1957), and The Long Hot Summer (1958), which launched the career of Paul Newman. Odets' script credits included the 1954 melodrama A Country Girl. Dunne had directed a series of well-regarded romantic and historical dramas for Fox. None of the three men, though, had ever worked with Elvis, and their contributions to Wild in the Country would be critical to the film's success and to the direction of Elvis Presley's subsequent Hollywood career.
Odets' screenplay for Wild in the Country was an adaption of J. R. Salamanca's novel, "The Lost Country." Los Angles Times writer Charles Stinson praised Odets' "sharp and unpretentious script," and Richard Williams in the Atlanta Constitution took note of the script's complex characters. "They are flesh and blood people, given to happiness, despair, sorrow, love and hate," he noted. "You believe in them and care what happens to them." Odets' screenplay also had its critics, though, as will be noted momentarily.
Wald pulled together an interesting and generally credible cast. The script called for three women to compete for the affections of Elvis' character, the bad boy Glenn Tyler. Wald cast a trio of young actresses, "each one devilishly tempting and beautiful," according to New York writer Alice Hughes. "Millie Perkins, a sophisticated college beatnik; Tuesday Weld, a potential teen-age strumpet, and Hope Lange, the well-balanced, highly respected 'older woman.'" Time magazine described the casting more succinctly: "Miss Lange is The Lady. Miss Weld is The Slut. Miss Perkins is The Girl Next Door." On the male side, John Ireland and Gary Lockwood, as Phil and Cliff Macy respectively, had secondary roles, but Elvis shouldered most of the testosterone lode in Wild in the Country.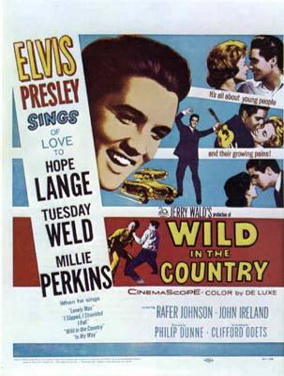 • Napa Valley as the Shenandoah Valley
Since the story took place in the Shenandoah Valley, 2,500 miles to the right of Hollywood, director Dunne had to find a California location that would pass for the down-home Southern setting. An amateur aviator, Dunne took to the air, flying low over Napa Valley until he spotted the old Lewelling farm. At ground level, the house, sporting a classic mansard roof, was beautiful. However, keeping the surrounding vineyards out of sight would take some creative framing by chief cinematographer William Mellor.
After gathering in Hollywood, the cast and crew moved in early November 1960 to a motel in the California town of Napa, 50 miles north of San Francisco. Of course, once word got around that Elvis was in the area, a near round-the-clock vigil by townspeople (an estimated 95 percent of them girls) began in the motel's parking lot. Hollywood columnist Harold Heffernan described the chaos and precautions to protect Elvis.
"Elvis is very carefully guarded and never shows himself unnecessarily. His meals are brought to his quarters, and his movements are swift and protected. If, despite such precautions, he is caught, as he was on occasion by the unexpected appearance of the breaking-down contingent, he holds still for autographs and photographs with complete graciousness. On his last day at the Napa location, he held an informally announced reception and saw everyone who cared to see him. About 350 appeared and the event was handled with what one guest termed 'military precision.' They were lined up and paraded past a table at which Elvis sat. Each was permitted an autograph and a few words, perhaps a snapshot, then hustled off. Elvis, however, is an expert with the personal touch and always manages to come up with a special smile or a comment."
Principal photography began in the area surrounding Napa on November 9, 1960. During the production of Elvis' two earlier post-army films, Colonel Parker allowed certain Hollywood columnists of whom he approved a day's access to the otherwise closed sets. Harrison Carroll reported on the scene in which Glenn (Elvis) tells Noreen (Tuesday Weld) to get her mind out of the gutter. Her response, "It don't do no good. It just goes right back down again," is the most memorable line in the film. 
Columnist Mike Connolly was there the day the church bazaar scene was filmed. In his December 7, 1960, syndicated column, Connolly reported that Elvis ambled over to him to shake hands. "Feel those calluses?" Elvis asked. "I got 'em last weekend playing a dollar slot machine in Las Vegas." Tuesday Weld came over while they were talking. Surveying the set, she observed, "If as many churchgoers attended bazaars as we've got extras milling around this set today — man, wouldn't those collections be wild?"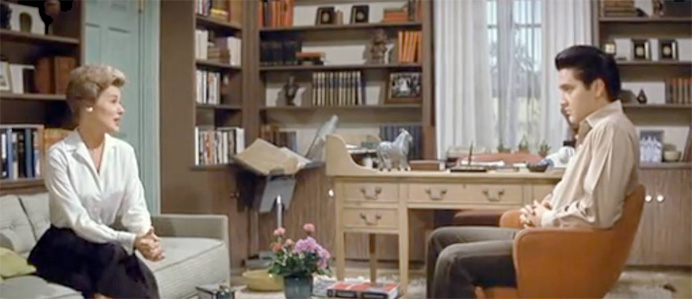 • A Gentle, Passionate Love Scene
The scene most talked about in the Hollywood press, though, was Elvis and Hope Lange's motel room love scene. Columnist Dorothy Kilgallen commented on the scene after viewing an "ultra-private staff screening" of Wild in the Country in Fox's projection room.
"The audience was buzzing. High spot of the film is a long love scene between Elvis Presley and Hope Lange — someone clocked it at seven minutes — in which Elvis not only dawdles over Miss Lange's lips but nibbles her ear lobes and the nape of her neck. One staggered eye-witness reported, 'So help me, he even flared his nostrils like Rudolph Valentino!'"
Columnist Vernon Scott got Hope Lange to comment on the love scene for his December 8, 1960, syndicated column.
 "The character I play enjoys the love scenes very much. And because you try to be as believable as possible, your own feelings don't enter into it. He compares very well in romantic scenes with the other actors I've worked with … You go into the scene as yourself, but once the cameras are rolling you let the character's feelings and emotions take over. It can be quite impersonal. You really don't get to know people well when you're working on a film, unless you play a great many scenes with them."
Of course, Elvis' fans needed to know if his on-screen romance with Lange continued behind the scenes. She answered directly when Scott inquired about it. "I guess it does happen that performers work together and fall in love after playing love scenes. Emotional involvement is not uncommon, but most of the time it passes at the end of the picture. Just for the record, there is no personal involvement between Elvis and me."
• A Few Musical Moments
Shortly before filming began on Wild in the Country, director Philip Dunne was asked if Elvis would sing in the picture. "Yes and no," he responded. "He sings, but not in any kind of direct way that would make you label this a musical." In an obvious ploy to draw Presley's young fans to the box office, Elvis recorded five songs intended for the film at Radio Recorders in Los Angeles during the two days preceding the start of filming in November 1960. Counting the title song over the opening credits, only three of them made it into the final cut of the film. In his New York Times review, Bosley Crowther called Elvis' singing in Wild in the Country "painful." Presley sings so infrequently in the film, though, that it's hard to envision Crowther's sensitive ears being so offended. The informal 50-second duet "Husky Dusky Day" with Lange as the two drove along a country road actually fits smoothly into the storyline. 
The crooning of the short ballad "In My Way" to Noreen as she and Elvis sit on the back steps of her father's run-down house was neither useful nor distracting in the film, but the scene of Elvis singing "I Slipped, I Stumbled, I Fell" was obviously out of place in a dramatic film like Wild in the Country. In a 1990 interview, Millie Perkins recalled how embarrassing the scene was for both her and Elvis.
"I remember doing this one scene; we were sitting in a truck, and we were supposed to be driving home from a dance or going to a dance, and in the script he was supposed to break into song, turn on the radio and start singing. And to me it was like, 'Yuck.' I was very young, and I thought, 'My sisters are going to tease me, this is so embarrassing and tasteless.' You see, I was a snob, too. But — and this was the nicest thing — while we were rehearsing, finally the director walked away, and Elvis looks at me and says, 'God, this is so embarrassing. Nobody would ever do this in real life. Why are they making me do this?' So there we were, both of us having to do something and we just wanted to vomit."
• Film Reviews — Good and Bad
Wild in the Country opened in theaters nationwide on June 22, 1961, but reviews of the movie began appearing in the Hollywood press and in newspapers around the country nearly two weeks earlier. Many small town papers printed the ultra-positive canned review provided by the studio's PR department. However, the reviews written by local newspaper critics were generally critical of Wild in the Country. For example, writing in the Pittsburgh Press, Kaspar Monahan concluded, "Wild in the Country is confused and muddled and frequently ridiculous in its Down South tale of a country boy with a grudge against everybody and with an irresistible appeal to females of all ages." A review in the Montgomery Advertiser recommended, "This movie should be exported immediately. Those sex and sadism films are giving us a bad name abroad. This should at least muddy up the national image sufficiently to convince anti-American critics over-seas that we're not really evil, just plain stupid." Not all reviews were so negative, however. Charles Stinson wrote in The Los Angeles Times, "Wild in the Country turns out to be a fairly acceptable melodrama — a sort of Dixie Peyton Place which has been cleaned up considerably."
Since Elvis Presley was the star of Wild in the Country, critics often judged the value of the film on his performance in it. Some concluded that Presley did a poor job of acting. One was Martin Russell in the San Francisco Examiner.
"At times he can communicate the feelings his part calls for, but his limitations are too apparent to define a whole person. He's a good sulker; he can raise a spontaneous grin, and he can show short flares of temper. But he cannot feign love or affection on the screen. The nearest he gets is a kind of brotherly attachment. If this is a sign of sincerity, it is also the mark of a poor actor."
Others felt Elvis was the victim of a poor script. "As for his acting, it's very disappointing," one critic noted. "And it's not Elvis' fault. The part he plays is such a nitwitted one there isn't much he can do with it. He's a moody, mixed-up kid who, in the film, supposedly is a genius, but speaks lines right out of a comic book."
In the Baltimore Sun, theatre critic R. H. Gardner praised Elvis' performance at first, but then took it back with a single disparaging word.
"Bad as this film is, I must admit that Elvis's own contribution is, for the most part, creditable. He has matured a lot since the days of the looping lock, the sagging jaw and the flapping knee. There can no longer be any question that his talents extend beyond a mere aptitude for rock 'n' roll singing; indeed Wild in the Country establishes him, once and for all, as a full-fledged, mediocre Hollywood actor."
Time magazine provided Presley with his best review for Wild in the Country.
"The absurd side of this nonsense is that Elvis is much too good for the show. He is, in fact, the best actor in the film … He behaves with considerable authority, and shows his dramatic ability by containing his laughter when Hope Lange says (to the lad who was buying Cadillacs before he was 21): 'Don't try to tell me you're just a barefoot country boy.'"
Hope Lange told Hollywood columnist Vernon Scott that Odets' script and Dunne's direction were not what Elvis needed at that stage of his Hollywood career. "If Elvis is given the right picture and director he can become a great dramatic actor," she insisted. "He hasn't fallen into the trap of dramatic training by forcing himself to be superficial. Elvis has terrific instincts, which make his performance absolutely real. You're never aware that he's acting."
Millie Perkins strongly felt that director Philip Dunne let Elvis down in Wild in the Country. "[Elvis] tried very hard to make this film better than his other movies, and you saw him trying and asking questions," she said in a 1990 interview. "And I just believe the sad thing is that [the director] did not have the ability to help Elvis through it." Perkins added:
"[Elvis] never used his star power — never. Maybe he should have. Maybe he did it on some other level, but he sure didn't do it on the set. I felt like Philip Dunne fawned all over Elvis. I saw Elvis looking around that set and summing up people faster than anyone else could have, and I felt that after a short period of time he was disappointed in Philip Dunne, but he was too polite and well behaved to say anything."
• The Three Leading Ladies
Reviewers were kind to two of the three actresses who played Elvis' love interests in Wild in the Country. Richard Williams, writing in the Atlanta Constitution, applauded Hope Lange's work in the film. "As Irene Sperry, Hope Lange once again proves she is one of the finest of the younger crop of Hollywood actresses. In a role originally intended for Simone Signoret, she acquits herself commendably. It is a joy to watch her work." Another reviewer described Lange work in the film as a, "truly magnificent characterization of depth and understanding."
New York columnist Alice Hughes was more impressed with Tuesday Weld in the film. "The way that little minx makes herself irresistible comes quite close to her stealing the entire picture away from all its other stars. She's tough competition on any screen." Indeed, Time magazine's review of the film described Weld as, "a 17-year-old who is going to look a great deal like Saturday night before she is 20." 
Since Millie Perkins' roll was such a limited one in Wild in the Country (only about 10 minutes of screen time), she didn't have the opportunity to impress as much as her two sister-actresses in the film. Critic Will Fanning noted, "It isn't at all clear what Miss Perkins is, except that she isn't at all necessary to the plot." Millie Perkins agreed. "I'm afraid I'm not very special at all in the film," she told columnist Erskine Johnson after filming was complete in February 1961.
• The Right Movie for Elvis
"They haven't found the right thing for the boy yet," E. B. Radcliffe declared in his review of Wild in the Country in the Cincinnati Enquirer. "Moviemakers haven't found the kind of picture to make best use of Elvis Presley's talents." However, Hollywood soon concluded the "right" movie for Elvis Presley had more to do with theater ticket sales than it did with his ability to act.
During its release it theaters during the latter half of 1961, Wild in the Country brought in $5.5 million in box office receipts in the U.S. and Canada. On January 6, 1961, during the filming of Wild in the Country, Paramount producer Hal Wallis signed Elvis to a four-picture deal. The first movie made under that contract was Blue Hawaii. During its theater run later that year, Total box office earnings for Blue Hawaii. reached $10.34 million. That makes it the second highest box office earner among Elvis Presley's 31 motion pictures. (Only Viva Las Vegas took in more money.) Wild in the Country, Presley's most dramatic movie, is number 19 on that list. 
With Wild in the Country and Blue Hawaii running back-to-back in 1961, it became clear to Hollywood studios that henceforth the movie-going public wanted to see Elvis Presley in musical comedies, not dramatic melodramas. Today Wild in the Country serves as a neglected monument to the actor Elvis Presley dreamed of being, and to the real possibility that his dream could have come true. — Alan Hanson | © 2020