Honolulu's Newspaper Reviews
Of Elvis Presley's 1961 Film, "Blue Hawaii
Honolulu Star-Bulletin            Thursday, November 2, 1961
 New Elvis Presley Movie
Portrays the Real Hawaii
By A. A. Smyser
Of all the movies made in Hawaii since World War II, none has given it a better break than "Blue Hawaii," the Elvis Presley film that will have its world premiere here next Wednesday.
Some 200 Islanders responded enthusiastically last night when Producer Hal Wallis invited them to an advance screening at the Queen Theatre.
Executives of the Hawaii Visitors Bureau were probably happiest of all.
The film's wide screen color gives a faithful and attractive representation of the Islands and represents them as nothing but Hawaii today—not Bali Hai, Tahiti, or some World War II battlefield.
NEW YEN
Elvis's fans should develop a brand new yen to come to Hawaii and it will be based on a faithful presentation of them, sensitive to the feelings of Islanders and not likely to raise many local heckles.
Elvis sings his way through the film in a relatively subdued fashion that makes him appeal even to oldsters who have shown distaste for him in the past, and Wallis told guests last night that audience tests show the change hasn't hurt him a bit with his younger fans.
Relatively few Islanders have major parts in the film, but Lucky Luck, Flora Hayes and Hilo Hattie all have speaking roles of some substance.
BEACH BOYS
Elvis's beach boy pals in the film are played by young men who have been working in Hollywood for some years and aren't familiar to local audiences except for Lani Kai, seen in the Hawaiian Eye TV series. Others are Frank Atienza, Jose DeVarga and Ralph Hanalei.
The film's story is a present-day one—Elvis returns home from the Army, doesn't want the proffered good job in his father's pineapple cannery, prefers life on the beach but finally moves out on his own in the tourist business.
Romance, naturally, weighs heavily in all of this and, naturally, is tangled but everything ends happily in a wedding scene filmed on the lagoon at Kauai's Coco Palms Hotel.
The triple opening next week will be at the King, Palace and Waialae Drive-in Theatres.
Audiences nationally will get to see the film starting at Thanksgiving time. Paramount Pictures is counting on it as a big Christmas season money maker. The tourist flow should pick up soon afterward.
The Honolulu Adversier         Friday, November 3, 1961
 "Blue Hawaii" Preems Nov. 8
By Birch Storm
The other night, Hollywood producer Hal Wallis and the folks at Royal Theaters were kind enough to invite several of us for an advance look at the Elvis Presley starrer, "Blue Hawaii," before it opens for its world premiere next Wednesday at the King, Palace and Waialae Drive In theaters.
Well, I'm telling you that "Blue Hawaii" will do more for the Islands this year than the HVB, the Statehood Commission, Dole Corp. and the macadamia nut division of the Honokaa Sugar Co. all put together—and it won't hurt Elvis any, either.
The film is in Technicolor and Panavision and stars Presley, leading lady Joan Blackman and Diamond Head. It has 14 songs including "Aloha Oe," "The Hawaiian Wedding Song" and a musical atrocity called "Rock-A-Hula" which is a perfect vehicle for the swiveling Presley hips and which Honolulu radio stations will play 37,249 times before the year ends.
The movie is timed for Mainland release on or about Thanksgiving, and the folks in the East where the weather will be starting to dip in temperature will come out of the theater with glazed eyes and firm plans to fly now and pay later.
Said Producer Walls before the showing: "We've had terrific pre-release response, especially from exhibitors."
What does he think of his picture?
"Take a background as beautiful as Hawaii and you've got a lot in your favor," he said, which means he's as happy about it as the law and his ulcers will allow. He has a right to be, because I can hear the cash registers jingling all over America and anywhere else that the name Elvis Presley is known.
The Pictures does have a story, but I won't go into it except to say that it's cute, won't win the Academy Award and will prove palatable to all except members of the Great Books Society.
Acting? Well, it really isn't essential to the film, but just for the record, Angela Lansbury is superb as Presley's happily dim-witted mother. Leading lady Blackman does a creditable job, and there's a wonderful performance by an actor I don't know who is "Mr. Chapman" in the movie and wears carnation leis to keep his neck warm in his airconditioned Honolulu office.
The photography isn't art, but it's as pretty a picture post card, and if the film doesn't do anything else for you, it will show you what a pretty place you live it.
All the familiar Oahu landmarks get ample play as well as several scenic Kauai attractions. There's a host of familiar faces in the film, including an ample representation of Honolulu disc jockeys. And if you like pretty girls, Charlie, you're in, because Elvis is continually surrounded by young beauties and you'll drool when you see them.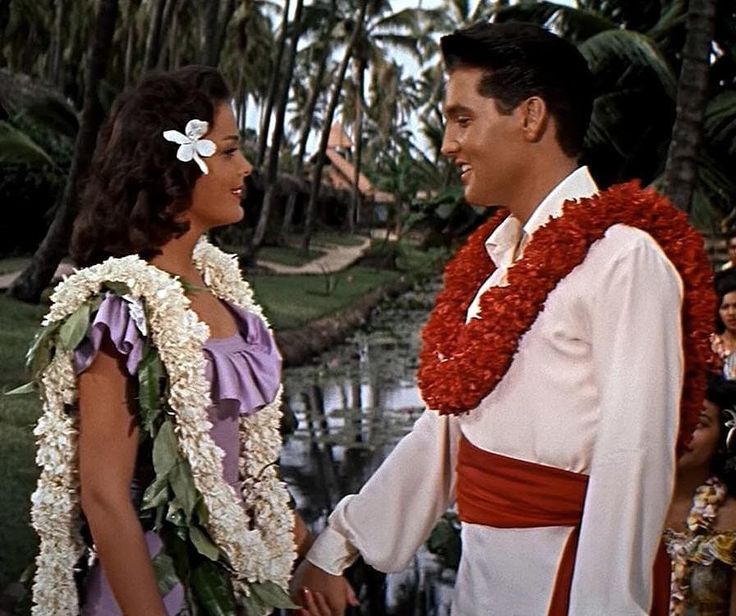 Go to "Behind the Scenes of Blue Hawaii"