Blue Hawaii

Behind the Scenes of Elvis Presley's
1961 Blockbuster Hit Movie
On March 18, 1961, Elvis Presley left his Memphis home for what would eventually be an over 4,000-mile journey westward to Honolulu, Hawaii. Principal photography was scheduled there for his fourth motion picture since his discharge from the army just the year before. First, though, he stopped in Los Angeles and reported to the Paramount studio on March 20. Elvis spent four days at Radio Recorders studio rehearsing and recording 15 songs planned for the soundtrack of his upcoming movie.
Paramount producer Hal Wallis had been busy for months ahead of time preparing for his star's arrival. To prime the public pump for the coming Presley film, Wallis had been slowly feeding information to Hollywood newspaper columnists. In its October 19, 1960, issue, the Honolulu Star-Bulletin alerted the islands' citizens to the second coming of Elvis Presley. (His last concerts before entering the army were in Hawaii in 1957.)
"Advance filming of scenes for 'Waikiki Beach Boy,' starring Elvis Presley and Juliet Prowse, will begin next month during the international surfing competition at Makaha. Herbert Steinberg, publicity director for Paramount Pictures, was here for the past several weeks looking over settings on Oahu and Kauai, where most of the shooting is to take place."
Since Presley and Prowse had proved an attractive couple in Wallis' production of G.I. Blues the year before, the Paramount producer had arranged a loanout of Prowse from her contract studio, 20th Century-Fox, to be Elvis' leading lady again in his Hawaii film.
In January 1961, just two months before principal photography was to begin in Honolulu, Wallis revealed in a Hollywood datelined article that the title of Presley's new picture had been changed.
"Hal Wallis has selected 'Blue Hawaii' is the final title for the forthcoming Elvis Presley film formerly called 'Hawaii Beach Boy.' The Paramount release, to be filed in technicolor on location in Honolulu, will start production in March, under the direction of Norman Taurog. 'Blue Hawaii' will be Presley's first picture for Wallis under a new five-year contract with the producer calling for one film annually."
 Wallis, a frequent vacationer in the islands, explained to the Star-Bulletin why he chose Hawaii for the backdrop of his new Presley film. "Since my very first visit to Hawaii, I have patiently waited for the right story to come along so I could capture the beauty of the Islands. We are giving this picture our top effort." Director Norman Taurog, another holdover from G.I. Blues, had spent two months with his wife in Hawaii several years before. Like Wallis, he was glad to be back. "We've been in love with Hawaii," he said. "To me, this is almost like coming home."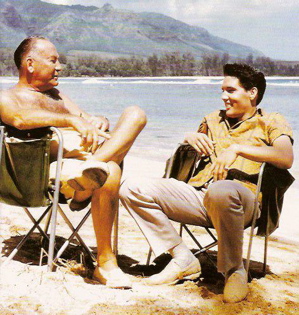 (Left: Hal Wallis and Elvis Presley)
Taurog was another holdover from G.I. Blues. Hal Kanter, who had written the screenplay for Loving You, Elvis' first film for Wallis at Paramount in 1957, was assigned to write the script for Blue Hawaii. Four years later, Kanter would tell the Chicago Tribune about working with Elvis on those two films.
"He's a hard worker. His mind is uncluttered with nonsense about the Method. He knows he has to do certain things and is capable of doing them. I'm sold on him. He's growing. When some kids who are hot today are gone, he'll still be around. He's an authentic first of his kind."
 With Prowse, Taurog, and Kanter on board, Wallis began lining up the supporting cast. Nancy Walters got the role of Abigail Prentace, the attractive chaperone for four teenage girls on a Hawaiian tour. On loan from MGM, Walters had appeared in just three movies prior to Blue Hawaii. The parts of the four teenage girls went to Jenny Maxwell (Ellie), a New York film and TV actress; Darlene Thompkins (Patsy), a winner of 22 beauty contests prior to getting her first featured movie role in Blue Hawaii; Pamela Austin (Sandy), a Warner Brothers contract player, who would later appear in Elvis' 1964 film Kissin' Cousins; and Christian Kay (Beverly), a TV sitcom actor prior to her appearance in Blue Hawaii.
Another featured part went to Angela Lansbury, who was starring on Broadway in "A Taste of Honey" when Wallis enticed her leave New York and play the role of Elvis' mother in Blue Hawaii. "I admit it's a jolt for a woman of 35 to be asked to play his mother," she told columnist Hedda Hopper. "I thought — Do they think I'm that old? But the role intrigued me. It's the kind of comedy I'd never done before, a sort of grown-up baby doll."
• Then Juliet Prowse Dropped a Bombshell
Hal Wallis had all the actors and crew comfortably in place by early March 1961. That's when his leading lady pulled the rug out from under him. Juliet Prowse, deciding she wanted out, notified Wallis that she would only play the leading role opposite Presley under certain conditions. She explained her demands to AP Movie-TV writer Bob Thomas.
"It all started with two requests. First, I wanted my own makeup man on the picture. I have a face that is difficult to make up; I wanted someone who knew me. Second, I wanted to take my secretary along. If they would pay her fare, I would pay her salary. I wanted a companion. I didn't know anyone else in the company except Elvis, and he's always surrounded by a dozen buddies. But then I took another look at the script. The part had no character. I was only one of three girls in Elvis' life, and one 16-year-old had a more interesting part than mine."
Wallis responded sternly. "Miss Prowse received her copy of the 'Blue Hawaii' script on February 23. Since that time, she has come in for makeup tests, wardrobe and wig fittings as recently as two weeks ago. It is difficult to understand why she did this and why so much time and effort should be expended before she reached her decision."
Prowse was suspended by 20th Century-Fox, but that didn't solve Wallis' need for a new leading lady for Elvis. He quickly decided on Joan Blackman, a 23-year-old, blue-eyed, black-haired, promising actress from San Francisco. At age 14, she was singing and dancing with local Bay Area bands. After high school, Blackman worked as a model. When a studio agent spotted her, she got a Hollywood contract on-the-spot. With only four film roles on her resumé when Wallis signed her, Blackman was not the bankable screen actress the producer would have liked. She neither sang nor danced in her previous film roles, but she would be asked to do both in Blue Hawaii. Still, Wallis believed she was ready to play the role of Maile Duval, Elvis' Hawaiian-French sweetheart in Blue Hawaii.
Howard McNear was notable among the actors signed for other supporting roles. He played the part of Mr. Chapman, the absent-minded owner of the Honolulu travel agency that temporarily employed Maile and Chad Gates, Presley's character. (McNear, best known for his portrayal of Floyd Lawson, the bumbling barber on TV's The Andy Griffith Show, later appeared in two other Presley films, Follow That Dream and Fun in Acapulco.)
• "That's 14 smooches any way you look at it"
Although less than a minute on screen, the part played by Pat Fackenthall, a 22-year-old former "Miss Arizona," surely earned her the envy of Presley's  female fans. The scene, early in the movie, had Elvis kissing a stewardess in a prearranged plan to make his girlfriend jealous. "The scene involved Elvis kissing me and then me kissing Elvis," Fackenthrall told a Honolulu Advertiser writer. "We rehearsed it four times and they photographed it from three angles. That's 14 smooches any way you look at it. After that, anything I did in a movie career would be an anti-climax."
On March 25, 1961, Elvis boarded an airplane in LA for the hop across the Pacific to Honolulu, where principal photography was to begin two days later. Travel writer Stan Delaplane described the scene when Elvis' plane arrived in Honolulu at 12:15 p.m.
"Mr. Elvis Presley, inventor and proprietor of the Tupelo, Mo., hippy hula, arrived in Honolulu something like a typhoon arriving in a nipa hut village. Some 3,000 stark, staring, wild teen-agers greeted their sideburned troubadour at the airport. They grew faint. They wept. They uttered those strange shrieks we have become accustomed to in this uninhibited age-group.
"Mr. Presley, up to the eyeballs in leis, took this in the stride he has become accustomed to. He handed over the questions and answers to Colonel Tom' Parker, his manager. His bodyguards (most of them cousins from Tupelo)—swung into their diamond formation with Elvis in the center. They jammed him into a long, sleek car and took off."
After confinement in room in the Hilton Hawaiian Village, Elvis reappeared at 3:30 p.m. for a press conference in the hotel's Carousel Room. Awaiting him there were writers from Honolulu's two daily newspapers and reps from 27 middle and high schools. Stan Delaplane noted that the highlight of the event was the "enthusiasm of a high-school girl reporter who threw her arms around Elvis and had to be pried off with dentist's forceps."
Later that evening, Elvis' stage show at Honolulu's Bloch Arena raised $62,000 to help build a memorial for the sailors who died aboard the U.S.S. Arizona at Pearl Harbor in 1941. Elvis then had one day to rest and go over his script a final time before principal photography began on March 27, 1961.
• "He had all the freedom of a convicted man"
During the two weeks of filming in Honolulu, Elvis was rarely seen in public. Escorted to and from the set by a phalanx of security men, he was isolated from public view. "He has all the freedom of a convicted man," a spokesman said. "But he has to be assured some rest and privacy." A Star-Bulletin writer detailed the star's daily schedule.
"The singer-actor normally arose at 6 a.m. and in the two hours before he went before the cameras had his morning meal, was made up and then was taken to the filming site. The work day ended about 5 p.m., when Presley would return to his quarters in the Hilton Hawaiian Village. His meals were delivered to his room and the evenings were spent at work on his script, with an occasional break to pay cribbage with a friend from the movie crew."
Nancy Walter later recalled that working with Elvis was a "ball," even though location work required six days a week of getting up at 4:30 in the morning and going until 6 or 7 at night. "I loved it," she said. "I thought Elvis was the sweetest thing." There was no romance, she insisted. "He's just like a brother."
One of reasons Angela Lansbury took the role of Elvis' mother in Blue Hawaii was the opportunity it offered to see the sites in Hawaii. She later told Hollywood columnist Harold Heffernan that the company got behind schedule and had to work from dawn until dusk. The one day the cast was given the day off to see the sites, it rained. "So now I've had my fill of working in faraway places," Lansbury declared. "Next time I go, it will be strictly as a tourist."
Much of the local scenery provided picturesque backdrops for scenes shot around Honolulu and its environs. Makapuu Beach, Hanauma Bay, Diamond Head, Round Top, and Ala Moana Park were some of the locations featured in Blue Hawaii. E. Walker Chapman, of Royal Theatres, served as Hal Wallis' location scout, matching the script with real settings in many areas of Oahu.
• About 250 locals cast in Blue Hawaii
Also giving the movie an authentic paradise vibe was the appearance of many  Hawaiians in various scenes. Ed Carlson, a Hawaii representative for Paramount, was responsible for local casting. At his Paramount locations office at the Hilton Hawaiian Village, he signed up around 250 locals as extras. They included 25 Honolulu policemen recruited for the hukilau sequences filmed at Hanauma Bay. The strong group of men was tasked with dragging in a net heavy with fish from the bay. Also on the extra list was a dog belonging to Don Little of Honolulu. "Blaster," a year-old Corgi, delivered a towel to Joan Blackman, who had lost her bathing suit top while surfing with Elvis.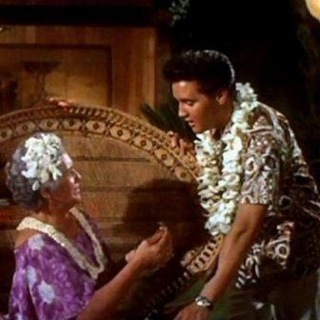 Most prominent among the Hawaiians chosen to appear in Blue Hawaii was Mrs. Flora K. Hayes (right). She played the part of Mrs. Manaka, Maile Duvall's grandmother. In the film, Elvis sings "Can't Help Falling in Love" to Mrs. Manaka at her birthday party. Mrs. Hayes, better known in Hawaii as a former Territorial Representative for Hawaii before it became a state in 1959, actually had an acting background as well. Her last and only other film credit was in the 1937 production of Hurricane. She played a small part, that of Mama Rua, in that film.
After their two weeks of work on Oahu concluded, the cast and crew moved to the island of Kauai on April 11 for another week of location filming. Between 250 and 300 people were on hand at Lihue Airport on Kauai to greet Elvis. The Hawaii Visitors Bureau provided a hula troupe and leis for Elvis and the rest of the film company. The Star-Bulletin  in at the Coco Palms Lodge for his stay on the island. "It appeared restrictions to keep him from being bothered by bobby-soxers may not need to be so tight as they were at Hawaiian Village," the newspaper predicted.
Publicity man for the film, Linn Unkefer, described in heavenly terms the cast's work over the next few days.
"On Kauai, Elvis, Joan Blackman, Angela Lansbury, Nancy Walker and the Hollywood company of 65 worked in the picturesque settings of the Coco Palms, in the clear blue waters of Anahola Bay, went horseback riding to Opaikaa Falls, and along the beaches of Lydgate Park for the cameras and for movie-goers everywhere."
Some of Elvis' major musical scenes were filmed at the Coco Palms Hotel. The elaborate Hawaiian boat wedding ceremony used at the film's conclusion was filmed at Kauai's Temple of Refuge. Members of the Mormon Church choirs and St. Catherine's choir were singing extras in the big wedding scene.
• Cast members recall challenging scenes in on Kauai
For Nancy Walters, filming some scenes on Kauai was not as romantic as Wallis' publicity man portrayed them. One sequence on Kauai was particularly challenging for Nancy and the four teenage girls she was chaperoning. She described it to Summer Rand, a staff writer for the Orlando Evening Star. The scene had the girls singing while riding on horseback.
"That was quite an experience since the horses were shy of the camera dollies and the whole thing was being done on a narrow path with a sheer drop to the river below. Because of the many outside noises — birds, airplanes, equipment — the microphones pick up during outdoor filming, the actors had to dub in their voices again back at the studio to match the lip movements on the film."
If having to kiss Elvis Presley 14 times was a pleasant memory for Pat Fackenthall in Blue Hawaii, a later scene on Kauai that required multiple takes proved a most unpleasant experience for Jenny Maxwell. The mid-morning scene called for Elvis to rescue Jenny, who was trying to drown herself. Following a short heated discussion on the beach, Elvis turned Jenny over on his knee and gave her a spanking. For long shots and close-ups, Jenny dunked herself in the water three times, and Elvis hauled her out and spanked her four times. "He had to spank hard to make it look good," Jenny explained, "but my skimpy costume was wet and there wasn't much between Elvis and what he was spanking, and it stung like anything."
After that scene, director Norman Taurog had Jenny dried off and put a horse. For the next three hours, she participated in the riding scene Nancy Walters described. Jenny recalled hovering gingerly above her saddle as much as possible. Then, after the final shot of the day, a gust of wind blew over a reflector standard, which hit Jenny in the back of a foot. No bones were broken, but she needed to use a cane between scenes for several days. "The cane helped my sore foot," she recalled, "but it didn't do anything for the seat of my trouble."
The Star-Bulletin reported that on the evening of April 17, the Paramount crew honored Mrs. Hayes on her 68th birthday. "They treated me like a queen," she said. The paper reported that during a break in filming the next day, Elvis kissed Mrs. Hayes as he presented her with a lei.
• Returning to Honolulu and then on to Hollywood
On April 19, three Aloha Airlines F-27 aircraft flew the Blue Hawaii Hollywood cast of 65, along with their baggage, wardrobe, cameras, and equipment, back to Honolulu. According to the airline company, "It was one of the largest mass transportation movements in commercial aviation in Hawaii." The camera crew shot some final outdoor scenes around Honolulu that afternoon and evening. The following day, the Hollywood based portion of the cast and crew flew to Los Angles on Pan American and United Airlines planes.
On returning to California, interior filming for Blue Hawaii continued at Paramount Studios for several days. Flora Hayes flew to Hollywood separately. After filming her scene, she handed out 72 leis she had brought with her for the extras in the scene. "What a lady," director Norman Taurog exclaimed. "She comes three thousand miles and brings her own props."
On April 23, 1961, principal photography on Blue Hawaii ended. Two months later, Hollywood columnist Dorothy Kilgallen reported that the first "rough print" of Blue Hawaii had been finished. Hal Wallis flew the film to New York on June 21, where, according to Kilgallen, "All top-ranking Paramount executives within a radius of 1,500 miles have been summoned to view it in a series of screenings starting tomorrow —it's regarded as that important."
Blue Hawaii went into national distribution in some 160 cities across the country on Thanksgiving week in 1961. The world premiere, though, appropriately took place in Honolulu on November 8, 1961. It was a triple premiere, showing on that date at three venues, the King and Palace Theaters and the Waialae Drive-in Theater.
A week before the public premiere, however, Hal Wallis screened a private showing of Blue Hawaii in Honolulu for a couple of hundred specially invited guests. Among those in the theater that evening were writers Birch Storm of the Honolulu Advertiser and A. A. Smyser of the Honolulu Star-Bulletin. Their reviews of Blue Hawaii, published in their respective newspapers, reveal the impact the film had on America's newest state and its citizens. A link to Storm's and Smyser's movie reviews is included below. — © Alan Hanson | 2022
Read Honolulu Newspaper Reviews of Blue Hawaii