With "It's Now or Never" Elvis Left
Rock 'n' Roll For Music's Mainstream
When Elvis Presley recorded "It's Now or Never" in 1960, he answered a challenge Frank Sinatra had issued three years earlier. In June 1957, a Hollywood reporter asked Sinatra his opinion of Elvis Presley's singing ability. "Presley has no training at all," Frank responded. "When he goes into something serious, a bigger kind of singing, we'll find out if he is a singer." Frank, along with the rest of the recording industry, found out with Presley's second single release after his discharge from the army in early 1960.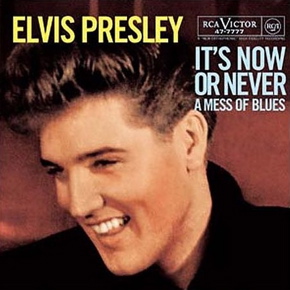 In the July 11, 1960, issue of Billboard magazine, RCA Victor placed a full-page ad to promote the release of Elvis's latest single. The text of the ad read, "Backed by a million votes! Elvis Presley's newest RCA Victor single—47-7777—is sure to be America's newest 1,000,000-seller. IT'S NOW OR NEVER is a sensational ballad, available in monophonic and Living Stereo, in a full-color sleeve."
Amazingly, the Victor ad actually understated the potential of the new record. Just a week later, it debuted on Billboard's"Hot 100" chart at an unprecedented #44. From there it moved swiftly to the top. On July 25 it rose 30 spots to #14. A week later it was at #3, where it remained for an additional week. Then, on August 15, it took over the #1 spot on the chart, displacing Brian Hyland's "Itsy Bitsy Teenie Weenie Yellow Polka Dot Bikini." "It's Now or Never" remained solidly at #1 for five weeks. Finally, on September 19 it slipped back to #3, surrendering the top spot to "The Twist" by Chubby Checker. Elvis' recording remained on the chart for another 10 weeks as it slowly retreated down the list. By the time it dropped off the chart in early December, "It's Now or Never" had been on the "Hot 100" for 20 weeks, half of those in the top 10.
• Presley's new style appealed to a wider audience
"It's Now or Never" was more than just another million seller for Elvis, more than just another #1 record. It marked a turning point in Presley's career. It signaled his willingness to abdicate his "King of Rock 'n' Roll" title and move on into other types of music. With its operatic overtones, "It's Now or Never" was about as far from rock 'n' roll as a pop vocal could get at that time. Its phenomenal success on the charts and in the record stores demonstrated that Elvis could deliver the goods outside the r&b genre and appeal to a wider audience. It was a risky move to be sure, especially for Presley, who in later years would seldom stray from his comfort zone as an entertainer. In entering the mainstream of pop music at age 25, he would face competition from a million other singers, while possibly alienating millions of fans devoted to his rock 'n' roll persona.
There have been varying accounts on how and why "It's Now or Never" came to be. The following is how Ernst Jorgensen, in his book Elvis Presley: A Life in Music, tells the story.
"Elvis had told Freddy [Bienstock of Hill & Range Music] how much he loved Tony Martin's 1949 hit, 'There's No Tomorrow'; his mother had owned a 78 of Caruso's 'O Sole Mio,' the turn-of-the-century Italian ballad the song was based on, and the aria's vocal challenge attracted him so much he'd already taped himself singing it while in Bad Nauheim. Under the impression that the melody was in the public domain, Freddy had Aaron Schroeder and Wally Gold compose new lyrics for it, and the new Hill & Range version became a top priority as they headed into the studio at the beginning of April."
Elvis recorded the song in RCA's Nashville Studio B late in the evening of April 3, 1960. The impressive list of musicians included Scotty Moore and Hank Garland on guitar; Bobby Moore on bass; D.J. Fontana and Buddy Harman on drums; and Floyd Cramer on piano. The Jordanaires provided vocal backing. It took only four takes to produce a master recording.
• Reviewers assumed "A Mess of Blues" was the hit side
When RCA Victor released "It's Now or Never" in early July 1960, it hedged its bet by backing the single with "A Mess of Blues," a tune more in line with Elvis's established rhythm and blues reputation. When the reviewers at both Billboard and Variety auditioned the single, both publications judged the blues number to be the "A" side of the record. Variety's review read, "Elvis Presley's 'A Mess of Blues' is a solid blues-styled rocker belted by a performer who can do no wrong with his fans. 'It's Now or Never,' based on the 'O Sole Mio' theme, is fresh type of material for this singer who'll clean up on both sides." Billboard led with the blues side as well. "Elvis handles a fine blues with his usual feeling on the top side and comes thru with a great reading of a familiar melody on the other. Both sides are potent."
Who knows how "A Mess of Blues" would have done if it hadn't had to compete with its more popular flip side? As it turned out, it spent 11 weeks on the "Hot 100," peaking at #32. That it was so overwhelmed by "It's Now or Never" validated Elvis' decision to put some distance between himself and his rock 'n' roll past and to move into pop music's mainstream.
• Critics confounded by Elvis's non-rock hit record
On July 18, 1960, the same week "It's Now or Never" first charted, Billboard ran a front page article headlined, "Elvis Sans R.&R. Click Stymies Crix." The article discussed Elvis' recent shift on the musical spectrum. "Elvis Presley is hotter than ever saleswise today," Billboard's writer explained, "and he's making it with a non-rock and roll record, thereby confounding the critics who predicted the star wouldn't survive the rockabilly craze."
The article added, "The most interesting aspect of the situation is that the big chart side, 'It's Now or Never,' is a more or less straight vocal version of the oldie 'O Sole Mio.' On the basis of sales to date, RCA Victor expects the disk to be one of Presley's biggest hits, far greater than his first post-GI platter, 'Stuck on You,' which was an r.&r. tune. Possibly one of the reasons the new disk is outdistancing 'Stuck on You,' is because 'It's Now or Never' is getting considerably more air exposure than Presley's first record. Many non-rock and roll stations, which previously considered Presley strictly in the rockabilly groove, are spinning his new platter."
That Elvis was not just experimenting with a song like "It's Now or Never" became clear on November 14, 1960. On that week's "Hot 100," "It's Now or Never" fell to #47 on the chart. One of the records that passed it on the way up the chart was Elvis's new single, "Are You Lonesome Tonight?", which entered the "Hot 100" at #35 that week. The new song was further proof that Presley was extending his reach into the mainstream of popular music.
• "I do the rock stuff" but "Now or Never" is my favorite record
In February 1961, just six months after "It's Now or Never"'s big splash on Billboard's chart, Elvis held a news conference in Memphis. His responses to a couple of questions revealed the intended future course of his music.
Question: "Have you found that your own personal tastes have changed from rock and roll to what we call commercially better types of music?"
Answer: "No, it hasn't changed. I've always liked all kinds of music. I don't just like rock and roll. I appreciate all types of music, really. But I have to do what I can do best, so I do the rock stuff."
Question: "What is your favorite record?"
Answer: "I think that my favorite record of the ones I've recorded is 'Now or Never.'" — Alan Hanson | © July 2009
Go to Elvis Music

Go to Home Page