"All Shook Up"

Elvis Presley's 1957 Chart Busting Single
In a three-year span in the late 1950s, RCA released 14 new Elvis Presley singles. The A-side on eight of them topped Billboard's Top 100 pop chart. Three others reached #2, two more got to #3, and the remaining one peaked at #4. Four of the B-sides even charted in the top 10. Among this amazing group of recordings, the chart performance of two of them stoodout—"Don't Be Cruel" and "All Shook Up."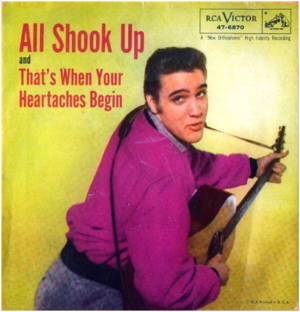 Hall of fame songwriter Otis Blackwell wrote both songs. After the great success of "Don't Be Cruel," Blackwell, then an in-house writer for Shalimar publishing, was asked to write more songs for Presley, a plumb assignment for songwriters in 1956. He came up with "Paralyzed" and "All Shook Up." The former became a cut in Presley's second RCA album, while the latter became a blockbuster hit on the singles charts and a cultural phenomenon.
In an interview in Time Barrier Express Magazine in 1979, Blackwell explained that Shalimar's Al Stanton suggested the song's title.
"He walked in one day with a bottle of Pepsi, shaking it, as they did at that time, and said, 'Otis, I've got an idea. Why don't you write a song called 'All Shook Up.' Two days later I brought the song in and said, 'Look, man. I did something with it."
Blackwell made a demo recording, and it was passed up the line to Elvis. (The two men never met.) In her liner notes for "Elvis' Golden Records" LP in 1958, RCA's Anne Fulchino gave the company interpretation of what happened next. "Presley wasn't completely satisfied with the song, and with Blackwell's consent re-wrote part of the lyrics. Thus, as co-writer as well as artist, Presley produced his ninth consecutive gold record, his first in the year 1957."
• Elvis' co-writer credit "all a hoax"
Fulchino's claim that Elvis "re-wrote part of the lyrics" was some corporate "fake news" attempting to justify a music publishing scam at the time of requiring writers to give up a portion of their royalties to have their songs recorded by top artists like Elvis. Blackwell had to turn over half of his publishing royalties to Elvis on "Don't Be Cruel," and a third on "All Shook Up." Presley openly admitted that he had no role in the writing of either song. In an interview, he said, "I've never written a song in my life. It's all a big hoax … I get one third of the credit for recording it. It makes me look smarter than I am."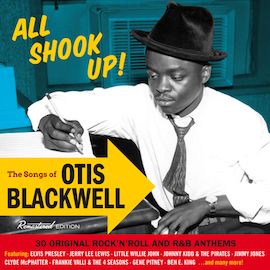 For Blackwell's part, he never complained about the arrangement. As Ernst Jorgensen explained in his Presley sessions book, "For the writers the reward was clear: Even after they gave up a third of their writer's royalty to Presley—a concession that couldn't have come easily—the reduced share they earned far exceeded the full share they'd have made with a recording by anyone else." Blackwell's obituary in 2002 noted that he had once said, "I wrote my songs, I got my money and I boogied."
"All Shook Up" was the last Presley recording for which Blackwell had to share writing credit with Elvis. Jorgensen suspected that, "both Elvis and his song publisher partners began fearing that the arrangement would leave them vulnerable to criticism from both journalists and the public."
• "It was a perfect pop record"
Elvis recorded "All Shook Up" at Radio Recorders in Hollywood on January 12, 1957. In a 1991 interview, Otis Blackwell said that on this song, as on "Don't Be Cruel," Presley copied Blackwell's vocal style on the demo. It's hard to judge the validity of his claim without hearing Blackwell's demo, but Elvis was known often through his career to closely adhere in his recordings to the singer's delivery on demos.
In the 1971 radio documentary, The Elvis Presley Story, Gordon Stoker of the Jordanaires told an amusing story about Elvis's recording of "All Shook Up."
"While I was doing 'All Shook Up' with Presley, I was just facing him on another mike, you see, and all the time I'm doing it, I had this little 'Yea, yea, I'm all shook up.' I had these little harmony parts I had to do with him.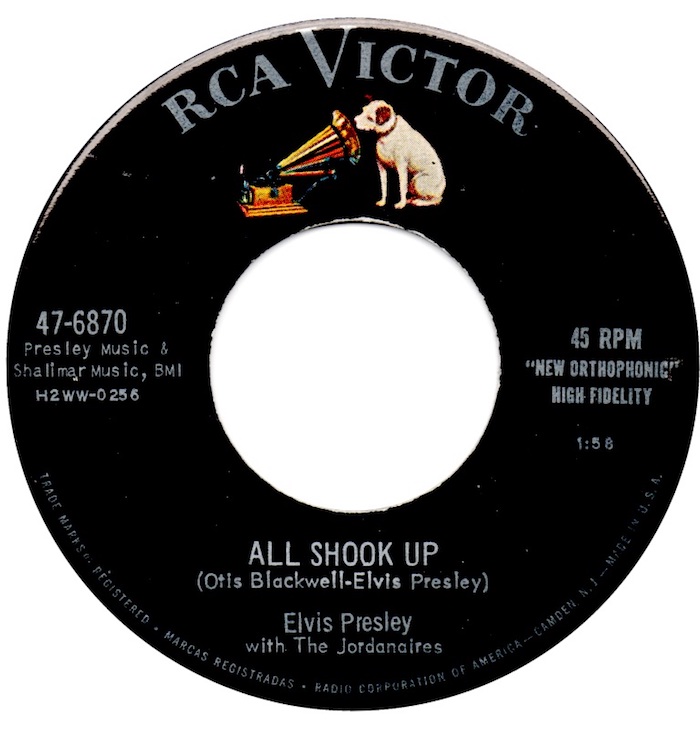 "Of course, now, the recordings these days, you overdub it. Like Presley would have put his voice on first, and I would have put my harmony part on second. But in those days … we did it all at the same time.
"During the entire recording, Presley tried to break me up. He either picked at me, winked at me, or stuck his finger in my mouth, just anything he could do, you see, to try to break me up, and only one place on the entire record, if you ever hear the record, at the very end of the record, when I say, 'Yea, yea, I'm all shook up,' he did break me up at that point, and if you play the record, you'll hear it."
According to Jorgensen, one distinctive sound on Elvis' "All Shook Up" recording that was overdubbed was the beat created by Elvis slapping on the back of a guitar. It enhanced, Jorgensen noted, the "combination of laid-back feeling and driving beat that made Blackwell's songs unique. It was as perfect a pop record as its predecessor."
• Industry journals tagged "All Shook Up" a sure thing
The industry journals were united in praise of Presley's new single when it came out in March 1957. Billboard's "Spotlight" column noted, "Presley is at it again and this coupling is so strong it can hardly miss. The top side is a typical, hoarsely belted swinging rockabilly job while the flip is a complete change of pace into the closest the singer has come to the traditional country weeper ballad. Top may have a slight edge, but both are powerful."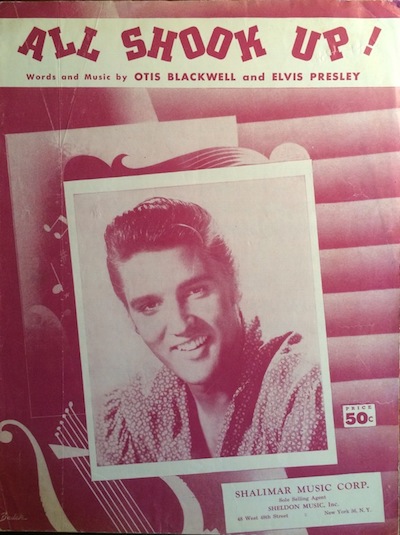 Variety weighed in with, "Tapering off somewhat on his 1956 pace, Elvis Presley has gone from the sensational to the merely terrific. This latest coupling is another automatic hit, with the rhythm side, 'All Shook Up,' having a slight edge in impact over the ballad, 'That's When Your Heartaches Begin.'"
(Both reviewers were correct about the A side's potential, but misjudged the strength of the B side. While "All Shook Up" rocketed to the top of the charts, "That's When Your Heartaches Begin" got no higher than #59 on the Top 100.)
"All Shook Up" entered the Billboard chart at #26 on April 6. The very next week it jumped all the way up to #6, and in its third week, on April 20, it took over the #1 spot from Andy Williams's "Butterfly." For eight weeks "All Shook Up" sat atop the chart, the longest run at #1 for any Presley single before or after.
On April 27, 1957, a month after "All Shook Up" had been released, Billboard acknowledged the record's across-the-board appeal on the journal's many music charts.
"Elvis Presley walked off with another Triple Crown Award this week, with his new disk, 'All Shook Up,' No. 1 in all three pop chart categories—retail, jockey and juke. The platter also took the No. 1 slot on the 'Top 100' list, and the tune is No. 1 on 'The Honor Roll of Hits.' At the same time, the Presley record is No. 3 on the rhythm and blues retail chart and No 2 on the r&b jockey chart. It is No. 5 on the country and western retail list and No. 4 on the c&w jockey chart."
On June 10, Pat Boone's "Love Letters in the Sand" finally dethroned "All Shook Up," which still remained in the top 10 for four more weeks. By the time it finally fell off the Top 100 on October 21, 1957, "All Shook Up" had spent 30 weeks on the chart, another record for a Presley single. In addition to the eight weeks at #1, it spent a total of 15 weeks in the top 10.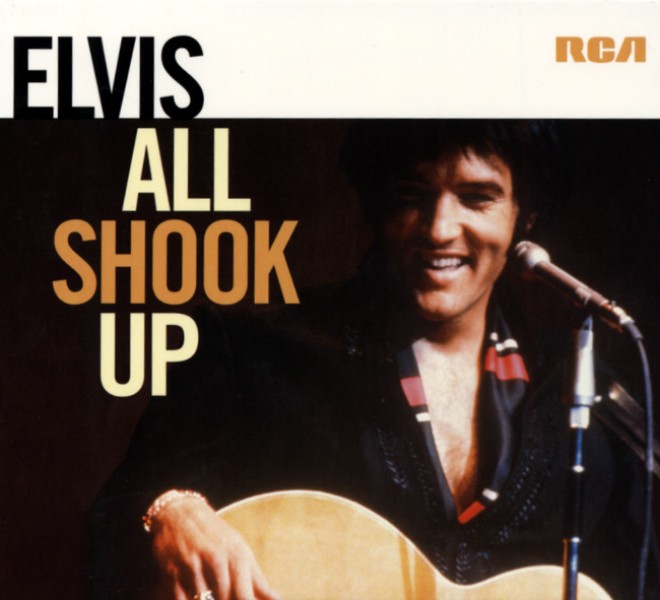 In its rankings, Billboard's Top 100 pop chart incorporated data on sales, radio play, and jukebox action. Cashbox's chart rated records strictly by retail sales. "All Shook Up" dominated that chart as well in the spring and summer of 1957. It entered "The Cashbox Best Selling Singles" list at #13 on April 6 and the following week jumped to the #1 spot, replacing Buddy Knox's "Party Doll." It remained the country's top selling single for 8 weeks. It stayed on the sales chart until August, falling off only when record buyers turned their attention to Elvis' next single, "Teddy Bear."
• Elvis took "All Shook Up" on the road in 1957

Elvis first sang "All Shook Up" on stage in Chicago's International Amphitheatre on March 28, 1957. It was on the playlist throughout Presley's spring tour that took him on to St. Louis, Fort Wayne, Detroit, Buffalo, Toronto, Ottawa, and Philadelphia.
At every stop, "All Shook Up" put an end to reports that Presley's ability to sell records had run its course. In both Toronto and Ottawa, the record quickly rose to the top of the charts. Half-page ads placed by RCA in city newspapers advertised the new record at 89¢ for a 45 r.p.m. single and 98¢ for the 78 r.p.m. format version. 
The song also was drawing favorable attention to Presley's singing voice. An Ottawa Journal article noted that the song "promises to outstrip anything he has previously recorded." The writer, once an avowed hater of Presley records, said upon first hearing it, "Maybe I've been wrong about this boy." Ottawa's CKOY disc jockey Keith Sterling gave the new record a positive review. "The new record is very typically Elvis," he wrote in the Journal. "The 'Shook' side is a first class rocker. Despite anything you may have heard to the contrary (and I've said some things myself), this boy is going to be around for quite some time."
"All Shook Up" was the first of three consecutive blockbuster #1 hits for Elvis in 1957. It, along with "Teddy Bear" and "Jailhouse Rock," which followed, solidified once and for all Elvis Presley's status as rock 'n' roll's top performer. And yet, it fared no better than #352 on Rolling Stone's"500 Greatest Songs of All Time," and it doesn't appear at all on the Rock and Roll Hall of Fame's list of the "500 Songs That Shaped Rock and Roll." Otis Blackwell's song and Elvis Presley's rendition of it surely deserve greater respect, not only for the recording's impact in rock 'n' roll history, but also for its lasting imprint on American pop culture. — Alan Hanson | © May 2017