Anne Helm …
Elvis Presley's Leading Lady
In Follow That Dream
"I really fell for Elvis—I mean, who wouldn't? But the celebrity he was, it was difficult. He was loved by so many people. I met him in a very small community. It was a motel, basically. There were about 50 or 60 of us on location, the crew and everyone else involved in the movie." — Anne Helm, June 2010
---
"Any actress lucky enough to play opposite Elvis automatically becomes a star." That assertion from a June 1962 press report referred specifically to Anne Helm, who had the feminine lead in the Presley film Follow That Dream, which had opened nationally the previous month. Although never achieving the star power of some of Elvis' other female costars, Anne Helm displayed credible talent on the large and small screen both before and after teaming up with Presley in 1961.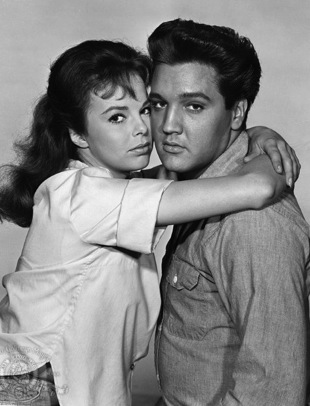 Helm was born in Toronto, Canada, on September 12, 1938. Anne's mother would later take her to New York City so Anne could study ballet. Tiring of the dance practice sessions, Anne "slowly drifted away from ballet." She started modeling and doing TV commercials. "I was enjoying the money from modeling and television," she told a reporter in 1961, "but I didn't have confidence in myself until I did a show on the U.S. Steel Hour with Sandra Dee and Dean Stockwell."
It was her appearance in another TV drama episode in 1961 that caught the eye of producer David Weisbart, who was then casting Presley's new movie. "Weisbart had seen me in a Route 66 episode, which was one of the best roles I ever played," said Helm in a 1997 radio interview. She was one of six who tested for role of Holly Jones in Pioneer, Go Home. (The title was later changed to What a Wonderful Life and finally to Follow That Dream). Among others considered for the role were Connie Stevens, Tuesday Weld, and Deborah Walley. "I was thrilled at being chosen," Helm said.
In mid-July, 1961, she traveled to Crystal River, Florida, for location shooting. There she was assigned a cabin at the Port Paradise Hotel/Motel. It was in that room that the 22-year-old actress first met Elvis Presley.
• Elvis gave Anne a flower
To hear Louella Parsons tell it in her Hollywood gossip column a couple of weeks later, Elvis quickly swept Anne off her feet with a high-energy romantic onslaught:
"The gals who date Elvis Presley usually feel more like they're stepping out with a millionaire than a movie star … Our boy Elvis gives the girls the full luxury treatment. Now on location at Crystal River, Fla., making 'What a Wonderful Life' Elvis has been dating leading lady Anne Helm—and in a high old style. He has put one of his cars, a plush white Cadillac, at her disposal. And the other night he inited her to dinner aboard his 21-foot power cruiser which Elvis had shipped down from Memphis. Also he's a great boy with the flowers bit. Finds out the flower preference of the ladies in his pictures and keeps their hotel rooms and dressing rooms filled with them from start to finish."
In a January 2010 interview, Anne explained that Elvis' initial approach to her was in a more down home style:
"He came over to my cabin on the day that I arrived, and brought me a flower. He may have just picked the flower on the way over to the cabin. Who knows? But we went for a drive and turned the radio on, and he was on the radio. It was a very bizarre date. I mean, I felt like I was in a small town with the poodle skirt and sneakers, like a little kid going out for a milkshake with my date, but we hit it off right away."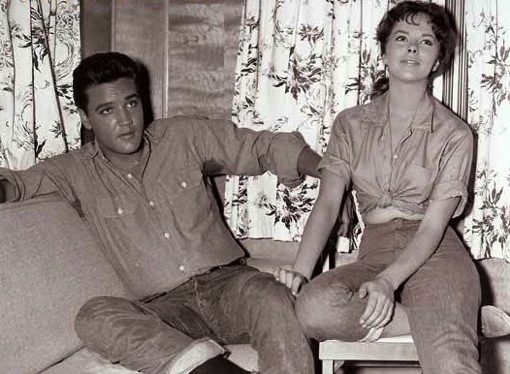 During the month-long location shoot in Florida, Elvis and Anne were seldom seen together in public. One of the few exceptions came on a day when filming took place at the Commercial Bank in the small town of Ocala. The two were spotted eating lunch together in the dining room of the nearby Marion Hotel. When word got around, a crowd of locals gathered around the hotel to watch Elvis and Anne come out of the hotel, climb into his car and drive away.
In the 1962 press report, Helm revealed that she and Elvis ate lunch together most days while on location. "He never kidded me about my strange 'liver' diet," she recalled. "That must have been because his taste in food doesn't follow the routine either. His favorite lunch is still half a pound of bacon and a double serving of mashed potatoes."
With the area press and residents fixated on Elvis, Anne's comments were seldom sought or heard. On July 7 local reporters were invited into Elvis' trailer to interview him. In his article the next day in the Ocala Star Banner, Tom Wilkerson reported, "Anne Helm, the singer's co-star in the film, sat in the corner opposite the star, saying nothing but obviously enjoying the event … The only words the shapely maiden uttered during the interview were—'He's pretty nice'—when she was asked what she thought of Elvis."
Anne did draw a local crowd out onto the sidewalks when her solo scene buying bait and tackle was shot at the Citrus Hardware store. The Citrus City Chronicle described her that day as a "tiny little figure, in a sun-back dress, straw hat and sneakers." Other area journalists added their descriptions of the film's female star. Reporter Michael Hall described Anne as a "hazel-eyed charmer with natural poise and beauty." Hollywood writer Pat Williams labeled her a "petite, doe-eyed young actress."
• Hanging out with "the guys"
Anne spent much of her free time in the evenings and on the weekends hanging out with Elvis and the guys he brought down from Memphis with him. "There really was nothing to do down there," she recalled in a 2010 interview, "except play cards at night and go out on the boat. We were all very bored."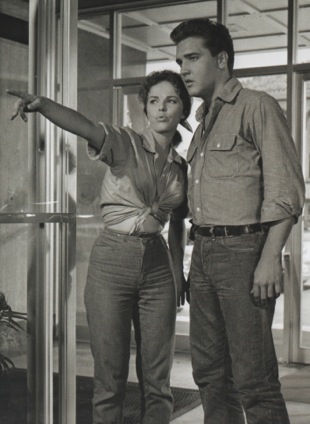 When Elvis' gang relieved the boredom on location, Anne joined in. "I really got to see Elvis out of his element. I became one of the guys, and I actually had a lot of fun with them. They were really silly on the set. Elvis loved jokes. He was a real prankster that way, so people were always coming up with something … He put a fish down my back, and I put a fish down his back. He loved to play with water too. He was great with getting water fights going."
While she understood Elvis' need to have his guys around, Anne still felt uncomfortable around them at certain times. She explained in the 2010 interview:
"He loved to hang out with the guys. They made his word good. No one questioned what Elvis wanted. It wasn't that his demands were out of line. He just didn't want to put up with any nonsense. He had a lot of patience. He was always very polite, but he wanted things a certain way. It wasn't my idea of a fun date after a while. It was just me and the guys. It was just never quite comfortable for me. I mean, it's abnormal to have a relationship with seven or eight guys. Naturally they disappeared when we had romance, but then they came back again. That's sort of a strange way to spend your evenings with a person you care about."
• Anne … "We did have a romance"
"We did have a romance; it was quite wonderful," Anne admitted in 2010. In the months following their time in Florida, though, both Anne and Elvis downplayed the rumor that they had had an affair in Crystal River. In June 1962, Anne told a writer that she was "very fond of Elvis" but that "he never took me out on a date" while they were filming in Florida. And in the December 1961 issue of Movieland and TV Time magazine, Elvis sidestepped the issue:
"Anne is one of the nicest young actresses I've ever worked with. She worked very hard down there in Florida, and there was no conceit in her. We had a lot of time together when we weren't working. We'd go back to the motel where the whole crew was staying, and watch TV or play black jack or Monopoly. We ate dinner together, too. We had a lot of fun—she's really a wonderful girl."
In a couple of 2010 interviews, though, Anne spoke candidly about her romance with Elvis in Crystal River:
"Elvis was away from the madding crowd. It was like a shipboard romance … In those days we were very promiscuous, and of course I knew he was having a lot of affairs, but we really adored one another. I mean, I really loved him. I just sensed that his life was very compartmentalized … It was a more innocent time. We were very young … Everyone knew about Priscilla, although he didn't talk a lot about Priscilla to me, but it was rumored they were going to be married."
• Getting along with the rest of the cast
Anne got along well with most of the other cast members, especially the group of character actors who played the gangsters. "They were veteran actors and very funny," she recalled. "They used to crack jokes all the time."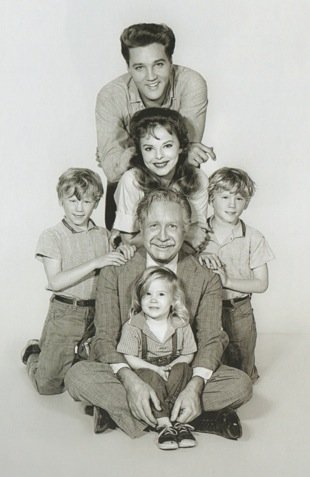 A couple of interesting situations developed on set with Anne and her fellows cast members. In Päl Granlund's 2013 book, Elvis Presley: Summer of '61, Wendell Daniel, a 9-year-old stand-in for the twin brothers in the film, recalled the following incident:
"I was sitting in Elvis' chair one time, and him and Red West were doing karate, chopping blocks of wood, breaking them in half, and I sat down in his chair… right next to Anne Helm, who was sittin' there watchin' them. Pretty soon he was back, and he said, what you doing sitting next to my girlfriend? Anyway, he put his arm out, when he did, I raised my arm out, and he got me out of the chair and kneed me in the groin. I fell to the ground, and Anne Helm came to my rescue. She said, 'Elvis, what are you doing?' Elvis said, 'I did not mean to!'"
Anne also recalls a sudden revelation that came to her the first time she did a scene with Joanna Moore:
"I remember going to the fishing store. That wasn't actually my favorite time because it was the first time Joanna Moore and I were in the same room together, and I didn't realize it at the time, but there was a lot of jealousy. It was an interesting exchange for me. I didn't know her but there was an energy that worked for the film, and I got to push her in the pond. The (twin) boys were supposed to push her in the pond, but it got changed. I paid the director, so I got to push her in."
The film's final scene was an emotional one for Anne. A United Artists publicity document described the scene as follows. "That night Anne exchanges her usual blue jeans for a lovely and very feminine white dress, and comes to Elvis, who is on the porch singing a ballad. When he finishes, they embrace."
"The final scene was a very tender scene for both of us," Anne explained in a 1997 radio interview. "We both knew we were going our own way after that."
She continued to see Elvis after they returned to Hollywood to complete shooting for Follow That Dream, but romance quickly gave way to friendship. She explained in the 2010 interviews:
"It was very difficult. He had many lives; he had many women around him. It wasn't like Crystal (River) where I had him all to myself every night … He was wonderful to me, very sweet. We spent a lot of time together when we stopped filming so I got to know him on a very human level. And it was wonderful. He was very special and very kind. He had super good manners, always respectful of everybody, very gentle, southernly manners."
• Anne Helm's life after-Elvis
In the decade after her role in Follow That Dream, Anne Helm worked in a number of TV westerns and dramas. She appeared in episodes of Wagon Train, Gunsmoke, and Laramie. In 1963 she was cast in the series finale of Empire, a modern western series starring Richard Egan, who co-starred with Elvis in Love Me Tender. Helm was a regular on the soap opera General Hospital from 1971 to 1973. 
After retiring from acting in 1986, Helm authored children's books under the name "Annie Helm." In her private life, she married twice and had a son and a daughter. 
Robin and Gavin Koon played the twins Eddy and Gavin Bascombe in Follow That Dream. In the fall of 2000, they received a call from Graceland inviting them to the January 2001 fan club presidents meeting. "It was here that we had a reunion with one of the remaining cast members, Anne Helm," they recalled in Päl Grandlund's book. "We also met her daughter Serena. We hit it off with Annie and Serena right away. It seemed that we've known them forever—like finding long lost friends. Annie is a remarkable woman and has a truly wonderful soul—an angel, if you will. She is now an artist and teacher, whose creative pieces are quite remarkable. We have remained very close friends ever since." — Alan Hanson | © November 2015