"Are You Lonesome Tonight?"




Elvis' Classic Recording of an Old Song
Certainly Are You Lonesome Tonight? is a song associated intimately with Elvis Presley. This is in spite of the fact that it was written nearly a decade before Elvis was born and that numerous singers recorded it before he did. The song had an interesting history leading up to Presley's 1960 chart-topping version. Elvis' hit recording also had a ripple effect, sending out waves of financial success to a flock of female singers who released "answer records" and the music publishers who controlled the tune.
Two men who didn't benefit from Elvis' recording of Are You Lonesome Tonight? were Lou Handman and Roy Turk, who wrote the song in 1927. Both were dead by the time Elvis recorded their tune. Handman had a hand in the initial recording of his song, when he played piano on his sister Edith's vocal rendition in 1927. The song first hit the Billboard pop charts in 1950, when Blue Barron's release on MGM records peaked at #19. Al Jolson also released a version of the song on the Decca label.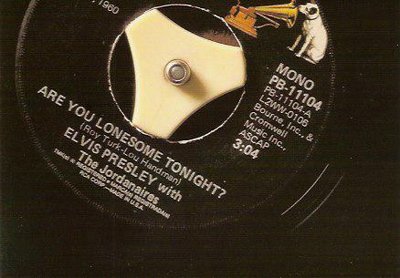 Just what inspired Elvis to record the song is difficult to nail down. Some sources credit Colonel Parker for suggesting the song. Elvis also might have heard Jaye P. Morgan's MGM label release, which reached #65 on the charts in 1959. At that time Elvis was in the army and known to be considering recording material for his first post-army session the following year.
• Trade journals predicted Lonesome Tonight would be a hit
In any event, Elvis recorded Are You Lonesome Tonight? at RCA's Nashville Studio B in the early morning hours of April 4, 1960. Musicians working the session were guitarists Scotty Moore and Hank Garland, bassist Bob Moore, drummers D.J. Fontana and Buddy Harman, and pianist Floyd Cramer. The Jordanaires provided their usual vocal backing.
When it was released in early November 1960, both Variety and Billboard predicted hit status for the record. (Not a stretch for either publication, considering Presley's previous two singles that year, Stuck on You and It's Now or Never had shot to the top of the charts.) Variety noted, "Elvis Presley's 'Are You Lonesome Tonight?' chalks up another smash hit in this restrained workover of the oldie." Billboard's review read, "Elvis Presley turns in a warm and touching performance on the oldie, which also features a tender recitation."
The recitation was Elvis' personal imprint on the song. The spoken part was not part of the original published lyrics, and so speculation grew around who had penned those words. It has been suggested that the recitation was based on Shakespeare's "All the world's a stage" speech in As You Like It. That may be so, but who wrote the adapted lines for the song? In a short article in its December 12, 1960, issue, Billboard claimed to have found the answer.
"After much diligent footwork on the part of The Billboard," the magazine explained, "it was discovered this week that the writer of the recitation on the Elvis Presley record of 'Are You Lonesome Tonight?' was written by veteran music man and writer Dave Dreyer. Dreyer, the composer of 'Cecilia,' 'I'm Following You,' 'Me and My Shadow,' and other hits, penned the recitation while working for Bourne Music in the 1920's. At that time recitations were used by singers in theaters and music halls to dramatize songs before a live audience. The recitations were often printed on the back of sheet music copies."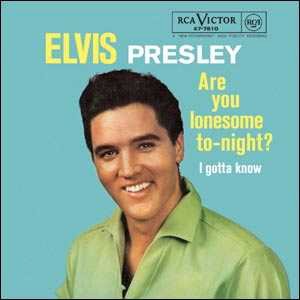 • Are You Lonesome Tonight spent 11 weeks in the Top 10
Elvis' Are You Lonesome Tonight? entered Billboard's "Hot 100" at #35 on November 11, 1960. It charged past his own It's Now or Never, which was at #47 that week, on it's way down the chart after spending five weeks at #1. The next week Lonesome was at #2, before settling in at #1 on November 28, only it's third week on the chart. It displaced Stay by Maurice Williams and the Zodiacs in the top spot. Are You Lonesome Tonight? held on to #1 for six weeks, before giving way to Bert Kaempfert's instrumental Wonderland by Night. Elvis' record held the #2 spot for two weeks before starting its slow withdrawal from the chart. In the end, Are You Lonesome Tonight? spent 17 weeks in the "Hot 100," 11 of them in the top 10.
Elvis wasn't the only one to capitalize on his hit recording. At least five female singers took a ride on Presley's rocket by recording answer records. In its December 5, 1960, edition, Billboard took notice of the phenomenon as follows:
"Elvis Presley's smash hit waxing of 'Are You Lonesome Tonight' has inspired the biggest flock of answer records to any one disking in years. And all of the answer disks are by fem artists, indicating the effect that Elvis still has his large, loyal and young female following. The answer records, complete with heartfelt recitations, include diskings by Dodie Stevens on Dot, Linda Lee on Shasta, Ricky Page on Rendezvous, Thelma Carpenter on Coral and Jeanne Black on Capitol."
The first four versions were all titled, Yes, I'm Lonesome Tonight. They kept the original lyrics, adding only a change in the personal tense. Thus Turk and Handman were still credited as the writers and Bourne-Cromwell as publishers. Variety reported that at first the publishers "weren't anxious for an 'answer' song so soon after the release of the Presley disk for fear that it hurt the original's sales momentum." However, since all four recordings adhered to the original lyrics, they couldn't be stopped, and when it became clear that nothing was hindering sales of Elvis's record, the publishers were said to be "walking on clouds."
Jeanne Black went a little different route. Her answer song, Oh, How I Miss You Tonight, was a different tune, but with her own touching recitation added. "It is all as if they are singing to Elvis personally, thru the media of recording," Billboard noted.
• Are You Lonesome Tonight earned three Grammy nominations
The scramble was on for the record labels of the five answer songs. "All of this romantic effusion has caused a wild sales race on the part of the five diskeries," Billboard reported, "as trying to get their copy of the Elvis answer to disk jockeys, distributors and dealers before their competitors can do the same. There are reports that some enthusiastic sales personnel are calling competitor's versions unauthorized but a check of the publishers indicates that all versions are not only authorized but welcome."
Meanwhile, Colonel Parker was ecstatic over all the furor created by Elvis' latest mega-hit. "Sort of confirms his belief that Elvis remains the No. 1 singing act in the business," noted Billboard of the Colonel. Insiders in the recording industry didn't agree. At the 1960 Grammy Awards, Are You Lonesome Tonight? by Elvis was nominated for "Best Performance by a Pop Single Artist" and "Best Vocal Single Performance" by a male artist. He lost in both categories to Ray Charles and his recording of Georgia on My Mind. — Alan Hanson | © August 2009
Go to Elvis Music

Go to Home Page