Elvis Presley & Bing Crosby …
"Entertainers of the  Century"
In 1977, two iconic American entertainers died within two months of each other: Elvis Presley at his home in Memphis on August 17 at the age of 42 and Bing Crosby on a golf course in Spain on October 14 at the age of 74. On their passing, both were eulogized extensively in the press for their legendary show business careers. Over the passing decades since, Presley's status as the King of Rock 'n' roll has been reaffirmed annually by the media and at a mid-summer celebration in his hometown of Memphis. Meanwhile, Crosby's legacy has remained unassailable but quietly imbedded in the past.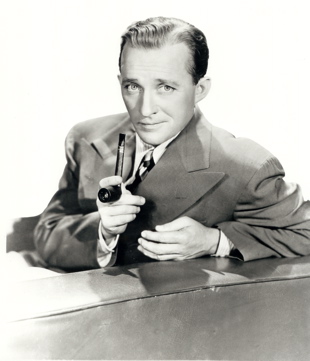 Much of the disparity in the ongoing public acclaim of the two men, however, can be explained by the different eras in which each was the rage. Elvis was still a popular entertainer at the time of his death, and his style of music was still in vogue. Bing, on the other hand, had entered semi-retirement by 1977, and his legions of admirers from his heyday in the '30s and '40s had long since been overwhelmed in the population by Presley's Baby Boomers.
Having lived most of my life in Bing Crosby's hometown of Spokane, Washington, I can attest that, although the city holds no annual celebration for him, Crosby still casts a long shadow over Spokane. The downtown Bing Crosby Theatre hosts numerous traveling musical shows. And over at Gonzaga University, around the corner from the Crosby Library, a bronze statue of Bing overlooks the main student thoroughfare across campus. It stands in front of the Crosby Student Center, which houses a collection of the entertainer's gold records and other memorabilia.
 It was in front of the student center that, on September 1, 1994, the US Postal Service held a dedication ceremony for it's new Bing Crosby stamp. Ever since the Elvis stamp had been issued in January 1993, Crosby fan clubs had campaigned for a stamp honoring their favorite, whom they considered more worthy of the honor than Presley. "If they can feature Elvis on a stamp," one Crosby supporter declared, "they sure could present Bing."
 • Bing vs. Elvis … who was greater?
In their crusade for a Crosby stamp, Bing's partisans revealed some of the resentment they've harbored against those who had long and loudly proclaimed Elvis Presley to be the "Entertainer of the Century." The evidence clearly indicated, they declared, that Bing Crosby deserved that title. So, does one merit the label more than the other? In the end, of course, it's all subjective, but comparing the impact of the two men on American culture in the 20th century, though perhaps a pointless exercise, is nevertheless a fascinating one.
Some similarities marked the roads Bing and Elvis took to superstardom during their respective eras. Crosby was born in Tacoma, Washington, in 1903, but his father moved the family across the state to Spokane in 1906 in search of better times. After graduating from Gonzaga University, Bing left to go on the road as a big band singer in 1926. By 1931, he was the leading singer in America. Born 32 years later in Tupelo, Mississippi, Elvis' family moved to Memphis in 1948, also in search of better times. In 1954 Elvis signed with Sun Records and began touring throughout the South. By 1956, he was the leading singer in America.
Although neither could read music or were accomplished musicians, they both had an ear for music. "He had only to hear a song to know it," was true of both Bing and Elvis. Each assimilated various musical sounds of the day to fashion their own styles. Crosby absorbed the influences of such diverse singers as Al Jolson, the Mound City Blue Blowers, Ukelele Ike, Ethel Waters, and Louis Armstrong. The young Elvis internalized and mixed the pop sounds of Dean Martin and others with spirituals and the country melodies and r&b styles he heard on Memphis radio.
• Both revolutionized popular music
Both Crosby and Presley forced major changes on popular music, although in quite different ways. In his book, Bing Crosby: A Pocketful of Rainbows—The Early Years, Gary Giddins described how Crosby reformed vocal music in the 1930s:
"When Crosby came of age, most successful male singers were effeminate tenors and recording artists were encouraged to be bland, the better to sell sheet music.  The term pop singer didn't exist; it was coined in large measure to describe a breed he invented. Bing was the first to render the lyrics of a modern ballad with purpose, the first to suggest an erotic undercurrent."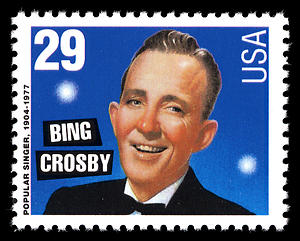 In a 1984 interview, Tony Bennett explained how Crosby's style affected him and other vocalists: "I studied Bing. He is the one who has shown us all how to do it. He developed a relaxing attitude and style which appealed to everybody … a style that got under your skin. This was a revelation for singers."
 Elvis, on the other hand, popularized rock 'n' roll, a style of music that definitely did not appeal to everybody. He took away control of American popular music from adults and handed it over to the country's teenagers. Presley inserted an element of movement into pop music, and at the same time brought Crosby's "suggestion" of eroticism in the lyrics fully out into the open. Adults of the fifties hoped Presley's in-your-face style was a fad that would fade away, but it hasn't yet.
 The ability of both Bing and Elvis to sing varying styles of music helped to increase their popularity and to extend their careers. Crosby explored, according to Giddins, "every idiom, class, and precinct of American song, from hymns, anthems, spirituals, and novelties to Hawaiian, Irish, light opera, and r&b; he even took a fling at rock 'n' roll." In addition to rock 'n' roll, Elvis' repertoire included country, r&b, gospel, Hawaiian, Italian, and show tunes.
 • Elvis followed Bing's show business strategy
 Crosby was the first to dominate all three major components of the entertainment business. From 1934 through 1954, he was virtually unrivaled in his command of record sales, radio ratings, and Hollywood film box office receipts. He seamlessly moved successfully into the TV medium in the 1950s. By then Elvis was following Crosby's trifecta model in show business. He parlayed his initial success in the recording industry into a series of appearances on network TV shows in 1956, followed by 15-year career in Hollywood. He used television again in 1968 to jumpstart his return to the stage and again in 1973 to solidify his status as the country's premier concert draw.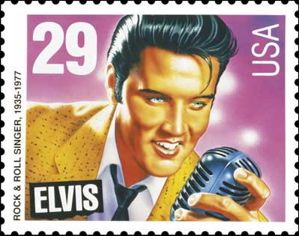 Despite the similarities in their career paths, Crosby and Presley had a couple crucial differences as well. First and foremost, they were the product of different times. Crosby prospered in the '30s and '40s when Americans fell in love with the American Dream. He fit the image of a self-made man, the perfect family man, and so he appealed to the full spectrum, from children through senior citizens. Elvis was just the opposite. He thrived because the country's youth needed a rebel, one who challenged the conformity of the post-war years.
In their 1981 book, Bing Crosby: The Hollow Man, Donald Shepherd and Robert Slatzer, explained how difficult it is to compare entertainers who worked in such different arenas.
"Only two singers in his lifetime who entered the field on Crosby's own turf, so to speak, have endured: Frank Sinatra, who was much influenced by Bing, and Tony Bennett, who was influenced, in turn, by Sinatra. But they, too, endured because they are uniquely gifted, and they can no more be compared to Bing or to each other than Bing could be compared to Al Jolson, who influenced him. Elvis Presley, of course, was uniquely gifted as well, but he seldom touched Crosby's turf; his was a new game, for he revolutionized popular music."
What about statistics, though? Surely they can be used to determine whether Crosby or Presley was the more influential entertainer. Consider the recording career of each. According to Laurence Zwisohn in his book, Bing Crosby, a Lifetime of Music, Crosby recorded more than 1,600 songs in his 51-year career (1926-1977). Elvis recorded less than half that, about 735 studio recordings in his 24-year career (1954-1977), although a little over 100 additional songs he sang live in concert were also recorded and released on records during his lifetime.
• Recording stats too muddled to crown a king
"The Bing Crosby Historical Society" claims that a phenomenal 396 Crosby single recordings charted over the years, while Elvis had 144 charted singles during his career. Presley's total is easy to confirm, since Billboard magazine, which has been the industry standard for record charts since it started publishing in the 1950s, enveloped Elvis' entire career. It's hard to substantiate Crosby's total, however, since during his heyday in the '30s and '40s no acknowledged national singles chart existed. According to an unnamed writer on elvisinfnet.com, "a range of regional and quasi-national charts were used. However they suffered from a lack of both rigor and audited sales."
Although the Crosby historical society claims Bing had 38 #1 hits, author Grudens lists only 22 career gold records for the singer. Elvis, on the other hand, had 18 #1 singles but a total of 92 single gold records. With so many conflicting numbers, it's impossible to say which one had the more successful recording career. It's safe to say, however, that both Bing Crosby and Elvis Presley were the dominant recording artists over the course of their respective careers.
Crosby, though, clearly had a more successful Hollywood career than Presley. Bing appeared in 55 feature films from 1930-1956. He was Hollywood's #1 box office star every year from 1944-1949 and was nominated as Best Actor three times, winning the Oscar for Going My Way in 1944. Presley, on the other hand, rarely challenged himself during a 31-film career from 1956-1969. Elvis walked away from Hollywood when he was 34, an age at which Bing's best film work was still ahead of him.
If Bing surpassed Elvis in Hollywood, Elvis did the same to Bing on the concert stage. Presley's gyrating style was made for personal appearances. "If people just want to hear me sing," he explained in 1956, "they can stay home and listen to my records. But when they come out to see you, you have to put on a show." From 1954 through 1976, Presley played 870 road shows in the U.S. and Canada, and 773 more live performances in Nevada showrooms for a career total of 1,643 concerts. One of the secrets to Elvis' enduring popularity is that several hundred thousand people retain the memory of actually having seen him perform live on stage.
In the end, however, all of the statistics concerning record sales, movie box offices, and concert crowds are meaningless in comparing the impact of Bing Crosby and Elvis Presley. All that the numbers reveal is how each man eclipsed the competition in his own era, not that one eclipsed the other.
 • Crosby's remarks on Elvis show mixed feelings
 What did Crosby and Presley think about each other? Elvis never mentioned Bing when asked about his musical influences, instead citing Dean Martin as his main pop influence. Before he hit the big time, Elvis sang some Crosby songs for classmates and family, and after signing with RCA, he recorded about a dozen songs that had been hits for Bing. They included holiday songs like "White Christmas" and "I'll Be Home for Christmas," and Hawaiian tunes such as "Blue Hawaii," "Aloha Oe," and "Hawaiian Wedding Song," all of which were included in the soundtrack of Presley's film Blue Hawaii. Elvis best paid tribute to Crosby's style in 1957 when he recorded "True Love," a hit record for Bing the year before. Presley's version appeared on his "Loving You" LP in 1957.
Bing Crosby voiced his opinions about Elvis several times. The most commonly quoted is from an interview Bing gave Portland, Oregon, DJ John Salisbury in 1975. When Salisbury asked Crosby's opinion of Presley, Bing replied, "He never contributed a damn thing to music." When the stunned DJ asked for further comment, Crosby added, "He was successful—hard to account for. Oh, he sings well enough, I suppose."
Crosby's dismissal of Presley that day is in contrast to cordial remarks he made about Elvis both before and after. In 1957, when Presley was enjoying his greatest popularity, Bing made the following comments about him during an interview with journalist Pete Martin.
"He's going to be a very big star in a lot of fields, other than the one in rock and roll. He's got an appealing personality. He's a good-looking kid. He sings in tune and he's got good rhythm. He just hasn't developed enough voice yet to handle a ballad, but that will come. If he keeps yelling and screaming he'll develop enough strength in his diaphragm and lungs. He's got a Peck's bad boy look in him—a sly smile. Women like that."
Bing was also gracious in his remarks on learning of Elvis' death in 1977. "Oh, I'm shocked; it's a sad thing to hear," he said. "A young man like Presley, just a young fella, so vibrant, so influential all through the years of American popular music, and now you tell me he's gone. It's hard to believe. It'll be a great loss."
 • Personal lives ravaged after death
Following their deaths in 1977, the legacies of both Bing and Elvis were tainted by the publication of books exposing alleged flaws in their personal lives. In Presley's case, the hammer fell within days of his death with the publication of Elvis: What Happened? The work of three disgruntled bodyguards painted Presley as a self-absorbed, womanizing, drug addict.
Crosby's image was dealt two body blows, first with the publication in 1981 of Shepherd and Slatzer's Bing Crosby: The Hollow Man. It portrayed Crosby as being "viciously selfish," capable of betraying his friends, and being both a child abuser and a philanderer. In a memoir two years later, Crosby's oldest son, Gary (Elvis' co-star in Girl Happy), accused his father of mental and physical child abuse, which destroyed Bing's image of being the ideal father. Fans of both men have had to face the reality that off stage their idols at times had feet of clay.
However, Crosby biographer Gary Giddins concluded: "Neither saint nor monster, Crosby survives his debunkers along with his hagiographers (writers of unwarranted praise) because the facts are so much more impressive than the prejudices and myths on either side." Exactly the same judgment could be assigned to Elvis Presley. The professional accomplishments of both men were so remarkable that in history's judgment they will overshadow the personal failings each had.
And as for which one deserves to be labeled the "Entertainer of the Century," I say let them share the honor. And let Frank Sinatra have a seat at court as well. A hundred years is much too long a period of time to allow just one person to lay claim to all of it. — Alan Hanson | © May 2013