"Blue Moon"




Elvis Presley's Most Unlikely Song
I never liked Elvis' recording of Blue Moon. He sang the lyrics OK, I guess, but that high-pitched screeching (that's how I categorized it initially), which he emitted several times on the record, downright irritated me. It wasn't quite as bad as fingernails on a blackboard, but it was bad enough that I seldom listened to the song for over 25 years.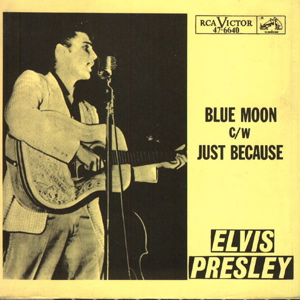 Then I experienced an epiphany concerning this unusual Presley song. It happened in 1990, when my wife and I were watching the Tom Hanks/Meg Ryan film, Joe Versus the Volcano, at a local theater. I was amazed when Elvis' recording of Blue Moon was used in the soundtrack. My whole attitude toward the song changed that night. Part of it was psychological. If some producer thought the recording was worthy enough to use in a major Hollywood movie, then it must be better than I thought. And I had to admit that the song sounded much better in the theater that evening than it ever had on my record player. It still isn't my favorite Elvis song, but I now enjoy listening to it and have come to appreciate Elvis's interpretation of it.
• It's hardly a rockabilly tune
The Rodgers and Hart number was certainly an unlikely song for Elvis to record back in his Sun Records days. While he was crafting his rockabilly style in 1954-1955 with songs like That's All Right, Blue Moon of Kentucky, Good Rockin' Tonight, and Milkcow Blues Boogie, how did something like Blue Moon get into that mix? The Broadway song-writing team of Richard Rodgers and Lorenz Hart originally composed the song while under contract with Metro-Goldwyn-Mayer in 1933. Over a two-year period, Hart wrote three different sets of lyrics for MGM, but the song never clicked in any of the three films for which it was intended.
Finally, in 1934 Rodgers, who always liked the melody, prevailed upon Hart to write a fourth, more romantic, set of lyrics so the song could be released commercially. That's when Hart changed the title to Blue Moon and came up with the familiar lyrics that have been recorded numerous times over the past 75 years. Those who recorded it over the years include Louis Armstrong, Sam Cooke, Billie Holiday, Bob Dylan, Dean Martin, Frank Sinatra, Bobby Vinton, Rod Stewart and Eric Clapton. Before Elvis', only Mel Torme's version of Blue Moon made one of Billboard magazine's charts, reaching #20 on the "Best Seller" list in April 1949.
As a teenager in Memphis, Elvis probably heard multiple recordings of the song on the radio. He obviously liked the pop ballad, as, according to biographer Peter Guralnick, Elvis was already singing the song when he first hooked up with Sun Records in 1954. In fact, Guralnick believes that Elvis, Scotty Moore, and Bill Black tried to record it in July 1954 as a possible flip slide to That's All Right.
• Elvis' recording an "eerie, clippity-clop version"
However, the first and only verified recording session for Blue Moon took place at Sun Studio on Wednesday night, August 19, 1954. The only musicians at the session were Scotty and Elvis on guitar and Bill on bass. Sam Phillips was in the control booth. Guralnick describes the session and its results as follows: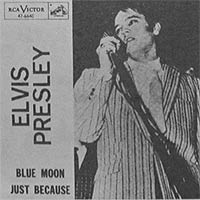 "On August 19 they spent hours doing take after take of 'Blue Moon,' in an eerie, clippity-clop version that resembled a cross between Slim Whitman's 'Indian Love Call' and some of the falsetto flights of the r&b 'bird' groups (the Orioles, the Ravens, the Larks). After it was all over, Sam wasn't satisfied that they had anything worth releasing, but he never uttered a word of demurral for fear of discouraging the unfettered freshness and enthusiasm of the singer."
Take 4 that evening, the one that RCA would eventually release two years later, reveals Elvis' unusual interpretation of the song. Music historian Colin Escott describes it thus: "Elvis skips the bridge and the final verse that contains the happy ending, neatly transforming the 32-bar pop classic into an eerie 16-bar blues." Hart's original lyrics describe a man whose longing for love is finally rewarded. Elvis used only the following two opening stanzas, repeating and separating them with falsetto moans (that's how I categorize the sound now):
Blue moon
You saw me standing alone
Without a dream in my heart
Without a love of my own

Blue moon
You knew just what I was there for
You heard me saying a prayer for
Someone I really did care for
Elvis left out the following bridge and final verse:
And then there suddenly appeared before me
The only one my arms will ever hold
I heard somebody whisper, "Please adore me"
And when I looked, the moon had turned to gold

Blue moon
Now I'm no longer alone
Without a dream in my heart
Without a love of my own
Certainly, the extremely slow tempo and melancholy delivery of lyrics would not have worked with the happy outcome described by the bridge and final verse.
• Discarded Sun tune released by RCA
Sun Records never released Elvis' version on Sun Records. It was among the unused Presley recordings turned over to RCA when it purchased Elvis' contract in late 1955. It was released, along with three other discarded Sun cuts, on Presley's first RCA album in March 1956. In September that year, RCA released Blue Moon as a single backed with another Sun recording, Just Because, as part of a mass singles release. In listing all the titles in its "Review Spotlight" column on September 8, 1956, Billboard labeled them, "Fourteen tunes, formerly available on Presley's LP's or EP's, now available on seven singles, within reach of any kid with 89 cents."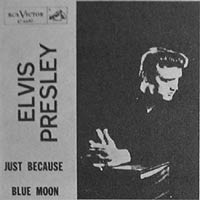 It soon became apparent that of the seven singles, Blue Moon/Just Because was selling the best. In its September 22 issue, Billboard listed that single in both its "Coming Up Strong" and "This Week's Best Buys" lists. "This disk, with emphasis on 'Blue Moon,' is stepping out and starting to move," Billboard reported.
Elvis' version of the song entered Billboard's "Top 100" chart at #87 on September 29, 1956. It's chart performance ranks as the most unusual among all of Presley's chart records during his career. While it had a very respectable 17-week run on the "Top 100," it didn't follow the normal chart pattern of steadily rising to a peak and then falling steadily back down the chart.
Instead Elvis' recording went on a chart roller coaster ride. It rose to #55 in its third week, and then fell back to #84 two weeks later. Then it rose back into the '60s for two weeks before falling back into the '90s, where it stayed for 6 weeks. Then it went back up again to #60; then back down to #97 for a couple of weeks. Twice during its up-and-down chart movement the song fell off the "Top 100" completely, only to resurface one or two weeks later. Finally, on February 9, 1957, it exited the chart for good.
• Elvis' first rock 'n' roll version of the song
During its 17 weeks on the "Top 100," Elvis' version of Blue Moon never reached higher than #55. Still it was on the chart longer than I Was the One and Blue Suede Shoes, both of which were top 25 hits for Elvis that year.
Elvis' rendition of Blue Moon is considered that song's first crossover into the rock 'n' roll genre. The song's biggest splash in rock history, however, came in April 1961, when the Marcels' doowop version sold a million copies and knocked Elvis' Surrender off the #1 spot on Billboard's "Hot 100."
A few years later, Elvis had one more obscure connection with the tune. In his 1964 film Viva Las Vegas, while Elvis checks out the chorus girls at the Tropicana Hotel, about 10 seconds of an instrumental version of Blue Moon plays in the background.
And say, what is a "blue moon," anyway? It must have some significance, since Elvis recorded three songs with that term in the title. (Blue Moon of Kentucky and When My Blue Moon Turns to Gold Again are the other two.) Well, technically "blue moon" is the term for a second full moon in a single calendar month. ("Once in a blue moon," then, usually means once a year.) So a "blue moon" really isn't blue, unless, of course, you're the unrequited lover voicing the Richard Rodgers lyrics of the song. Then every moon might seem a little "blue." — Alan Hanson | © April 2010
Reader Comment: When I read that you didn't like Blue Moon, I had to go to youtube and listen.  Have to say I agree.  Not one of his best, and I never thought I would say that. — Nancy (June 2023)  
Reader Comment: I stumbled upon this article because I was trying to read up and figure out if he ever sang Blue Moon again later on. It sounds so heartbreaking I can't believe he was only 19 when he recorded it. It was a little saddening to see/hear that some weren't fans of it, but I think it's a beautifully melancholic song and in my top favorites ever of his, if not my favorite. I first discovered it last year, at 25. I watched the new movie and wanted to give his entire discography a listen. So obviously I started with his self-titled album and when I got to Blue Moon I was so hauntingly enchanted; a mix of the lyrics resonating with me and wonderfully surprised at how this didn't sound like anything I'd heard from him before. I enjoyed reading about it and finding this blog. — Acev (September 2023)
Go to Elvis Music

Go to Home Page