Bono's Elvis Poem Reveals Irish
Rocker's Admiration for Presley
"Just a hunk of rhymin' love"—That was the headline over a brief wire report in my local newspaper recently. The story told of a poem about Elvis Presley written by Irish singer and musician Bono. The poem, entitled "Elvis: American David," was written back in 1995. It's in the news these days because, according to the wire report, "The U2 frontman is reading [the] original poem honoring America's original rocker as part of the BBC's poetry season."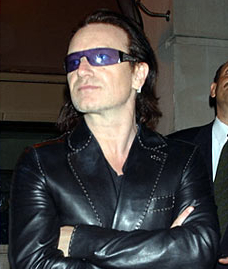 Although I had never heard of Bono's Elvis poem before reading about it in the newspaper, it evidently has been around since Bono recorded it near the end of an interview over a decade ago. The article says it was reprinted in an Elvis fan magazine a couple of years later.
Bono (born Paul David Hewson in Dublin, Ireland, in1960) is best known as the lead vocalist and lyricist for the Irish rock band U2. Personally, I've never gotten into U2's music, but I have appreciated Bono's outspoken praise of Elvis's musical influence through the years. In a 2004 essay in Rolling Stone, Bono recalled his first contact with Elvis at a young age.
• Elvis first came to Bono in black leather
"I was barely conscious when I saw the '68 comeback special, at eight years old—which was probably an advantage. I hadn't the critical faculties to divide the different Elvises into different categories or sort through the contradictions. Pretty much everything I want from guitar, bass and drums was present: a performer annoyed by the distance from his audience; a persona that made a prism of fame's wide-angle lens; a sexuality matched only by a thirst for God's instruction."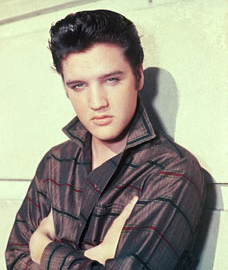 When it comes to Elvis' influence on rock music today, Bono is a voice in the wilderness of young rockers who fail to see or acknowledge the connection. "Elvis changed everything—musically, sexually, politically," he noted in his essay. "In Elvis, you had the whole lot; it's all there in that elastic voice and body. As he changed shape, so did the world. He was a Fifties-style icon who was what the Sixties were capable of, and then suddenly not … In Elvis, you have the blueprint for rock & roll: the highness—the gospel highs. The mud—the Delta mud, the blues. Sexual liberation. Controversy. Changing the way people feel about the world. It's all there with Elvis."
In the Rolling Stone essay, Bono went on to tell of U2's trip to Memphis to record at Sun Studio, which he termed "the scene of rock & roll's big bang." There he tried to reproduce the "leanness but not the meanness" that he had heard in Elvis's Sun sides. "The King didn't know he was King yet," Bono sensed. "It's haunted, hunted, spooky music. Elvis doesn't know where the train will take him, and that's why we want to be passengers."
• "Elvis at America before America ate him"
Although Bono saw the Vegas period as "underrated," he lamented Elvis' loss of control during those years. He closed his essay as follows: "Why is it that we want our idols to die on a cross of their own making, and if they don't, we want our money back? But you know, Elvis ate America before America ate him."
That last observation brings us back to Bono's poem, written nine years before his 2004 Rolling Stone essay. "Elvis ate America before America ate him" is a line from "Elvis: American David." The 661-word poem is certainly not Shakespearean stuff, but it obviously came from the heart. Every one of its 108 single line stanzas begins with the word "elvis." It's a mish-mash of biographical statements; Elvis song titles and lyrics; and expressions of Presley's continuing influence on culture and rock music.
Occasionally, lines rhyme, such as in:
"elvis wore a gold nudie suit and trained his lip to curl.
elvis was macho, but could sing like a girl."
But most lines simply stand by themselves, as if entries on a long list of observations about Elvis that came to Bono through the years. He uses some lines to simply state his opinions about Elvis' career. A few examples follow:
"elvis was the most famous singer in the world since king david."
"elvis the movie star made three good movies: viva las vegas, flaming star, and jailhouse rock."
"elvis sang black except in lower registers where he was a student of dean martin."
The poem also contains many testimonials about Elvis' legacy. Such as:
"elvis delivered the world from crooning."
"elvis invented the beatles."
"elvis the hillbilly brought rhythm to the white race, blues to pop, and rock'n'roll to where ever rock'n'roll is."
• Bono catches Elvis' essence in symbolic expressions
The most interesting passages in Bono's poem, however, involve figurative images—metaphors and contradictions that capture the essence of Elvis. Below are just of few of the poem's thought-provoking lines.
"elvis lived on his own street."
"elvis is alive, we're dead."
"elvis woke up to whispers."
"elvis had an acute intelligence disguised as talent."
"elvis called God every morning then left the phone off the hook."
A set of three lines in the middle of Bono's poem, however, caught my attention the most. They reveal the main contradiction of Elvis' life—how he could hurt those closest to him, while, at the same time, warm the hearts of millions of people he never knew. Those lines read:
"elvis broke priscilla's heart.
elvis broke lisa marie's heart.
elvis woke up my heart."
• Long live Bono, Elvis' most glamorous advocate
Bono's poem will never qualify as a classic, but as a high-profile and respected advocate of Elvis Presley's legacy, Bono deserves the appreciation of all Elvis fans. When he speaks of Elvis' continuing influence, it can't help but cause many in the music business's younger generation, who have never felt a connection with Elvis, to at least sit up and take notice. Bono closed his "Elvis: American David" with the following three lines.
"elvis forgive us.
elvis pray for us.
elvis aaron presley (1935-1977)"

Alan Hanson |© May 2009


Full Text of Elvis: American David by Bono

Go to Elvis Universe

Go to Home Page