"Elvis Presley: A Boy From Tupelo:
When the Music Converged in Elvis
"Most people are exposed to some kind of musical culture from their earliest moments, but certain environments seem to produce a higher percentage of significant, influential music. The American South was a melting plot of compositional styles when Elvis Presley was born on January 8, 1935."
With that opening observation, Ernst Jørgensen jumped right to the crucial question underlying his study of Elvis Presley's youth in "Elvis Presley: A Boy From Tupelo." The 119-page volume, packaged with Sony Music's recent release of Presley's complete 1953-1955 recordings, is the most comprehensive and detailed chronicle available of Elvis Presley's formative years in Tupelo and Memphis.
In an interview with The Los Angeles Times, Jørgensen explained that he had used newspaper ads throughout the South to find people who had seen Presley during those years of his career. The stories and photographs he uncovered from those who responded allowed him to fill in many of the missing gaps in Presley's rise to prominence in popular music.
For those interested, Jørgensen covers all the business minutiae of Presley's ascent, including the machinations of Colonel Parker in getting control of the young singer, but the guts of the book is about the development of Presley's musical style. In the Times article, the author concluded of Elvis that, "Everything he did, all the hard work, all he learned from these people he worked with—when he arrives at RCA in 1956, he knows exactly what he wants to do."
Elvis Presley is often credited with combining various musical styles—gospel, country and western, pop, rhythm and blues—and bringing the mixture into the mainstream of popular music. Jørgensen's study reveals how it all came together, sometimes through the genius of men like Sam Phillips and on other occasions through pure coincidence. The key, of course, was Elvis' willingness to soak up and internalize all the musical influences that came his way.
Jørgensen's chronological approach reveals the step-by-step progression in Presley's music that began with his first Sun session in 1954 and culminated with his RCA contract late the following year. Rather than just summarize Jørgensen's study, though, I'm going to approach it in a different manner. Using only the information Jørgensen provided, I'm going to use a thematic approach, focusing on each of the various music genres that influenced Elvis.
• Gospel … the earliest influence
Songs he heard in church provided Elvis Presley's earliest musical influence. Jørgensen quotes Gladys Presley. "When Elvis was just a little fellow, he would slide off my lap, run down the aisle, and scramble up the platform of the church. He would stand looking up at the choir and try to sing with them. He was too little to know the words, but he could carry the tune."
After the family moved to Memphis when Elvis was 13, gospel music remained important in his life. Jørgensen notes the First Assembly of God's 100-member choir and the regular performances there of The Blackwood Brothers quartet. Elvis' family attended the all-night gospel sings at Ellis Auditorium, featuring Elvis' favorite group, The Statesman Quartet.
In September 1954, Elvis told his future manager Bob Neal that he had been, "comin' to see the High Noon Round-up—especially the Blackwood Brothers, off and on for the past year or so." The author describes a time when Elvis sang "old black spirituals" in the back seat while driving between shows with Scotty and Bill. On September 23, 1955, just two months before he signed RCA, Elvis attended another All-Night Sing in Memphis to hear the Blackwood Brothers.
Elvis' love of gospel music would remain throughout his life, but its role in the development of Presley's rock 'n' roll style flowed deep in the background.
• Pop Music … From Dean Martin to Mario Lanza
Although largely displaced by the rock 'n' roll trend that Elvis helped popularize, popular music from the mid-forties through the mid-fifties played an important part in Presley's musical evolution. Jørgensen points out that the Presley family listened to popular music on radio station WELO in Tupelo, and later Elvis even recalled hearing the operatic voices of Enrico Caruso and Mario Lanza on the radio.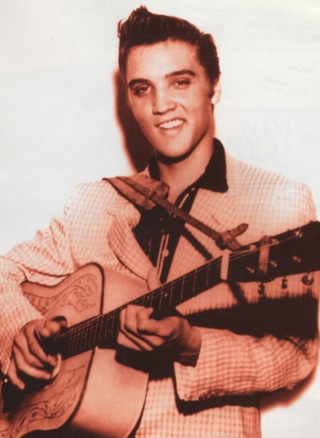 From his early school days through his Sun recording sessions, Elvis often sang his versions of pop music hit songs. At the Humes High School talent show in April 1953, Elvis performed Teresa Brewer's song, "Till I Waltz Again With You," and later that year he sang the pop ballad, "My Happiness" for his first acetate recording at The Memphis Recording Service. When he came back later to record another acetate, he sang two more pop-style tunes, "I'll Never Stand in Your Way" and "It Wouldn't Be the Same Without You."
Even during his sessions for Sun Records, Elvis continued to record covers of pop songs. The very first tune Elvis recorded at Sun was "Harbor Lights," first published in 1937 and previously recorded by many pop artists. Other pop songs Elvis recorded at Sun include "Blue Moon," "Tomorrow Night," "I'll Never Let You Go," and "I Don't Care If the Sun Don't Shine." Both Dean Martin and Patti Page had recorded the latter song.
Although Elvis would continue to record cover versions of pop tunes for the rest of his life, in 1954 and 1955 he seldom used them in his stage shows. As Jørgensen noted, "He learned the hard way that it was difficult for him to win over audiences with ballads." The popularity of hillbilly music and later the energy inherent in rhythm and blues worked much better with the crowds that came to his shows.
• Country & Western … "The Hillbilly Cat"
Elvis grew up in Tupelo with the sounds of country and western music all around him. The Presleys listened to the Saturday night broadcasts of the Grand Ole Opry, and Mississippi Slim, a local country music celebrity, had a program on WELO. In his early school years, Elvis often sang "Old Shep," the old Red Foley country tearjerker.
After the move to Memphis, Elvis could listen to hillbilly music on Sleepy-Eyed John's radio shows. According to Scotty Moore, Elvis played mostly country songs during the first historic jam session at Scotty's house on July 4, 1954. The next day at Sam Phillips' studio, Elvis, Scotty, and Bill started by trying songs by singers like Eddy Arnold and Hank Snow before stumbling into "That's All Right." Over the next 18 months, Elvis recorded many country songs at Sam's studio, including "Blue Moon of Kentucky," "Just Because," "I Left, You're Right, She's Gone," "You're a Heartbreak," and "I Forgot to Remember to Forget."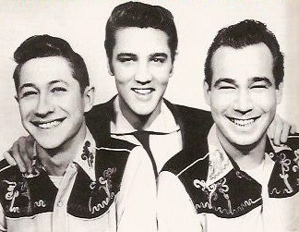 Almost all of the radio programs and packaged shows on which Elvis performed in 1954 and 1955 were country and western oriented. The radio broadcasts included the Louisiana Hayride in Shreveport, the Saturday Night Jamboree in Memphis, the Grand Ole Opry in Nashville, and the Big "D" Jamboree in Dallas. For all of those appearances, Elvis had to at least include a strain of hillbilly into his songs so they would appeal to country and western audiences.
Then, consider all the country and western stars Elvis shared the stage with during the packaged shows he worked in 1954 and 1955—Slim Whitman, Faron Young, Hank Snow, Ferlin Husky, The Browns, Ernest Tubb, Webb Pierce, Johnny Cash, Sonny James, Red Sovine, Wanda Jackson, and others. Their combined influence must have had some influence on Elvis' music.
Ernst Jørgensen makes the interesting observation that although history tends to consider the r&b styled "That's All Right" as the A-side of Elvis' first Sun single, it was the country tune "Blue Moon of Kentucky" that was listed as the A-side in 1954 by most DJs, jukebox operators, and retailers. And "I Forgot to Remember to Forget" on Presley's last Sun single became his first national #1 record when it topped Billboard's county and western chart in early 1956.
At the annual DJ Convention in Nashville in November 1955, Elvis was chosen "New Star of the Year" by Country and Western Jamboree magazine and the "Most promising C&W Artist" by the DJs in Billboard's national poll. Clearly, at the time RCA bought his contract from Sun Records in late 1955, the national label thought it had signed a rising star in country music, not a rock 'n' roll star.
• Rhythm and Blues … "We just stumbled upon it"
According to Jørgensen, "local juke joints exposed Elvis to the sound of Afro-American culture; it was music he stored away in his mind, available whenever he would need to draw from it." After moving to Memphis, Elvis continued listening to black rhythm and blues on Dewey Phillips' "Red, Hot and Blue" program on WHBQ radio.
The influence of that music on Elvis came to the surface in his first recording session in Sam Phillips' studio on July 5, 1954. It was Elvis who spontaneously started singing "That's All Right" during a break in recording. Presley later explained, "I remembered that song because I heard Arthur [Crudup] sing it, and I thought I would like to try it." Four months later, when Louisiana Hayride announcer Frank Page asked Elvis in his first appearance on the show how he came up with "that rhythm and blues style," Elvis responded, truthfully, "We just kind of stumbled upon it."
For the rest of Elvis' time at Sun Records, Sam Phillips' strategy with each new Presley single was to pair an R&B style recording on one side with a country song on the other side. The R&B tracts, including "Good Rockin' Tonight," "Baby, Let's Play House," and "Mystery Train," are now considered classic cuts by music historians.
Meanwhile, Elvis was mixing covers of R&B songs with C&W material in his stage shows. They included "I Got a Woman," "Shake, Rattle, and Roll," "Maybelline," "Money Honey," "Tutti Frutti," and "Hearts of Stone." If, as was the case with the latter tune, both R&B and pop versions of the song had been recorded, Elvis usually based his rendition on the R&B version.
• Presley a product of Southern musical melting pot
In "A Boy from Tupelo," Ernst Jørgensen reveals how gospel, pop, country and western, and rhythm and blues intermixed and re-emerged as a new style of music with Elvis Presley. It all came together in his early 1956 recording of "Heartbreak Hotel." The author's chronological method provides the clearest picture yet available of how these various music genres came together in just the right place, at just the right time, in just the right person. — Alan Hanson | © September 2017