"Burning Love"
Elvis Presley's Last Big Hit Record
"It took almost everyone in the room to persuade Elvis to commit himself to 'Burning Love.' Felton (Jarvis), Joe Esposito, Jerry Schilling, and Red West were all convinced it was a hit … Yet Elvis himself remained unconvinced, and though he eventually cut it, three months later he told reporters in New York that the reason he didn't record more rock 'n' roll was, simply, that a good rock song was 'hard to find.' He seemed to have no idea that the one he'd just completed would become a classic." — Ernst Jorgensen in "Elvis Presley: A Life in Music"
---
Released in 1972, "Burning Love" became Elvis Presley's final hit record, the last of his 38 top ten singles on Billboard's pop music chart. As Ernst Jorgensen noted, at the time Elvis was not enthusiastic about recording the song, or any rock 'n' roll song, for that matter. His marriage had fallen apart, and during that period, he preferred investing his musical energy in "love-lost" ballads, such as "Separate Ways," which he recorded just the day before "Burning Love."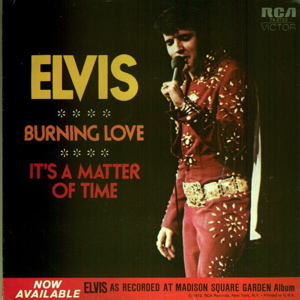 When Elvis entered RCA's Studio C in Hollywood on March 27, 1972, he was in one of the worst chart slumps of his career. He had not had a top ten single since "The Wonder of You" reached #9 in the summer of 1970. None of his previous six singles had even made the top 30 on the Hot 100. Elvis was in desperate need of a hit single to revive his stagnant recording career. Felton Jarvis, Elvis' personal producer, brought "Burning Love" to the recording session. The song, written by Dennis Linde, had gone nowhere when initially released by r&b singer Arthur Alexander. In his Presley biography, Peter Guralnick described how Jarvis struggled to get Elvis to even try the song.
"On the second night Felton finally got his way, but he was under no illusion that Elvis was doing it for any other reason than to indulge his producer. With the encouragement of Joe Esposito and Jerry Schilling, and with Charlie (Hodge) pounding away on acoustic guitar, they got a good, energetic version of 'Burning Love,' the song Felton had brought to the session, but it was tossed off in six takes, in almost throwaway style, and everyone could see that Elvis' heart wasn't really in it."
After finishing the recording session, Elvis and the band spent a couple of days in Studio C rehearsing for April's tour shows, some of which would be filmed for MGM's Elvis on Tour documentary. "Burning Love" was among the songs rehearsed and used on stage at tour stops, which included Hampton Roads, Richmond, Greensboro, and San Antonio. The version of Elvis singing "Burning Love" in the documentary showed him using a lyric sheet, perhaps indicative of his lack of commitment to the song.
• "Burning Love" burns up the Hot 100
RCA released "Burning Love" as a single backed with a country tune, "It's a Matter of Time," on August 1, 1972. The rock side entered Billboard's Hot 100 at #90 on August 19, and marched slowly up the chart as radio DJs took increasing notice of Elvis' new rock 'n' roll song. It broke into the top ten at #9 on September 30, eventually peaking at #2 on October 28. "Burning Love" stayed on the Hot 100 through the end of November, finishing with a run of 15 weeks on the chart, six of those weeks in the top 10. It was Elvis' biggest hit since "Suspicious Minds" in 1969.
"Burning Love" was kept out of the top spot on Billboard's chart by Chuck Berry's "My Ding-A-Ling." That same fall, Rick Nelson's "Garden Party" reached #6 on the chart, making it a group comeback on the Hot 100 for the trio of rock 'n' roll's early stars.
Although Berry's novelty song denied Elvis his 15th #1 record on Billboard's chart, "Burning Love" did reach the top of The Cashbox Top 100 Singles chart the week of November 11, 1972. Elvis' recording spent 16 weeks on Cashbox's sales chart, including 6 weeks in the top 10.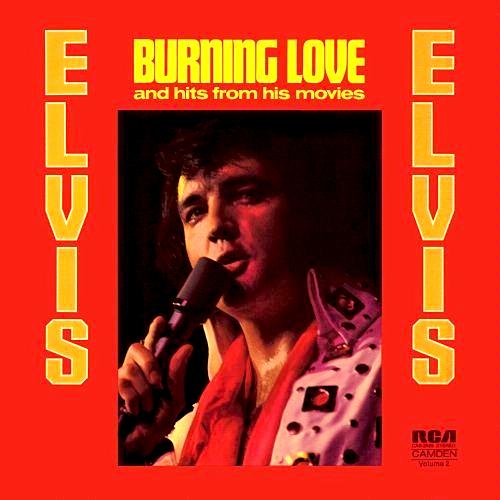 While "Burning Love" was still on the charts in November 1972, it was released again as the title song of an unusual album. "Burning Love and Hits From His Movies" was issued by RCA, but not on its principal label. Instead it appeared on the budget racks on RCA's Camden label. The LP's tract list was bizarre, containing as it did Presley's current hit single and songs previously issued on his movie soundtrack albums. Included were forgettable cuts such as "Guadalajara," "Tender Feelings," and "Santa Lucia," none of them "hits" as the LP title suggested.
Jorgensen blamed Colonel Parker for the slighting of the classic "Burning Love" in such a shoddy budget LP.
"There was no need bothering to make a real album, although that could have easily been accomplished by combining songs from the March session with the best of the Las Vegas February recordings. The resulting album might have shown the artist as a contemporary force to be taken seriously. But as far as the Colonel was concerned, it wouldn't have sold any more records."
• "Burning Love" covers and pop culture usage
Technically, Elvis' recording of "Burning Love" was a cover version, but the many adaptions by other artists over the years have been a tribute to Presley's rendering of the tune in 1972. According to Wikipedia, many varied acts have recorded versions of "Burning Love." Doctor and the Medics' 1987 cover was featured on Dr. Demento's Demented Top 20 Video Countdown on MTV. In 1992 country singer Travis Tritt recorded "Burning Love" for his Honeymoon in Vegas soundtrack. Melissa Ethridge covered the song for the TV show Elvis Tribute in 1994. Her version was later released on the LP It's Now or Never: The Tribute to Elvis. Wynonna Judd recorded "Burning Love" in 2002 for use in the soundtrack of the film Lilo and Stich. The following year, Judd's version appeared on her album, What the World Needs Now Is Love. Most noteworthy, though, Bruce Springsteen has performed his version of "Burning Love" during some concerts since the 1990s.
Separate from the music, Elvis' recording of "Burning Love" has spawned a wide array of "burning love" and "hunka, hunka" references in pop culture. In 1995, Elvis sidekick Lamar Fike said, "People always remember that song, for the 'hunka, hunka' part, I guess. The Elvis impersonators have a field day with it." Darren Lee is one Elvis Tribute Artist who continues to ride the wave of "Burning Love." His show, Burn'N Love, plays to enthusiastic audiences four nights a week at the Maui Theatre in Hawaii. The show's website promotes Lee's act as follows.
"Relive the excitement of Elvis in Hawaii with the best show in Maui. Burn'n Love—a dynamic live production that captives audiences of all ages and musical tastes, and leaves everyone wanting more! Created especially for Hawaii, Burn'n Love captures the special time Elvis spent in the islands and its influence on his life, his movies, and his music. Experience the most authentic Elvis show ever presented, and indulge in the nostalgia of Blue Hawaii, and the Aloha from Hawaii live concert broadcast that made TV history."
Talk show host Conan O'Brien was a very unlikely Elvis impersonator who performed "Burning Love." According to Wikipedia, O'Brien, backed by the house band, sang the song to warm up his audiences prior to taping his shows.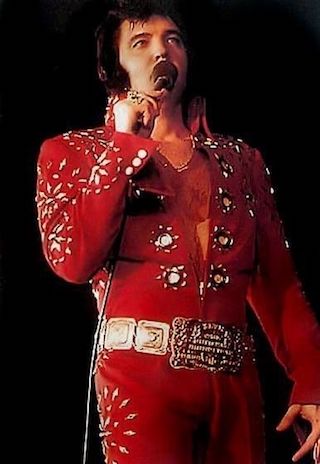 Other uses of "Burning Love" on Wikipedia's list include its use as a wake-up song on space shuttle mission STS-123. In 1997 a commercial for Velvetta Chilli Dip altered the lyrics to "Hunka Hunka Meltin' Love." At the 2010 Miss Universe contest, "Burning Love" was used as background music for the swimsuit contest. Songfact.com reported that in 2005, "an Australian woman, who was evidently not a fan of the song, stabbed her partner in the back, thigh and shoulder with a pair of scissors because 'he played the song too many times.'" Finally, when I was in the Air Force in Mississippi in 1972, I heard a radio DJ introduce Elvis' "Burning Love" as the "theme song of all the guys in the waiting room down at the public health clinic!"
• Pop culture trivializes Elvis' "Burning Love"
Of course, although all of these peripheral references to "Burning Love" and its lyrics speak to the song's impact on pop culture over the years, they also tend to trivialize one of Elvis' most successful records. Writing on the Elvis Information Network website, Harley Payette explains how the reputation of Elvis' recording of "Burning Love" has suffered as a result.
"For some reason or another, 'Burning Love' has fallen out of favor amongst Elvis' fans and pop critics. Once upon a time, this '72 classic was the only consensus late period Elvis pick. Casual fans knew it and when it hit the streets in '72 it was greeted with almost unanimous praise from critics including Robert Christgau who picked it as one of the ten best singles of the year.
"Oddly enough, as the reputation of Elvis' 70s work has increased with fans, his most famous late period work has fallen into the background. The record seldom makes lists of great singles. It's seldom written about or analyzed. It's been omitted from some '70s oriented radio formats. Latter day critics have dismissed it as self-parody and even fans have called it overrated, preferring to lavish praise on Elvis' generally worthy ballad work of the period. Whatever the reason, the record doesn't quite have its steam anymore; it's a shame because 'Burning Love' is, even 34 years later, one of the great pop singles—sexy, funny and subversive."
• RCA continues to reissue "Burning Love" 
Of course, since Elvis' death in 1977, "Burning Love" has been reissued over and over by RCA in various re-packaged and remastered versions. One of the most interesting is the song's recent appearance on the album "If I Can Dream," which contains Presley recording remixed with the Royal Philharmonic Orchestra. Reviewer John Connor Coulston described the unlikely merging of Elvis' "hunka, hunka" rock 'n' roll with longhair music.
"Accompanying Presley's original vocal track are the same guitar riff and drum beat, along with a bed of strings surrounding the track. They fill the 'empty space' present in the 1972 single with a lush arrangement that swells as Presley goes into the chorus."
No doubt Elvis fans will be divided in their opinions of this new remix of "Burning Love," just as they are about the original version that nearly topped the Hot 100 back in 1972. Personally, I remember watching with glee as "Burning Love" moved up the chart back then and hoping it would signal the start of still another comeback for Elvis. Listening to "Burning Love" now, though, sadly reminds me that it turned out to be his last curtain call on the upper reaches of the charts. — Alan Hanson | (© December 2016
Reader Comment: Regarding your essay on "Burning Love," calling it his last "hit" record—I'll have to disagree somewhat. Besides the many major hits Elvis still had on the adult contemporary and country charts in the last 5 years of his life, he had plenty of singles reach the top 30 on the Billboard Hot 100 pop chart, reaching No. 14 with "Promised Land" in December 1974. While they were nowhere near the smash that "Burning Love" was, it stayed at No. 2 with a bullet for several weeks, unable to overcome Berry's novelty tune. They absolutely were hits that sold 45s and generated airplay. Perhaps changing the title and reference to "last major/big hit." — Mike (March 2017)