"Can't Help Falling in Love"
The Story of Elvis Presley's Classic Ballad
"That was one of the songs that he recorded that no one had any kind of idea that it was going to be that good of a song. Everybody just kind of half way liked it. Just an average song, and everyone just sat around and just passed it off as just an odd song in the soundtrack." — Alan Fortas,  "The Elvis Presley Story" radio documentary, 1971)
---
Analyzing his boss's music was probably not among Alan Fortas's main duties as part of Elvis Presley's personal entourage in the 1960s, and so he can be excused for not recognizing that "Can't Help Falling in Love" would become one of Elvis's most recognized recordings. 
Elvis recorded the song during the soundtrack recording sessions for his 1962 film Blue Hawaii. The sessions were held in Hollywood at Radio Recorders studio on March 21-23, 1961. Elvis taped "Can't Help Falling in Love" on the session's last day. George Weiss, one of the song's three composers, claimed that the movie's producers and Elvis's aides disliked the song, but Elvis still insisted on recording it for the film.
Getting the tune recorded proved difficult. The original tempo was too slow, requiring Presley to pause seemingly between every word in the lyrics. He became increasingly frustrated as the number of false starts and abandoned takes mounted up. Increasing the tempo finally allowed Elvis to lay down a smooth vocal track that satisfied him.
In contrast to Alan Fortas's bland reaction, Presley recording session expert Ernst Jorgensen believes Elvis was more than satisfied with the final product: "The ambition and concentration he put into a marathon twenty-nine takes of 'Can't Help Falling in Love' on the final day suggested how seriously he took the beautiful, intimate ballad. When he finished, he seemed already aware that he'd created a classic."
• Song based on centuries-old melody
"Can't Help Falling in Love," based on an 18th century French melody, was written by George Weiss, Hugo Peretti, and Luigi Creatore. Presley's 1961 version was the first recording of the song, published by Gladys Music, a company created in 1956 to allow Presley to collect future royalties on the songs he recorded.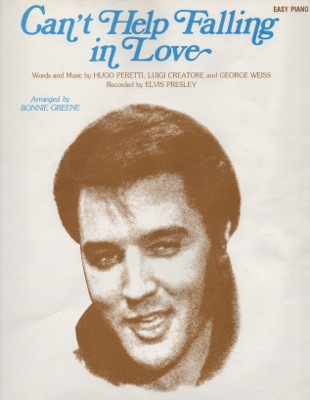 In addition to the above-mentioned resistance to Elvis recording "Can't Help Falling in Love," there was also opposition to it being released as a single. The resistance came from a powerful source in the Presley camp—Colonel Tom Parker. In his Presley recording sessions book, Jorgensen explained Parker's opposition and how it was resolved:
"At the last minute, the label (RCA) asked to put out a single of 'Can't Help Falling in Love' during the film's release. The Colonel's policy had always been clear. Movie singles must precede the movie and album release by six weeks, and in his estimation any single taken from an already released album (i.e., using songs the fans already owned) would die on the vine. Besides, he worried, releasing a single from the film while 'His Latest Flame'/'Little Sister' was still on the charts would only cut into the record's sales. Parker had 'Good Luck Charm' ready to go as the required fourth single of the year, and that's how he wanted things to stay. Yet RCA had tremendous hopes for the coupling of 'Can't Help Falling in Love' and 'Rock-A-Hula Baby' … In the end, [RCA] agreed to guarantee royalties on a million units, and their faith proved well placed. Released in November 1961, the single sold a million in the United States alone."
When Variety and Billboard reviewed the new single release, both considered "Rock-A-Hula Baby" the A-side and more likely to be a hit than the ballad on the reverse. In its "Pop Spotlights" column on November 20, 1961, Billboard stated: "Here's a Presley Twist special taken from the track of the 'Blue Hawaii' pic, opening this week. Top side is a great rhythm rocker that's ideal for the new dance craze and it should go big. Flip is a fine ballad performance that should also move out. Watch both." Variety's "Top Singles of the Week" column of November 29 also highlighted the rhythm side. "Elvis Presley's 'Rock-A-Hula Baby' is a twist entry, with an Hawaiian angle, by the originator of that pelvic swing which is the basis of the current dance craze. 'Can't Help Falling in Love' is a good ballad. Both tunes are from Presley's 'Blue Hawaii' pic score."
• "Can't Help Falling in Love" a hit on the charts in 61-62
Both sides of the single entered Billboard's Hot 100 chart on December 4, 1961, with "Can't Help Falling in Love" at #57 and "Rock-A-Hula Baby" at #62. A week later, they were still close together at #41 and #47 respectively. But then "Can't Help Falling In Love" took off, leaving the twist number far behind. Three weeks later, on January 6, 1962, the ballad entered the top 10, where it would remain for 6 weeks. It could get no higher than #2, however, denied the top spot by "The Peppermint Twist" by Joey Dee and the Starliters. After 14 weeks on the Hot 100, "Can't Help Falling in Love" dropped off the chart in the middle of March. "Rock-A-Hula Baby," which peaked at #49, lasted only nine weeks on the Hot 100.
On Cashbox magazine's top-seller list, "Can't Help Falling in Love" entered at #50 on December 9, 1961. Two weeks later it entered the top 10 at #7. It remained in there for 8 weeks, peaking at #4 on January 13, 1962. It stayed on the chart for 15 weeks, last listed at #67 on March 17, 1962. In all of the 1960s, the only Presley songs to spend more weeks on the Cashbox chart were "It's Now or Never," (19 weeks), "Return to Sender," (17 weeks), "Are You Lonesome Tonight," (16 weeks), and "Crying in the Chapel" (16 weeks).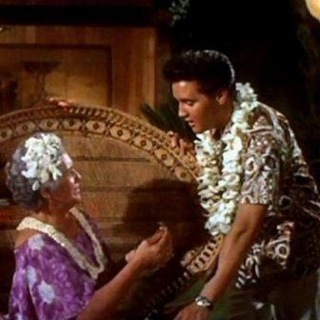 In Blue Hawaii, Elvis sang the love song not to his girlfriend, but rather to his grandmother at her birthday party. When she opened the music box he had given her, Elvis sang "Can't Help Falling in Love" as the music played.
Through the years, "Can't Help Falling in Love" has remained Elvis' most covered song. Among the dozens of other artists who recorded it are Keely Smith, Andy Williams, Al Martino, Bob Dylan, The Stylistics, Shirley Bassey, and U2. In addition to Blue Hawaii, the song has appeared in numerous other films, including Coyote Ugly (2000) and Disney's Lilo & Stich (2002).
• Recent covers are a tribute to Elvis's original
In 2015, "Can't Help Falling in Love" hit the charts again in a version recorded by Haley Reinhart for use in a series of TV gum commercials. On Billboard's website on October 21, 2015, Leila Cobo wrote about the impact of Reinhart's rendition of the song.
"By now, you've probably seen the Wrigley's Extra gum commercial that shows the love story of Sara and Juan. Set to a hauntingly beautiful cover of 'Can't Help Falling In Love' by American Idol alum Haley Reinhart it earned over seven million YouTube views and more than 78 million Facebook views (with over 1.1 million shares) within a week of its Oct. 8 digital release. The song alone sold 19,000 downloads in that time, debuting at No. 48 on Billboard's Digital Songs chart. And that was before it hit primetime television Oct. 19."
"Can't Help Falling in Love" was mentioned in news reports in connection with the tragic death of Christina Grimmie in the summer of 2016. The 22-year-old singer, who came to prominence with her third-place finish on The Voice in 2014, died of gunshot wounds while meeting with fans after a concert in Florida on June 10. Among the many tributes to her was TV critic Douglas Barclay's accolade: "One of Grimmie's best performances from her run on 'The Voice' was a devastatingly beautiful cover of 'Can't Help Falling in Love,' made famous by Elvis Presley in the early 1960s." In addition to her live performance on The Voice, Grimmie also made a studio recording of the song.
• "Can't Help Falling in Love" was Elvis' "Swan Song"
Elvis, of course, sang "Can't Help Falling in Love" live hundreds of times, starting in 1968, when he performed it before a live studio audience during the taping of his NBC television "Comeback" special. Then, beginning with his 1969 Las Vegas engagement at the International Hotel, Elvis used "Can't Help Falling in Love" as the closing number in hundreds of his stage shows in Las Vegas and while touring around the country through mid-1977.
Included was the satellite broadcast of Elvis's 1973 Aloha from Hawaii TV special. In his Presley biography, Peter Guralnick described the final act of that concert:
"'You're a fantastic audience,' he says, then launches into 'Can't Help Falling in Love,' which he ends down on one knee, his back to the audience, his cape spread out in that familiar pose of humble adoration, combined with self-adoration that the world has come to accept as Elvis in any language."
Finally, it should be noted that "Can't Help Falling in Love" was the last song Elvis sang in public prior to his death in 1977. It was the closer of his final concert at Market Square Arena in Indianapolis on June 26, 1977. — Alan Hanson | © June 2016 
Reader Comment: Calidonia is an indie pop duo from Scotland and is making a lot of noise here in the states. They recently released their cover to "Can't Help Falling In Love" by Elvis Presley. — Katelynn (June 2016)