Dewey Phillips' Betrayal Caused
Elvis to Withdraw Behind Walls
Dewey Phillips is rightfully assigned an exalted place in Elvis history. As the first DJ to play a Presley record on the radio, Dewey can take a bit of the credit for launching Elvis' career. However, a few years later, Phillips betrayed Elvis's trust, and although the two men were able to put the incident behind them, the betrayal left a deep impression on the singer's psyche. As a result, Elvis began building a wall to shield his personal life from the outside world.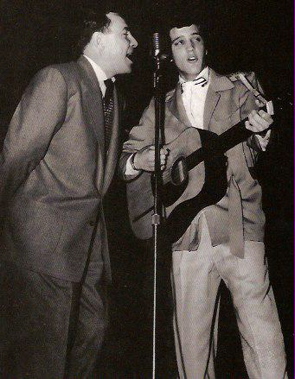 Dewey Phillips was a 28-year-old disc jockey at WHBQ radio station in Memphis on July 5, 1954. On that day 19-year-old Elvis Presley recorded "That's All Right" at Sam Phillips's Memphis Recording Service. Two days later Sam played an acetate of Elvis' record for Dewey, who loved the recording and promised to play it on his "Red Hot & Blue" program the following evening.
The events on the night of July 8, 1954, are well documented in Presley lore. After Phillips played the acetate of "That's All Right," the switchboard lit up and the DJ played the song several more times. Meanwhile, Dewey called Elvis' parents to get Elvis to come to the studio for an interview. Gladys and Vernon rushed to the Suzore theater, where their nervous son had gone that evening, and sent him to WHBQ's downtown studio. The rest, as they say, is history.
It was the beginning of a close friendship between Elvis and Dewey. The DJ continued to spin Elvis' Sun Records releases and helped with personal appearances as Elvis' notoriety built slowly in the South. Even after Elvis' career took off in 1956, he didn't forgot Dewey's role in helping to launch his career.
• Dewey Phillips goes to Hollywood
And so in May 1957, when Elvis went out to Hollywood to work on Jailhouse Rock, he invited Dewey to come out for a California vacation, all expenses paid by Elvis. It was to be both an eventful and fateful holiday for both men. Elvis set Dewey up in a hotel suite and planned a number of activities for his guest. From the very beginning, things went awry. Later that summer, writer Robert Johnson reported on the string of unfortunate events in the Memphis Press-Scimitar.
According to Johnson, Elvis most wanted Dewey to watch him work at MGM. But after only 15 minutes at the studio the first day, Phillips got "nervous and bored" and left. Later he explained to Johnson his reasons for leaving the studio. "I went out to Hollywood on vacation, and I wanted to have some fun. I didn't want to stay in the studio all day. I wanted to see a little of the town. I've got a lot of friends out there—some of them I just know by talking to them on the phone—and I wanted to see them."
In Hollywood, though, Elvis had other plans for Dewey's time. He took Phillips to the dentist and paid $400 to have fancy caps put on his teeth. He took Dewey on a tour of the stars' homes and various studios. On another visit to MGM, Dewey tried to take some pictures, but studio security men stopped him.

"At the Moulin Rouge," explained Johnson, "the management asked Elvis if he would acknowledge an introduction. Elvis said he would. They threw the spotlight on him, and Dewey got up, stood in front of him and started taking bows. Elvis was embarrassed." Dewey explained his side to Johnson. "At the Moulin Rouge, I was just feeling good, playing around. They put the spotlight on Elvis, and I just jumped up and waved my hand. Just feeling good. I was on vacation."
• Dewey Phillips met Yul "shortie" Brynner
Later Elvis introduced Phillips to Yul Brynner. Reports out of California had Dewey saying something like, "You sure are a shortie, Mother." Elvis reportedly went back later and apologized to Brynner. Dewey's version: "I didn't realize I was embarrassing anyone. Elvis introduced us, and I said, 'How you getting along, old buddy,' just like I would to anyone. Then I said, 'My gosh, you look shorter than you do in pictures.' It was just that he wasn't near as big as I thought of him. He said, 'That's how they put the cameras, Phillips,' and that's all there was to it."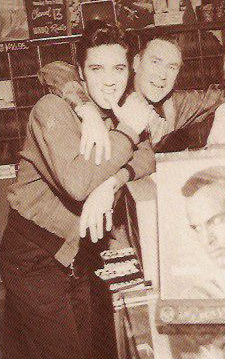 To that point, all of troubling events involving Dewey could be explained by allowing that he was just a good 'ol boy from Memphis. Johnson's Hollywood source explained, "Part of the trouble was that those people in Hollywood just didn't understand Phillips." However, before leaving for home, Dewey seriously breached Elvis' trust.
It started when Elvis let Dewey listen to a recording of "Teddy Bear," scheduled to be released in June as Elvis' new single. Presley warned Phillips not to take one of his few sample discs, but Dewey secretly stuck one in his suitcase. When he got back to Memphis, Dewey played the record on the air, jumping RCA's release date. The label was livid, as were local distributors, who were getting early demands from retailers that they couldn't meet.
Elvis was furious as well. On his return to Memphis, Dewey apologized, and their friendship was reportedly repaired during an evening they spent together. According to Johnson, though, the rift was far from closed. "Elvis didn't go down to visit Dewey's show as he had of yore," Johnson noted, "and Dewey began to think that Elvis didn't really like him any more. So, according to this much-gossiped version of the story, Dewey went out at 3 o'clock one morning, was turned down at the gate, climbed the fence and went in and roused the household shouting: 'I'm thru with you, Elvis.' Elvis is said to have doubled him in spades."
• "I wasn't drunk. Just wanted my camera back"
Dewey's version of the early morning encounter was a bit different: "I didn't go over the fence. I walked right thru the cotton-pickin' gate. The guard left it open. It was only about 1 a.m. I'd just finished my work, and Barbara Pittman (singer) and a couple of other girls who wanted to see Elvis were with me. I'd had two or three beers, but I wasn't drunk. What I really went out there for was for my Polaroid camera that Sam Phillips gave me for Christmas. I let Elvis have it, and I wanted it because I was going to take the rest of my vacation at Pickwick and I would need the camera. It wasn't really late for Elvis. He stays up late almost every night. You know, we just live that way. They wouldn't let me in and I still haven't got my camera. I said some things I shouldn't have said."
Johnson reported that the two men didn't speak with each other for weeks after the incident at Graceland. "A nationally famous friendship has recently been real cool," noted Johnson, "and a tragedy of personal relations based on trifles has developed."
Elvis' never expressed his feelings about the breakup in public, but Dewey was obviously saddened by it. "I still love that boy like a brother," he told Johnson. "It's not true that I quit playing his records. I played five of them last night. There was nothing wrong when I left Hollywood. When we said goodbye, we even shed a few tears. I told him I'd never be able to repay him for all the nice things he had done for me."
Soon after Johnson's mid-summer article about the Elvis-Dewey breakup appeared in the Press-Scimitar, the two old friends buried the hatchet. Elvis took the initiative by dropping in on Phillips's WHBQ radio broadcast one evening. After the program, the two went to Sam Phillips's house to listen to and discuss records.
• Elvis insiders forbidden to contact the press
Their personal friendship may have been restored, but the episode left a lasting emotional influence on Elvis. Phillips's betrayal of Elvis's trust, plus another highly public dustup over the resignation of musicians Scotty Moore and Bill Black, convinced Presley of the need to create a wall between him and the press. That wall would be manned by a phalanx of men sworn to absolute loyalty to Elvis. Those Presley admitted to his inner circle knew that giving any information about Elvis to the press was an unforgivable breach of allegiance.
Rex Mansfield, who became one of Elvis' closest friends during their army years, recalls what happened when someone violated that directive.
"One thing I learned, even back in Fort Hood, was never to write any stories about Elvis to the press. If you ever did write a story, Elvis would drop you like a hot potato. Donald Pettit was a fairly good friend going back to Fort Hood … Pettit wrote a story after we got to Germany that appeared in a special release magazine called "Elvis in the Army." After that article came out, Pettit was completely shunned and was never allowed to be part of the inside group again."
By enforcing this code of silence among his entourage, Elvis was able to nurture a positive image for himself in the press for nearly two decades. It wasn't until shortly before his death that Elvis suffered another betrayal (in his judgment) by a close friend. Red West, a long and loyal Presley companion, who, with two other bodyguards had been fired by Elvis in 1976, co-authored a tell-all book revealing the dark side of Presley's personal life. The wall of loyalty Elvis had built around himself came tumbling down. In his mind Elvis had begun building that wall way back in 1957, when Dewey Phillips snuck a sample copy of "Teddy Bear" out of Hollywood. — Alan Hanson | © September 2010
Reader Comment: Interesting story about Dewey's behavior. He obviously was quite a character. Regarding your reference to Red West, I think as a really close friend you do not write a sensational book about someone even though you have a severe fight about something or got fired. And you for sure do not tape telephone conversations and publish edited versions of them in a book. A real friend reacts differently even though a friendship has suffered.—Patricia


Go to Elvis History

Go to Home Page