Director Don Siegel Recalls
The Making of "Flaming Star"
Between 1945 and 1981, Don Siegel directed 35 Hollywood feature films. Flaming Star in 1960 came right in the middle of Siegel's career and closed out his most prolific period in the late 1950s. While not considered one of filmdom's A-list directors, Siegel brought a workmanlike reputation to the 20th Century Fox project with Elvis Presley in the marquee role. He even had some experience with a teen idol, having directed Fabian in Hound Dog Man the year before.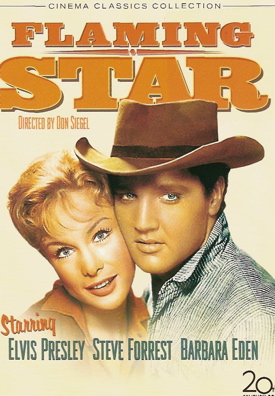 Two years after his death in 1991, Siegel's commentaries on his films were collected into A Siegel Film: An Autobiography. The book was divided into chapters for each of the director's films, with Chapter 21 being devoted to Flaming Star. The following information comes from that volume.
Nunnally Johnson, one of the industry's most respected writers (The Grapes of Wrath, The Three Faces of Eve), wrote the original screenplay with Marlon Brando in mind for the role of Pacer. ("Incredibly, it became a vehicle for Elvis Presley," Siegel commented.) The script was based on a novel by well-known Western writer Clair Huffaker. After reading the screenplay, Siegel sensed problems and felt the need to have a "straightforward chat" with producer David Weisbart.
Siegel's first question of Weisbart was, "Why Presley?" The producer responded, "He's a big box-office star. Don't you think he can do it?" Avoiding a direct answer, Siegel said, "Surely you are aware of the need to refocus on the script?" Weisbart then noted of Presley, "Certainly he's no Brando. On the other hand, Brando's no Presley."
• Flaming Star script required "considerable" rewrite
The two finally agreed that, with Presley in the lead, the script required a "considerable" rewrite. There was a hitch, though. Nunnally absolutely refused to alter his screenplay. Fortunately, Huffaker agreed to tackle the job. Still, whatever the script's final form might be, Siegel was still worried. "Would the public accept a serious story with Elvis playing a half-breed?" he wondered. And Siegel told Huffaker that there was another problem. The studio wanted Elvis to sing at least ten songs in the picture. "Supposing," the director suggested, "we had Elvis sing over the main titles and sing one simple song at the party, less than a minute into the picture?" Huffaker responded, "You'll never get away with it."
Siegel couldn't see how Elvis could sing rock songs, or any kind of songs, after the emotional experiences that filled the script. He decided to plead with Weisbart for minimal music in the film. "There's no question that Elvis can play the part well," admitted Weisbart, who told Siegel he would try to convince the front office that Presley's singing needed to be severely limited in the film. If the executives rejected the idea, Siegel agreed to move forward with a music-filled script.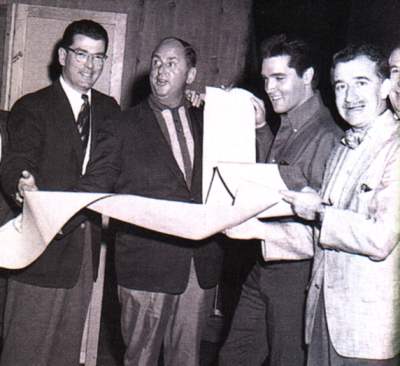 Flaming Star producer David Weisbart, Colonel Parker,
Elvis, and director Don Siegel
Weisbart then brought up "some strange casting news" relating to actor Steve Forrest's girlfriend in Flaming Star. Whoever she was, Siegel at first didn't see a major problem. "There are about two hundred actresses who'd give more than uttering their lines to play opposite Elvis," Siegel noted. But the studio had chosen a tall, black-haired English actress named Barbara Steele. "She's had very little experience and is not a good actress," explained Weisbart, "and I don't like the leading lady towering over Elvis."
• Siegel confronted casting director over leading lady
Siegel decided he'd better have a talk with Owen McLean, head of casting, whom Siegel described as a "pompous ass." The director described the opening of their conversation as follows:
"He said the reason I didn't like Barbara Steele was because she had black hair. I told him flatly that the only reason I didn't want her in the picture was to protect Presley. She couldn't act. In addition, I feared Elvis' reaction when he was asked to stand on an apple box to be eye-level with her. Owen had a brilliant idea. He would shoot a test of Miss Steele in a golden wig. He was adamant that we would flip out when we saw her."
Siegel then brought up his concerns about Steele's height and English accent, but McLean wouldn't budge. "Why the big fuss about her?" Siegel asked. "Because I think she's perfect for the part," McLean declared. "What about the studio?" Siegel probed. "They love her," asserted McLean. "Literally?" implied Siegel.
That brought an angry McLean to his feet, recalled Siegel. ("As it is a 'no-no' to punch the idiot out," he added, "I decide to indulge in my favorite pastime, teasing.) "I'll report our conversation to my karate partner, Elvis." According to Siegel, a "terror-stricken" McLean snapped, "Under no circumstances mention a word of our meeting to Elvis. Is that clearly understood?"
A week later, Siegel and Weisbart watched the test Owen had made with the actress. "Miss Steele had blonde hair, a slight stoop and a Western accent straight from Birmingham," Siegel recalled. "When we demurred, we were told that the studio had already made an irrevocable decision. Miss Steele was playing opposite Presley." Weisbart was particularly upset. "My God! We're dead," he declared. Siegel was fatalistic. "Let's start the picture, do our best and see what happens," he suggested.
• Barbara Steele undone by accent, height, inexperience
When filming began at the studio ranch in Malibu, the director was very pleasant with Steele. "I liked her personally," Siegel explained, "but her woeful lack of experience and strange Western accent, plus her height, proved her undoing. I tried to help her, despite some strange looks from Presley." Weisbart and Siegel decided to run the dailies for the studio execs and let the film speak for itself. It worked. The next day the Fox moguls dumped Barbara Steele from the cast.
Siegel had to give the actress the bad news. "I had lunch with Miss Steele in my trailer," he recalls of the unpleasant task. "I tried to be as gentle as I could. I explained that she was miscast. It wasn't fair to her. To my astonishment, she seemed relieved." She replied, "I told Mr. McLean and other executives that I was uncomfortable in the role. I'm happy I'm off the picture. I want to thank you and Mr. Weisbart for being so kind."
Two days later Barbara Eden showed up on the set. "There was no question that she would give an excellent performance," Siegel noted, but one thing bothered him about her role.
"In the picture, she lived in a small, isolated Western town. I felt that her hair should at least be unkempt, but it was coiffured with great care and style. Her clothes, which should have been homespun and plain, were expensively tailored. She looked much, much too well dressed for this frontier town of about twenty people. I decided, after checking with David, to leave well enough alone. At least she was considerably smaller than Elvis."
• Director surprised by Elvis' sensitivity
The director was pleased with Elvis' work in Flaming Star. "Presley surprised me with his sensitivity as an actor," Siegel admitted. "Colonel Parker … thought there should definitely be more songs. He was wrong on two counts: Elvis could have become an acting star, not just a singing star; also, he would have been happier."
As evidence of Presley's acting ability, Siegel recalled a difficult scene in which Elvis was supposed to try to kill a doctor who arrived too late to treat his mother. The scene ends emotionally with Elvis declaring his long concealed love for Barbara Eden's character. Siegel explained how he coaxed Elvis into the scene.
"Elvis felt he couldn't do the scene: he felt that his acting talent wasn't equal to the sequence. When I pointed out to him that we would rehearse until he was satisfied with his performance, he begged for more time to prepare. Almost childlike, he offered me the use of his brand-new black Rolls-Royce until we had to do the scene. He was so upset that I decided to push the shooting date back as far as possible. I took him up on his offer to use his Rolls-Royce, and for two weeks I felt like a millionaire, driving his superb car. When the inevitable time came to do the scene, I returned his Rolls-Royce. To Presley's amazement and mine, Elvis gave his finest performance ever."
For Don Siegel, another key scene in Flaming Star was the burial of Elvis' mother, played by Dolores Del Rio. "I tried to do it with as much meaning as possible, yet with simplicity," the director explained. "I made it with the five people (Elvis Presley, Steve Forrest, Barbara Eden, Ford Rainey and John McIntire) at the grave on different levels, with each turning to walk away towards the house in descending order of their closeness to the dead woman. The scene closes with her husband, McIntire, standing there alone and the others fading in the distance."
Variety's review of December 21, 1960, moderately assessed the director's work on the picture: "Don Siegel has packaged plenty of excitement into the picture, notably some realistically staged fistfight, battle and chase passages. But there are a few equally unrealistic-looking scenes." The New York Times called Siegel's direction of Flaming Star "workmanlike and deliberate."
Don Siegel's most noteworthy directorial work came in the 1970s. He worked with Clint Eastwood on Two Mules for Sister Sara (1970) and Dirty Harry (1971), and was at the helm for John Wayne's final film, The Shootist (1976).
Managing Elvis Presley's sixth film, however, tested Don Siegel. "Flaming Star proved challenging," he noted in closing his book's chapter on the film. How he overcame the challenges presented by a script rewrite, a miscast leading lady, and a young, sensitive, and, at times, uncertain Elvis Presley, testifies to the worth of Siegel's film management skills at that time in his Hollywood career. As a result, he was ever a defender of Flaming Star as a film and of Elvis Presley's dramatic work in it. — Alan Hanson | © March 2011
Go to Elvis in Hollywood

Go to Home Page