Elvis at Ground Level in '57: How He Conquered Spokane
Elvis Presley's phenomenal rise to fame in the mid-fifties can be defined by astonishing numbers—large concert crowds, vinyl sales in the millions, chart-topping songs, record TV ratings, huge movie box office receipts, countless spinoff products, extensive press coverage, and so on. Those numbers, however, portray Presleymania as a general, pervasive movement among American teenagers at the time. In reality, though, Presley's fame was earned at ground level, in thousands of battles fought in the local radio stations, newspapers, record stores, and schools.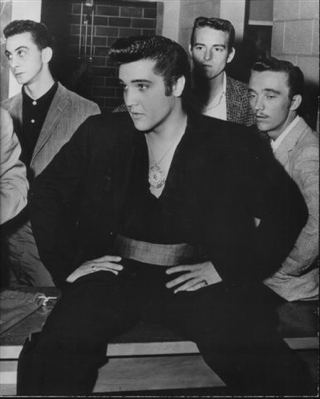 In the fifties, Presley's style was embraced in widely varying degrees in cities, towns, and rural areas around the country. In conservative, religious areas, the vast majority of adults and teenagers alike rejected him. In the more liberal large cities, legions of followers flocked to his banner. In the end, the cumulative total of his devotees made Elvis a national superstar. But at the street level, Presley's degree of acceptance differed from place to place. (Right: Spokane Press Conference, August 30, 1957)
To illustrate let's look back on how one community's teenagers viewed Elvis Presley in 1957. I grew up in Spokane, a medium-sized American city on the eastern edge of Washington State. My teenage years were still ahead of me in 1957, so I can't testify personally to how the city's young people reacted to Elvis during that year. For that we have to depend on the records of the local rock 'n' roll radio stations and the newspaper files of the city's two biggest high schools.
The only Spokane radio station that had fully embraced rock 'n' roll by 1957 was KNEW. Their disc jockeys, who became local celebrities, compiled a local weekly top 40 list. Their compilation, which often differed widely from Billboard's national chart, relied heavily on call-in song requests and responses by teenagers who attended dance parties sponsored by the station.
Many of those teenagers attended Lewis and Clark High School on the near south side of town or North Central High School across the river on the near north side. Both schools drew over 2,000 students from diverse neighborhoods, ranging from poor to affluent. Their school newspaper archives for 1957 reveal the extent to which rock 'n' roll in general and Elvis Presley in particular played a role in the lives of Spokane teens.
• High school column lists local "Top Ten Songs"
As the calendar turned to 1957, the city's high schoolers returned to the classroom following Christmas break. That semester a column titled "Platter Chatter by Betty" debuted in the North Central H.S. newspaper. The column, which ran weekly when school was in session through 1957, included a list of Spokane's top ten tunes, as compiled by KNEW. It also featured commentary on current popular records and Betty's predictions of future hits.
In early February, while Elvis was in Hollywood filming Loving You, Betty first ran Spokane's "top ten tunes" for the week in her column. Topping the list was Tab Hunter's "Young Love," followed by "Singing the Blues" by Guy Mitchell, and "Don't Forbid Me" by Pat Boone. Elvis had two songs further down, "Love Me Tender" at #5 and his new single, "Too Much," at #10. That same week on Billboard's national chart, "Love Me Tender" was at #13, while "Too Much" sat at #7. In their acceptance of these two Presley tunes, Spokane teens generally were following the national trend at the time.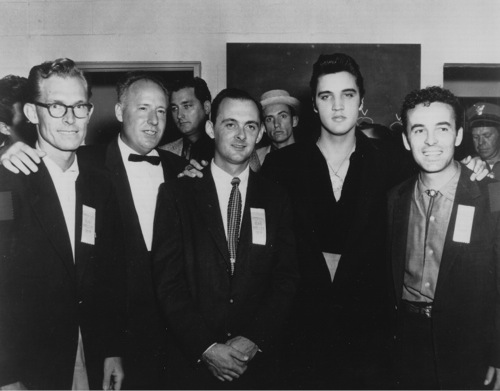 Elvis with KNEW DJs (from left) Bob Hough, Bob Salter, Bob Adkins, and Bob Fleming.
In the rest of her column during February and March, Betty made no mention of Elvis. During the first three months of 1957, she instead sang the praises of other artists, including soon-to-be-displaced crooners Guy Mitchell, Vaughn Monroe, and Perry Como. She also gave props to Presley's young competitors, including Tab Hunter, Pat Boone, and Harry Belafonte, then riding the crest of the short-lived calypso craze in early 1957.
Spokane's teens hung onto "Love Me Tender" longer than elsewhere in the country. On March 1 it was still on KNEW's top ten, although it had dropped off Billboard's chart over a month earlier. Conversely, "Too Much" was off Spokane's top ten several weeks before the national chart. It appeared that Spokane teens preferred Presley's ballads to his rock 'n' roll material.
With the coming of spring, though, Spokane teenagers were about to join the rock 'n' roll parade that had been moving down the street nationally for some time. In "Platter Charter," Betty began to promote rock records, like LaVerne Baker's "Jim Dandy" and Eddie Cochran's "Sittin' in the Balcony." She noted that Cochran "warbles with a style a la Presley."
Then in her March 29 column, Betty mentioned Presley's new record: "Elvis may get back into things again after a brief absence from the top ten with his latest platter, 'Shook Up.' This is cut in the usual Presley style that makes 'em a hit. Another of his discs, 'Playing for Keeps,' has the possibilities of a hit." Betty wasn't ready to accept Presley back, however, asking, perhaps hopefully, "It couldn't be that new recordists like Tab Hunter, to mention one, are taking the limelight from Mr. Presley?"
• Spokane's playlist gets "All Shook Up"
Two weeks later "All Shook Up" shot all the way up to #2 on the local chart. "Since the last issue of The News, there have really been some changes in the record field," Betty admitted, "with Mr. Presley making a return appearance to the top ten after a brief absence." That same week, Elvis's new single reached the top of the national chart, where it reigned for eight weeks. Through the end of school year in June, "All Shook Up" dueled with "Little Darlin'" by The Diamonds for the #1 spot in Spokane.
Ted Mack, who hosted the popular "Amateur Hour" network TV program, brought his show to the city's Coliseum in mid-May. In a backstage interview, he cautioned Spokane's teenagers not to write off rock 'n' roll's front-runner, at least not yet. "If Elvis Presley ever settles down to where he should be, I think he has a lot of voice talent and is a good performer," Mack explained. "But, on the other hand, if he stops wriggling, he might be done for as a performer."
It turned out that two major Elvis events in Spokane during the summer of 1957 solidified his popularly in the city. The first was the arrival of Presley's second movie, Loving You. From her office in the downtown Spokesman-Review building, columnist Dorothy Powers could see the teenagers lined up around the block at the Fox Theater for the movie's first showing on July 31. Grabbing her notepad, Powers crossed the street to interview some of the kids waiting to get tickets.
"Do you like Elvis?" she asked two girls wearing skirts with black letters on them spelling, "Elvis Presley. "LIKE him? We LOVE him!" one responded. "Because he's so neat, I guess. He's the most!" She asked three other girls what their parents thought about Elvis. Powers paraphrased their answers: "Linda said she lives on a farm and her dad thought it was all nonsense. Gail said her parents liked his singing but they didn't like his neat actions. Marilyn said her dad doesn't like him AT ALL but her mother kind of goes along with Marilyn, but she doesn't let daddy know it."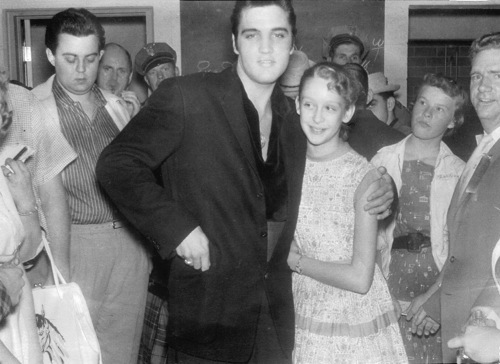 Elvis with a young admirer at Spokane press conference. Colonel Parker stands in background to the left.
The columnist moved down the line and asked a boy named Robert why he liked Elvis. "Because he's cool, is why," he answered. "Boy, he sure causes a nice breeze." Then Robert asked Powers if she liked Elvis. When she said no, he stared at her for a moment, and then observed, "Yeah—but you're old."
Apparently Dorothy Powers sat through a showing of Loving You that afternoon, because the next day her review of the film appeared in the Spokesman-Review. It was probably the shortest review ever of a Presley film. It read: "A movie called 'Loving You' opened yesterday at the Fox featuring a fellow named Elvis Presley. It never should have."
• The "Elvis Presley Show" comes to Spokane
Four weeks later, the greatest of all Elvis shows came to town. Elvis himself stepped onto the platform at the Great Northern railroad depot in Spokane near midnight on Thursday, August 29, 1957. Although the location and time of his arrival had been printed in that morning's newspaper, only about twenty fans were there to greet him. It was late on a weeknight, after all, and fathers who had to work the next day no doubt refused to chauffer their daughters downtown on a fool's errand.
Prior to his show in the city's Memorial Stadium the following night, Elvis held a press conference in the stadium's dressing room. There, along with DJs, journalists, and photographers, were a group of teenage girl fan club officers and high school writers. Ilah Black, a 17-year-old reporter for the Lewis and Clark High School newspaper was in the crowd. Not a Presley fan when she arrived that evening, Ilah had changed her mind by the end of the press conference. "Although lacking the ease of a polished performer, Elvis answered all questions with genuine sincerity, without dodging or being evasive," she later wrote in her Lewis and Clark Journal article. "Afterward I decided he doesn't deserve all the unfavorable comments he receives."
As in many other communities that Presley played in 1956 and 1957, his appearance seemed to increase his popularity in Spokane. That was apparent in his dominance of KNEW's top ten songs in the city for the rest of the year. Betty had graduated the previous spring, and the pop music column in the North Central News had been renamed "Joe's Juke Box." In Joe's first column on September 27, he noted, "Well, it looks as though 'Mr. Presley' has taken all the top honors this week with four of his original songs on the 'Top Ten.' Did I hear someone say 'Presley is dying out?' I think someone goofed!"
Indeed, four tracks from Loving You were among the city's most popular tunes. "Mean Woman Blues" was #1. It, along with "Party" (#4) and "Lonesome Cowboy" (#9), were soundtrack songs that never appeared on Billboard's national chart but were being played heavily by DJs in Spokane.
• "Juke Box Joe" didn't dig Elvis
With "Mean Woman Blues" still at #1, an obviously anti-Elvis Juke Box Joe decided to ask some fellow North Central students, "Do you think any of the recording stars will push 'Mr. Presley' off the top 10 in the very near future?" Three of the four respondents he quoted answered with a resounding "Yes!" Dick: "Why? Because I think he is a lousy singer."  Pat: "He is just another fad." Nancy: "I think that maybe Pat Boone or Sal Mineo will." Gary's was the only voice of moderation: "You just can't tell. I thought Ricky Nelson was going to do it, but he is losing ground fast."
A week later, on October 11, a baffled Joe had to admit that Elvis had another #1 song in the pipeline. "Getting back to 'Mr. Presley,' (if you can stand it)—he has a new song out, 'Jail House Rock.' Now, if anyone knows where 'Mr. Presley' gets his ideals, would you please let me know. I have my own ideals, and I would like to see how many have the same ones."
The following week, despite Joe's derision, "Jailhouse Rock" had jumped to #1 on KNEW's Spokane playlist. At least Joe had lightened up on Elvis enough to ask his readers the following tongue-in-cheek question about the flip side, "Treat Me Nice." "Why is it that all the boys like this song and the girls don't?"
For seven straight weeks, starting on October 18 and leading up to Christmas break on December 20, Elvis placed three songs every week in Spokane's top ten records list. Of particular note was "Baby, I Don't Care," another Elvis soundtrack song that never even made it into Billboard's Top 100 chart. It was the most popular song in Spokane for two weeks in December 1957.
So how can Elvis Presley's popularity in Spokane be explained in 1957? Early in the year, there was some resistance toward him, not only by adults, but by young people as well. But blockbuster records like "All Shook Up" and "Jailhouse Rock," combined with the excitement created by his films Loving You and Jailhouse Rock, won him widespread fame among teens in Spokane. That he spent two days on a train, travelling over 2,000 miles from Memphis, to perform live for the city's young people probably won him some new fans as well. — Alan Hanson  | © March 2015