January 18 to December 3, 1968


A Countdown to Elvis' TV Special
All Elvis fans of a certain age know the impact on the King's career of what happened on December 3, 1968. In his NBC-TV special that evening, he reinvented himself in the entertainment world. The hour-long special soon earned the nickname Elvis "Comeback Special." His music pivoted toward an edgy contemporary sound. He summarily left Hollywood in the dust for the Las Vegas stage, and then went on to pack arenas all over the country.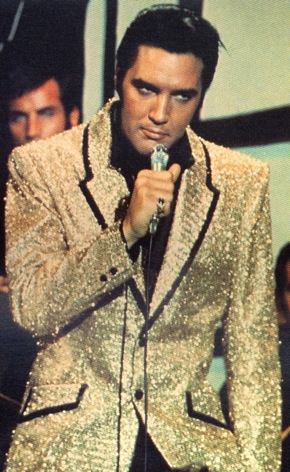 Those of us who watched the special's first broadcast that December evening over 50 years ago still have its images burned in our memories—the informal boxing ring jam session, the gospel medley, the "Guitar Man" production number, and the closing "If I Can Dream" anthem. It all seemed perfectly designed to celebrate the old Elvis while introducing a new Elvis. But how did it all come together? Who planned and constructed the special? And why was Elvis even on TV then? He had avoided it completely for eight years.
Understanding how Elvis' "Comeback Special" developed requires going back nearly a year before the final project's broadcast. Many characters had parts in the planning, and much reshaping occurred along the way. Let's go back in time 326 days in 1968 to the birth of Elvis Presley's "Comeback Special" and follow its growth to its final form on December 3, 1968, a date referred to below as "E-Day."
• January 12, 1968: E-Day minus 326 days
After negotiations with Colonel Parker, NBC vice president Tom Sarnoff reveals to the press that the network has entered an agreement to produce a TV special featuring Elvis Presley. The deal, which will pay Elvis $250,000 for a "Christmas" program, also includes a feature film to be produced by NBC-Universal in 1969. Elvis will receive $850,000 for the picture, plus $25,000 for the film's music.
With Elvis' film contract with MGM expiring, Colonel Parker needed to find more work for his client. "We got a very good deal," the Colonel announced. "Besides the special, we're doing one picture which NBC is producing. That's what I call one very good deal."
• January 18, 1968: E-Day minus 320 days
Kay Gardella in the New York Daily News breaks the news about Elvis' TV deal. "After giving TV the cold shoulder for the last few years, Elvis Presley has suddenly done a turnabout and said yes to his first NBC-TV special, which is to be shown in the '68-'69 season." A separate Associated Press release out of Memphis reveals that Bob Finkel, executive producer of "The Jerry Lewis Show," has been picked to produce the hour-long special, which will air "either Thanksgiving, Christmas or New Year's week."
• January 19, 1968: E-Day minus 319 days
In his Oakland Tribune column, Bob MacKenzie comments on Presley's surprising return to TV after an eight-year absence. "This news would have made quite a stir 10 years ago. Now all those little fans who once screamed for 'You Ain't Nothin' But A Hound Dog' are tending babies and cooking suppers, and will take the announcement calmly, as befits grownups. Elvis, who has toned down his song style and pacified his pelvis, is still earning $5 million a year and has never made a losing picture. His fans are no longer visible, but they must be around someplace."
MacKenzie then praised Presley for staying out of the limelight. "Personally, I've always had a certain liking for Presley … He has some unusual qualities for a celebrity. He has never written a book or threatened to, he has never expressed the intention to produce a movie or write a script or run for governor. He publicizes no charities, endorses no products, espouses no causes, and so far as I know has never expressed an opinion on the war in Vietnam. He minds his own business and is no trouble to anyone. Why can't more actors be like that?"
• January 28, 1968: E-Day minus 310 days
In the Honolulu Advertiser, TV editor Bert Darr speculates on why Elvis is finally agreeing to do TV. "The popular screen star, whose million dollar film releases began to find themselves on video circuits this past season, has been an adamant 'TV holdout' for years. But the Colonel (Tom Parker—Elvis' wise and shrewd business manager) must have affected a truce with his wealthy client. Or else NBC used some super salesmanship!"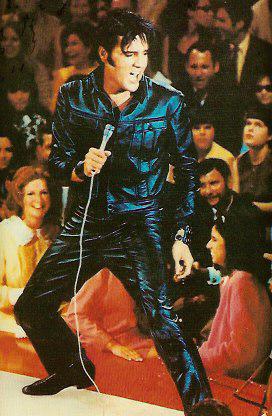 • March 12, 1968: E-Day minus 266 days
In his syndicated column, "Shull's Mailbag," Richard Shull's response to a reader's letter suggests that the NBC deal with Elvis has more to do with future movies than it does with a TV special. "His deal with NBC for the TV special next season was part of a package in which the network will bankroll his future movies," Shull speculated. In fact, neither Elvis nor the Colonel has commented about how the NBC deal will affect Elvis's future in Hollywood.
• May 1, 1968: E-Day minus 216 days
A meeting is held in Colonel Parker's office at MGM with representatives of the Singer Sewing Machine Company, which has signed on as the sole sponsor of the Presley TV special. Also at the meeting is producer Bob Finkel. He proposes to Parker that the special's focus be expanded from solely a Christmas program to one featuring Elvis' music from throughout his career. The Colonel agrees and grants Finkel artistic control over the special's content, subject to approval by the sponsor.
• May 16, 1968: E-Day minus 201 days
Finkel hires Steve Binder to direct the Presley special. Binder directed a recent Petula Clark TV special and a 1964 concert film with Chuck Berry and the Rolling Stones. Binder's business partner is Bones Howe, who will produce the music for the Presley show.
• May 17, 1968: E-Day minus 200 days
Elvis arrives at Binder and Howe's offices on Sunset Boulevard. They tell him their goal with the special is to use his music to reveal the real Elvis Presley and what he's all about. They all agree to meet again after a preliminary script is written.
• May 24, 1968: E-Day minus 193 days
Lou Cedrone, writing in the Baltimore Evening Sun, speculates that the TV special will be merely a vehicle to revitalize Elvis' movie career. "There is no word from Elvis or Colonel Parker, his manager, as to why Elvis finally agreed to do a TV special, but it is being said that Presley's pictures are not doing as well as they once did." Cedrone wonders if Parker believes doing the special will get NBC-Universal behind his client's future films.
• May 30, 1968: E-Day minus 187 days
In the Daily News, writer Ben Gross, a Presley critic in 1956, announces he is "eagerly awaiting" Elvis scheduled special on NBC. He asks his readers, "Do you recall how moralists so heatedly denounced his gyrations that cameramen were given instructions to photograph only the upper portion of his body? Considering what's going on now, how naïve and innocent it all seems today."
• June 3, 1968: E-Day minus 183 days
Elvis arrives at the Binder-Howe offices to go over the preliminary script and begin two weeks of informal rehearsals. Writers Chris Beard and Allan Bye have come up a theme and sequence for the hour-long special. All of it is based on Elvis' music, with "Guitar Man" serving as an autobiographical thread running through the show. The special will end with a Christmas song, after which Elvis will simply say, "good night." Elvis says, "I like it." When pressed for a more expressive opinion, Elvis responds, "I like it all."
• June 17, 1968: E-Day minus 159 days
NBC officially announces that Elvis Presley's first TV special will be aired at Christmas time this year.
• June 25, 1968: E-Day minus 151 days
Accompanied by Colonel Parker and Bob Finkel, Elvis holds a press conference at NBC's Burbank studios. Questions and answers about his upcoming TV special include the following.
Q: "Why are you doing TV now?" A: "We figured it was about time. Besides, I thought I'd better do it before I got too old. Television is a different world from movies. It does something to you. It demands more of you."
Q: "How would you describe your show?" A: "The title of the show is 'Elvis.' There are six segments. It will have a lot of musical production numbers and some skits. Everything in the show comes out of the music. No guest stars, but lots of surprises. 
Q: "Are you going to do any acting in the show?" A: "I'm going to sing almost exclusively in it. It's just me and some dancers."
Q: "Are you keeping up with the modern sound?" A: "I'm not ancient. I kept up with rock and roll. Soundwise, I do. The over all sound  of music has improved. The engineering has improved. The equipment has improved. I've got to improve."
Q: "Do you think your audience has changed?" A: "Well, they don't move as fast as they used to. Most of them are young mothers now, or they're about to be married."
Q: "Are the majority of your fans still in smaller cities?" A: "Yes, I think the majority is still there. However, I'm hoping that by acting more and singing less in my pictures, I'll be noticed more by people in the cities."
Q: "Are you going to make more pictures?" A: "I am getting more and more interested in acting. We're constantly looking for better scripts for the pictures."  
• June 27, 1968: E-Day minus 149 days.
Taping for the various segments in Elvis' TV special begins. 
• June 29, 1968: E-Day minus 147 days 
Taping for the Elvis' TV special concludes.
• September 11, 1968: E-Day minus 73 days.
An article in Variety announces that the bordello scene has been cut from Elvis' TV special. The scene passed the NBC censors, but sponsor Singer requested that it be removed.
• October 22, 1968: E-Day minus 32 days
NBC announces that "Singer Presents Elvis" will be broadcast on NBC-TV on Tuesday, December 3 at 9 p.m. EST. It will preempt the first hour of NBC's Tuesday Night Movie. Following Elvis and preempting the second hour of the movie will be another hour-long special, titled "Special Bardot," starring Bridget Bardot.
• November 4, 1968: E-Day minus 19 days
In the San Francisco Examiner, Singer Sewing Machine Company vice-president Alfred de Scipio comments on "Singer Present Elvis."
"This show … will reveal this remarkable young man as that rare performer who crosses the entire spectrum of music, from rock to ballad. It is a virtuoso performance, one which will come as a distinct and pleasant surprise to those who are perhaps unaware that Elvis is a consummate musician with an ear acutely attuned to today's sound in every form."
• November 26, 1968: E-Day minus 7 days
Singer begins running ads for "Singer Presents Elvis" in Variety and in local newspapers.
• December 1, 1968: E-Day minus 2 days
The following statement by Elvis is printed in the Pittsburgh Press.
"I want you to know that I was scared to death when I did my first number for that studio audience. Let me tell you that my knees were shaking, and it wasn't just from keeping time with the music. But then it all came back to me and it was just like when I was doing one-night stands in the old days. Now I'm looking forward to a concert tour or two and seeing people from a stage again."
The same day, director Steve Binder's comments appeared in the Chicago Tribune.
"I didn't want to do a normal Presley piece. He's thrown into a whole new chemistry on this show. We did it by getting him out of his entourage—people who were afraid to experiment, bounce with him, and who usually wanted to fall back on things he did at the height of his career. I laugh when I hear one of these songs—the old records—on the radio. What we've done with them is completely different—arrangements, strings in the background, new choreography."
"I like to work with people who have explosive, exciting careers, and Elvis, certainly in my mind, is one of those people. We just turned the camera on him for four hours and surrounded him with all his buddies and a group of about 400 people. So close they could reach out and touch him … And he sings, and talks about things—what he used to think when television did things like shoot the picture up high above his waist, or what he thinks of the Beatles. It's a great experience. He talks a lot on the show … He really wants to get back to the people. You will get to know Elvis Presley. That I guarantee. He's got a lot inside him, a lot of personality. For once, he had a chance to get it out."
• December 3, 1968: E-Day … and beyond
"Singer Presents Elvis," starring Elvis Presley, Tuesday, December 3rd in color, NBC-TV, 9 p.m. EST, 8 p.m. CST (In Canada—CBC Television Network) — Alan Hanson (© December 2019)