Elvis in 1970 …
The Last Great Year in Presley's Career
The year 1970 was a critical one in the career of Elvis Presley. Entering the new decade, he was riding the crest of a great resurgence in his career. It started with his NBC-TV special in December 1968 and picked up steam in 1969 with three hit records—"If I Can Dream," "In the Ghetto," and "Suspicious Minds." The latter became his first #1 on Billboard's "Hot 100" singles chart in seven years. Elvis' successful return to live performances in the summer of 1969 signaled the end of a stagnant acting career, as he took his act back to the people. The career revival, so sudden and spectacular as it came, carried with it an underlying uncertainty. At age 35, could he keep the momentum going?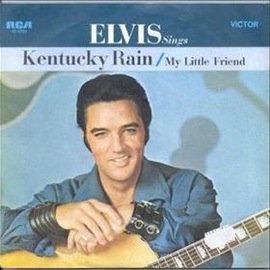 Back in 1970, no one was asking that question. "ELVIS" was the magic word on the Las Vegas strip that year. His winter and summer engagements (115 total shows) set attendance records in the desert. In the fall, he took his show on the road, playing to sold out crowds across the country from Houston to Detroit and from Los Angeles to Miami. When the documentary film Elvis: That's the Way It Is was released in November, all Presley fans, both old and new, could see the transformation that had come over him.
But the foundation of his career had always been his music, and the success or failure of his RCA recordings on Billboard's pop charts in 1970 was the best indicator of whether or not his star would continue to shine brightly. In the year that The Beatles broke up, Presley was all over the "Hot 100" pop singles chart. The five Elvis singles RCA released in 1970 kept his name on the chart for 45 weeks that year. They included: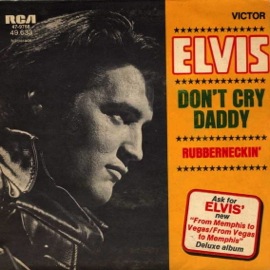 • "Don't Cry Daddy" / "Rubberneckin'"
Elvis's follow up to "Suspicious Minds" was in the middle of its 13-week chart run when the calendar turned over in January 1970. Billboard had reviewed the single, as it did all of Presley's 1970 singles, in its "Top 20 Pop Spotlight," reserved for new releases predicted to reach the top 20 of the "Hot 100." Of "Don't Cry Daddy," Billboard noted, "'Suspicious Minds' brought Elvis back to the No. 1 chart spot. This compelling rhythm ballad with potent lyric line offers much of that play and sales power." In its review, Variety called the song, "a potent tearjerking ballad handled in standout style." It also described the flip side as, "a rock and soul dance tune with a solid vocal package." At the end of January, the pairing gave Elvis his third straight top 10 hit, peaking at #6 on the "Hot 100."
• "Kentucky Rain"
Billboard called Presley's second 1970 single, "a driving rock-ballad," and predicted, "This one has all the sales potential of his recent string of hits. Top performance and material." Variety added that the new single, "showcases the 'king of early rock 'n' roll' on a standout country pop ballad due for broad impact." The single ended Elvis's top ten streak on the "Hot 100" but still reached "hit" status when it peaked at #16 for two weeks in March.
• "The Wonder of You" / "Mama Liked the Roses"
In its review of Elvis's May single release, Billboard noted, "Presley updates the Ray Peterson ballad hit of the past and comes up with another top of the chart winner.
Variety agreed, labeling the A side, "a polished big ballad and an excellent vehicle for his powerful vocal delivery," and the flip side, "a sentimental ballad that also features a powerful vocal performance." As Elvis's first ever live single release, "The Wonder of You" took Presley back into the top 10 during a 12-week run on the "Hot 100." In mid-summer it spent three weeks at #9.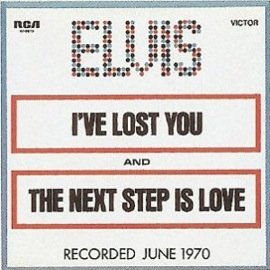 • "I've Lost You" / "The Next Step Is Love"
Billboard tabbed Presley next 1970 single, "Another two sided smash for Elvis to follow up his top ten winner, 'Wonder of You / Mama Liked the Roses.' Both sides are equally potent rhythm ballads. Will hit hard and fast." Variety added, "I've Lost You … registers as a big voiced, lushly arranged ballad with Top 40 and easy listening appeal." Both show business journals were wrong on this one, though. "I've Lost You" turned out to be Elvis's worst performing single of the year, managing to reach only #32 during a 9-week run on the "Hot 100."
• "You Don't Have to Say You Love Me" / "Patch It Up"
Considering "I've Lost You" an aberration for Presley, Billboard predicted his fifth 1970 single would be, "Another two sided blockbuster for Elvis. The updating of the Dusty Springfield ballad is super as is the swinging Eddie Rabbit, Rory Bourke number which moves from start to finish with no let up." Variety noted the Springfield cover, "combines his powerful voice with a lush arrangement for a strong ballad entry" and that "Patch It Up" was, "a solid class ballad belted very effectively by this veteran." The pairing almost got Elvis back into the "Hot 100's" top 10. At the end of November, it peaked at #11 during a 10-week run on the chart.
Considering Elvis's considerable accomplishments on stage and on the pop singles charts, 1970 has to be considered a second straight triumphant year for him. Difficult to see at the time, however, were cracks forming in the Presley firmament that would soon bring a moderate decline and an end to the "comeback" that started two years before.
It began with the quality of his music. His comeback was fueled by material he recorded at Memphis's American Studios during January 1969. The 32 tracks laid down during those sessions produced two acclaimed LPs and four hit singles—"In the Ghetto," "Suspicious Minds," "Don't Cry Daddy," and "Kentucky Rain." Rather than return to American, the studio that produced his greatest body of recorded work since the "Elvis Is Back" sessions in 1960, Presley decided to return to RCA's Studio B in Nashville for his next sessions in June 1970. The overall quality of the three dozens songs recorded in Nashville that summer was considerably weaker than the material recorded earlier at American. The Nashville sessions produced only one hit single ("You Don't Have to Say You Love Me"), and even that one was a cover. With popular writers like Mac Davis and Eddie Rabbit becoming more interested in recording their own material, the quality of new songs presented to Elvis deteriorated, forcing him to focus on well known cover songs for much of his studio material.
And although his 1970 singles performed well on the "Hot 100," Elvis's RCA albums were disappointing that year. Only his live Vegas LP, "On Stage," was successful. After that came a couple of weak budget LPs,"Let's Be Friends" and "Almost in Love," both containing a hodge-podge of discarded session recordings and weak soundtrack numbers. Even the "That's the Way It Is" LP, issued in November 1970, lacked focus with its mixture of Nashville sessions tracks and live recordings.
The result was that 1970 has to be considered the last successful year in Elvis Presley's career. In 1971 his five RCA single releases were all disasters on the "Hot 100," stalling out at #21, #33, #53, #36, and #51. Billboard took note of the downward trend and stopped reviewing Elvis's singles in their "Top 20 Spotlight," and began listing them in their "Top 60 Spotlight."
Certainly there were occasional successes in Presley's career after 1970, including 1972's "Burning Love," Elvis' biggest chart hit in the '70s, and the 1973 "Aloha" TV special. But when 1970 came to a close, so did Elvis's last great comeback. Starting in 1971, Elvis Presley slowly but surely entered the twilight of his career, never again in his lifetime to be a dominant force in the pop music business. — Alan Hanson | © May 2014
Reader Comment: You said you like the memories so here goes. It was 1970, I was 14, and Elvis was coming to Denver. My mom was so excited and insisted we go. Elvis was her thing, mine was The Grass Roots, but I tagged along to the concert with her and my stepdad. My mom was dressed to the nines and my stepdad looked annoyed. When we got there, you could sense the excitement, but I just acted bored. The lights went down, the music started and out walked Elvis. I got a little more interested and when he started singing I was hooked. He was the bomb!!! and so handsome!!! I became a fan for life. I was fortunate enough to see him once more in 1975, and it made my love of all things Elvis even stronger. — Tawny (2016)