Essential Elvis Albums
… A Top Ten List
"The Best of Elvis—Our beginners guide to Elvis' best albums." That was the headline over writer Michael Bivona's article posted on Web2Carz, an online lifestyle magazine. The author pointed out, quite correctly, that listening to Presley's music on vinyl LPs during his lifetime was quite different than in the current musical pick-and-choose digital environment.
"You can buy and download all the 'Greatest Hits' and 'Number Ones," Bivona explained, "but you'd be missing out on a lot of great music not included in those releases." For those wanting to "really dig into the music of Elvis," he advised listening to some of Presley's original LPs. For starters, Bivona suggested five Elvis albums scattered over his career—"Elvis Presley" (1956), "Loving You," (1957), "Elvis Is Back," (1960), "Aloha from Hawaii," (1973), and "Good Times" (1974).
For me, Bivona's article rekindled pleasant memories of listening to Elvis' music on vinyl platters when a record player was the only viable platform for enjoying his music. When you put the album on a record player, you really were almost forced to listen to the album from beginning to end. Skipping songs by moving the needle arm manually invariably scratched the disc, and the ability to record one's favorite cuts off vinyl onto tape didn't exist for most people until cassettes hit the market in the early '70s.
I've decided to expand on Michael's idea and provide a list of 10 Elvis albums that represent the development of his music over the course of his career. RCA issued 68 Presley LPs between 1956 and 1977. Most of them were either general issues or movie soundtracks. There were also about a half dozen each of live, gospel/Xmas, and greatest hits albums. Like Bivona, I excluded the latter from my list, since they usually contained Presley's single record releases over a period of years. Instead, I was looking for albums that each provided a snapshot in time of Elvis' music. For that same reason, I've listed them chronologically.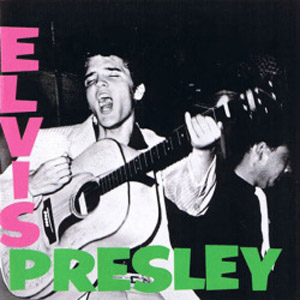 • "Elvis Presley" (1956)
Rushed out by RCA in March 1956 in the wake of "Heartbreak Hotel's" success on the singles chart, Elvis's first album was a mix of five Sun Records recordings and seven early RCA tracks. Since none of the tracks had been previously released by either Sun or RCA, most listeners were unaware that two different studios were involved. (Years passed before I realized the difference between the Sun and the RCA recordings.) "Trying to Get to You" and "Blue Moon" introduced Presley's new fans to the distinctive sound of Sun's Memphis studio. The LP's lead cut, however, was "Blue Suede Shoes," Elvis's high energy rendition of Carl Perkins's rock 'n' roll anthem. Another track, "Money Honey," Elvis paid tribute to his rhythm and blues roots.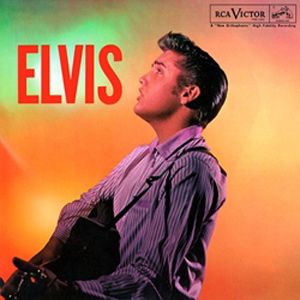 • "Elvis" (1956)
Elvis' second LP for RCA in his breakout year was his best album of the fifties and one of the best in his entire career. All 12 cuts were new, and none had or ever would be released as singles by RCA. Much of Presley's early soulful R&B feel was gone, replaced on recordings such as "Long Tall Sally" and "Ready Teddy" with the hard rockin' sound that had become his trademark. There was a country feel, as well, in tracks like "Paralyzed" and "When My Blue Moon Turns to Gold Again." Finally, Elvis offered his first pop ballads with "First in Line" and "How's the World Treating You."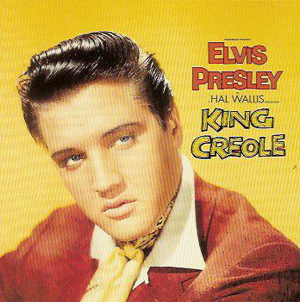 • "King Creole" (1958)
Bivona selected "Loving You" as an early movie soundtrack LP for his list, but I'm going with "King Creole" instead. Even if the single pairing of "Hard Headed Woman" and "Don't Ask Me Why" is set aside, the album still has eight recordings that reveal Presley was growing in confidence and versatility as a singer. Edgy cuts like "King Creole" and "Trouble," both Leiber and Stoller compositions, could have made it as singles. With ethnic blues versions of tunes like "New Orleans," "Dixieland Rock," and "Crawfish," Presley showed an ability to handle material outside his previous focus on rhythm and blues, country and western, and rock 'n' roll.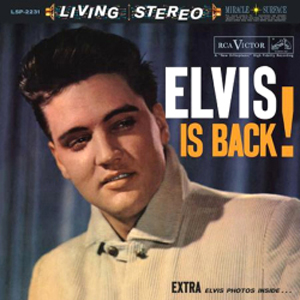 • "Elvis Is Back" (1960)
I agree with Michael on this one. In fact, "Elvis Is Back" might be the best LP release ever by Presley, especially when you consider that three blockbuster singles, "Stuck on You," "It's Now or Never," and "Are You Lonesome Tonight?" were recorded during the same post-army recording sessions but were not among the 12 tracks on "Elvis Is Back." Although the album contains that expected uptempo numbers, such as "Dirty, Dirty Feeling" and "Such a Night," the collection is dominated by Blues numbers, including "Reconsider Baby," "Fever," and "It Feels So Right." There are some straight pop numbers, as well, like "Make Me Know It" and "The Girl of My Best Friend." In fact, there is not a throwaway cut on the entire album, which seamlessly moved Presley from the rock 'n' roll field into pop's mainstream.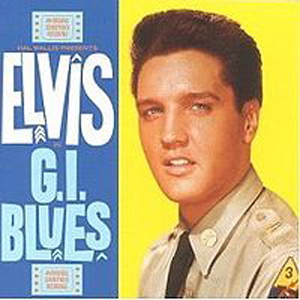 • "G.I. Blues" (1960)
RCA issued 15 soundtrack LPs from Elvis' movies in the 1960s. Most of them reveal an uninspired Presley singing bland songs. Only a handful could charitably be labeled as "pleasant" at best, but since we need a representative of this LP category on our list, "G.I. Blues" gets the nod. Nothing in the "G.I. Blues" soundtrack stands out as special, but then nothing, other than the lullaby "Big Boots," is irritating either. The title tune and a few other cuts, such as "Tonight Is So Right for Love" and "Shoppin' Around" at pleasant enough rhythm numbers. "Wooden Heart" is a cute ditty, and it turned out that "cute" was good enough for many Elvis fans in the sixties. Finally, Elvis sings a straight version of "Blue Suede Shoes," which reveals how much energy had drained out of his delivery during his two years away in the army.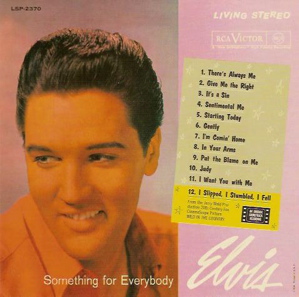 • "Something for Everybody" (1961)
Until "Something for Everybody," Elvis' music had always weighed more heavily toward rhythm numbers over ballads. On this LP, though, Presley balanced the two styles evenly for the first time. Of the six ballads on side A, "There's Always Me," "Sentimental Me," and "Starting Today" are among the most expressive love songs he ever recorded. Although "I'm Comin' Home," "Put the Blame on Me," and "Judy" are all congenial pop numbers on the flip side, none of the six rhythm numbers could be classified as rock 'n' roll. The clarity and beauty of Elvis' voice was never better, but with this album in 1961, it seemed he had morphed completely into a mainstream pop singer.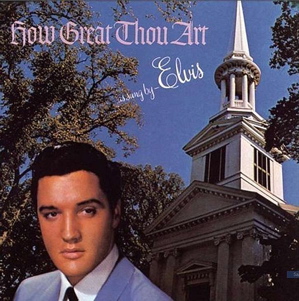 • "How Great Thou Art" (1967)
After a half dozen years of bland pop recordings and silly soundtrack songs, Elvis found inspiration again in his second gospel album. The LP won Presley his first Grammy award, and the title tune is generally recognized as one of the most touching performances of his career. Other hymns, such as "Somebody Bigger Than You and I" and "Stand By Me," are nearly as moving. Gospel rock numbers, such as "So High" and "Run On," are delivered with so much energy that Elvis fans at time dared hope that he would bring such passion back into his mainstream recordings. He would do just that in his TV "Comeback Special" the following year.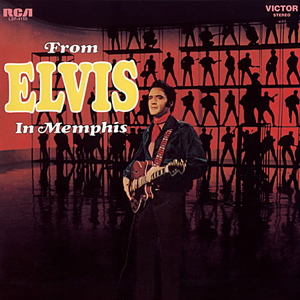 • "From Elvis in Memphis" (1969)
The edge was back in Elvis' voice in this collection of 12 tracks recorded at Memphis's American Studios in January 1969. "In the Ghetto," Presley's breakout single that year, is here, but it seems out of place on the LP that has a decidedly country focus. Elvis gives a high energy workout to "Only the Strong Survive," "Power of My Love," and "I'm Movin' On," the old Hank Snow standard. His powerful voice is also effective in slower numbers, such as "Long Black Limousine" and "After Loving You." There are a couple of disappointments. Elvis tried too hard and wound up "oversinging" the simple "Gentle on My Mind." And his voice sounds strained on "Wearin' That Loved On Look." However, the commitment and energy that had been missing from his albums for years is evident throughout "From Elvis in Memphis."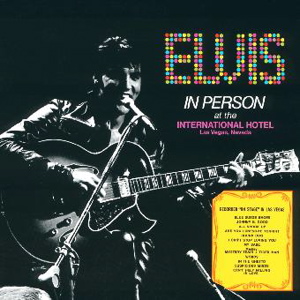 • "Elvis in Person at the International Hotel" (1969)
Bivona offered 1973's "Aloha from Hawaii" as Elvis' best live album. "It has to be included because it's Elvis singing most of his hits," he explained. If you're looking for volume, he's right. "Aloha" is a two-disc package with 22 cuts. But if you want to feel as well as hear Elvis' excitement on his returning to live shows, then "In Person" is a much better choice. His energy is evident right out of the gate with "Blue Suede Shoes" and "Johnny B. Goode." Presley absolutely screams throughout "Hound Dog," and his medley of "Mystery Train" and "Tiger Man" evokes his '50s roots. He offers a strong and complete version of "Are You Lonesome Tonight," a song he couldn't seem to take seriously in his other live albums. Finally, you can find "Suspicious Minds" on nearly every Presley live LP, but none can match the frenetic version on "In Person." Elvis works so hard at it that you can almost see the vinyl start to sweat!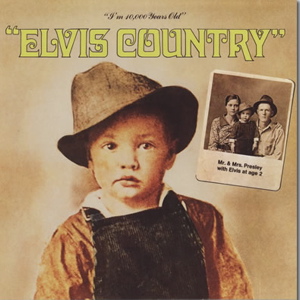 • "Elvis Country" (1971)
Bivona chose 1974's "Good Times" to represent Elvis' general LP releases in the 1970s. For me, though, that album, like several before and after it, lacks consistency. A few good tracks were packaged with weak efforts that has the listener continually asking himself, "Why did Elvis record that?" "Elvis Country" in 1971 was the last Presley album with a consistent theme and sound. There are some country classics done in Presley's pile-driving style—"I Washed My Hands in Muddy Water," "Faded Love," and "Whole Lotta Shakin' Goin' On." Elvis also displays his still superb voice on titles like "Snowbird" and "Funny How Times Slips Away." He goes back to his country and western roots with Bill Monroe's "Little Cabin on the Hill." Unfortunately, some idiot at RCA decided to spoil the ending of every track by adding on snippets of the song "I Was Born About 10,000 Years Ago."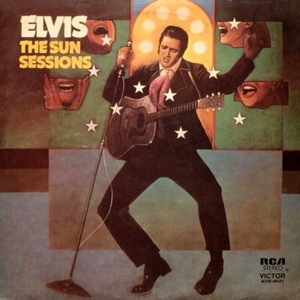 Listening to those 10 Elvis albums in order provides a fairly good picture of Elvis' musical career from 1954 through 1971. However, perhaps the best Elvis Presley album ever didn't make the list. When RCA purchased Elvis' contract from Sun Records in 1955, the Memphis label turned over to RCA all of the Presley masters recorded in Sam Phillips' tiny studio. RCA released those recordings piecemeal on three separate Presley albums—"Elvis Presley" (1956), "For LP Fans Only" (1959), and "A Date With Elvis" (1959). Finally, in 1976, just a year before Elvis' death, RCA compiled most of those Sun recordings on an LP titled, "The Sun Sessions." The 16 tracks on that album are neither Elvis Presley's most well known recordings nor his most commercially successful ones, but they do contain the secret to the cultural phenomenon that Elvis Presley became. — Alan Hanson  | © September 2012
Reader Comment: I agree that "Elvis Is Back" is his best album, primarily because of the blues numbers. However, when you mentioned them, you left out what I consider his best blues song ever — "Like A Baby." In fact, over the years, it has grown to be my favorite Elvis song, period. Gives me goosebumps every time I hear it. — Phil