Stars Aligned When Elvis Presley
Crossed Paths With Aline Mosby
LAS VEGAS—Elvis Presley's opening here Monday at the New Frontier had some explosive repercussions in the local press, when the rock and roll artist stood up United Press' syndicated Hollywood columnist, Aline Mosby, on an interview.
That was the lead in a meager three-paragraph story tucked inside the pages of Billboard magazine's May 5, 1956, issue. Amid the swirling controversies of all sorts that surrounded Elvis Presley at that time, his not showing up for an interview may have seemed like a minor infraction to the general public. However, to members of the entertainment press corps, it was an "explosive" story not because of what Elvis did, but because of to whom he did it. He had stood up Aline Mosby!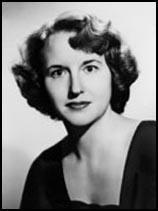 The Billboard article explained briefly why Elvis dusted off Mosby (right) and how the columnist reacted. "According to local scribes, Presley had arranged to meet Miss Mosby after the opening but instead passed her up to 'see a Randolph Scott western movie.' The fem columnist, who had flown here from Hollywood for the story, reportedly 'screamed' out of Las Vegas 'with blood in her eyes.'"
When Elvis choose Randolph Scott over Aline Mosby, he may not have been aware of her lofty reputation in the entertainment press. When she angrily stormed out of Las Vegas, the city's writers foresaw "explosive repercussions" for Elvis in the form venomous reporting from a respected woman scorned. However, Aline Mosby had not won her lofty position in a man's world by letting her emotions color her judgment.
Born in Missoula, Montana, on July 22, 1922, Aline Mosby earned a degree in journalism from the University of Montana in 1943. She started her career at Time magazine before taking a position with United Press International (UPI) in Seattle. In 1946 she transferred to the wire service's Los Angeles office, where she began reporting on the Hollywood film industry. In 1952 she broke the story that the girl who had posed for a popular nude calendar was, in fact, Marilyn Monroe, one of Hollywood's hottest young properties at the time. (Monroe later thanked Mosby for giving her movie career a boost.) Later, Mosby's candid articles about celebrities appeared in Collier's magazine. It was during this period in her career that Presley jilted Mosby in Las Vegas.
Apparently both the reporter and the entertainer were able to put the unfortunate incident behind them. A year later, as work on Elvis's movie, "Jailhouse Rock," was finishing up in Hollywood, the two sat down in Presley's dressing room for an interview. Mosby filed the following UPI article on June 19, 1957. In it she eased the worst fears of Presley fans by revealing that he didn't really receive a haircut for the movie, as had been widely reported. (Unfortunately, she also revealed that she didn't know the correct spelling of producer Hal Wallis's last name.)
Elvis Keeps Sideburns For Film

Hollywood Decides Wig Will Suffice
After Deluge From Fans

By Aline Mosby
United Press Hollywood Reporter
HOLLYWOOD, June 19.—Elvis Presley was all shook up with gratitude today. Durned if his fans didn't keep MGM studio from chopping off his famous sideburns and bangs.
MGM figured on giving Elvis a crewcut and shaving off those side-whiskers because he plays a convict in "Jailhouse Rock," the third movie on the agenda of the Presley steamroller through Hollywood.
But this news caused the biggest crisis in the movie business since Lassie was exposed as a he. Four thousand post cards and letters from Presley fans poured into MGM, begging that the studio let their hero act with his original hair hanging around his sensual-looking face.
A Fortville, Ind., mother wrote, "We love him at our house. Elvis has had more criticism than anyone but his loyal fans stand by him—don't cut his hair. It's his trademark."
Some fans threatened to picket the picture. A Missoula, Mont., girl wrote that "all of us are sick about the haircut." Letters arrived from the Rock n' Roll akats Fan Club of O'Fallon, Mo., and the Presley Kats Fan Club of Syracuse, N.Y.
"So now the studio has decided I'll wear a wig, a crew-cut wig, for the prison scenes," the victorious Presley announced today over lunch.
"Otherwise my hair will look the same, except it was reddened because in black-and-white it photographed like a cap instead of hair."
Elvis was having his usual lunch of mashed potatoes, bacon, sliced tomatoes and Coca-Cola, which he says is the nearest thing he can find around here to Mama's home cooking. His usual retinue of cousins and friends from Tennessee filled his dressing room.
"I never did want my hair cut," Elvis said. "I wear long hair and sideburns because some people look better with long hair. I do because my face is long.
"The fans like it long, I guess, because they first saw me that way. And I certainly don't want to do anything they wouldn't like. Because they put me where I am, and if you don't please a fan I'll be back drivin' a truck. They're the people who buy my records and tickets."
In Presley's second movie, Paramount's "Lovin' You," he pulled out all the stops and does the Presley bumps and wiggles that were censored on TV. In "Jailhouse Rock" he turns more dramatic and even sings a blues song and ballads.
For "Jailhouse Rock," Elvis, sideburns and all, receives $250,000 plus 50 per cent of the profits—one of the best deals any star has ever made in Hollywood. For "Lovin' You" he was paid only $15,000 under a deal he made before he became a national controversial idol. Producer Hal Wallace, however, gave him a $50,000 bonus.
* * * * *
In later years, Aline Mosby built a distinguished career in journalism. Soon after her 1957 interview with Elvis, she moved to UPI's London bureau. In 1959 she became the first woman U.S. correspondent in Moscow. While there she interviewed Lee Harvey Oswald, a year before he assassinated President Kennedy. During her forty-year career with UPI, Mosby worked in the wire service's Paris, New York, and Vienna offices. In 1979 she opened UPI's first bureau in Beijing, China. Mosby, who retired from UPI in 1984, died in August 1998 at the age of 76.
Aline Mosby was among the most respected woman journalists of her era. Both she and Elvis Presley were destined for greater things in their careers when their paths crossed in the mid-fifties. I wonder if each recognized the star power of the other when they met over lunch that 1957 summer afternoon in Hollywood. | Alan Hanson (August 2011)