Elvis: Aloha From Hawaii …
Demystifying an Elvis Myth
"In January 1973, Elvis gave a benefit performance at the Honolulu International Center Arena in Hawaii … Titled Elvis: Aloha from Hawaii, the program was the first worldwide television broadcast, and more than a billion people eventually watched this one performance—roughly a third of the world's population at the time." — Elvis for Dummies © by Susan Doll, PhD, film and pop culture historian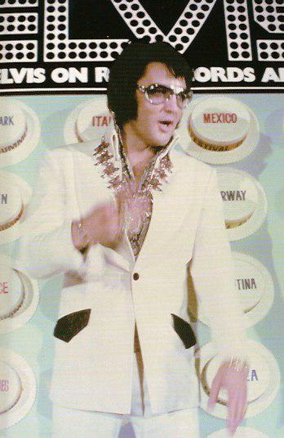 I hate to single out Ms. Doll, since she is only the latest in a long line of writers and internet bloggers who have perpetuated the above myth surrounding Elvis' 1973 television special. And it hasn't been just star-struck Presley admirers who have peddled these ridiculous assertions. Even TV Guide, a respected publication that should have known better, bought into this Presley fairy tale. In its issue for the first week of January 2000, the magazine asserted, "Number of people who tuned into Presley's 1973 special, Elvis: Aloha From Hawaii, via satellite: 1.5 billion."
To see how this Elvis fable got started, let's first go back to 1973. Shortly after midnight on Sunday, January 14, 1973, Elvis took the stage in Honolulu. His performance was broadcast live by satellite to countries in the Far East and Oceania. Later that day a delayed broadcast of the show was beamed via satellite across Europe. Almost three months later, on April 4, 1973, an expanded version of Elvis: Aloha From Hawaii was broadcast in the U.S. on NBC-TV. Reviews of the show were mostly positive, and the concert soundtrack became Elvis's first #1 LP in eight years.
To track the source of the show's over-hyping, however, we must go back four months before Elvis' performance in Hawaii. On September 4, 1972, Colonel Parker called a press conference in Las Vegas to announce Presley's upcoming satellite special. Elvis was in attendance, as was Rocco Laginestra, president of RCA, which would produce the show using its communications satellite.
• Parker issued a laundry list of Elvis "firsts"
In an announcement released prior to the news conference, Parker outlined several what he called historic "firsts" for the broadcast: (1) first entertainment special to be broadcast worldwide via satellite, (2) largest audience to ever see a television show, "in excess of one billion people," (3) "the first time in the history of the record industry" that an LP would be released worldwide simultaneously.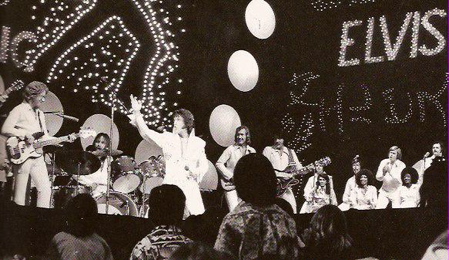 Parker's final "historic" claim is legitimate, I suppose, but there seems nothing significant about it. RCA could have used its foreign licensing system to do the same thing years earlier. It didn't because there was no apparent commercial advantage in issuing an album on the same day around the globe. Whether releasing the Aloha From Hawaii LP everywhere simultaneously was a good marketing move or just publicity hype is a debatable question, but one of little import.
The other two supposed "firsts" for Elvis' Hawaii show, however, were clearly misleading and phony claims churned out by the "Colonel Parker Propaganda Machine." It's surprising that the reporters at the 1972 press conference didn't see through the sham immediately, and it's absolutely amazing that Parker's bogus claims have been reported as fact over and over again ever since.
Let's start with the notion that the Presley show would be broadcast "worldwide." According to Peter Guralnick in his Elvis biography, "six rows of Elvis Summer Festival hats festooned with the names of each country in which it was hoped the spectacular would be broadcast" were displayed at the press conference. An article in the Honolulu Advertiser reported that Laginestra "indicated that at least 34 nations will tune in to the Presley show." Even the most gullible of journalists present should have realized that 34 nations don't qualify as a "worldwide" broadcast. (A quick look at the World Almanac reveals that in 1973 there were 140 countries in the world with more than a million in population.)
• Mao and Uncle Joe were no Elvis fans
Keep in mind that the satellite feed was available only to those nations who had signed a licensing agreement with RCA to broadcast the show in their countries. At the news conference, Laginestra said RCA was "talking to the Russians and (we've) started negotiations with China" for possible hookups (Billboard, 12/16/72). There has never been any evidence, however, that Aloha From Hawaii was ever broadcast in China, Russia, or any other communist nation. (That didn't stop Susan Doll from speculating that, "Even parts of Communist China supposedly tuned in.")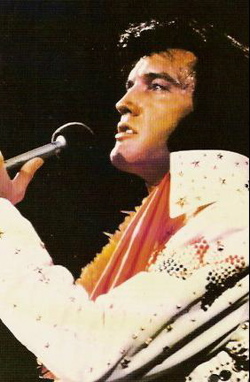 Various reports indicate Aloha From Hawaii was eventually broadcast in Japan, South Korea, Hong Kong, the Philippines, South Vietnam, Thailand, Australia, New Zealand, Canada, Mexico, and the United States, and 28 countries in Europe. That's 38 nations plus the British protectorate of Hong Kong.
The special was not broadcast in any country in Africa, South America, the Middle East, or South Asia. In fact, among the world's five most populated countries in 1973, only the U.S. saw Aloha From Hawaii. So at long last, can we please dispense with the assertion that it was a "worldwide" broadcast?
Now, what about the claim that over a billion people actually saw the Elvis special? Remember that Colonel Parker's printed announcement proclaimed that "in excess of one billion people" would actually "see" the Aloha broadcast. How could he determine the actual number of viewers four months before the broadcast? Obviously, he couldn't. Still, Presley pundits through the years have continued to insist that between 1 and 1.5 billion people worldwide saw Aloha From Hawaii back in 1973. (The amount 1.3 billion is the most commonly stated number.)
• The Colonel must have thought infants watched Elvis
First of all, the world's total population in 1973 was 3.973 billion. Does it sound reasonable that fully one-third of the planet's people were glued to the tube when Elvis' special aired in 1973? Hardly. Consider how many Americans tuned in to Aloha From Hawaii when it was broadcast in the U.S. on April 4, 1973. Overnight Nielsen ratings indicated that 33.8 percent of all American televisions were tuned to Elvis' concert. But that also indicates that two-thirds of U.S. televisions were either turned off or tuned to other programs in that time slot. Now, if every family member in those 33.8 percent of households was sitting around the TV watching Elvis that evening, then the most that could be claimed is that about one-third of Americans watched Aloha From Hawaii. If barely a third of the U.S. population tuned in, does it seem reasonable that an equal amount would have done so in places like South Vietnam, where TV broadcasting only began in 1965?
So how was the exaggerated number of 1.3 billion viewers of the Elvis special reached? If you add together the 1973 populations of the 38 countries which may actually have broadcast the Aloha show, the total comes to—you guessed it—about 1.3 billion. In what was perhaps the greatest snow job of his career, Colonel Parker convinced four decades of Elvis experts and fans that every single living person in 38 countries tuned in to Elvis: Aloha From Hawaii in 1973. Just in the U.S. alone, the Nielsen ratings make it clear that, at the very least, 140 million Americans were doing something other than watching Elvis that April evening.
Even the idea that Aloha From Hawaii was the first broadcast of its kind is flimsy. "The claim that this was the first worldwide satellite broadcast of an entertainment special was somewhat debatable," noted Peter Guralnick, "in that the broadcast was not actually worldwide and Andy Williams had already done something of similar nature for the European market."
• Aloha concert should be allowed to stand on its own
In the end, much of the "historic" framework built around the 1973 Elvis: Aloha From Hawaii broadcast turns out to be nothing more than another example of Elvis enthusiasts trying to artificially embellish Presley's legacy with bogus big numbers and dubious "firsts."
The problem with such an approach is that it distracts from Elvis' real legacy—his unparalleled ability as an entertainer. His performance in the early morning of January 14, 1973, should stand on its own merits. And all that other stuff—the satellite, the dozens of countries, the millions of viewers—neither added nor detracted from his performance. — Alan Hanson | © October 2010
Reader Comment: An excellent, well-researched article that sets the record straight without belittling Elvis outstanding performance. Thanks for an informative and interesting read! — Chris (March 2023)
Read "Aloha From Hawaii Via Satellite: Fact & Fancy"
by Michael Werner & Bianca Weber
Go to Elvis on TV

Go to Home Page