March 5, 1960 … Elvis Army Discharge

It Might Have Been the
Happiest Day in Elvis' Life
I know how happy Elvis Presley was on March 5, 1960. That was the day he was discharged from active duty in the U.S. Army. I know how he felt because I couldn't wipe the smile off my face on June 26, 1975, the day I got my military discharge. I know veterans are supposed to be proud about serving the nation, and I do feel that way sometimes. I'm sure Elvis did too, but, ya know, when you're in the service and you don't want to be, life can be a drag.
Both Elvis and I were forced into the military by the draft. We both had careers put on hold. I'm sure at the time Elvis felt like I did, that the years in the military were wasted. It was time that could have been put to far better, and certainly more lucrative, use in civilian life. Of course, the passage of years brings a more balanced perspective on one's military service, and the time spent there does seem to have been useful in some ways after all.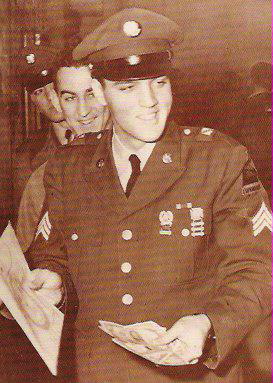 Elvis certainly didn't enjoy his time in the army. In a November 1958 letter from Germany to his buddy Alan Fortas back in Memphis, Elvis wrote:
"I would give almost anything to be home. You know it will be March of 1960 before I return to the States. Man, I hate to think about it. Of course, don't say anything about it, because a miracle may happen. Boy, it will be great getting out. I will probably scream so loud they'll make me stay two more years. I can hardly wait to start singing, traveling, making movies, and above all seeing the old gang and old Graceland. All I do is sit and count the days."
• "I stay homesick all the time" Elvis told Variety
And in a March 1959 article in Variety, Elvis admitted, "I stay homesick all the time. I'd give my neck to be back. You just don't know."
For the record, here are Elvis' significant military dates. March 24, 1958: Elvis is inducted into the army in Memphis. September 22, 1958: Elvis leaves for Germany on a troop transport ship. March 2, 1960: Elvis leaves Germany on a military transport plane bound for the States. March 3, 1960: Elvis arrives at McGuire Air Force Base in New Jersey and holds a press conference at Fort Dix that afternoon. March 5, 1960: Elvis is discharged 19 days short of his two-year army commitment.
Elvis' press conference on March 3, 1960, has been well documented. Video, audio, and print transcripts of the event have long been available, and most Elvis fans are familiar with the spectacle that day—the crush of newsreel and press cameras, the Q&A exchange, and how actress Tina Louise somehow worked her way into the spotlight with Elvis.
Among the press corps present that day were representatives of both Variety and Billboard. The lengthy accounts that appeared in both entertainment publications offer some interesting sidelights to what is perhaps Elvis's best-known press conference.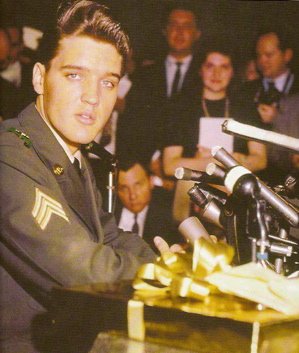 • Elvis looked "tired but fit" at news conference
David Bittan's article appeared in Variety's weekly edition of March 9, 1960. It began with, "Sergeant Elvis Presley was mustered out of the Army in a production worthy of one of the nine films he is scheduled to make in the next three years." According to Bittan, Elvis looked "tired but fit." (Elvis certainly must have been tired. The night flight from Germany landed in New Jersey at 7:42 a.m., and as a veteran of several trans-Atlantic flights aboard military transports, I can testify that the noise inside such planes is not conducive to sleeping.)
"On hand to greet him were more than 100 representatives of all types of news media," Bittan observed. "Among those present were actress Tina Louise, representing the Mutual radio network, and Nancy Sinatra, appearing on behalf of her father." Of course, Colonel Parker was right in the middle of it all, as well, throwing out some big numbers, some no doubt exaggerated, concerning Elvis. He claimed Elvis had earned $1.6 million in record royalties while in the service. Parker announced that now that Elvis was out of the army, he would earn $850,000 from films and TV in 1960, including $125,000 for appearing on Sinatra's May 12 TV special.
Bittan noted that Tina Louise, who was dressed in a "tight white dress … with her bright red hair peeking out of a turban," made Elvis blush when she asked him, "Are you still going to use suggestive movements?" Elvis replied that his movements were "natural" and that there would be little change in them "unless my fans wanted a change."
When the press conference ended, Bittan watched as "reporters ran for the telephones as they would at a Presidential press conference." Thirty phone booths had been set up for writers to call in their stories. "Using one of the phones was Tina Louise," Bittan noted, "telephoning Mutual's Washington newsroom with a dispatch written for her by a newsman, who just happened to be present."
• Snow storm made conditions difficult for press
Billboard's account, written by Ben Grevatt, appeared in the magazine's May 7, 1960, edition. According to Grevatt, conditions at the news conference "hardly could have been worse. Despite a snow storm which quickly reached blizzard proportions, a great bevy of newspaper, magazine, TV, radio and newsreel people braved treacherous highway conditions to reach the post." And, like most in the press corps there, Grevatt couldn't help but notice the presence of "red-headed, voluptuous actress Tina Louise."
As the rep for the industry's leading music journal, Grevatt labeled most of the questions thrown at Elvis as "square." "The matter of his marriage plans was covered at least six times," he noted, "while that of his hair and sideburns came up at least four times." As the meaningless, to him, questions continued, Grevatt's attention wandered to a commotion occurring outside the room.
"Meanwhile, outside the window of the auditorium," he reported, "there was a gathering furor of another kind. This was a small army of teen-age fans who squealed and pounded on the windows till an orderly was sent to quiet them down. They did not quiet down, however."
• Tina Louise got final word in Billboard article
The last word in Grevatt's Billboard article went not to Elvis, but to the bothersome Tina Louise. "It was learned that on the way back to New York," the writer wrote, perhaps gleefully, "Miss Louise and her companions got stuck in a snowdrift on the New Jersey Turnpike."
At 9:15 on the morning of Saturday, March 5, 1960, Elvis was officially discharged from the army. He and Colonel Parker left Fort Dix in a limousine for a hotel in Trenton, New Jersey. That night Elvis boarded a train bound for Memphis. I'm sure, as I did, a happy-to-be-free-at-last Elvis soon left all unpleasant thoughts of military life behind him. — Alan Hanson | © July 2009
Reader Comment: I was there when Elvis was discharged. I had 100 copies of his discharge papers run off and sent them home to my three sisters. They all got thrown away. The discharge showed Elvis as a "specialist," which is a "spec 5," not a three-stripe sergeant. There was one other person from Kentucky on the same discharge paper. Also, the bus that Elvis was on hit a car in the parking lot because it was snowing. After Elvis got out, I requested to go to Germany. I was in the 15th Cavalry and Elvis was in the 14th Cavalry. I never had the chance to meet Elvis, which makes me sad. He was great. — Bruce Hart


Go to Army Elvis

Go to Home Page