How Elvis Presley Became
America's Most Famous Draftee
At Christmas time in 1957, Elvis Presley received the sudden and disheartening news that he would soon be drafted into the U.S. Army. Although he had many times declared publicly that he was willing to serve, he never had said, with sincerity, that he wanted to serve in the military. The specter of conscription had been hanging over his head for five years, and he secretly hoped that somehow he would escape the draft.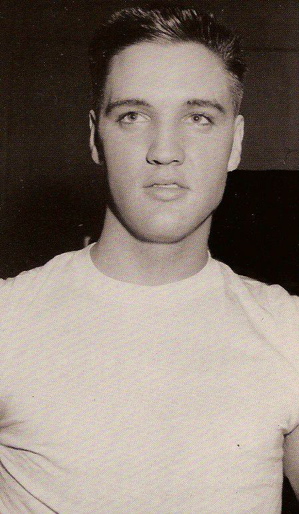 Elvis, along with all the other young men of his generation, fell under the provisions of the Universal Military Training and Service Act of 1951. Originally Congress passed the measure to supply the manpower needed to fight the Korean War, but it remained in effect after the war due to cold war fears in the U.S. It resulted in the only instance in American history of conscription during a lengthy peacetime period.
Under the act, all men between the ages of 18 and 26 were required to register. The minimum age for induction was 18 ½. For those drafted, the length of service was set at 24 months. If and when a man would be drafted depended on where he lived. Each local draft board had an annual quota of men to supply for military service. If volunteers did not meet the quota, the board was required to draft enough men to fill it. While far fewer eligible men were drafted during the late fifties than were during wartime, few exceptions were made once a man's name rose to the top of the board's list.
The Memphis draft board added Elvis Presley's name to the bottom of its list on January 19, 1953. Eleven days after his 18th birthday, Presley, then in his last year of high school in Memphis, fulfilled his legal requirement to register for selective service. It's doubtful that the action concerned Elvis much at the time, as he knew there were thousands of names on the draft board's register that would be called before his.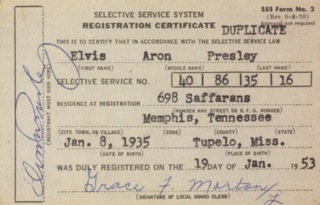 In fact, four years would pass before he next heard from the Memphis draft board, and his life would change enormously in the interim. He got his start with Sun Records in 1954, signed with RCA in 1955, and had three number one records nationally in 1956. Additionally, he signed a Hollywood contract, made his first movie, and became a sensation on network television. He was the biggest name in the entertainment business when he was summoned to Kennedy Veterans Hospital in Memphis for a pre-induction physical on January 4, 1957.
The examination was critical, as it would determine Elvis' physical and mental fitness for military service. Those who failed to meet draft standards were removed from draft consideration, while those who passed were assigned a draft status that could make them eligible for immediate induction. Seemingly fit men occasionally failed their draft physical. For instance, a couple of years earlier baseball player Mickey Mantle, one of the country's most renowned athletes, twice failed his draft physical due to a knee injury suffered in the 1951 World Series. Ruled unfit for military service, he continued his award-winning career on the baseball field.
Elvis Presley had no such luck. A January 8, 1957, article in the Memphis Press-Scimitar reported the results of his pre-induction exam. "Physically he's an A-profile and that's as high as you can go," said Capt. Elwyn P. (Rip) Rowan, Army Recruiting Main Station commander. Presley's mental scores were "about average," according to Captain Rowan, who confirmed that Elvis's test results were in the mail to Memphis Draft Board 86 
On receipt the board designated Presley's classification as 1-A, ready for immediate call-up. By law that couldn't happen for at least 21 days, but the newspaper article noted that, "recent practice has been to give draft notification six to eight months after the physical has been passed." Elvis told the Press-Scimitar that he expected the results of the physical. "I'll go when they call me," he added.
With the draft axe hanging over his head, Elvis continued his career. Early in 1957, "All Shook Up" and "Teddy Bear" were blockbuster chart-toppers, the latter from Presley's Paramount film, Loving You. When he set out on an eight-city spring tour of the Mid-West and Canada, he was asked his feelings about impending military service at press conferences in every city. Elvis and Colonel Parker found themselves in a quandary. Elvis's adult critics decried any special treatment for the obviously healthy rock 'n' roller and pointed to the passing months as evidence that he somehow was trying to avoid the draft.
One option considered was for Elvis to go into the military as part of the Special Services. That way he could spend his hitch traveling around entertaining troops. But critics pounced on that as another way of Presley getting special treatment in the military. It turned out the army wasn't too interested in having Elvis in Special Services. A military spokesman in Washington D.C. said the army would only let Elvis continue singing if it would help recruiting.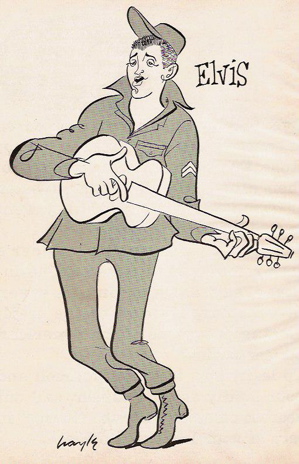 "Our studies," the spokesman explained, "indicate that his basic appeal is to young girls. Our interest in that field is somewhat limited. We have not been able to obtain affirmative evidence that he has a similar appeal to young males, particularly in the age groups we seek to reach." He added that allowing Elvis to croon about the joys of army life "seems to us a bit grotesque … that would be overdoing it, we think." A Special Services officer agreed that Elvis Presley was a poor fit for his department. "The publicity has ruined him for us," he said. "If he were drafted tomorrow, we couldn't touch him with a 10-foot pole."
Elvis and Colonel Parker decided the best strategy for Elvis was to publicly claim readiness to serve in any capacity, while hoping circumstances would keep out of the military altogether. That seemed a real possibility when early in 1957 President Dwight Eisenhower announced a 100,000-man power cut in the U.S. Army. The usual six to eight months between physical and induction passed for Elvis in August with no word from the Memphis draft board.
So when Presley toured in 1957 and reporters asked about his draft status, Elvis gave a standard answer that hid his true feelings. At Fort Wayne in March, he said, "I'm not gonna ask for anything. I'll do what they want me to do." Three days later in Toronto, he told reporters, "Whenever the army wants me, I'll be ready to go. My career won't be able to continue, although the army may let me make records on my own time. Above all, I don't want any special favors." When asked in Spokane in August whether he'd heard from his draft board, he said, "I haven't heard anything from them since I took my physical. When I do go, I don't expect any favors from them. I'll just do what they tell me."
Professionally, though, Elvis' career raced forward on the presumption that he would never be drafted. In May and June, he made Jailhouse Rock in Hollywood, and plans were made to start work on another film, King Creole, in early 1958. After a Labor Weekend tour of the Pacific Northwest, he played California and Hawaii in the fall. By the time he came home for Christmas, nearly a year had passed since his draft physical and classification as 1A.
Elvis' first Christmas at Graceland would be a somber one, though. On December 19, 1957, Milton Bowers, chairman of the Memphis draft board, informed Elvis that his induction notice had been issued. The next day Elvis picked up the notice, which read: "You are hereby ordered for induction into the Armed Forces of the United States and to report to Room 215, 198 South Main St., Memphis, Tennessee, at 7:45 a.m., on the 20th of January, 1958, for forwarding to an armed forces induction station."
When Elvis showed his draft notice to his friend George Klein at Graceland, Klein was shocked. But his reaction was nothing compared to the devastation he knew Presley felt. At the height of his popularity and with Hollywood contracts for eight more movies, Elvis naturally felt all of it might be lost when the army took him away for two years.
Elvis asked for and received a 60-day deferment to complete work on King Creole. His work on that film done, Elvis reported for induction into the U.S. Army on March 24, 1958.  In a Memphis newspaper article, Draft board chairman Bowers claimed of Presley, "We've drafted people who are far, far more important than he is." Important is a subjective term, but surely Elvis Presley was the most publicized and famous victim of the peacetime military draft between the Korean and Vietnam Wars. — Alan Hanson | © July 2015