Crucial Career Decisions Made During Elvis' Last Month in Army
March 5, 1960, was "E-Day" for the United States Army. At 9:15 that Saturday morning, Elvis Presley was officially released from active duty at Fort Dix, New Jersey. Multiple press conferences and a hoard of newspaper articles heralded his return to civilian life and the entertainment business. Press coverage of his discharge started to ramp up a month earlier, as both the media and Elvis himself began to speculate on the nature of his new role in the music business, which had changed considerably during the two years he had been in uniform.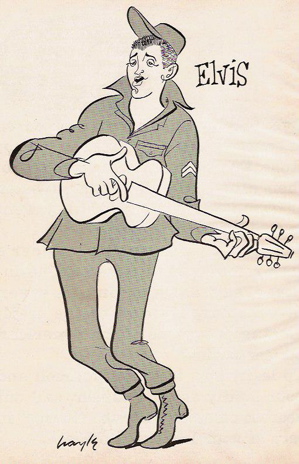 "The interesting part of all of this," noted Billboard's Bob Rolontz of the media's focus on Presley's coming discharge, "is that many—if not most—of the magazines and newspapers … are coming up with such offbeat ideas as 'Can Elvis Come Back?' or 'Can Elvis Sing Sweet?'" During the time that Elvis had been away, his kind of high-energy rock 'n' roll had softened and been absorbed into the pop music mainstream. Would Elvis come back aggressively and try to revive old school rock 'n' roll, or would he adapt his style to current trends on the top 40 chart?
Elvis first weighed in on the question in a wire service story on February 10, 1960 (24 days before "E-Day"). The UPI writer interviewed Elvis while he was in the field on army maneuvers. "I didn't get a re-enlistment talk," Presley said while warming his hands over a campfire. "I think they knew better than that." According to the reporter, Elvis admitted that he'd soon have to decide "if rock 'n' roll has waned in popularity and whether to change his hip-swinging style." His basic ambition, though, he said was to rebuild his career on a combination of singing and series acting.
• "Serious actor" talk threatened to diminish singing career
A week later, a three-part series on Presley by Fred Sparks began in the New York World-Telegram. The army brass had kept Sparks from interviewing Elvis in Germany, but that didn't stop the writer from speculating about Presley's return to show business. "Have two years of relative military oblivion cooled Presley's fans?" he asked. "Can Elvis still fill [arenas] by twitching one knee cap? Has he gone arty, upstage?" Sparks built on Elvis' statement that he wanted to be a serious actor. "Don't be surprised if he enrolls in Actor's Studio, the New York assembly line for talent that blessed the boxoffice with Jimmy Dean and Marlon Brando and taught Marilyn Monroe to talk instead of grunt."
Sparks then surmised, correctly as it turned out, that any talk of Elvis changing his career focus would frighten the show biz interests who had profited so handsomely on Presley's pre-army triumphs:
"When news of this fresh Presley ambition was flashed to New York and Hollywood—and decoded over double martinis—it shook the juke box industry, RCA-Victor records, Paramount Pictures and regiments of camp followers with vested interests and expense accounts. These masters offered a soothing remedy. 'Now, Elvis Boy,' they cooed to Sgt. Presley, 'we'll run a red carpet across America and you do some smasho one-night stands and this big, big movie, 'G.I. Blues.' Then, so help us, when you're back in the saddle and all steamed good we'll find you a juicy dramatic role."
While Elvis was making Hollywood execs nervous with his talk of becoming a serious actor, RCA must have felt reassured, initially, by his comments concerning his post-army vocal style. "I've no reason to change," Presley said in an Associated Press article on February 24 (10 days before "E-Day"). "The people will let you know when you should."
• Elvis could adapt to new pop mainstream, Billboard predicted
However, many, if not most, in the industry press were predicting that Elvis would soften his musical style. Writing in Billboard on February 29 (5 days before "E-Day"), Bob Rolontz prophesized that Presley would adjust to changes in the pop music field and have success doing so:
"Elvis' impact on the music world has been greater than that of any other single personality in the music business for the last, and perhaps last two, decades. He shifted the course of American pop music, and European pop music, to a style that has now been absorbed in the mainstream of pop music, and loosely called rock and roll or rockabilly. Many of his hit records, however, featured Elvis singing ballads, as well as rock and roll, such as 'Love Me Tender' and 'Love Me.' Now that the music scene has somewhat shifted toward smoother ballads, there is little doubt that Elvis can handle these as well as the frantic stuff."
As his discharge neared, Presley certainly knew he had to make some quick decisions concerning his musical style. He had not been in a recording studio for over 20 months, and there was nothing in the bank at RCA to provide him a cushion of time to get readjusted to civilian life. "A Big Hunk O'Love," the last quality recording left from the June 1958 recording session, had been released in July 1959. A new Presley single and album were long overdue, and so the singer knew he would have to record some material soon after his discharge.
• Elvis: "Knowing what the future holds for me … I've got no idea"
During a press conference in Germany on March 1 (4 days before "E-Day"), Elvis discussed at length possible upcoming changes in his musical style. His indecisiveness exposed his deep concern about how he would be accepted on his return to the music business:
"I've read reports about the record industry … about what's happening to the music and this is dying out, that's dying out, this is finished. But actually, I don't know. I was reading the same thing in 1955, and that was the big beginning of the whole thing."
"In the entertainment business the future is very uncertain. You never know. You can only try. So I'm only gonna say I'll try to continue to please the people enough that they keep liking me and keep interested. As far as actually knowing what the future holds for me, I've got no idea."
"I choose my own songs. I don't think there's anybody who can decide what I can do best better than me. And I think it would be a bad mistake if I had someone else tellin' me what to record, or how to record it, because I work strictly on instinct and impulse. I don't read music. My taste might be a little different because I choose songs with the public in mind. I try to visualize it as though I'm buying the record myself. Would I like it? And I try to please the public, and I don't think anybody could choose 'em for me like I can."
"My type of music—I mean the kind of records that I have been making—they don't seem to appeal to the older people like they do the young people … And as far as making more of them like me, it's almost impossible to make everybody like you. You can't please 'em all, regardless if I change my style and started singing something that maybe would appeal to the older people, then I might lose something else. So you have to let time take care of itself."
"I'd be foolish to change my style unless I was told to do so by the public themselves. In other words, if I just took it on my own and said well I'm gonna change my style, I think I'd be makin' a bad mistake. If the people become disinterested in you or they get tired of whatever you're doing, they'll let you know."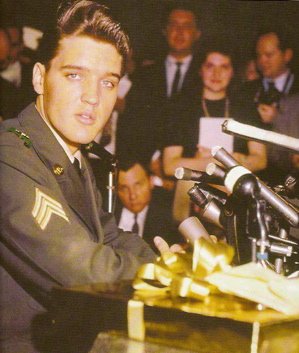 We know now that during his 17 months stationed in Germany, Elvis attempted to keep up on American pop music trends, kept his voice in shape, and considered possible future recording material. He had popular chart records sent to him from the states. According to companion Lamar Fike, "He sang every night in the living room with Charlie [Hodge]. They talked a lot about how to improve [Elvis'] range, how to sustain notes at the top of the register."
In his Presley recording sessions book, Ernst Jorgensen discusses how important those informal sessions were in helping Elvis expand his musical repertoire:
"Elvis did in fact make some very rough home recordings both by himself and with his friends Red West and Charlie Hodge … they show Elvis fooling around with old material and new, trying out songs he's clearly considering for the future—the Drifters' 'Such A Night'; the mock-aria 'There's No Tomorrow.' The tapes are a fascinating window into his evolving musical thinking."
• RCA was prepared for "E-Day"
Back in the states, RCA was preparing for whatever musical choices Elvis might make. On March 2 (3 days before "E-Day"), RCA executive George Marck told Variety, "Presley is enough of a good and innate showman to spring something new." Variety further reported that RCA's Steve Sholes and Colonel Parker were screening material and mulling over whether Elvis' new repertoire would vary from rock 'n' roll and country and western. "It is assumed also that Presley will have his own idea of material," Variety added.
Hill and Range's Freddy Bienstock, in charge of finding new songs for Elvis, had accumulated a stack of demonstration records from staff writers, which included veteran composers, such as Aaron Schroeder, who contributed "Stuck on You" and "It's Now or Never," and newcomers, like the team of Doc Pomus and Mort Shuman, who offered "A Mess of Blues." A varied and first-rate collection of material had thus been gathered and would be awaiting Presley when he returned to the recording studio in Nashville in March 1960.
Just days before, however, at a Graceland press conference on March 7 (2 days after "E-Day"), Elvis still sounded uncertain about his musical direction: "What I'll record, I don't know yet. I've got quite a few songs to choose from. I've collected over two years. I don't know exactly what type or what instruments … I really don't know yet."
• Presley decided to diversify his repertoire
Of course, we now know how Presley's musical repertoire developed in those first couple of years after returning from the army. He kept contact with rock 'n' roll with recordings like "Stuck on You," "Such a Night," and "Little Sister." To that he added strong pop ballads, such as "Are You Lonesome Tonight?" and "Can't Help Falling in Love." Combine all that with the pop arias "It's Now or Never" and "Surrender," and it's clear that Elvis returned to the music business in 1960 as a much more diverse vocalist than he had been before entering the army in 1958.
Seldom recognized is that February 1960 was one of the most important months in Presley's career. During his last few weeks in uniform, Elvis' anxiety and that of his fans and handlers reached critical mass. Fortunately, the balanced and judicious decisions made then quickly reclaimed for Elvis his lofty stature in the world of pop music. — Alan Hanson | © October 2013