Elvis' 5 Army Single Records
Kept His Career Alive at Home
Elvis Presley had been riding an unparalleled two-year high in the entertainment business when he was inducted into the army on March 23, 1958. During the previous two years he had seven #1 records on Billboard's Top 100 chart. His concert tours across the country had drawn record-breaking crowds. He had appeared on TV's top rated variety programs and had made four highly successful films. He was clearly the hottest entertainment personality in the world.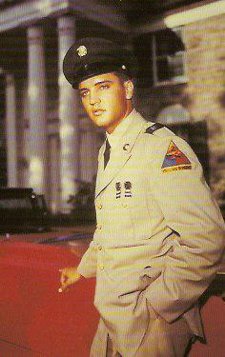 Suddenly, however, being sent into exile for two years in the army threatened not only his superstar stature but also his entire relevance as an entertainer. More than once Elvis himself expressed concern that his musical style, along with his fans, might fade away during his two years out of the spotlight. There would be no concerts, TV appearances, or movies to maintain Elvis' popularity. The over-whelming press coverage would fade to a trickle. Would Elvis be able to resurrect his career when he returned from the army in March 1960?
The answer to that question depended on a thin line of black vinyl. During his military absence, Presley's sole presence in the entertainment business would consist of records released by RCA, most importantly the periodic release of his 45 rpm singles. If the nation's radio DJs played them and the public bought them, there was a chance that Elvis could retain some degree of relevance in the music industry while he was away.
A major concern was that Elvis would not be free to record new songs after he was shipped overseas. RCA was thus forced to rely on a backlog of Presley recordings made in 1958. Hopefully pop musical tastes would not shift away from Elvis' rock 'n' roll style as the label released his singles periodically over the next two years.
As it turned out, RCA released five Elvis singles during his two-year army stint. And while, as a group they were not as successful as Presley's previous singles, they did well enough to maintain Elvis' popularity. That allowed him to resume his career in stride after his discharge. A case can be made, then, that the following five single records were among the most important ones in his career.
"Wear My Ring Around Your Neck" /
"Doncha' Think It's Time"
(Released April 1, 1958)
Elvis had only been in the military for a week when RCA shipped his first army single to distributors. On April 9, the "A" side headed Variety's "Best Bets" list of new single releases. "'Wear My Ring Around Your Neck' is in Presley's familiar swinging groove and he can't help but stay on top with it," the magazine predicted. A week later, on April 16, before the platter had even made the charts, Variety reported that it had already sold a million copies.
Billboard reviewed the record in its "Spotlight" column on April 7: "Two potent items from the hit maker. Top side is an uptempo item that gets the artist's usual sock delivery. Flip, 'Doncha', is a ballad with rhythm backing. Both are likely clicks in all markets."
On April 21, 1958, "Wear My Ring Around Your Neck" entered Billboard's Top 100 at #7, making it the highest debuting chart single in Elvis' career. On May 19 it peaked at #3, where it stayed for three weeks. It dropped off the chart at the end of July after spending 15 weeks on the Top 100, including 8 weeks in the top 10. The "B" side, "Doncha' Think It's Time," was less successful. It charted just 6 weeks, peaking at #21.
"Hard Headed Woman" /
"Don't Ask Me Why"
(Released June 10, 1958)
"'Hard Headed Woman' puts Presley back in the shook-up groove and he seems better at it than ever before," noted Variety in its June 18 issue. "'Don't Ask Me Why' switches to the ballad mood and Presley makes that work, too."
Billboard agreed in its review of June 16: "Top side is a driving rockabilly tune that gets Presley's usual hit-sounding vocal. 'Don't' is a rockaballad that is sung with equal appeal. It should score in all fields."
"Hard Headed Woman" entered the Top 100 the last week of June 1958 at #15. The next week it jumped all the way to #3. However, it could get no higher than #2, peaking there on July 21. It was kept out of the top spot by "Yakety Yak" by The Coasters. "Hard Headed Woman" rode the chart for 13 weeks, including 5 weeks in the top 5. The ballad side spent 9 weeks on the chart but peaked barely in the top 30 at #28, that also on July 21.
"One Night" /
"I Got Stung"
(Released October 21, 1958)
"'One Night' is a rockaballad that is delivered in the artist's usual smash style,"Billboard noted in its October 27 issue. "Excellent New Orleans-type backing with the emphasis on plucked strings is effective." Variety predicted the flip side would be the bigger hit. "'I Got Stung' can be considered an automatic hit since it features this surefire disk name on a typically driving rocker with a cute lyric."
This single release was a double-sided top 10 hit for Elvis in the final months of 1958. "One Night" got as high as #4 on December 15, while "I Got Stung" maxed out at #8 on November 24. "One Night" remained on the Hot 100 for 17 weeks, the longest chart run among the 10 sides released while Elvis was in the army. "I Got Stung" was just one week behind it's vinyl mate at 16 weeks on the chart.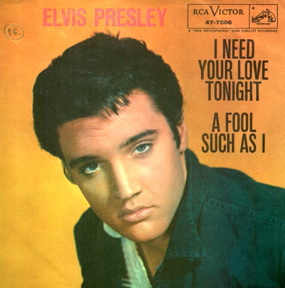 "A Fool Such As I" /
"I Need Your Love Tonight"
(Released March 10, 1959)
In its March 18 issue, Variety predicted that, "'I Need Your Love Tonight' is another pyrotechnic performance that will keep his clicko spinning streak intact. 'A Fool Such As I' gets a good Presley work-over and it, too, is in the running for a payoff." Billboard also forecast a doubled-sided hit: "The great rocker has two potent sides. Strong warbling on both adds up to a two-sided click."
Elvis' first 1959 single release became the second biggest double-sided hit of his career, topped only by "Hound Dog" / "Don't Be Cruel." On the Hot 100 for 15 weeks, "A Fool Such As I" settled at #2 on April 27. (The Fleetwoods' "Come Softly to Me" blocked Elvis from reaching #1.) "I Need Your Love Tonight" did almost as well, charting for 13 weeks while peaking at #4 on April 20. Each side spent 5 weeks in the top 10.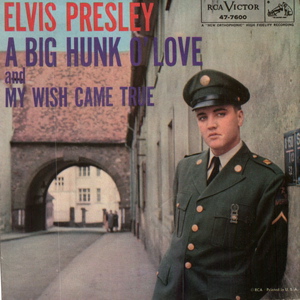 "A Big Hunk O' Love" /
"My Wish Came True"
(Released June 23, 1959)
"'A Big Hunk O' Love' is another hyped-up shaker pegged for a big hunk o'spins," predicted Variety in its July 1 issue. "'My Wish Came True' sets Presley in a more subdued mood and his fans will be attracted to it, too." Billboard's reviewer seemed unenthusiastic about Elvis' last army release, but conceded its inevitable chart success: "Presley as usual has two potent sides. 'Big Hunk' is the rhythm number, and 'Wish' is a rockaballad, cleffed by Ivory Joe Hunter. Both appear chart bound."
While at least one side of every Elvis single issued during his army stint reached the top 5 on Billboard's top pop chart, "A Big Hunk O' Love" was the only one to reach #1. It spent two weeks in the top spot starting on August 10, 1959. "My Wish Came True" charted for a respectable 11 weeks, just missing the top 10 when it crested at #12 on August 17. "A Big Hunk O' Love" lasted 14 weeks on the Hot 100, but after it fell off the chart on October 12, 1959, Elvis would not have another chart record for six long months.
Elvis Presley emerged from army exile on March 5, 1960. How well did the five single records above maintain his popularity during the previous two years? Elvis' first post-army single sold a million copies before it was even recorded. "Stuck on You" was the first of four consecutive #1 records for Elvis. His first TV appearance with Frank Sinatra set a network viewer record, and G.I. Blues, his first movie in two years, was a big hit at the box office. A more mature Elvis had earned the leverage to ease away from rock 'n' roll and into a more serious kind of music. All due, in large part, to five 45 rpm vinyl records that kept the home fires burning while he was away serving his country. — Alan Hanson | © December 2010
Go to Elvis Music

Go to Home Page