Elvis at 75 … A Time to Reflect
On the King's Legacy
Elvis turned 75 years old on January 8, 2010. I know, I know—technically, he stopped celebrating birthdays at age 42. But you Elvis fans know what I mean—his memory and influence never died, and so he'll live on indefinitely in that respect.
If you aren't paying attention, it's easy for the King's birthday to slip by unnoticed each year. Graceland sponsors a few days of remembrance in early January, but the press rarely acknowledges Elvis during his birthday month. The big annual Presley bash celebrates his death (sounds strange, doesn't it?) in August each year. August over January? From the beginning, it was an easy commercial choice. Graceland can draw a lot more fans to an Elvis carnival in the summer than it can in the middle of winter.
Elvis' 75th birthday merits more thoughtful consideration than is normally found in the "cha-ching" of cash registers during Elvis Week. It's one of those benchmark ages that invites assessment of one's life. I'll never forget waking up on my 40th birthday to the sound of my clock radio playing "The Theme from Mahogany" by Diana Ross. "Do you know where you're going to? Do you like the things that life is showing you?" the lyrics asked. "Where are you going to? Do you know?" In recalling his 75th birthday, it's appropriate to ask similar questions of Elvis' life and legacy.
I have to recuse myself from judging Elvis on that occasion. As an Elvis fan of nearly 50 years, I'm way too biased to objectively judge the man. So I'm turning the job over to another, one who looked at Elvis much more dispassionately than I have the ability to do. He's Abbie Hoffman. You remember him—the sixties social and political activist, member of the "Chicago 8," and fugitive from the law after a conviction for dealing cocaine. Yeah, I know, he's dead too. Died in 1989. But back in 1977 Hoffman wrote an article about Elvis for Crawdaddy magazine.
What qualifies Hoffman to judge Elvis? Well, he was a shrewd observer and critic of American culture in the fifties and sixties. He had the ability to cut through the crap and get to the heart of things. That's what he did with Elvis in his 1977 article, entitled "Too Soon the Hero."
Hoffman started out by sizing up the times that spawned Presley. "Back in the mid-'50s, when Elvis rose like a satin rocket out of the Memphis music world to become the world's most famous singer, there really wasn't a hell of a lot going on … We were a nation hell-bent on conformity, status-seekers trapped on a conveyor belt, desperately trying to keep up with the Joneses. No sex, no politics, no art, no dope, a goddamn bore." According to Hoffman, the inevitable cultural battle between the "Insies and the Outsies" was fought most intensely in the world of music.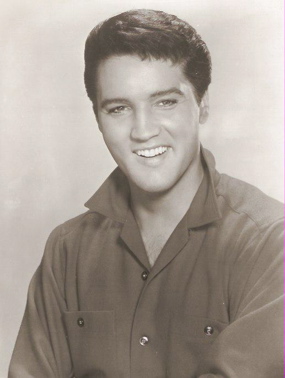 Elvis led the revolution. Hoffman conjures up the image. "See him race his motorcycle. Feel him shake, rattle and roll. Touch him—Golden Boy. A million teenyboppers crawling up his pants."
"Those first few years, '55 to '58, saw Elvis at his best," judged Hoffman. "Certainly no great musician—he never wrote a song, never even learned to read music; and as far as guitar-playing, well, a half-dozen chords got him through a show. But he had a natural ear for music. He could sing well in two octaves, with an unsurpassed sense of rhythm and timing. He had stage presence only matched by Mick Jagger and sex appeal equal to that of Brando and Dean … Perhaps even more, a champion of the people—a Working-Class Hero, like the characters he played on the silver screen."
But that army haircut changed Elvis, said Hoffman. "It's hard to stay a rebel once you've sucked at the golden cow," he noted. "So home goes the hero, home to warm himself up in that Southern-fried San Simeon called Graceland. Home to Memphis. Home to his bodyguards, his cronies, and, of course, the Colonel. The country had changed in those two years.
"No, the '60s weren't made for Elvis. And the Colonel … shielded him from the storm of change spreading across the land. He churned out movies by the dozen … He gave up trying to be an actor and walked through the parts … He always looked like he wandered onto the set, got blinded by the lights and was forced to improvise. 'Ah shucks, ma'am, it shouldn't oughta be that way.'
"So Elvis' world became the no-talent Hollywood, the Graceland plantation, police testimonials and, of course, Las Vegas, where the golden cow nurtured the dry desert and lit up the sky with hundred-foot neon signs screaming, 'Money!' Working-Class-Hero turned Matinee Idol. A beautiful bird in a gold lamé cage."
And then Elvis went back on the road, back to the people. Hoffman was there when Elvis played Madison Square Garden in 1972. "The fans are his old faithful who have managed to get a sitter for the night and drive in from Queens or Jersey," Hoffman recalls. "After an ego-blasting intro as The World's Greatest Living Entertainer, etc., the spotlight comes on and there's Elvis.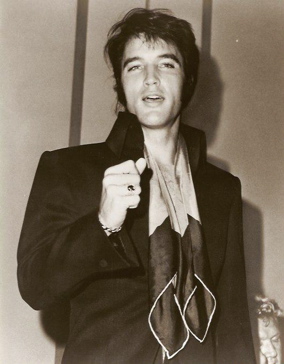 "He's not more than 20 feet away, bigger than life. A face worthy of Adonis, with that innocent lock of hair hanging over his forehead and those bedroom blue eyes. He's wearing that silly-ass Liberace white Superman suit that makes him look like he just flew in through the kitchen window on a white tornado. And the middle-class suburbanites are screaming their lungs out as he twists and turns, his white cape billowing behind him.
"Minutes later, the lights dim again. Elvis eases himself down on one knee and then the other and throbs … 'Treat me like a fool, treat me mean and cruel, but love me.'
"The audience is deathly still, as if Pagliacci, high priest in the white Superman suit up there, was praying a collective prayer for all the shattered rebels of bygone eras.' I think I see tears in his eyes but can't tell for sure, seeing as how I am crying myself."
At that moment, Abbie Hoffman obviously felt that pang of regret that most Elvis fans (including me) keep hidden in the deep recesses of their hearts. By repeatedly reliving the wondrous and beautiful gifts that Elvis left us, we forget and deny that he could have been so much more.
What if he had taken care of himself and actually lived to celebrate his 75th birthday? Think of all the additional music he could have shared with us in the past 33 years. Imagine him finally earning respect in Hollywood. Envision how many more times we could have seen him on stage. So on his 75th birthday we once again honored the life and work of Elvis Presley. On that special birthday, however, it was also appropriate to take a moment to reflect on what might have been. — Alan Hanson | © January 2010


Comment on This Article
Go to Elvis History

Go to Home Page