Elvis Presley's Heartbreaking Show In Baltimore on May 29, 1977 
Every live stage performer is entitled to have an off night once in awhile, especially somebody like Elvis Presley, who gave hundreds of live concerts during his career. Unfortunately, as his health declined in the mid-seventies, Elvis's touring schedule was increased at a time when it should have been curtailed instead. The result? … a string of sub-par Presley shows that left his fans saddened and obliged ethical reviewers to be honest about Presley's mediocre performances.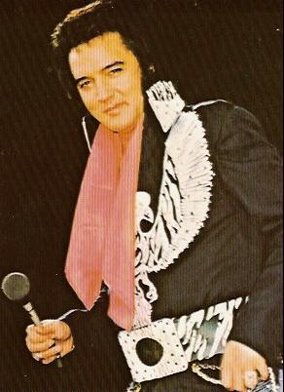 One of those ethical writers was Marty Bennett, whose blunt review of Elvis' May 29, 1977, show in Baltimore, Maryland, appeared in  Variety three days later. The distressing story of that Presley appearance started before Elvis came to town with widespread ticket scalping and culminated in an embarrassing and painful stage show in the Baltimore Civic Center.
Tickets, scaled with a top price of $15, went on sale in mid-April and sold out the same day. The take for the 12,700-seat Civic Center was $179,350, a record for a live performance at the facility. (Frank Sinatra held the previous record at $126,555.)
Immediately after the tickets sold out, they went back on sale, this time illegally. In an April 20, 1977, article, Variety reported that Elvis' appearance in Baltimore had "generated record illicit prices as scalpers, professional and otherwise, gathered the chutzpah to go public with classified ads in a Sunday newspaper." Of course, details of such illicit ticket sales are hard to come by, but it is known that one scalper who advertised $15 tickets for "best offer" received up to $100 per ticket.
Although there was a strict 10-ticket limit at the box office, the professional scalpers were able to accumulate much more than that. One classified advertiser told a radio reporter that he had 67 Elvis tickets for sale at $40 each. One newspaper, The New American, stood by its principles and refused to accept the scalpers' ads.
Of course, all the tickets held by scalpers were moved for a healthy profit. Certainly, hundreds of those Elvis fans who were still standing in line when the box office put out the "sold out" sign had no misgivings about paying multiple times the issue price for tickets in Baltimore that spring in 1977. After all, for many it was a once in a lifetime chance to see Elvis Presley in person. The scalpers could have charged even higher prices and gotten them had they and their customers known that Elvis would die just a few months later.
• An Elvis show to remember but not cherish
And what did the fleeced victims get for their overpriced tickets? A performance by Presley they would never forget but wish they could. The headline over Bennett's concert review in the June 1, 1977, issue of Variety read, "What's With Elvis: Walks Out Midway at Show in Baltimore."
Civic Center personnel had shoe-horned an extra 200 seats into the arena, upping the crowd to 12,841 and the record "official" take to $181,410. Bennett noted that the audience's indulgence was remarkable, "given the fact that some $15 ticket holders could barely see even a fraction of the stage."
When Elvis came on following the warm up acts, he was "heavy-eyelidded and appeared to most observers to be weak and tired," judged Bennett. "Presley, paunchy and apparently pained, first did 30 minutes marked by anemic singing, a few stilted attempts at his patented gyrations, bewildering patter and awkward stage movement that included having an aide hand-hold his voice mike."
Suddenly, without explanation, Elvis announced he had to leave the stage and walked off. His large stage entourage quickly went into ad lib mode. Bennett reported that the crowd "endured the mysterious break with unusual patience." He added, "While Presley was gone his troupe's uneven filling included a vocal flight by an anonymous opera songstress that drew a partial standing ovation, more than the main attraction received at any time after his intro."
After a half-hour hiatus, Elvis returned to the stage. He had left, he explained, because of a "twisted ankle and nature calls and you don't fool around with nature." Though he emphasized, "there's nothing wrong with my health," a Civic Center official later said Elvis was on medication and was treated by a physician during the 30-minute gap.
• An apologetic Elvis returned to the stage
On returning to the stage, Elvis "came on like gangbusters," noted Bennett in his review's only praise of Presley, "as he politely and apologetically tried to recoup his losses … He repeatedly thanked the audience for hanging with him and said ambiguously, 'If you want us back we'll come back.'" That only a handful later asked for a refund is some evidence that he won back a portion of the crowd's good will, but Bennett observed that, "at the finale there was no ovation, and patrons exited shaking their heads and speculating on what was wrong with him."
Then the face-saving began, as a Civic Center spokesman tried to explain Presley's "murmuring, swearing and unscheduled hiatus." The official blamed it on an "intestinal problem" that had plagued Elvis throughout his tour. Going on the offensive, the spokesman declared that Presley had delivered, "exactly what he was contracted for, 50 minutes—he knew just what he was doing."
Marty Bennett's painfully honest review of Elvis' show in Baltimore on May 29, 1977, stands in stark contrast to Earl Arnett's fraudulent article in the Baltimore Sun the next day. Under the fallacious headline, "Presley Has The Old Magic Still," Arnett brazenly declared that Elvis had, "visited a packed house at the Civic Center last night and generated the same excitement that has made him an American household word for 20 years." Nowhere in Arnett's "review" does he mention Presley's mysteriously half-hour stage absence. Instead, the writer observed that, "Elvis' show was intelligent and well-paced."
Much of Arnett's article is filler retelling the story of Elvis' rise to fame and how he was still "the perfect fantasy of every woman." No photos of Presley's Baltimore appearance accompanied Arnett's review in the Sun. "The media have to buy tickets if they want to review him or take his picture," Arnett explained. "The Sun's photographer, who didn't have a ticket, was not allowed in the Civic Center." It's obvious that Earl Arnett declined to buy a ticket as well and was likewise turned away at the door. Then he shamelessly tried to snooker his readers into believing he had actually seen Elvis' performance.
• Ill Elvis carried on with uninspiring shows
Of course, it was ill health that led to Elvis leaving the stage in the middle of his 1977 Baltimore show. It was his tenth stop on a 14-city tour that began in Knoxville, Tennessee, on May 20. A doctor who saw him backstage in Knoxville reported that Elvis was "pale, swollen—he had no stamina." Two nights later in Largo, Maryland, Elvis threw two microphones to the stage after a sound problem and left the stage briefly for what he called, "nature's call."
Of Presley's show in Philadelphia on May 27, reviewer Matt Damsker wrote: "Elvis '77 is paunchy, puffy, lumbering, frequently off-key, apparently under-rehearsed (he has to read the first verse of 'My Way' from a page of sheet music) and, for all that, the most outrageously condescending showman I have ever seen. He performed Saturday as if just roused from a drunken slumber, slurred his witless patter as if still slightly in-the-bag, and otherwise gave no sign of artistic integrity. There are dolphins who perform more affectingly."
And then he came to Baltimore on May 29, 1977. I'm glad I wasn't there in the Civic Center that evening. As a long-time faithful fan, how heartbreaking it would have been for that image to be my final one of Elvis Presley. — Alan Hanson | © March 2013
Reader Comment: As I was born in Baltimore and my Mom tried to get us tickets to see Elvis in May of '77, I enjoyed your article on that concert.  However, I am not quite sure I agree with you that Elvis didn't please quite a lot of people that night.  Of course, I know about what happened with him going off stage, and as my uncle tells it, Charlie Hodge took over after that.  And my uncle verified everything about Elvis being lethargic before he left and came back.  Also, I guess you should know my uncle appreciates Elvis, but is not a huge fan.  But he did tell me that after the break, Elvis was quite good and that he was very much impressed when Elvis sang "Hurt," as he didn't know he had that kind of range.  Talk of his range and how he couldn't get over how crazy the crowd was over Elvis, at least near him, are the big things he remembers. — Christopher (September 2013)
Reader Comment: My husband and I were so excited to be seeing our favorite singer in person for the first time, but we left in shock, shaking our heads. I commented that it reminded me of what happened to Judy Garland.  I was so devastated that I actually had dreams about Elvis and wrote a letter of encouragement to him (that I doubt he ever received). — Sallie (August 2014)
Reader Comment: My husband and I were at the concert in Baltimore. It's true that Elvis did leave the stage. But he wasn't gone long. You stated a half hour. He was gone only a few minutes. Take him at his word. I believe he did have to go. People did stand at the end.— Linda (September 2015)
Reader Comment:  He wasn't around much longer after that concert. He must have been pretty ill at that time. He died on August 16, 1977. I remember how devastated my mother was. She was a big fan since the beginning of his career. She attended the Baltimore concert. — Judy (August 2023)