Elvis' Best Gospel Recordings … A Top 10 Countdown

"My first [love] I would say would be spiritual music … I mean some of the old colored spirituals, you know, from years back."
In that statement at a Vancouver, B.C., press conference in August 1957, Elvis Presley acknowledged the influence spirituals had on his music during the early years of his career. Although then at the height of his rock 'n' roll popularity, he had already recorded what are commonly called his first "gospel" songs. Elvis continued to record religious music intermittently throughout the rest of his career.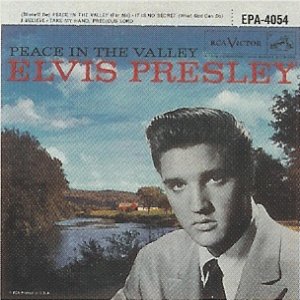 During his career, RCA released 11 Presley gospel records— 4 long play (LP) albums, 1 extended play (EP) album, and 6 single records. Peace in the Valley, an EP with four songs, was issued in April 1957. Elvis' first gospel LP, His Hand in Mine, with 12 songs, appeared in November 1960. His first gospel single, featuring "Crying in the Chapel," was issued in April 1965. The success of that record led to RCA releasing two more gospel singles the following year at Easter time. (The four songs on those singles, "Joshua Fit the Battle"/"Known Only to Him" and "Milky White Way"/"Swing Down Sweet Chariot," were from the His Hand in Mine LP.)
Elvis' second gospel LP, How Great Thou Art, featured 12 new recordings when it was released in March 1967. A year later, another Easter single, "You'll Never Walk Alone"/"We Call on Him," was issued. Those two songs also appeared on Elvis' third gospel LP, You'll Never Walk Alone, a budget LP released in March 1971. Of the nine songs on that album, only two had not been previously released. They were movie soundtrack songs, "Sing You Children" from Easy Come, Easy Go, and "Let Us Pray" from Change of Habit. Just a month later, Elvis's fifth gospel single, "Life"/"Only Believe," came out.
In Easter season 1972, RCA issued Elvis' last gospel single, "He Touched Me" / "Bosom of Abraham." Those two songs were also tracks on Presley's last gospel LP, He Touched Me, available in April 1972. These were not the last recorded gospel numbers that Elvis recorded, however. Over the next five years, gospel cuts, like "Help Me" and "I Got a Feelin' in My Body," were included on his regularly released RCA pop LPs. Also, live recordings of "How Great Thou Art" and "Why Me Lord?" appeared on concert LPs released in the mid-seventies.
In all, about 60 Presley gospel recordings were released in one form or another during his lifetime. Choosing the 10 best is, of course, a very subjective task. Here are my personal choices in countdown order.
10. "Peace in the Valley" (1957):
Elvis recorded "Peace in the Valley," the title song of his first gospel record, in Hollywood on January 13, 1957. He had sung it a week earlier during his final appearance on The Ed Sullivan Show in New York. Elvis' delivery on the song was not as polished as it would be during his 1960 gospel sessions, but his commitment to the song and its message helped to soften much of the public criticism he had received up to that point.
9. "You'll Never Walk Alone" (1968):
Elvis recorded this song during his Nashville studio sessions in September 1967. In their sleeve notes for the 2009 Presley gospel compilation, I Believe, Mike Cimicata and Ernst Jorgensen explained how it was recorded. "On the last night of sessions, he sat down at the piano and asked for the lights to be turned down. He started playing 'You'll Never Walk Alone' over and over, not pausing between takes, just endlessly repeating, driving every bit of emotion from the song, seemingly lost in his own world." Producer Felton Jarvis edited the tape to produce a master, which was released as a single. It earned Elvis a 1968 Grammy nomination for "Best Sacred Performance."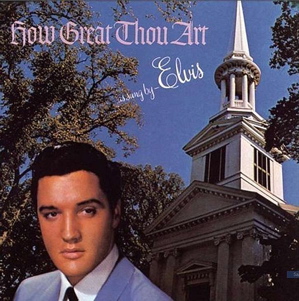 8. "Run On" (1967)
The main goal of Elvis' May 1966 Nashville sessions was to record enough material for a new gospel album. To make sure any kind of sound Elvis wanted would be available, 14 musicians were in the studio. In addition to the Jordanaires, The Imperials and a female trio were there to provide vocal backing. The first song the ensemble recorded was "Run On," described by Ernst Jorgensen as a "an up-tempo number in the jubilee tradition." It began with an opening piano-run by Floyd Cramer and a low "hmmm" from the vocal grouping. "The second take was full of energy," Jorgensen noted, "with the full electric band and eleven singers making a very joyful noise. It was a remarkable updating of traditional gospel music—tough, powerful, even threatening—different from any religious music he had ever recorded."
7. "Joshua Fit the Battle" (1960)
This has always been my favorite track on Presley's 1960 gospel album, His Hand in Mine. "After rehearsing it a few times, he was ready to roll tape," claimed Gordon Stoker in the sleeve notes for Elvis' I Believe box set. "Listen to it; those words are not easy." The vocal blend with the Jordanaires was seamless on the up-tempo tune. It took a few takes to get the timing and tone of the five individual voices right at the song's end, but when they did, the recording concluded with an inspiring flourish.
6. "I Got a Feelin' in My Body" (1974)
Elvis often warmed up for his recording sessions by gathering his backing vocalists around a piano and singing spirituals. So it was natural that he began his December 1973 sessions at Stax Studios in Memphis with "I Got a Feelin' in My Body," which Ernst Jorgensen labeled a "funkily rhythmic contemporary religious number." The song's composer was Dennis Linde, who had also written "Burning Love" for Elvis. "It was a great kickoff for the sessions," noted Jorgensen. "I Got a Feelin' in My Body" appeared as one of the highlights on Elvis's 1974 album, Good Times.
5. "He Touched Me" (1972)
Elvis recorded "He Touched Me," the title of song of his fourth and last gospel LP, on May 15, 1971, in the middle of a week-long series of Nashville sessions. Elvis's life-long familiarity with such hymns allowed him to put his emotional vocal on tape in just a few takes. It also helped that "He Touched Me" was the signature song of The Imperials, who provided vocal support on Elvis's version. Released the following year, Elvis' He Touched Me LP won him the second of his three Grammy awards.
4. "His Hand in Mine" (1960)
When Elvis went to Nashville in October 1960 to record his first sacred LP, he worked with the same musicians and vocal backing he used for his pop recordings. The small group was able to produce 14 masters in a single marathon session. "His Hand in Mine," a song recorded by one of Elvis'  favorite gospel groups, The Statesmen, was the second number put on tape that evening. Charlie Hodge, Elvis' army buddy, "who was as familiar as Elvis with the genre," according to Jorgensen, harmonized with Elvis. "Over the course of only five takes," says Jorgensen, "they developed an impressive vocal arrangement featuring both the Jordanaires and Millie Kirkham—further evidence of the familiarity of everyone on the session with the material."
3. "Saved" (1968)
In a 1971 Elvis radio documentary, Jordanaire Ray Walker explained the difference between spiritual music and gospel music. Spirituals, he said, come from pain and suffering, so the singer is always holding back, making the listener want more. Rhythm gospel, on the other hand, is more frantic. It has a steady beat, and the singer has a tendency to go all out. By those terms, "Saved," which Elvis recorded for his 1968 TV special, may be his only real gospel performance. Elvis almost always left the listener wanting more, but not with "Saved." Chasing an infectious beat, his vocal was high energy from beginning to end. Elvis wasn't holding back, and by the end it was obvious he'd given all he had to the song. It was used on the TV special as part of a gospel medley. Elvis' stand alone recording of "Saved" was not released until many years after his death.
2. "Crying in the Chapel" (1965)
After a long night of recording gospel songs on October 30-31, 1960, Elvis told the Jordanaires he wanted to try "Crying in the Chapel." Gordon Stoker recalled, "We were tired when we recorded it, but I'm thankful we don't sound tired on the record. I never liked our ending. All of us knew we sang the wrong parts. Of course in those days you couldn't repair. Elvis said, 'It's good, forget it, don't make any difference.'" Colonel Parker's inability to hone in on the publishing rights resulted in the recording being left off the His Hand in Mine album. Five years later, though, RCA dusted off the old recording and issued it as a single. Surprisingly, it soared up Billboard's pop chart, reaching the #3 spot. Presley's beautiful rendition of the well-known hymn became the most commercially successful of all his gospel records.
1. "How Great Thou Art" (1967)
Although "How Great Thou Art" became Elvis' favorite gospel song, according to Jordanaire Gordon Stoker, "When we first discussed cutting it, he said he had never heard of it." After listening to the Jordanaires sing it, Elvis decided to record it. "Neal Matthews, our second tenor, made an arrangement of it," explained Stoker. "Elvis listened to it, rehearsed it and recorded it by memory." According to Jorgensen, "Elvis sang with sincerity and dedication, in a slower tempo than the Statesmen's version that accentuated the spirituality of the material and allowed him to build the song into a powerful anthem. "How Great Thou Art" became the title track of Presley's 1967 gospel album and won Elvis his first Grammy. A live version of the same song earned Presley another Grammy in 1974.
It's criminal that Elvis never won a Grammy award in any pop music category. However, it's not surprising that the music establishment recognized him multiple times for his religious music. He never lost his early love of spiritual music, and it always re-emerged in the commitment and passion he put into his gospel recordings. — Alan Hanson  | © December 2012