Reviewing Elvis Presley's
23 Christmases from 1954-1976
We know that Christmas was a very special time of year for Elvis. Wherever his work found him, whether it was in Hollywood, in Las Vegas, or on the road somewhere, he almost always came home to Memphis for the holidays. He loved to decorate Graceland for his fans to see, and at Christmas time he gave generously to many of his hometown charities. We know that, regardless of the season, he loved to give gifts to his family and friends, but that was especially so at Christmas time.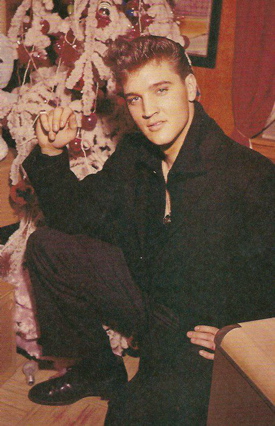 Elvis celebrated 23 Christmases during his years as a professional entertainer from 1954-1976. Below is a record of where Elvis spent December 25th each of those years, along with a brief note about his activities that particular Christmas. The information comes from the book Elvis: Day By Day by Ernst Jorgensen and Peter Guralnick.
1954: Elvis spent Christmas with his parents in the family's Memphis apartment at 462 Alabama Street. A week before Christmas, Elvis had appeared on the Louisiana Hayride radio program and just three days after Christmas he played a club in Houston, Texas.
1955: Again Elvis was home on Christmas Day. The family had moved to a house at 1414 Getwell in Memphis. A month earlier he had signed on with RCA Victor, and his 21st birthday was just two weeks away.
1956: Elvis's fabulous success during the year had enabled him to purchase a new home for his parents on Audubon Drive in Memphis. He spent the holiday season there with his family.
1957: Elvis must have had mixed emotions at Christmas time in 1957. It was his first Christmas at Graceland. Just five days before Christmas, however, he had received his draft notice. On Christmas Eve he requested a deferment, which pushed his induction day to March 20, 1958.
1958: This was Elvis's first Christmas without his mother. He spent it with his father, grandmother, and friends in the Hotel Grunewald in Germany, near his army post. Vernon's gift to Elvis was an electric guitar. That season Colonel Parker sent out Christmas cards with a picture of himself dressed as Santa and Elvis in his military uniform.
1959: This was Elvis's first Christmas with Priscilla. It was celebrated with family and friends at Elvis's rented home on Goethetrasse in Germany. Priscilla gave Elvis a set of bongo drums. Meanwhile, Elvis had arranged for a French poodle to be delivered to girlfriend Anita Wood in Memphis.

1960: Out of the service, Elvis again celebrated Christmas at Graceland. The photo on Colonel Parker's Christmas card that year featured Elvis sitting on Colonel Santa's lap. It was taken in November on the set of Wild in the Country.
1961: Elvis spent the holidays with friends at the Sahara Hotel in Las Vegas. It was the last Christmas of his life that he would spend away from Graceland.
1962: Priscilla flew in from Germany to spend Christmas with Elvis at Graceland. Elvis held a private party for about 30 friends. Elvis's gift to Priscilla was a toy poodle that she named Honey. She gave Elvis a wooden cigarette box that played the song "Surrender" when opened.
1963: Again Elvis spent the holidays at Graceland with Priscilla. A week before Christmas he presented the mayor of Memphis with a check for $58,000 to be shared by 58 Memphis charities.
1964: At Graceland a dozen or so members of Elvis's male entourage went in together to present Elvis a Christmas gift of a Bible with a "tree of life" drawn on the front page. Each of the lines had the name of one of the guys. Noticing that Larry Geller's name was missing, Elvis refused to accept the bible until Larry's name was added. Elvis was just two weeks away from his 30th birthday.
1965: Again spending the holidays at Graceland, Elvis received a slot-car racing set as a Christmas present from Priscilla. The guys gave Elvis a $500 statue of Jesus, which is still in the Meditation Garden at Graceland.
1966: On Christmas Eve, Elvis proposed to Priscilla. The next day Elvis had a catered dinner served at Graceland.
1967: It was Elvis and Priscilla's first Christmas as man and wife. They hosted a party at Graceland on Christmas Eve. As usual, the grounds were decorated with a life-size Nativity scene and eight lighted garland trees.
1968: Early in December, Elvis's "Comeback Special" aired on NBC-TV. At Graceland on Christmas day, Vernon dressed like Santa for Lisa Marie's first Christmas. To his employees Elvis handed out gift certificates ranging from $100-$200 to Goldsmith's Department Store.
1969: A week before Christmas, Elvis returned home to Memphis from Los Angeles. Vernon again played the part of Santa. Elvis gave Priscilla a black fox coat, and she gave him a velvet suit with shirts and slacks all designed by Bill Belew, who had designed the clothes for Elvis's 1968 TV special.
1970: In the early morning hours of Christmas Day, Elvis visited Memphis police headquarters to say hello to "the men and women who had to work on Christmas." Elvis and Priscilla spent the rest of the day quietly at Graceland. In the evening they went to the Memphian theater to see Little Fauss and Big Halsey starring Robert Redford.
1971: At Graceland, Elvis distributed MacDonald's gift certificates as a joke before handing out his real presents. Many of the guys noticed that Elvis and Priscilla seemed "distant" over the holidays.
1972: Having separated from Priscilla, Elvis gave his girlfriend, Linda Thompson, a mink coat for Christmas at Graceland. The Memphis Press Scimitar noted that Elvis again had given graciously to local charities.
1973: Divorced from Priscilla, Elvis spent another Christmas at Graceland. Among the extravagant presents he gave were a three-quarter-length mink coat and a $2,000 fox suede coat.
1974: Elvis experienced health problems during the Christmas season. (As a result, he was forced to cancel his January Las Vegas engagement.) During the holidays, Elvis flew Voice, a gospel backup group, in and out of Memphis a couple of times to sing with him at Graceland. Elvis's 40th birthday was now just two weeks away
1975: On Christmas Eve, Elvis took the Graceland gang up for a ride in the Lisa Marie. There he handed out pieces of jewelry, which he had personally selected for each individual.
1976: The final Christmas season of Elvis's life was a hectic one. He returned to Memphis on December 13, after a bizarre Las Vegas engagement. Just two days after Christmas, he appeared at Wichita State University to start a new tour. Six-and-a-half months later, Elvis died at Graceland. — Alan Hanson | © December 2009


Go to Elvis History

Go to Home Page