From "Memphis" to the "Promised Land"


Chuck Berry Songs Recorded by Elvis
Elvis Presley was always drawn to Chuck Berry's music. Presley sidekick Jerry Schilling saw it happen spontaneously one night in 1972. Schilling was with Elvis and Sammy Davis Jr. as they walked through the lobby of the Las Vegas Hilton. "We heard a very familiar Chuck Berry intro," Schilling recalls. "And Sammy and Elvis just looked at each other, and with a smile, we all just turned around without anything being said, and we headed for the lounge." After taking a booth in the lounge where Chuck was playing, Elvis began yelling out song requests. Some of those titles Elvis had himself recorded during his career.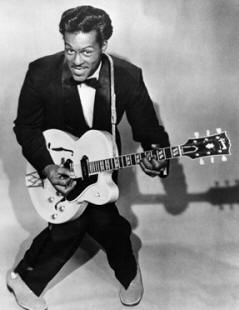 Elvis began singing Chuck Berry songs when his career was just starting to get on track back in 1955. According to Presley historian Ernest Jorgensen, "'Maybellene' had impressed Elvis so much back in that formative year that he had immediately put it into his live repertoire, and he continued to be drawn to Chuck Berry's songwriting." (A recording of Elvis singing "Maybellene" live on the Louisiana Hayride on August 20, 1955, was released in 1984 on the LP "Elvis: The First Live Recordings.")
Presley's first studio recording of a Chuck Berry song was an informal one. During the legendary "Million-Dollar Quartet" session at Sam Phillips's Sun Records studio on December 4, 1956, Elvis sang three segments of "Brown-Eyed Handsome Man," a recently released Berry single on Chess Records.
Elvis' appreciation for "Brown-Eyed Handsome Man" underscored the merging of rhythm and blues "race" music with mainstream rock 'n' roll in the fifties, a progression that both Berry and Presley facilitated. Some racist groups at the time warned that rock 'n' roll music was an attempt to lower whites to the level of the black man. Berry biographer Bruce Pegg explained how they lyrics of "Brown-Eyed Handsome Man" seemed to confirm the worst fears of rock 'n' roll critics in 1956:
"Many of the verses describe women of some social standing, presumably blue-eyed themselves, in pursuit of the brown-eyed man. In the first verse, it is the judge's wife who pleads for the man's release; in the fourth, a young girl deciding 'between a doctor and a lawyer man' is told by her mother to 'find yourself a brown-eyed handsome man.'"
• "Memphis, Tennessee"
It wasn't until seven years later that Elvis finally formally recorded a Chuck Berry tune. In RCA's Nashville studio on May 27, 1963, he recorded Berry's "Memphis, Tennessee." Jorgensen states that Elvis had the song in mind for his next single. That's probably why Elvis returned to the studio again on January 12, 1964, to record the song again. "It was obvious that Elvis wanted a more exciting, up-to-date feel from his rhythm section than he'd had on the previous version," Jorgensen explained. Biographer Peter Guralnick judged Presley's version, "considerably more nuanced than Berry's, with the rhythm never faltering as Elvis maintains a tone of underlying wistfulness and deep melancholy through six highly focused takes."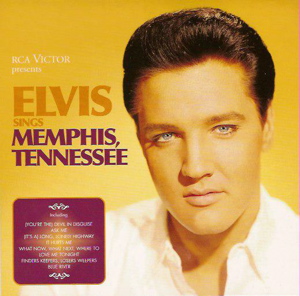 Strangely, considering that "Memphis" is now considered a classic rock 'n' roll tune, Berry's original 1959 recording did not chart on Billboard's Hot 100. Still, the tune was a natural for Elvis to record, considering lyrical setting was his hometown. Berry, however, born and raised in St. Louis, revealed in his autobiography that he had no special connection with Memphis in mind when he wrote the lyrics.
"My wife had relatives there who we were visiting semi-annually but other than a couple of concerts there, I had never had any basis for choosing Memphis for the location of the story. The situation in the story was intended to have a wide scope of interest to the general public rather than a rare or particular incidental occurrence that would entreat the memory of only a few. Such a portrayal of popular or general situations and conditions in lyrics has always been my greatest objective in writing."
Guralnick said "Memphis" was a song in which Elvis "truly believed" and "he felt it could be one of his strongest singles in years." His hopes were dashed, however, when Johnny Rivers released a version of the song ahead of Elvis. When Rivers' recording went all the way to #2 on the Hot 100, Elvis knew it would appear exploitive if his version of the song were released as a single. Presley's recording of "Memphis" was finally released in 1965 as one of the assorted cuts on his otherwise forgettable "Elvis for Everyone" LP.
In his 1999 Presley biography, Guralnick reported that Elvis felt betrayed by Rivers, who he believed rushed his version of "Memphis" out after Elvis told him he intended to use the song as his next single. In their subsequent tell-all books, almost all of the guys in Elvis' inner circle have supported this view. Johnny Rivers spoke out immediately, however, criticizing Guralnick and denying he had "sucker punched" Elvis over "Memphis." Chuck Berry issued the following statement in support of Rivers.
"I have known and worked with Johnny Rivers since 1964 and know that he is not the type of person to race out and cut a song to beat anyone to the punch, much less Elvis Presley. Numerous recording artists have covered my song 'Memphis' and I'm very surprised that Peter Guralnick has stooped to the level of publishing malicious rumors rather than documenting the real truth—which is—Johnny's cover of 'Memphis' just happened to be part of his first successful album, and when radio responded positively, it caused his producer Lou Adler and record label to release 'Memphis' as a single."
• "Too Much Monkey Business"
On January 15, 1968, Elvis recorded his second Chuck Berry song. "Too Much Monkey Business" was an example of "just the kind of rocking country blues Elvis had always loved," according to Jorgensen. Guralnick observed that, "Elvis jumped into the song with both feet, egged on by Jerry Reed's guitar."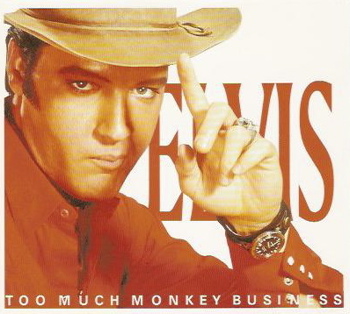 As the flip side of "Brown-Eyed Handsome Man," Berry's original version of the song had reached #4 on Billboard's national R&B chart in 1956. In his autobiography, Berry explained the lyrics were "meant to describe most of the kinds of hassles a person encounters in everyday life." Biographer Pegg noted that the song "reveals Berry's genius for detail, wordplay, and rhythmic structure in his lyrics."
As with "Memphis," Elvis' recording of "Too Much Monkey Business" first appeared on a rather obscure LP of assorted recordings—"Elvis Sings Flaming Star"—sold at Singer sewing machine stores to promote Presley's NBC-TV special in 1968.
• "Johnny B. Goode"
"Arguably Berry's greatest artistic triumph and one of the most widely known rock songs in the history of the genre," according to biographer Pegg, "Johnny B. Goode" was one of Berry's most successful chart records, reaching #8 on the Hot 100 in 1958.
Berry said that the idea for the song came to him when his touring show first brought him to New Orleans. It was, he recalled, "a place I'd longed to visit ever since hearing Muddy Water's lyrics, 'Going down in Louisiana, way down behind the sun.' That inspiration, combined with little bits of Dad's stories and the thrill of seeing my black name posted all over town in one of the cities they brought slaves through, turned into the song 'Johnny B. Goode.'"
(Interestingly, Pegg claims that Berry's lyrics in the first verse originally referred to "a colored boy named Johnny B. Goode," but he later changed the lyric to "a country boy." It was, Pegg noted, one of many instances that demonstrated how Chuck Berry was "forced to compromise his racial identity to gain mass appeal.")
Elvis never recorded "Johnny B. Goode" in the studio, but it was recorded numerous times during his stage show in Las Vegas and while on tour. It was included in his "In Person" live album from his initial appearance at the International Hotel in Las Vegas in August 1969. Another recording of "Johnny B. Goode" played over the opening credits to Presley's 1972 Elvis on Tour documentary, and he sang it again in his Aloha From Hawaii TV special the following year.
For some reason, Elvis always omitted the second verse of Berry's lyrics, instead singing the third verse twice. The lyrics of the missing verse read as follows:
He used to carry his guitar in a gunny sack,
And sit beneath the trees by the railroad track.
The engineer would see him sitting in the shade,
Strumming to the music that the driver made.
People passing by would all stop and say,
"My that little country boy can play."
• "Promised Land"
"Promised Land" was the only Chuck Berry composition that Elvis Presley released as a single. Berry wrote the song while incarcerated in federal prison in 1961-62 for violating the Mann Act. He recalls that prison officials were reluctant to help with his latest songwriting project.
"I remember having extreme difficulty while writing 'Promised Land' in trying to secure a road atlas of the United States to verify the routing of the Po' boy from Norfolk, Virginia, to Los Angeles. The penal institutions then were not so generous as to offer a map of any kind, for fear of providing the route for an escape."
After being paroled, Berry recorded the song at the Chess Records studio in Chicago on February 20, 1964. Released as a single, "Promised Land" spent seven weeks on the Hot 100, reaching #14. Nine years later, Elvis recorded his version at Stax Studios in Memphis on December 15, 1973. Released the following year, Elvis' version of "Promised Land" performed better on the charts than Berry's had. It spent 13 weeks on the Hot 100, peaking at #14.
As he had with "Johnny B. Goode," Elvis inexplicably chose to omit one of the six verses Berry had written for "Promised Land." This time it was the second verse, which reads as follows:
Stopped in Charlotte and bypassed Rock Hill,
And we never was a minute late.
We was ninety miles out of Atlanta by sundown,
Rollin' cross the Georgia state.
• The best of times for Elvis; the worst of times for Chuck Berry
After "Promised Land" in 1964, Chuck Berry would have just one more Hot 100 record before dropping off the charts for seven years. According to Pegg, "1965 would see the decline of Berry's powers as a song-writer, and Berry's rugged individualism would prevent him from keeping pace with the artistic changes occurring around him."
Meanwhile, starting in 1968, Elvis Presley would revitalize his career with a landmark TV special and a return to live performances. Their 1972 early-morning encounter at the Las Vegas Hilton—where Elvis played to thousands in the main room while Berry played to dozens in a cocktail lounge—revealed the different directions the careers of rock 'n' roll's two great icons had taken.
If record chart history were the sole indication of influence, then Elvis Presley certainly deserves the title of the King of Rock 'n' roll. By their 1972 meeting, Elvis had accumulated 122 Hot 100 recordings, including 38 top 10 sides and 14 #1s. Meanwhile, Chuck Berry placed just 26 songs in the Hot 100, including 6 in the top 10, and a single chart-topper.
There are some rock historians, however, who feel Chuck's contribution as a songwriter pushes his pop musical influence beyond Presley's. There's no doubt that Chuck Berry wrote some of the genre's classic songs, including "Maybellene," "Roll Over Beethoven," "Rock and Roll Music," "Sweet Little Sixteen," "Memphis," and "Johnny B. Goode."
In the end, however, it's a hollow argument. The Rock and Roll Hall of Fame got in right in 1986 when it inducted both Elvis Presley and Chuck Berry as charter members. In that institution, then, they'll forever stand side-by-side on lofty pedestals in the history of rock 'n' roll. — Alan Hanson | © May 2011
Go to Elvis Music

Go to Home Page