Is Elvis Presley
"The King of Country Music"?
"The King of Country Music"—that's what editor Michael Bane called Elvis Presley in the December 1977 issue of Country Music magazine. It was just a few months after Elvis' death, and the monthly publication had added its contribution to the wave of Elvis tribute issues. Presley had long reigned unchallenged as the "King of Rock 'n' Roll." But could he really lay claim to the kingship of country music, as well?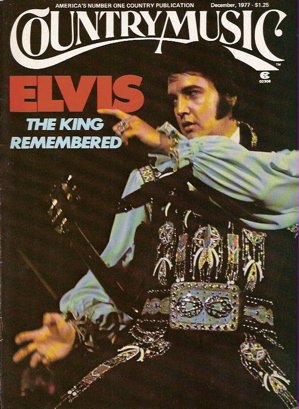 Rockabilly historian Nick Tosches was among an impressive list of writers Country Music lined up to present the case for Elvis. Tosches did so by focusing on Presley's first hit recording at Sun Records. No, not "That's All Right"—Tosches doesn't even mention that recording in his article. Instead, he spotlights "Blue Moon of Kentucky" as Elvis' first historic recording. It's an unusual approach but a logical one if Presley's role in country music is being examined. "That's All Right" was a straight rhythm and blues number, while "Blue Moon of Kentucky" had country origins. Bill Monroe and his Blue Grass Boys had a country and western hit with it back in 1945.
It was a country song, to be sure, but, according to Tosches, it didn't get the standard c&w treatment at Sun Studio in July 1954. "Sam Phillips, Elvis Presley, Scotty Moore, and Bill Black are in Sun's pokey, thirty-by-twenty-foot studio messing with 'Blue Moon of Kentucky,'" Tosches imagines. "It isn't a country song they're trying to set down on tape, nor a rhythm-and-blues song in the Haley mode, but a weird bastard sound that Phillips has been carrying in the dampness of his brain."
Tosches says Sam told Scotty and Bill not to bring the other members of their Starlite Wranglers band to the session. "No fiddle, no steel guitar. It was obvious that Sam had a different kind of country session in mind." The result: "Like a young boxer after his first professional knock-out, Presley is dizzy with the confirmation of his prowess. 'Blue Moon of Kentucky' is daring to the point of insanity."
• Elvis took the country road to success
After his first Sun Records release in the summer of '54, Elvis had only one avenue available to further his career. The music business in the post-war years was strictly segregated, geographically as well as racially. Pop music came out of New York, and rhythm and blues was confined to clubs on Beale Street and other black venues scattered throughout the South. There was nothing as white and Southern as country & western music, however, and for a poor Tennessee country boy like Presley, it was the only road open to success.
For the next year, Elvis appeared on the bills of touring c&w shows across the South from Florida to Texas. "Hillbilly" shows they were called, featuring name entertainers like Faron Young, Hank Locklin, Wanda Jackson, The Browns, Hank Snow, Johnny Horton, Webb Pierce, Slim Whitman, and the Carter Sisters.
Early on, in October 1954, Sam Phillips arranged an appearance for Elvis on the Grand Ole Opry in Nashville. He sang "Blue Moon of Kentucky," and legend has it that Opry manager Jim Denny suggested afterwards that Elvis go back to driving a truck. "Elvis cried all the way home that night," Gordon Stoker of the Jordanaires reportedly said. "It took him weeks to get over it."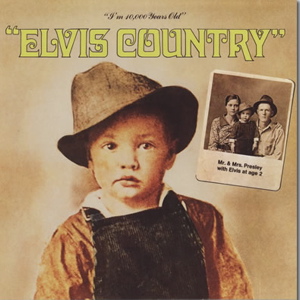 Elvis found more acceptance for his unique style, however, on The Louisiana Hayride, a c&w radio show broadcast from Shreveport. "We'd already had his record down here and were playing it," explained Hayride emcee Frank Page. "The Hayride has always been a very experimenting type of situation, so we brought him down to give him a try. At the first show, he was mildly received—with enthusiasm, like anybody else would've been, but not wildly. So we signed him up and kept him for 18 months."
Elvis had achieved some success, but moving to the next level seemed illusive. "There was a lot of activity in the Southwest, generated from his appearances on the Louisiana Hayride," explained Bob Neal, then Elvis' manager. "Nationally, however, it was difficult to get his records played. The country music stations felt that he was too far out and the other stations didn't know what it was."
But as Presley's popularity grew, it began to change the face of country music, according to Page. "The older people kinda disappeared and the younger people came in. And that was the beginning of the rock era, and no country stars were born at that time. Even people like Johnny Cash and Conway Twitty started rockin' and rollin' and lettin' their hair hang in their eyes."
• Elvis arrived nationally on the c&w charts
Soon Elvis began receiving national recognition in the country and western field. In July 1955, his fourth Sun record, "Baby, Let's Play House" reached #15 on Billboard's national c&w charts. That same year he was named most promising c&w artist in disc jockey polls by both Billboard and Cashbox magazines. In Country & Western Jamboree magazine he topped a readers' poll for "New Star of the Year" with a quarter million votes.
"I Forgot to Remember to Forget," his last Sun single, issued in August 1955, soon appeared in the top 10 of Billboard's c&w charts. After it was released on the RCA label in December 1955, it reached #1 on the magazine's c&w "Best Sellers" chart, making it the first Presley record to reach the top of a national chart. ("Heartbreak Hotel" didn't reach #1 on Billboard's pop chart until over two months later.)
In early 1956, local newspaper writers started recognizing how Presley's style was changing the face of country music. The Jonesboro Evening Sun called him the "king of Western bop" and the Atlanta Journal labeled him the country's "newest semihillbilly singing sensation." The c&w brand was still being applied to Elvis, but he would soon shake it off and become rock 'n' roll's standard-bearer.
• Elvis helped knock down barriers in music
In its March 3, 1956, issue, Billboard ran a lengthy article under the headline, "Barriers Being Swept Away in C&W, Pop and R&B Fields. "Hard and fast cleavages between the country and western, pop, and rhythm and blues fields are rapidly breaking down," author Paul Ackerman noted. "Perhaps the most interesting example of the breakdown of categories, however, is the current overlapping of the country, rhythm and blues fields … The outstanding example of this type of performer today is Elvis Presley, recently with Sun Records and now on the Victor label."
In that same Billboard issue, "Heartbreak Hotel" first appeared in the magazine's "Top 100" pop chart. Elvis Presley had crossed over for good. At Sun Records Elvis had been sold primarily as a c&w act, but his new label, RCA, planned to market him in all three fields—pop, c&w, and r&b. The strategy worked. In May 1956, Presley became the first "double-Triple Crown" winner in Billboard history, when "Heartbreak Hotel" topped the retail, juke box, and jockey lists in both the pop and c&w categories.
As Presley's rock 'n' roll star burned brighter in the fifties, his connection with country music diminished. Still, the country influence remained in recordings like "Love Me Tender" and "All Shook Up." Also, his decision to keep his home in Memphis helped build Nashville into the shining capital of country music. "The music business until he came along was controlled out of the Brill Building in New York," guitarist and record producer Chet Atkins explained. "He changed all that, or did about 50 percent. He helped make Nashville a larger recording center."
• Missing country influence returned to Elvis' music
In 1958 the army removed Elvis physically from the music scene for two years. (A handful of stockpiled recordings kept him on the charts during that period.) When he returned in 1960, his decision to enter the mainstream of pop music further removed him from the country music scene (as it did from the rock 'n' roll scene). With all of the movie soundtrack recordings through the sixties, Elvis' music seemed to lose any particular sense of direction.
The close of that decade, however, brought a resurgence of country music to Elvis' career. During the historic 1969 sessions at American Studio in Memphis, he covered numerous country standards, including "I'm Movin' On," "I'll Hold You in My Heart," and "After Loving You." Elvis's 1970 hit single, "Kentucky Rain," was written by up-and-coming country singer-songwriter Eddie Rabbit. Other country classics Elvis recorded in the seventies included "Faded Love," "Funny How Time Slips Away," "Help Me Make It Through the Night," "Always on My Mind," "She Thinks I Still Care," and "Blue Eyes Crying in the Rain."
RCA released Elvis' version of "I Really Don't Want to Know" as a single in 1970. It had been an early-fifties country hit for Eddy Arnold and reportedly was one of the tunes Elvis, Scotty, and Bill rehearsed at Scotty's home on July 4, 1954, the day before the initial Sun session that produced "That's All Right." The last song Elvis ever recorded in studio was Jim Reeves' country hit, "He'll Have to Go."
• Elvis: "It's a little rock, a little country western"
At a press conference in Houston on February 27, 1970, Elvis described his show that evening in the Astrodome as, "a mixture of things. It's a little rock, a little country western." On the rising interest in country music, Elvis commented, "I think it's fantastic. You see, country music was always a part of the influence on my type of music anyway. It's a combination of country music and gospel and rhythm and blues all combined. That's what it really was. As a child, I was influenced by all that."
Asked if he considered himself basically a country music singer, Elvis responded, "I would hate to say strictly country because of the fact that I liked all different types of music when I was a child. Of course, the Grand Ole Opry is the first thing I ever heard, probably. But I liked the blues and I liked gospel music."
So, does Elvis Presley deserve the title, "King of Country Music"? If so, that crown certainly doesn't sit as firmly on his head as does the one he always will wear as the "King of Rock 'n' Roll." In the country music aristocracy, there are many other legitimate contenders for the title. Certainly, Elvis always acknowledged and honored his roots in country and western music. And he did something few country entertainers can lay claim to—he changed the course of the genre, infusing it with youth, energy, and a rhythm and blues element. For that, certainly, he at least earned his enshrinement in the Country Music Hall of Fame. — Alan Hanson | © January 2012
Reader's Comment: Elvis certainly made a contribution to country music but no way can he be called the King of CW. He was multi genre. There are really only two, I think deserve that title only because they ewere exclusively country and the impact they made. First being Hank Williams Sr and then George Jones. — Rocky (November 2021)
Go to Elvis Music

Go to Home Page