The Fateful December Decision
That Changed Elvis' Life Forever
December 1968—one of the most significant months in Elvis Presley's life. On the third day of that month, NBC's broadcast of "Singer Presents Elvis," commonly referred to as Elvis' "Comeback Special," was the highest rated TV show of the holiday season. As memorable as that event was for Elvis fans, it was not, in itself, what made December 1968 a momentous month for Elvis. Instead, it was a fateful decision made by Elvis and acted upon by Colonel Parker at that time that changed the course of Elvis' life and career.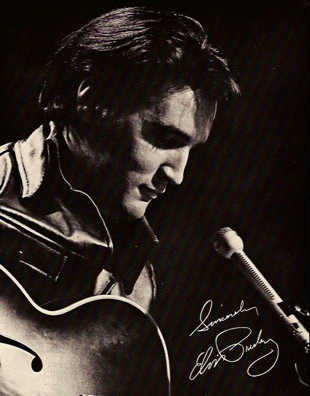 On the surface, December 1968 was business as usual for Elvis and his manager. The NBC special had been filmed in the summer, and immediately afterwards Elvis had gone back to work making movies. First there was Charro!, and by the time December rolled around, he was in the middle of filming The Trouble With Girls. After MGM released him on December 18, Elvis flew home to Memphis and spent the holidays at Graceland with his wife and baby daughter.
However, behind the scenes, steps were being taken to change the direction of Elvis' career. On December 4, 1968, The New York Times ran two articles about the entertainer. The first was a review of his TV special, which had been broadcast the night before. The second, and more significant article, was headlined, "Elvis Presley to Make Personal Appearances." Using Colonel Parker's assistant Tom Diskin as his source, writer Mike Jahn presented Presley's decision to return to the stage as strictly a business move, not an artistic one. Jahn's lead was, "Elvis Presley, with one eye to the increasing interest in old-style rock and the other to his decreasing income from movie roles is making plans for nationwide personal appearances again."
• Concerts would pay Presley better than movies
Citing Diskin, the writer noted that declining income from Presley's films had caused the entertainer and his manager to consider personal appearances again. "For the time that goes into it, it's more profitable for him to appear in public," explained Disken, who went on to break down the numbers.
"It takes Elvis 15 weeks time to make a movie, on the average. If he appears for 10 weeks, one concert a week, at $100,000 each he can do much better. In personal appearances these days $100,000 a concert is not an unrealistic figure."
Diskin told Jahn that Elvis first had to fulfill two movie contracts and then was looking at a possible concert tour eight or nine months down the road. That would have put Presley's return to the stage in late summer 1969. "Such a tour would probably take that long to plan," mused Jahn, "and, since it is most lucrative for him to appear in ball parks, any in-person appearances would be deferred until warm weather."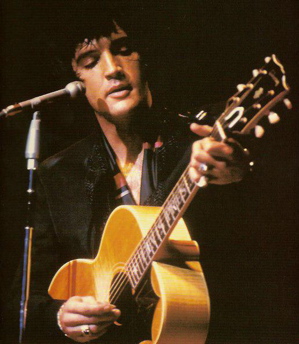 Certainly, Tom Diskin would have fed such information to the press only at the explicit direction of Colonel Parker. While Diskin was publicly talking about a Presley nationwide summer concert tour, however, the Colonel had already decided on a less complicated venue for his boy's return to the stage. On December 10, 1968, Parker asked Abe Lastfogel of the William Morris agency to pursue a Las Vegas engagement for Elvis at $500,000 for four weeks or $300,000 for two weeks. For that compensation, Parker said Elvis would do one show per weeknight and two shows on weekend nights. The Colonel also wanted Elvis to have Mondays off.
The standard showroom booking at the time, however, was two shows a night, seven nights a week, and as a newcomer to the Vegas scene, Elvis didn't yet have the pull to dictate other terms. So, on December 19, Colonel Parker and Elvis accepted a standard performance deal to appear at Kirk Kerkorian's International Hotel, which was still under construction at the time. Elvis signed on for a four-week mid-summer engagement at $100,000 per week.
• Elvis never meant to give up on Hollywood
In December 1968, then, Elvis made a decision that would radically change the main focus of his career from actor to stage performer. That would become the reality, but in hindsight he clearly never meant for such a radical change to occur. When Elvis decided that December to return to the concert stage, he envisioned it as a way to bring long-overdue balance to his entertainment career.
He had no intention at that time of abandoning Hollywood. On August 1, 1969, during a press conference following his opening night at the International Hotel, Elvis revealed he had not given up on his dream of becoming a good actor. "I want to change the type of scripts I have been doing," he revealed. "Something with meaning. I'm going after more serious material. I couldn't dig always playing the guy who'd get into a fight, beat the guy up, and in the next shot sing to him."
Elvis obviously hoped that getting out of the long-term movie contracts would allow him to make occasional stage appearances while seeking out quality acting roles. He had no idea that he had already made his last movie and had effectively retired from acting at age 33.
• December '68 decision led Elvis down roads to glory and tragedy
For Elvis the decision made in December 1968 to return to the stage was made for artistic reasons. However, he could not escape the financial realities that Tom Diskin had outlined to Mike Jahn of the Times that same month. The meager monetary rewards of pursuing a career as a serious actor were far exceeded by the steady cash flow from personal appearances. He was neither able nor willing to turn down the easy concert money to keep alive his long-deferred dream of becoming a serious actor.
And so, December 1968 became a defining month for Elvis Presley due to a critical commitment he made at that point in time. On one hand, it led to glory and gave hundreds of thousands of his fans the precious opportunity to see him live on stage. Just as surely, however, it led him down the road to tragedy, to increasing dependence on drugs, and, ultimately, to an untimely death less than nine years later. — Alan Hanson | © December 2011


Go to Elvis History

Go to Home Page