How Dick Clark Helped Keep
Private Presley Popular
In the mid-1950s, when rhythm and blues merged with rockabilly under the banner of "rock 'n' roll," the radio disc jockeys who embraced the new sound experienced a surge of popularity. They became the spiritual leaders of the nation's youth. Finding themselves in control of the music that went out over the air waves, these rock 'n' roll DJs accumulated unprecedented power in the lucrative teenage market. By 1958 two of them—Allan Freed and Dick Clark— were battling it out for supreme influence over pop music nationally.
Freed's career was destroyed in the pay-for-play "payola" scandal of the late '50s. Although Clark was also under investigation at the time, he survived unscathed and rose to preeminence among the nation's purveyors of rock 'n' roll.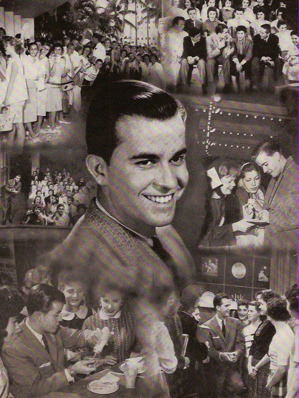 At age 28, Dick Clark was hosting a local TV dance show in Philadelphia in April 1957, when Elvis Presley brought his stage show to town. It's very possible that the two men met at that time, as DJs and TV hosts were invited to Presley's press conference in the city. It was just four months later that Clark soared into the national spotlight when the ABC television network picked up his show, renamed it American Bandstand, and began airing it nationally on August 5, 1957.
A major success from the beginning, Bandstand ran weekday afternoons through 1963, and then moved over to Saturday mornings. Every major rock 'n' roll act of the era appeared on Clark's trendy show—all but one. "There was never an American Bandstand Elvis Presley appearance in person," Clark noted in 1971, "and I guess he's about the only one I can think of."
• Colonel Parker recognized Dick Clark's influence with teens
Presley wasn't slighting Clark by not appearing on his show. By the time Bandstand went national in the summer of 1957, Elvis had already abandoned TV entirely. Colonel Parker reasoned that if Elvis' fans could see him for free on TV, they were less likely to buy tickets to his movies.
Although he kept Elvis off Bandstand, the Colonel clearly recognized Clark's ability to understand and communicate with young people. "There is nothing basically bad or wrong about our teen-agers today," Clark wrote in a 1959 magazine article. "They are better citizens than past generations for they are better educated in school and at home. They have broader tastes. They have ideals and they have values … Actually, I'm not defending teen-agers or myself. What I am trying to defend is my right and your right to go to a church of our choice, or buy the records of our choice. Elvis may start off his dinner with a banana split. Pat Boone prefers white buckskin shoes. Democracy would be in a bad way if our tastes in music, food and clothes were dictated to us. And when these little dictators try to enforce their will on us, it makes me blazing mad."
At 30 years old in 1959, Clark also offered a respected adult voice in support of Elvis. "He's a great talent," Clark declared. "Whether you call it rock and roll or rhythm and blues or country music, his style is authentic. He has never faked his music. His music is honest. Many adults couldn't see it. The younger generation, whose tastes were not prejudiced, accepted Presley's singing for its freshness and exuberance. But this is not the secret. It's something more than talent that Elvis has. Some people call it magic. I call it girl-appeal."
• Clark kept the Presley home fires burning
Dick Clark fit perfectly in Colonel Parker's plan to keep the Presley home fires burning while Elvis was out of sight in Germany. In 1959 Parker allowed Clark to conduct three telephone interviews with Elvis and broadcast them on American Bandstand. They allowed Elvis to speak directly to Clark's massive audience of record-buying teenagers.
During the first interview in February 1959, Clark asked Elvis if he had been working on his music. Presley assured Clark that he was. "I have a guitar up here in the room," he explained. "I don't want to get out of practice if I can help it." Clark then supplied evidence that Elvis' popularity had not slipped at home. "In the annual American Bandstand Popularity Poll you walked away once again with a couple of honors this year," Clark announced. "The Favorite Male Vocalist Award and the Favorite Record of 1958. The kids voted you top man all around."
Elvis assured Clark in return that he looked forward to his homecoming as much as his fans did. "That, believe me, is the big thing I'm looking forward to," Presley told Clark. "You'll never know how happy I'll be. I mean, I'm glad that I could come in the Army and do my part, but you'll never know how happy I'll be, boy, when I can return to the entertainment world."
• "You don't know how I'm looking forward to my return."
The second telephone interview occurred six months later on August 5, 1959. Elvis told Clark he planned to hit the ground running when he returned home in March. He mentioned that a TV appearance and three movies were in the works. Confirming that Elvis was still popular on the record charts, Clark announced that Elvis' latest single, "A Big Hunk 'O Love"/ "My Wish Came True," had earned gold record status. The interview ended with Elvis again declaring, "You don't know how I'm looking forward to my return."
Dick Clark's third and final phone interview with Elvis took place on January 8, 1960, Presley's 25th birthday. With Elvis' discharge less than two months away, the details were now out on Presley's upcoming TV and movie deals. Clark asked Elvis his feelings about appearing on Frank Sinatra's TV special. "You two fellows have sort of different musical stylings," Clark noted. "I consider it an honor," Elvis responded, "because this man … he's proven himself, and I admire him very much."
Elvis knew that the title of his upcoming film for Hal Wallis at Paramount would be G.I. Blues, but he seemed to know little else about his upcoming return to show business. "I'm told that Colonel Parker will have everything arranged," was all he could tell Clark.
• Dick Clark predicted a "fantastic" welcome for Elvis
Elvis may have had some doubts about his reception on his return home, but Dick Clark predicted Presley would be received with open arms. "I believe that when Elvis comes steaming in on that troopship he will get the most fantastic welcome any artist has ever received in the history of American show business," Clark wrote in the 1959 magazine article. "His doubts will vanish, for his fans are true-blue loyal, and Elvis will still be wearing the crown … I'll bet when Elvis gets his release there will be headlines reading, 'Can Presley Make a Comeback?' He doesn't have to make a comeback. Just come back. We're all waiting for him."
Of course, Dick Clark had read the mood of the nation's youth perfectly. Colonel Parker could not have enlisted a better cheerleader on the home front for Elvis than Dick Clark. He became known as America's "Oldest Teenager" not only because of his youthful appearance, but also because he never lost his ability to see the world as teenagers see it.
Colonel Parker never forgot the contribution Dick Clark made in keeping Elvis' flame alive during the army years. For Presley's celebrated opening night at the International Hotel in Las Vegas on July 31, 1969, the Colonel spent two months creating a special celebrity guest list. Among those included, in addition to most of the Strip headliners, were Pat Boone, Paul Anka, Fats Domino, Shirley Bassey, Charol Channing—and Dick Clark.       — Alan Hanson |© February 2012


Go to Elvis History

Go to Home Page