Early Rock 'n' Roll DJs
Helped Push Elvis to the Top
"I'd like to say thanks for all the spins, Charlie, you been givin' me. And you really been a friend to me, and I want you to know I really appreciate it, and I'll be lookin' forward to comin' back and visitin' with you again real soon."
That's how Elvis Presley closed out a radio interview in San Antonio on April 15, 1956. The interview by Charlie Walker of station KMAC is an example of how Presley sought early in his career to build positive relationships with a new breed of country and R&B disc jockeys who catered to the nation's teenagers in the mid fifties. As the payola scandal soon revealed, DJs in those days wielded considerable power in determining which artists and songs received airplay.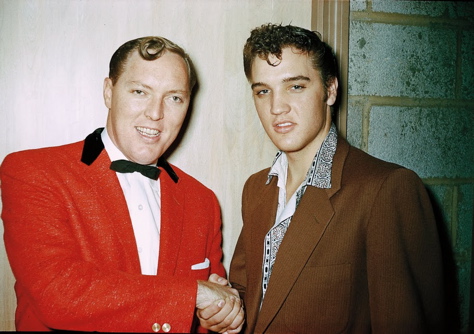 DJ Tommy Edwards' photo of Bill Haley and Elvis Presley
at Brooklyn (Ohio) High School on October 20, 1955.
All budding singers in the mid-fifties courted DJs in the communities they played on tour. They knew radio play led to record sales which in turn led to national recognition on Billboard's charts. Elvis knew it, and early on in his career he often made himself available to local DJs for personal interviews.
A recently published book tells the story one of those DJs who helped promote a young Elvis Presley. In 1950s Radio in Color: The Lost Photographs of Deejay Tommy Edwards, author Christopher Kennedy spotlights Edwards, a Cleveland DJ and promoter, who was the first to book Presley outside of the South. A skilled photographer, Edwards regularly took pictures of the acts that played his Cleveland events. On October 20, 1955, he took the well-known iconic shot of Bill Haley and Elvis shaking hands.
Some years ago, while doing research for my book Elvis '57: The Final Fifties Tours, I interviewed a half dozen or so early rock 'n' roll DJs in the Pacific Northwest. During the process, I learned two things about DJs of that era. First, it's easy to get them talking about the days when rock 'n' roll was a new sound, and second, it's difficult to get them to stop talking about those memories. Below is a sampling of what a few of them had to say about being a DJ in the days when rock was young.
• "Bubblehead" Bob Hough, KNEW, Spokane, Washington
Hough was one of "five Bob's" on the air at KNEW when Elvis came to town in 1957. I interviewed him at his home in Coeur d'Alene, Idaho, on July 21, 2003:
"KNEW was Spokane's first rock 'n' roll station when I came there in 1955. Everyone took rock 'n' roll like it was manna from heaven. Oh man, everyone thought that it was the greatest. I mean, we could do no wrong."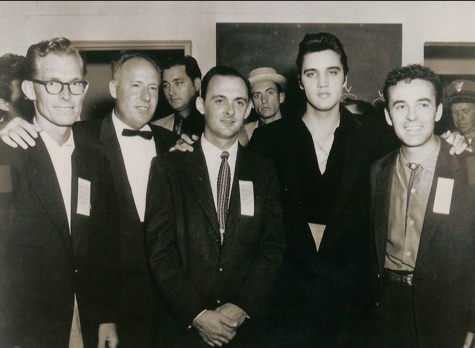 KNEW DJs Bob Hough, Bob Salter, Bob Adkins, and Bob Fleming
with Elvis at Spokane's Memorial Stadium, August 30, 1957
"The new owner of KNEW imported Bob Salter from Seattle to run the station. Elvis's appearance in Spokane on August 30, 1957, was set up by Salter. He's the one who brought him in, and it was his promotion all the way. We ran promotions on the radio and gave tickets away.
"The press conference before the show was just jammed with media people. We were there standing right next to him. Of course, you've gotta remember, we were beginners in that business. We didn't know what we were doing. It was powerful, the reaction he got. It was like a freak show. Everyone there was still wearing side walls for haircuts, and the butch and all that stuff. But this guy comes in and he's got the black greasy hair. And he's got this medallion hanging down on his bare chest.
"The young investigative reporters were going, 'Wait a minute, where are we? He's a space case.' He answered most all the questions. But I mean they were dumb. They had no relevance. I mean, this guy's a rock star. They tried to put the heat on him, but he just sloughed it off."
• Red Robinson, CKWX, Vancouver, B.C.
Today Red Robinson ranks right behind Dewey Phillips as the fifties DJ most associated with Elvis Presley. Robinson had unprecedented access to Elvis on August 31, 1957, when Presley appeared in Vancouver. Red personally recorded Elvis' press conference that day and introduced him at Empire Stadium that evening. I interviewed Red in his Vancouver office on September 28, 2005: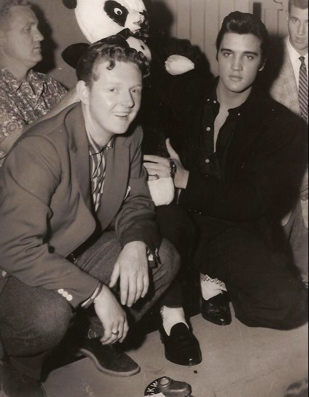 "I had a microphone and a 601 Ampex Tape Recorder wrapped in leather— beautiful—weighed about 60 pounds. That's why the quality is so good. I just carried it in. Now you've got gatekeepers and all that stuff, and Elvis had a few too, but nobody stopped me. But I did that with Buddy Holly, Louis Armstrong, everybody. Now people say, oh, you had foresight, what a visionary. It was just that I was a fan then; I'm a fan now. I just wanted to preserve the encounter.
"There was a makeshift stage set up at the north end of Empire Stadium. They built the stage and put a roof over it for rain. For both Elvis and later the Beatles it was a hot summer night, so they didn't need it. They removed the goal posts. At the side of the stage was a little thing like a tollbooth. After I introduced him, I just stood and watched the show from back there. I could see everything.
"There was pandemonium … wild, pandemonium, euphoric—but a riot? No. I'd say the first five or six rows in front of the stage is where the problem was, and that was where the fear was, and that was why D.J. Fontana says he thought they were gonna get killed. That was the thrust. The rest of the people were well behaved."
• Bob Blackburn, KEX, Portland, Oregon
At age 33 in 1957, Bob Blackburn was among a handful of DJs who were able to make a successful transition from playing the bland pop music of the early fifties to rock 'n' roll in the mid and late fifties. I interviewed Bob on the phone from his Bellevue, Washington, home on November 7, 2005:
"I had a disc jockey show at KEX when Elvis' fame hit very quickly. To me the rock era started with the recording of Bill Haley and the Comets' 'Rock Around the Clock.' To me that was the first real rock song. So after that, of course, the rock rhythms began to pick up, and Elvis, of course, was in the lead at that time as one of the earliest and one of the best. He was a great talent. Anyway, I played a lot of his records up to that time—'Hound Dog' and all those early songs.
"At that time we used to have disc jockey ratings. There were quite a few times in there when I was rated as the number one disc jockey in Portland. And that, of course, was the great disc jockey era. Every station had personality DJs on them. I got my main fame because every afternoon I would play all of the top songs. And quite often, if Elvis had a hot one, I'd play that everyday.
"To be honest with you, a lot of the early rock songs got a little too raucous to be my favorite songs. But I played them because I knew they were the favorites of the young people listening to the show. As I listen to them now, and you hear—and I hate to use the word— the crap that's on the air now by the current musicians, and you go back to his songs, he was a great artist. Elvis was a great leader in the rock 'n' roll music obviously." — Alan Hanson | © July 2011


Comment on This Article
Go to Elvis History

Go to Home Page