The Dorsey Stage Show:
Elvis' Jumping-off Point in '56
Most Americans credit Ed Sullivan with introducing Elvis Presley to the nation on his popular CBS-TV variety show in 1956. Elvis fans know, though, that that honor really belongs to band leaders Jimmy and Tommy Dorsey, on whose CBS Stage Show Elvis first appeared on national TV in January 1956, over seven months before his first appearance on the Sullivan show. Between January 28 and March 24, 1956, Presley appeared on the Dorsey brothers' show six Saturday nights.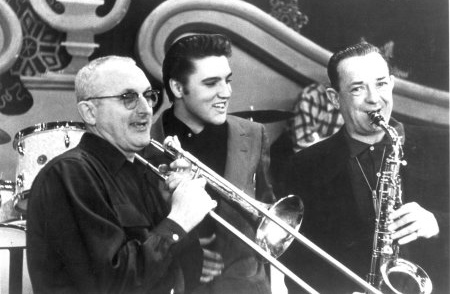 Tommy and Jimmy Dorsey with Elvis Presley in 1956
The standard perspective of Elvis historians through the years has been that Colonel Parker and RCA foisted the then little known Presley on the unsuspecting Dorsey brothers, who continue to offer the big band swing sound of past. Consider, for instance, Ernest Jorgensen's analysis of Elvis' performance of "Heartbreak Hotel" on the February 11 Dorsey show.
"The fault the first time out had lain not with Elvis or the band but with the Dorsey orchestra, who tried to fill out the song with a full-band arrangement but achieved only confusion; unable to follow the singer's rhythms, they performed the entire last verse off-beat … That was the end of the fancy Dorsey arrangements."
However, in his 2005 biography, Tommy Dorsey: Livin' in a Big Way, author Peter J. Levinson painted a pro-Dorsey picture of Elvis' appearances on Stage Show. Levinson explained that the brothers' concern about the program's low ratings, especially in the south, led to them seeking out Presley and booking him. The author provides the following account from Tino Barzie, Tommy Dorsey's band manager.
"I started looking around for new acts—like some country-and-western people. Somebody [Steve Yates, a country music agent] turned me on to an act handled by Tom Parker. I asked, 'What's his name?' 'It's Elvis Presley.' I said, 'Elvis? What kind of name is that?' I tracked Presley down in New Orleans [where he was headlining The Louisiana Hayride] and spoke to Tom Parker. I told him we'd like to use Elvis on several shows. He was thrilled to death. I booked Elvis for the following Saturday. I bought him for four shows for a total of five thousand dollars."
• Dorsey musicians didn't care for Elvis
The contract, which was negotiated by Harry Kalcheim of the William Morris Agency, contained an option for two more appearances. When they were later picked up, Presley's fee was raised to fifteen hundred dollars per show.
Elvis was respectful of Tommy Dorsey when the two met for rehearsals at New York Nola Studios before Presley's initial January 28 appearance. At the rehearsal, Jackie Gleason declared, "I don't like this guy." Dorsey disagreed. "I like his kisser," he told Gleason. "Don't worry about him." Most of the members of Dorsey's band were uncomfortable with Elvis. "During our rehearsal with him, some guys fell off the bandstand laughing at Elvis," recalled musician Pat Chartrand. "It was so shocking to all of us, we couldn't believe it." Musician John Frosk added, "We didn't like him because he looked dirty, and he needed a haircut. We thought he never bathed."
When the rehearsal was over, Tommy Dorsey predicted, "You see that guy Elvis Presley—he's going to be one of the biggest names in show business in a short time." Levinson saw this as evidence that Dorsey could recognize talent when he saw it.
New York disc jockey Bill Randall introduced Elvis that first night. "We think tonight that he's going to make television history for you," Randall said. Elvis performed two R&B standards, "Shake, Rattle and Roll" and "I Got a Woman."
• It was "like nothing that anyone had ever seen before"
"Presley's national debut on Stage Show was like nothing that anyone had ever seen before on national television," Levinson asserted. "It was the raw against the cooked, postwar prosperity versus prewar propriety, an atomic burst of sexual vitality obliterating the palled remnants of Depression-era glamour. The camera crew had even breached television etiquette by daring to photography Presley below the waist!"
Elvis wore a black shirt, with white tie, dark pants and a white-striped tweed jacket. "The sloe-eyed Presley had a leering smile," observed Levinson, "while his body gyrated with unabashed sexuality. A strong country blues sense emanated from the handsome young singer … whose forelock drooped over his face, added to his allure."
Not surprisingly, Elvis' appearance generated a flood of mail from infuriated viewers who couldn't understand how the respected Dorsey brothers could allow someone like Presley on their program. However, Stage Show's ratings went up, and they went up again the following Saturday night when Elvis made his second appearance.
CBS executive Mike Dann commended Tommy Dorsey on how he presented Presley. "Elvis was not at ease in front of an audience unless he was singing. Dorsey brought out the best in him because he gave Elvis a quality that many people never realized Elvis had. At the same time, he legitimized Elvis … There was a lot of betting going on that it wouldn't last, it wouldn't work. But Dorsey knew where talent was going. Elvis was so exciting … I think the key point here is that people don't realize that this was the jumping-off place for Presley."
• Elvis put an end to romantic popular music
For Levinson the kinescopes of Elvis' Stage Show appearances over five decades ago clearly show the contrast between the traditional music of the Dorseys and Presley's uninhibited style. The era of romantic popular music came to an end on CBS those Saturday nights in the winter of 1956. A new musical trend replaced it through the power of television and Elvis Presley.
"Elvis Presley was rock 'n' roll," Levinson affirmed, "which was suddenly embraced by the emerging generation as its own music. Its sound shattered the complacency of the 1950s and broke the ground for the antiestablishment culture coming in the following decades. The combi-nation of saxophones and brass no longer carried the melody; guitars took their place, underlined by an incessant pounding drumbeat. And with its visual impact, television would suddenly cause the look of a musical artist to become almost as important as the content of his or her music."
For his second Stage Show appearance on February 4, Elvis was the only guest star. He performed "Tutti Frutti" and "Baby Let's Play House." On February 11, sharing billing with comedian Jackie Mills and Ella Fitzgerald, he sang "Blue Suede Shoes" and his first RCA single, "Heartbreak Hotel." Presley spotlighted his single again in his fifth and sixth Stage Show appearances on March 17 and 24. By then "Heartbreak Hotel" was charging up Billboard "Top 100" char. Several weeks later it would reach #1 and settle in there for seven straight weeks.
• Elvis "had nothing to learn from Tommy Dorsey musically"
Levinson summarized the significance of Elvis Presley's six appearances on the Dorsey brothers Stage Show as follows:
"His arsenal of bumps and grinds again alternately shocked, terrified, and delighted the television audience. In those years, this same audience had taken to heart the homilies and reassurances—and, yes, the mediocrity—represented by performers like Arthur Godfrey, who perhaps might be described as a kind of homespun country uncle. Elvis Presley represented the complete antithesis of all of that. He had nothing to learn from Tommy Dorsey musically."
There was some irony in Tommy Dorsey providing Elvis a national stage to build his popularity. Presley would soon surpass Dorsey as the biggest-selling recording artist in RCA history. Still, Tommy Dorsey remained an advocate for Elvis. Their paths nearly crossed again three months after Presley's last appearance on Stage Show. Both were in Charlotte, North Carolina, in June for shows in the city's Coliseum—Elvis on the 26th and Dorsey on the 28th.
"I don't particularly care for his type of music," Dorsey told a reporter in Charlotte, "but that's the teen-agers' choice and if they like it we'll give it to them. Only time will tell if he has any lasting qualities. The kids want Elvis now and they should be able to have him." — Alan Hanson | © September 2011


Go to Elvis on TV

Go to Home Page