Elvis Sales Boomed Across Europe
Following his Death in 1977
Those of us old enough to remember Elvis' death in August 1977 also remember how the American public's demand for his records exploded during the ensuing months. (In September 1977, Elvis had eight albums on Billboard's "50 Hot Country LPs" chart.) Like a tidal wave, the boom in Presley record sales spread across the planet, tragically putting a spotlight on his international appeal. The following brief sketches of European responses to Presley's passing are summarized from reports in Billboard from August and September 1977.
• UNITED KINGDOM
There were over 12,000 members of Elvis' official U.K. fan club when the singer died, so it's not surprising that London became ground zero for the resulting Presley record sales boom in Europe. One retailer there at the time called the demand for Presley products "staggering" and likened it to "the days when the Beatles' albums went overnight to number one."
Reaction to Elvis' death at the retail level was "stunned amazement." Nicholas Banks of Sound Effect in York explained, "Everything sold out fast. We even resurrected the Elvis Christmas Album and it goes out fast with each reorder."
At Easy Listening in Birmingham, John Corbett had never seen such a record-buying splurge. "It's been nothing but Presley, particularly his really big old singles," he noted. "Everybody has been genuinely sad about buying them at this time. Product has sold to the mums and dads, who probably grew up with his music, and kids who have seen his films on television." Lancashire storeowner Tony Ames said his customers were "really heartbroken by the news. They still come in, literally red-eyed and white-faced." Mike Scott-Mason of Harlequin's Coventry Street branch added, "Presley's appeal is clearly universal, because just about everybody is buying anything, including tourists."
• FRANCE
The Presley sales boom was less pronounced in France than in other Northern European countries. French pop music fans had never bought into rock 'n' roll as much as the English-speaking countries on the continent. Still, most French newspapers gave frontpage coverage to Elvis' death, with "Le Monde" describing the singer as "the demon of rock."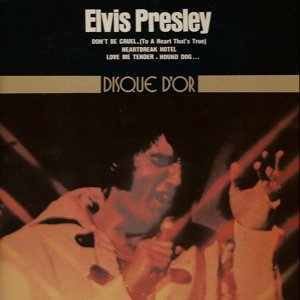 Sales of Presley records in France had fluctuated over the years, peaking at 250,000 copies for his most popular issues. A Billboard correspondent explained, "It was always felt that things would be different, even in a French-speaking territory, if he had made personal appearances here." Still, Elvis's death resulted in a sudden rise in his record sales in France. A production order for 250,000 LPs was placed after the news hit.
• GERMANY
Harald Heilmann, RCA's sales chief in West Germany, announced, "We sold 500,000 albums in the week after Presley's death and could have sold double that." RCA's pressing facility in Hamburg just couldn't keep up with the demand. The staff worked day and night shifts, but still dealers had to stand in line to get Presley records.
After the news of Presley's death broke, German discos played only Elvis records, and newspapers gave the story their biggest treatments since the death of President John Kennedy. The music newspaper Musik Joker halted the printing of its current issue and replaced it with an "Elvis Special" print run of 180,000 copies. German travel agents were busy organizing trips to Memphis for German fans. A spokesman for record company DGG, which produced an Elvis tribute record, said, "Superstar Elvis is a man of the century and will live on records forever."
• HOLLAND
Inelco, RCA's Presley licensee in Holland, had sold more than 5 million Presley LPs since the start of Elvis' career. More than 100,000 more were sold within the first three days after his death. Such concentrated sales activity was considered phenomenal in Dutch music business history, according to Billboard. On the day of Elvis's funeral, Inelco re-released the single "Wooden Heart" and rushed forward the release of a Presley Album, "20 Fantastic Hits," which had been originally scheduled for the following month.
Within hours after Elvis' death, Dutch composer-producer Eddy Ouwens recorded the tribute song, "I Remember Elvis Presley." Released under the artist name "Danny Mirror," the record sold 100,000 copies the first day. However, EMI-Bevema artist, Jack Jersey, known as "The Dutch Elvis," declined to record an Elvis-themed song at the time, saying he felt it was too much of a commercial cash-in.
• SWEDEN
The morning of Elvis' death, the Stockholm switchboard at Electra Records, RCA's Elvis licensee in Sweden, was swamped with calls. Some of the callers were fans, but most were dealers who sold out their Elvis records. "We'll never have an artist of that stature again," stated Lennard Andersson, Electra's press officer. "There is no one to match him with any other company in the world. It was a great and sad loss. As for sales, it was just like a pre-Christmas rush, though one based solely on Elvis product."
Electra found itself better positioned for the sudden demand for Elvis vinyl than most European companies. The summer had been used for stocking, and supplementary orders had already been placed on most Presley recordings. As a result, the company had 68 different Presley LPs and about 50 singles in stock when the demand wave hit.
Billboard reported on the quick reaction by Swedish stores. "One shop in Stockholm devoted a whole display window for a special memorial display with sleeves, white carnations and Presley pictures. Most book shops arranged special Elvis displays. Swedish TV-2 has already scheduled the screening of several Elvis movies."
• FINLAND
Although Elvis' Finnish fan club became inactive in the 1960s, Billboard reported "widespread shock among pop fans in Finland over Presley's death." Magazine tributes were "building up to a tremendous coverage peak."
During the 1960s, when Presley's popularity peaked in Finland, his records accounted for 20% of total annual sales for Discophon, RCA's licensee in the country. Elvis's best-known record there was "It's Now or Never" (close to 30,000 copies sold). In the 1970s, Presley sales leveled off to between 10,000-15,000 per year. Only a month before his death, Kid Galahad became the first Presley film to be seen on television in Finland.
After his death, Discophon quickly sold out its stock of Presley records. Producing new ones took up to two weeks, mainly due to printing of the sleeves. In the interim, Finnish Elvis fans searched out the direct import stores.
• DENMARK
Hede Nielsen, RCA's distributor in Denmark, sent dealers the 9,000 Presley albums that it had in stock. It then faced the difficult task of meeting a firm demand of 80,000 more with help from plants in Italy, France, Germany, the U.K., and Canada. Pressure from retailers finally forced the company to close its orders office.
The company's managing director explained that the HN tried to get Elvis records directly from the U.S. "We promised American RCA we would cover up the Victor dog on the labels, but they would not send the records because of that copyright problem. But we were desperate for Presley product."
Planned soon on Danish TV was a play written by Dan Turell and Edmondt Jensen, based on the words of American protest singer, Phil Ochs: "The only possibility in the U.S. for a humane society would be a revolution with Elvis Presley as leader."
• IRELAND
Irish Record Factors and Soloman and Peres jointly handled distribution of Presley records in Ireland. Following Elvis' death, IRF cleared out its remaining stock of Presley vinyl in two days; S & P did the same in one day.
Already in the works was "Elvis," a musical based on the singer's life. Developed by Irish promoter Noel Pearson, it was set to open in Cork in October 1977. Cahir O'Doherty had the lead role, with other local actors portraying Colonel Parker, Bill Haley, and The Beatles. A 12-inch single Elvis tribute disc featuring O'Doherty was in the pipeline from CBS Ireland.
• CZECHOSLOVAKIA
"The news of Elvis Presley's passing had a wide impact in Czechoslovakia," according to Billboard, this in spite of the fact that Presley recordings had never been pressed and distributed within the country. RCA had no licensee for Presley products in the communist nation. Some records, however, came in from India, which at times provided Czechoslovakia with licensed products.
"Yet Presley was enormously popular," Billboard reported, "especially among the generation who were in their teens in the early '60s. He was probably the only foreign pop star who had an active fan club here, and some local cover versions of his hits are among the most important recordings in Czech pop history."
• ITALY
Even though Presley had had no major hits in Italy since the early sixties, his death was widely covered by Italian radio, television, and the press.
RCA Italiana announced it would release a special Elvis commemorative album of tracks selected by the Italian fan club (Club Amici Di Elvis Presley). Livio Monari, president of the 1,000-member club, said, "As soon as we have permission from the U.S.A., the special album will be prepared. The club members have mostly selected numbers from recent recordings in order to show that he was still a major international star."
Monari had received hundreds of phone calls at the club headquarters in Rocanati. "Many fans asked us to arrange a trip to Memphis for the funeral," he said, "but there was not enough time to organize it. Next year we shall go and visit the grave."
• SPAIN
Spain was one of the few major European countries that did not experience a boom in record sales after Elvis' death. The news "provoked a mass of retrospectives and news stories in the media here," reported Billboard's Spanish contributor, "but at street level the reaction was somewhat more subdued—a sign that the Presley cult was not as deeply rooted here as elsewhere in Europe."
During the early years of his career, Elvis was not promoted in Spain, where the music industry was then dominated by South American dance music. His followers in the fifties were considered a "sophisticated elite who were in touch with trends in the 'outside word.' By the time the Spanish record industry caught up with the rest of Europe, Elvis had evolved into what local teenagers regarded as a 'light-weight family entertainer.'"
Of course, the commercial upheaval following Elvis' passing in 1977 occurred in other parts of world besides North America and Europe. It was felt as well in Australia and the Far East, particularly in Japan. It's ironic that the tragedy of his passing helped to illuminate the magnitude of Elvis' international stardom. — Alan Hanson | © March 2010


Go to Elvis History

Go to Home Page