"I Am An Elvis Fan" Campaign
Got Presley Faithful Involved
"I Am An Elvis Fan, Are You?" That was the subject of a message that showed up in my inbox on May 1, 2012. Sony Music was the sender, under the title "Elvis Presley Fan List." I'm not quite sure how my name got on that list, but I suspect it happened a few years ago when I was a member of Elvis Presley Enterprise's online fan group called the "Elvis Insiders." Anyway, the question in the subject box was intriguing enough to get me to open the message.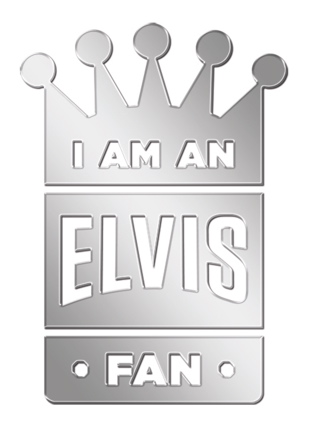 It was evident immediately that EPE and Sony had come up with another strategy designed to get Elvis fans to once again purchase a CD collection of the same Presley recordings that had been marketed to them in numerous packages through the years. Usually that's enough to send me searching for the delete button. However, I must admit that whoever came up this particular marketing ploy was pretty clever. Essentially, the campaign promoted fan involvement instead of the music to sell an upcoming Elvis CD.
• Sony email message provided the following details:
"Legacy Recordings in conjunction with Elvis Presley Enterprises (EPE) announces the launch of "I AM AN ELVIS FAN," a new campaign which encourages fans, from die-hards to casuals, to vote for their favorite recordings by Elvis from seven musical genres to be provided by Legacy. The top-scoring songs will determine the tracklist for I AM AN ELVIS FAN, a new 21-song collection that will be available July 31st through RCA/Legacy, a division of SONY MUSIC ENTERTAINMENT."
Elvis fans were invited to vote on-line for three Elvis recordings in each of the seven genres. Voting took place May 1-12, 2012 It would have been more interesting if fans could have chosen from the total body of Elvis' music, but such was not the case. Voters had to make their choices in each grouping from 13 nominated Presley tunes.
The result was that most fans were not able to cast their ballots for some of their favorite Elvis numbers if they were not among the nominees. For instance, in the "50s" category, the nominated recordings were: 1. "That's All Right" 2. "Good Rockin' Tonight" 3. "Baby Let's Play House" 4. "I Got a Woman" 5. "Hound Dog" 6. "Don't Be Cruel" 7. "Mystery Train" 8. "Blue Suede Shoes" 9. "Money Honey" 10. "Heartbreak Hotel" 11. "Shake, Rattle & Roll" 12. "All Shook Up" and 13. "Lawdy, Miss Clawdy".
Now, how they came up with that group of songs is beyond me. Noticeable right away was the absence of Elvis fifties mega-hits "Jailhouse Rock," "Teddy Bear," and "Love Me Tender." Turns out they were included in other categories, namely "Movies" and "Love Songs." But why were all of Elvis's hits from 1958 and 1959, such as "Wear My Ring Around Your Neck," "One Night," and "Big Hunk O'Love," left off the list? Certainly they would have gotten more votes than "I Got a Woman" or "Money Honey."
My actual top three Elvis '50s recordings are "A Fool Such As I," "When My Blue Moon Turns to Gold Again," and "All Shook Up." But since only the latter was on the nominated list, I cast my other two votes for "Don't Be Cruel" and "Blue Suede Shoes."
• How I marked my ballot in the other six categories:
'60s: "His Latest Flame," "The Girl of My Best Friend," "Good Luck Charm." (A personal favorite, "Such a Night," was excluded.)
GOSPEL: "Crying in the Chapel," "Joshua Fit the Battle," "How Great Thou Art." (My favorite Elvis gospel number, "Who Am I?" was not nominated.)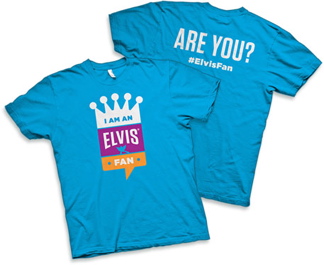 LOVE SONGS: "It's Now or Never," "Can't Help Falling in Love," "Are You Lonesome Tonight?" (All Elvis fans probably have an obscure favorite song. One of mine is the 1965 remixed version of Elvis' 1954 Sun recording of "Tomorrow Night." It's my favorite Presley love song.)
MOVIES: "Follow That Dream," "Teddy Bear," "Return to Sender." (Of course, there's a ton of Elvis soundtrack songs to choose from. I would have gone with "I Got Lucky" from Kid Galahad, but it wasn't nominated.)
COUNTRY: "Guitar Man," "Kentucky Rain," "Funny How Times Slips Away." ( I would have chosen "I'm Left, You're Right, She's Gone" or "Early Morning Rain" if I'd been able to do so.)
IN CONCERT: "I Can't Stop Loving You," "Bridge Over Troubled Water," "American Trilogy." (None of my favorite Elvis concert songs were nominated, including "Johnny Be Goode," "The Wonder of You," and "Unchained Melody.")
• Everyone could have been pictured on the CD cover
My online ballot gave me some say, admittedly very small, in the content of the "I Am An Elvis Fan" compilation. Did that motivate me to purchase the CD? Of course not. I could easily use computer software to create a CD with my personal 21 favorite Presley tracks.
However, there was another fan participation factor in the new Presley package that tempted me to buy it. The cover art of the "I Am An Elvis Fan" album was an Elvis photo mosaic. Presley fans were encouraged to upload individual or group images to be used in the mosaic. Now, I just happened to have a photo of me taken at Sun Records Studio in Memphis a few years ago. I thought it would look great right in the middle of the "I Am An Elvis Fan" mosaic. I thought it might make a nice conversation piece to be able to pull out the CD, point to Elvis' left eyeball, and say, "That's me!"
The "I Am An Elvis Fan" marketing campaign utilized a couple of other gimmicks to stimulate sales for the new combination of recycled Elvis recordings. Those who pre-ordered the CD during the voting period could have their names printed in the CD liner notes, space permitting, of course. There was also an "I Am An Elvis Fan" t-shirt that could be pre-ordered for the exorbitant price of $18.99 plus postage. Purchasers, then, who had their photos taken wearing the shirt, could upload them to be used in a special display during Elvis Week in Memphis during the summer of 2012.
RCA made many irritating attempts over the years to tempt Elvis fans into purchasing the same Presley recordings over and over again. This time, at least, the label made an attempt to involve Elvis' fans in the process. Even if this recording rehash turned out to be no more profitable than those in the past, at least it was commendable that the Presley powers-that-be gave the fans a chance to stand up and say, "I am an Elvis fan." — Alan Hanson


Go to Elvis Music

Go to Home Page