Elvis' Final Stage Shows Were Spiritual Experiences
In June 1977, a group of over 250 Elvis fans crossed the Atlantic to see their idol perform in concert. The Elvis Presley Fan Club of Great Britain sponsored the excursion, and while most of the travellers were from the United Kingdom, others from Denmark, Belgium, and Ireland also came on the trip of a lifetime for Presley European fans.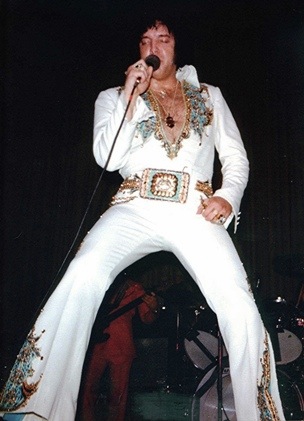 The group's timing was both fortunate and tragic. The fans from abroad were fortunate in being able to see Elvis on stage in two mid-West American cities. The tragedy was that, of the nearly 1,500 stage shows Presley played during his 24-year career, the European fans saw the last ones he performed during his lifetime. Elvis died less than two months later.
Elvis started his final stage tour, a 10-day swing through the American heartland, in Springfield, Missouri, on June 17, 1977. Following were stops on successive nights in Kansas City, Omaha, Lincoln, Rapid City, Sioux Falls, Des Moines, and Madison. The final two shows, both attended by the European tourists, came on June 25 and 26 in Cincinnati and Indianapolis.
Despite disturbing reports of Presley's declining health and recent bizarre behavior on stage in other cities, Cincinnati's Riverfront Coliseum and Indianapolis's Market Square Arena both sold out their capacities of over 17,000 for Elvis' upcoming shows. In Cincinnati the doors opened 2 ½ hours before show time. Available for early arrivers were an assortment of Presley souvenirs, including posters ($3 and $5), programs ($3), buttons ($2), binoculars ($5), necklaces ($5), and belt buckles ($10).
As with all Elvis concerts in the '70s, the anticipation of seeing the King was prolonged. After the Stamps, the Sweet Inspirations, and comedian Jackie Culhane concluded the hour-long opening show, the frustrating intermission leading to Elvis' appearance dragged on. Rita Rose of the Indianapolis Star waited with trepidation, noted in her review of the concert the following day: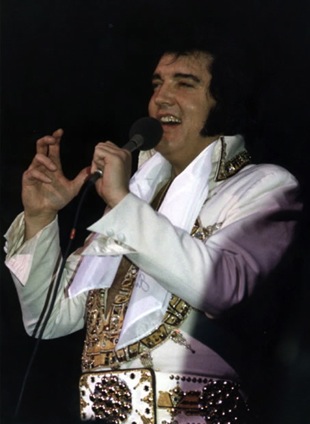 "The big question was, of course, had he lost weight? His last concert here, nearly two years ago, found Elvis overweight, sick and prone to give a lethargic performance. As the lights in the Arena were turned down after intermission, you could feel a silent plea rippling through the audience: Please, Elvis, don't be fat?"
In Cincinnati the previous night, the announced 20-minute intermission stretched out to 55 minutes (due, Elvis later explained on stage, to an emergency trip to the dentist). Elvis finally appeared to an explosion of flashbulbs and a swelling tumult of noise from the audience. "The King looked awful," lamented Ken Williams of the Journal News. "Elvis still had a paunch which could do as a Santa Claus suit without needing padding … Ghastly pale, eyelids nearly swollen shut." Elvis mumbled something, but Williams could make out only two words, "Novocain shot," which the writer interpreted as "an excuse for what was about to happen."
Other journalists in the audience confirmed Presley's unhealthy appearance. In the Cincinnati Post, Brad Balfour observed, "Elvis ambled about the stage moving his bloated face and heavy bulk around woodenly." Indianapolis Star writer Zach Dunkin teased, "Married men may have found an ally in Elvis Presley. Wives may figure so what if their old men have 42-inch waists and chubby cheeks." Published photos of Elvis on stage have since confirmed what the reviewers described.
But the journalists also reported that it didn't matter to the crowd that Elvis was so out of shape. In Cincinnati, Williams noted, "It is obvious the fans still love Elvis. They still pack arenas to see their idol. They come to see the legend." In the Cincinnati Enquirer, Cliff Radel added, "It was not a concert. It was a rite." Dunkin opened his review with, "Elvis Presley led another crowd of screamers into bananaland last night," adding that "three songs into the concert one front row cutie shouted to Elvis, 'I'm easy!'"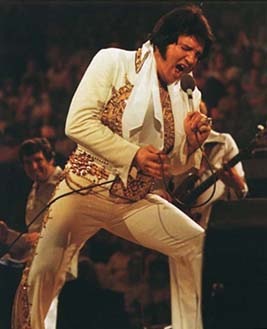 Dunkin described the nature of the crowd in Indianapolis:
"The conservative audience was vintage 35-ish, sprinkled with several curious teenyboppers. There were foxy ladies dressed to impress and would-be Presleys in jumpsuits. A few tots had to be carried through the turnstiles because Mom and Pop couldn't find a babysitter. Make room for a second generation of Presley fans."
David and Carole Hawthorne sat excitedly in the audience both nights. They had come across the ocean from County Down in Northern Ireland with the United Kingdom tour group. "I became a fan of Elvis' in 1963 or '64," David explained to Cliff Radel while waiting for Presley to take the stage in Cincinnati. He added, "You know, it's like John Lennon said, nothing was really going on until Elvis came along."
Presley's opening number, "C. C. Rider," got the show off to a "flash-bulb-popping, hand-clapping start," Rita Rose observed in Indianapolis. "His 'Amen' encouraged everyone to clap and sing along, bringing everyone together." The playlist of about 20 numbers also included oldies "I Got a Woman," "Jailhouse Rock," "Teddy Bear," "Hound Dog," "Don't Be Cruel," "Little Sister," and "It's Now or Never." Also included were songs Presley had recorded more recently, such as "Unchained Melody," "You Gave Me a Mountain," "Fairytale," "Bridge Over Troubled Water," and "My Way" (for which he had to read the lyrics off a sheet of paper).
The reviewers differed in their appraisal of Presley's voice. "Elvis constantly mumbled and the audience couldn't hear what he was singing," observed Ken Williams in Cincinnati. "Elvis' once strong voice is now dominated by his musicians and backup vocalists." The Post's Brad Balfour, who heard the same concert, disagreed: "He has a great voice, richly matured, strong and ranging. He sang all his material well no matter what the style." The next night in Indianapolis, Presley's vocals also impressed writer Zach Dunkin: "The man can still sing when he tries. Twice last night he did it magnificently, especially on 'Hurt,' when he made a serious effort to reach some difficult notes."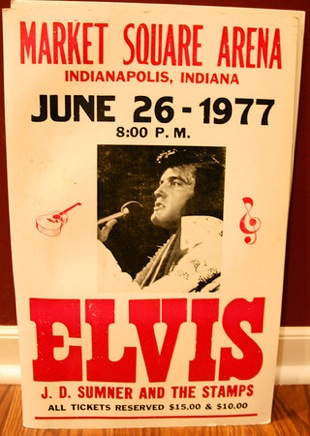 Elvis' attempts to parody himself with some hip stage movement did not impress journalist Williams in Cincinnati. "Elvis tried to exercise his booty as in the golden years. I've seen senior citizens with better acts." In Indianapolis, Rita Rose vividly described what she called Elvis' "leg jerks":
"In case you have never seen Elvis, this particular maneuver consists of the singer, standing perfectly still with his legs apart, then making his legs ripple like jelly, completing the action with moving first one leg and then the other abruptly to each side."
Rose added that "Elvis has limited his karate movements, but the stances he takes with his guitar generated screams and shrieks from delighted fans." He also triggered squeals as women rushed forward to grab the occasional scarf he dangled from the edge of the stage. He went on an especially big scarf-tossing binge during his final show in Indianapolis. Reviewer Zach Dunkin reported that Elvis threw 46 scarves into the "stage rushing audience which included two fellas wearing motorcycle helmets. Were the helmets for protection against the billy club wielding security men? Nope. Those dudes knew they might have to face their wives empty handed."
In the end, all of the newspaper reporters who saw Elvis Presley perform his final two performances in Cincinnati and Indianapolis in June 1977 concluded that the shows were meager efforts at best. Ken Williams was brutally honest in his review of the Cincinnati show on June 28:
"Apparently the reports are founded upon truth, and the King confirmed the suspicions with his listless, lifeless performance Saturday night at Cincinnati Riverfront Coliseum before another sellout crowd … Gone from his performance is the magic generated by one of the world's ultimate legends; gone is the energy and vitality of a healthy Elvis; gone is the beauty of the voice that charmed millions … I feared the worst for Cincinnati and the fears became a nightmare for me."
However, the passion evident in both arenas suggests that most of the 34,000 people who saw Elvis Presley perform on stage in Cincinnati and Indianapolis on June 25-26, 1977, cherished that final opportunity to see him perform in a live show, even though he was not at the top of his game, either physically or musically. Just to see him and hear him sing in person must have been a spiritual experience for the pilgrims from across the Atlantic, as well as for thousands of others who saw his final shows.
The final paragraph of Ken Williams's review in the June 28, 1977, issue of the Cincinnati Journal News rang eerily prophetic:
"There was an emptiness at the end. Yes, there comes a time when a performer should step down, retire or rest. Elvis, we love you, but please don't do this to us. We prefer remembering you at your peak, rather than at your funeral. 'The King is Dead. Long live the King!'"
When Elvis Presley "left the building" in Indianapolis on June 26, 1977, he had just 50 days to live. — Alan Hanson | © April 2015