Parade of "Elvis Girls" in the '50s
Boosted Presley's Sex Appeal
"Now, this is the way it is. I got about 25 girls I date regular." Elvis Presley made that amazing claim in an article by Damon Runyon, Jr., in the August 5, 1956, issue of the Miami Daily News. Elvis had sought out Runyon to deny a claim 18-year-old June Juanico had made to the reporter the day before. Presley had invited the girl from Biloxi, Mississippi, to accompany him on his tour of seven Florida cities. Waylaid in the Olympia Theatre on her way to watch Elvis' show, June had told the reporter that she was one of Elvis's two steady girlfriends.
Elvis and Colonel Parker went into immediate image damage control. After all, Elvis couldn't afford to have his female fans thinking he was attached. It was basic teenage girl psychology. He had to keep alive each girl's fantasy that she could actually be his girlfriend. He couldn't do that if he already had a girlfriend. He could have one; he just couldn't admit it.
The "I-like-girls-and-I'm available" image generated for Elvis by Colonel Parker required discipline on the singer's part. It involved regular appearances in public with a multitude of beautiful babes. The resulting daydream for each female fan was that maybe, just maybe, she could be the next girl on Elvis's arm. Below is a sampling of the "Elvis Girls" who were paraded in public in the fifties to create the impression that Elvis was permanently playing the field.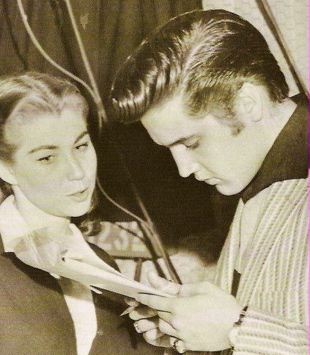 • Judy Powell Spreckels
On June 7, 1956, the 24-year-old Beverly Hills "horsewoman" became one of the first "Elvis Girls" to be openly exposed to the press. Roger Beck's article that day in the Los Angeles Mirror News declared that Spreckels (right) and Presley were the "objects of romantic gossip." A photo accompanying the article showed Judy hovering over Elvis during rehearsals for his June 5 appearance on The Milton Berle Show. Each was wearing a ring given by the other. Judy's had the initials "E.P." in diamonds and Elvis' was a small gold ring set with black stones.
Both denied any romantic involvement. "I'm Elvis' number No. 1 fan," Spreckels said. "But I have a boy friend." Presley added, "She's my No. 1 fan. She follows me all over. But I don't have any steady girl friends." It was a script to be repeated often over the following year and a half. Only the girls would change.
• Barbara Ann Hearn
A month later, on July 8, 1956, the Commercial-Appeal ran a photo of Elvis walking hand-in-hand with Barbara Hearn on a movie date in Memphis. The 19-year-old advertising copywriter claimed she and Elvis had been dating for two months. Their first date was on Elvis' motorcycle, she said, but normally they went to the movies, the Fairgrounds or to his home on Audubon Drive. They had never gone out to dance, but she had danced with Elvis. "All we have ever danced is slow, but that was very nice," she revealed.
Barbara appeared to be a perfect example of Elvis' willingness to date the "average" girl. "Elvis is a very nice boy who is considerate to older people and youngsters alike," she explained. They had no set pattern of dating, she added. "We just go out together like any other boy and girl." Anything serious between them? "Definitely not," she said. "We're just good friends."
• Lyda Fairbanks
In her nationally syndicated column of November 15, 1956, entertainment gossip columnist Dorothy Kilgallen "let slip" that Fairbanks was Elvis' latest "Big Crush." The "statuesque blond heiress to steel millions" reportedly met Presley at the Plantation Club in Nashville that October. "His pursuit started there," according to Kilgallen, "and continued when he came to New York recently. Lyda has been cool to his frantic pleas for dates because she thinks he's 'much too young.'" Elvis was 21 at the time. Lyda Fairbanks was 25.
• Natalie Wood
Due to her renown as an actress, Natalie's fleeting relationship with Elvis has been overblown through the years. According to Kilgallen, though, in 1956, "Elvis Presley's motor-cycling and hand-holding with Natalie Wood has been kept very quiet."
However, in her column of October 14, 1956, fellow entertainment writer Aline Mosby portrayed the romance between the two as serious. Elvis' "wiggling teen-age fans may feel abandoned," Mosby declared, "to hear that the pert actress and the rock n roll singer are carryin' on the most sizzling romance in Hollywood since Debbie met Eddie over a Coke."
As for Natalie, she sounded like just an average girl in her gushing attraction to Elvis. "He's really great and the most totally real boy I've ever met," she told Mosby. "He's a real pixie and has a wonderful little boy quality. He's very courteous and polite and so sweet. He's the nicest boy I know. A wonderful dancer—and he sings all the time to me. All the girls in the country are in love with him—so why should I be any different."
• Joan Bradshaw
Elvis met Bradshaw in early 1957 at Paramount studio, where she had a bit part in his filmLoving You. She is one of Presley's lesser-known romantic attachments in the fifties, perhaps due to heated end of their relationship. Dick Williams of the Los Angeles Mirror Newsreported in his column of June 10, 1957, that everything was going great with the couple, until one evening when Elvis arrived at Joan's apartment unannounced to find another guy had gotten there before him.
"Why not?" Joan told Williams. "I wasn't going steady with Elvis and he hadn't asked me for a date this particular evening so I wasn't expecting him. What was I supposed to do? Just wait around twiddling my thumbs until he chose to show up?"
Elvis was so angry, according to Bradshaw, that he drove his white Cadillac across the front yard of her apartment house, destroying part of the landlady's flowerbed. An irritated Joan had to pay a gardener to repair the damage the next day. Needless to say, the two never dated again.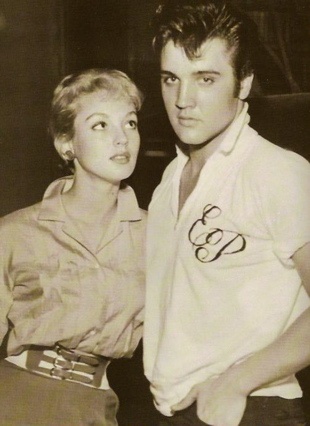 • Venetia Stevenson
Stevenson (left) was one of a number of young women from Hollywood, including Natalie Wood and Yvonne Lime, who visited Elvis in Memphis. "I'd known Elvis for a long time," Venetia told columnist Hedda Hopper. "He'd invited me to meet his family before, but I said no. Then when I was in New York he called and invited me down, and his mother got on the phone and urged me to come." In early August 1957, Stevenson, who had been selected the "Most Photogenic Girl of the Year" by Popular Photography magazine, came to Memphis as Elvis' houseguest.
According to a Press-Scimitar article of August 9, Elvis was so excited when he picked up Venitia at the Memphis airport that he drove off without her luggage. He later took her to a private midnight showing of his movie, Loving You at the Strand. When Elvis' black Fleetwood Cadillac drove up to the theater's alley entrance, Press-Scimitar photographer Bill Leaptrott was on hand to take several shots of the couple.
The 19-year-old Stevenson returned to Hollywood, apparently with a greater interest in horses than in men. She told Hedda Hopper that, unless she had studio call, she was at the stable every morning at 5 and stayed there until about 11 a.m.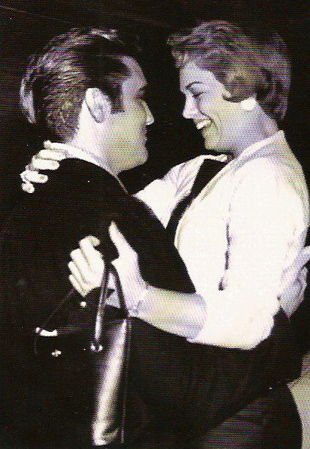 • Anita Wood
Like June Juanico was Elvis' only real girlfriend in 1956, Anita Wood was his only real girlfriend in 1957. Unlike with June, however, Elvis publicly declared that Anita (right) was his "No. 1 girl." He made that statement at the Memphis train station on August 27, just before leaving for his Pacific Northwest tour. The Press-Scimitar reported that the two had started dating in early June. The dates became regular over the next two months, leading up to Elvis' "No. 1" train station announcement.
A Press-Scimitar article on September 11 revealed that Elvis had recently given Anita a "very expensive" ring—18 sapphires surrounding a diamond. Reporter Edwin Howard asked Wood if it was an engagement ring. "On, no!" she insisted. "Nothing like that. It's just a gift." Two days later the newspaper ran a close-up of Anita prominently displaying the ring Elvis gave her—on her right hand.
Anita Wood remained Elvis' "No. 1" gal until Private Presley shipped out for Germany in September 1958. Although Elvis kept their relationship alive with phone calls and gifts, Anita was dismissed by the press in favor of a new procession of "Elvis Girls" in Germany. Soon after Elvis' army discharge, Anita left Graceland for good, leaving room for a much younger girl to move in as Elvis' next "No. 1." — Alan Hanson | © October 2011
Go to Elvis History

Go to Home Page