Up Close and Personal With
Four "Elvis Girls" at Elvis Week 2008
For me the most enjoyable experience of attending Elvis Week 2008 in Memphis was the chance to meet four "Elvis girls" who appeared at Elvis Expo. All of them had worked with Elvis in the 1960s. It seemed there were always fans in front of their tables, but as a table-holder myself, I was able to spend some time with each of them before the doors opened to the public and at other slower times during the day. Here are some highlights from my conversations with the "Elvis girls."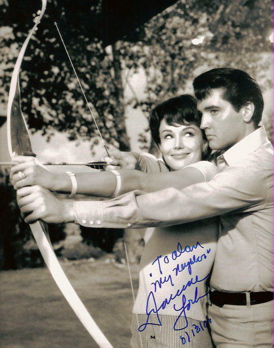 Francine York
Francine played one of the women trying to get into shape at the ranch where Elvis worked in Tickle Me. The film's credits list her as playing the part of "Mildred," although at no time during the picture is she referred to by that or any other name. In her one close-up, Elvis gives her an archery lesson. Francine said several other scenes featuring her with Elvis were shot but not used in the movie. She can be seen often among the crowd of girls surrounding Elvis in Tickle Me. Since she had the booth directly to my left, I talked with Francine quite often. Like the other "Elvis girls" in the room, she has appeared in many other movies and TV episodes over the years and is still a working actress.
Francine was very friendly with all the fans who crowded around her table. She did a brisk business selling autographed photos and posing for pictures with any and all who requested it. 
Her time working with Elvis was obviously special to her. "After working with him for five weeks back then," she told me, "I find it very difficult to look at photos of him toward the end of his life."


Darlene Thompkins
Darlene had a prominent role in Blue Hawaii as one of the four teenage girls, who, along with their chaperone, was escorted around the islands by Elvis. She played the part of Patsy, who enjoyed teasing Ellie, the spoiled teenager.
Her table was directly behind mine, and a couple of times I walked around to her side to talk with her. She had a couple of her girlfriends with her, and they all seemed to be enjoying themselves. Like Francine, Darlene was very friendly with all those who came to her table. She seemed eager to talk with everyone and pose for pictures. She sold autographed photos of her with Elvis for the bargain price of $10.
When I asked her if she kept in touch with any of the girls she worked with in Blue Hawaii, she shared what she knew of them. She said Nancy Walters, who played the girls' adult chaperone in the film, was in very poor health at that time. Of the three other girls who played her fellow tourists, Darlene revealed one then lived in the LA area, another she never heard from again, and Jenny Maxwell, who played the spoiled Ellie in the film, had been murdered years ago. (According to Wikipedia, Jenny and her husband were shot to death outside their Beverly Hills condo during a robbery in 1981. She was 39 years old.)
I also asked Darlene about her appearance in Fun in Acapulco. She's listed far down on the credits as having a bit part as a "secretary," but I watched the film before going to Memphis and couldn't spot her. She explained that she had run into Elvis in Hollywood at the time, and he insisted that she be given a part in the film. She described her role in the movie, but unfortunately, I can't share here what she said, since she swore me to secrecy. Darlene uses her role in Fun in Acapulco as a trivia question whenever she appears before a gathering of Elvis fans, so she didn't want that information made public. I'll give you a couple of hints, though. She has one spoken line in the movie, and she definitely does not play a "secretary."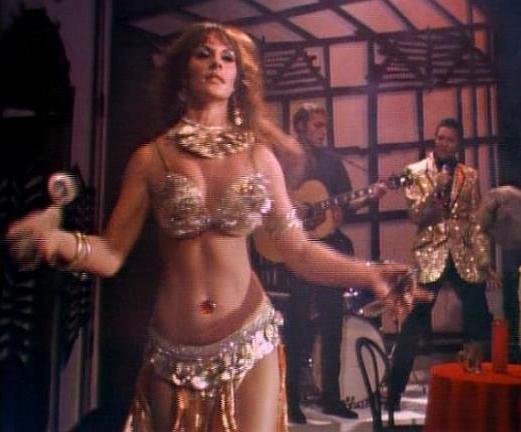 Tanya Lemani George
Tanya played the belly dancer in the "Little Egypt" segment of the Guitar Man production number in Elvis' 1968 "Comeback" TV special. Like Francine York, through the years Tanya has appeared in numerous movies and TV episodes, including another belly dancer role in an episode of the original Star Trek series. In fact, Tanya had appeared at a Star Trek convention just prior to coming to Elvis Expo. Along with photos of herself on Elvis' '68 special, she also sold copies of her autobiography, Have Belly, Will Travel.
Since her booth was right across the aisle from mine, I had plenty of opportunities to observe and talk with Tanya. Whether she was talking with fans, posing for pictures, or demonstrating some belly dancing moves, she clearly enjoyed being at Elvis Expo. Then she was a writer/producer/actress and ran her own company, TanaVision Productions. 
In an email a few months later, Francine York informed me that Tanya had married a man she had met during Elvis Week 2008.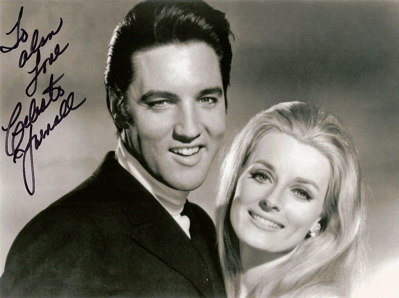 Celeste Yarnall
Like Tanya, Celeste Yarnall has connections to both Star Trek and Elvis. She played Yeoman Martha Landon (Chekov's love interest) in the original Star Trek episode "The Apple." Then in 1968 she played the part of Ellen in Live a Little, Love a Little. In the film Elvis picks her out of a crowd of girls at a pool party, sings "A Little Less Conversation" to her, and kisses her several times. That same year the National Association of Theatre Owners named her "Most Promising New Star of the Year." Through the years she has appeared in dozens of movies and TV shows.
Celeste's booth was not near mine, so I only got to speak with her once, and then just briefly. On one occasion, though, the Elvis Tribute Artists booth, which was near mine, started playing "A Little Less Conversation" on its karaoke machine. Suddenly, here came Celeste running down the aisle from her booth on the other side of the convention center. When she reached the karaoke machine, she demonstrated for the crowd how she danced while Elvis sang that song to her in Live a Little, Love a Little 40 years before. It was obvious that for Celeste, and the other "Elvis girls" in the room, the experience shared with Elvis so many years ago lives on as a special memory. | Alan Hanson (August 2008)

Go to Blog Archives 2008

Go to Home Page