Elvis Presley's Gold Lamé Suit:
An Iconic but Seldom Worn Outfit
Like most Elvis fans, I first saw his famous gold lamé tuxedo on the cover of his LP, "50,000,000 Elvis Fans Can't Be Wrong - Elvis' Gold Records – Volume 2." With its 16 full and partial images of Presley decked out in gold from neck to toes, it's one of Elvis' most memorable album covers.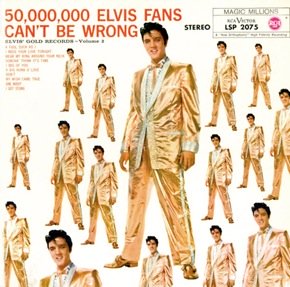 Also like most Elvis fans in those days, I knew nothing about the history of Elvis's gold suit. It turns out the classic outfit had been created almost three years before the LP was released in November 1959, and that Elvis had ditched the full suit after wearing it on only four occasions in 1957. Still, it remains today one of the most iconic costumes in the history of rock music.
The creation of the gold suit dates back to late 1956. While Elvis was completing his breakout year with a whirlwind of public appearances, his manager came up with the idea to have a spectacular outfit made for his famous client. Colonel Parker had become friends with Nudie Cohn of Nudie's Rodeo Tailors in North Hollywood a couple of years earlier. Nudie had made extravagant costumes for country singer Hank Snow, with whom the Colonel had been associated before Elvis came along. Nudie was working on Presley's wardrobe for his upcoming film, Loving You, when Parker asked him to make a special outfit for Elvis.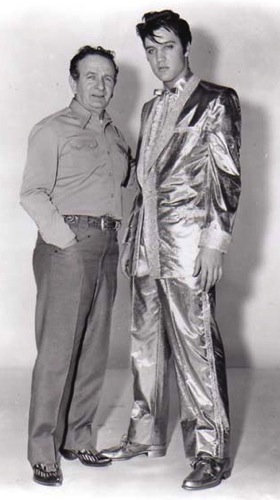 The Colonel decided that his golden boy needed a golden suit, and so he commissioned Nudie (at left with Elvis) to fashion a gold-leaf tuxedo for Elvis to wear on stage during his personal appearances in 1957. The material Nudie chose for the gold clothing was lamé, which involves wrapping thin ribbons of metallic material around a fabric yarn. In the fifties, the process was most commonly used for fancy eveningwear and theatrical costumes. The most common colors of such garments were gold and silver. An issue with lamé is that the yarn tends to slip and separate with frequent usage, a weakness that, in the end, would prove the undoing of the Presley ensemble.
Nudie probably created Elvis' golden attire, consisting of jacket, slacks, belt, shoes, and string necktie, in January 1957, while Presley was in Hollywood filming Loving You at Paramount Pictures. He had the following tailor measurements for Elvis: neck 15 1/2"; chest 42"; waist 32"; sleeve 31½", pant inseam 32"; shoe size 10; height in stocking feet 6'0".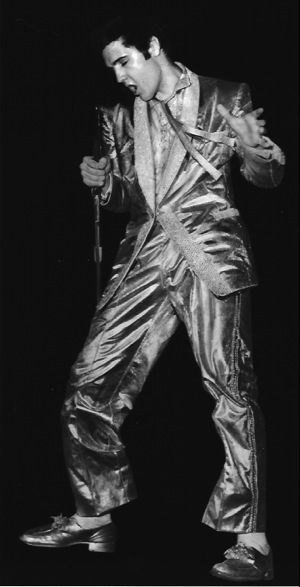 According to nudieaday.blogspot.com: "As spectacular as the suit was, Nudie and the Colonel (huckster showmen that they were), added a gimmick. The suit would be valued at an astounding $10,000. Nudie would later joke that $9,500 was pure profit, and the actual bill of sale for the suit was for $2,500—but the suit would officially be touted as the 'Famous $10,000 Gold Lamé Suit.'"
Elvis first wore the full suit for a photo session, probably in Hollywood in February or early March 1957. He then headed home to Memphis for a couple of weeks rest before starting his spring tour of the upper mid-West and Canada. He first wore the complete gold suit on stage in Chicago's International Amphitheatre the evening of March 28, 1957.
As Elvis carefully walked down a staircase leading to the stage, the 12,000 in the Chicago crowd became the first ever to see him wearing in public the glittering outfit that would become legendary among rock regalia. A Colonel Parker press agent later made the questionable claim that the jacket and pants were fashioned from unborn calfskin and were completely covered with twenty-four-carat gold cloth.
The following evening, Elvis again wore the full gold ensemble on stage in St. Louis. For his next three dates in Fort Wayne, Detroit, and Buffalo, Presley continued to wear the gold jacket, belt, shoes, and tie, but he substituted black pants for the gold ones. In hindsight, it's obvious that there was an issue with the tuxedo's gold slacks. Whether they needed mending (Elvis usually went down on his knees on stage during his "Hound Dog" finale) or whether he felt uncomfortable in them was unknown at the time.
Whatever the problem, Elvis decided to give Nudie's complete outfit another try during the first of his two shows in Toronto (photo above) on April 2. It would be the last time anyone would see Presley wearing the full suit. For his second show that day in Toronto, he sported a different look. He still wore the gold jacket, belt, and shoes, but the gold string tie and accompanying ruffled shirt had given way to a black shirt open at the top and a silver medallion hanging around his neck.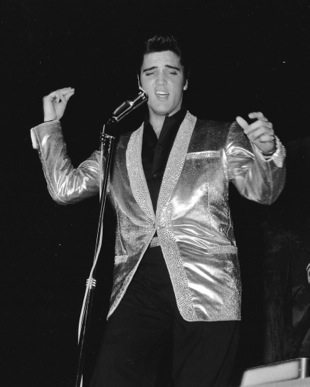 For the rest of his spring tour and during his later Pacific Northwest and West Coast tours, Elvis either mixed some elements of the gold suit with less flashy clothes or abandoned the Nudie suit entirely for a more conservative look. In Ottawa on April 3, the gold coat, belt, and shoes stood out in contrast with dark blue slacks and a black shirt slashed open to the breastbone. In Philadelphia on April 4, he left the glitter out entirely, wearing instead a black silk suit, a black velvet shirt, and black shoes. On his second day in Philadelphia, he was back in his gold jacket and shoes, but after that, the gold shoes joined the gold pants in retirement.
For his mid-summer appearances in Spokane, Tacoma, Seattle (photo above), Tupelo, and Vancouver, B.C., Elvis wore the gold jacket over an open black shirt with black pants. He also wore the jacket in Portland on Labor Day and in Los Angeles in October, but he went a little more conservative with a dress shirt and tie beneath it.
There was not a bit of glitter in Presley's wardrobe for his three Bay Area shows in mid-October. In San Francisco he was decked out in new suits, wine colored for the first show, light blue for the second. The next night in Oakland it was a Kelly green jacket over a black shirt and tie.
By the winter of 1957, Elvis had just three more opportunities to wear elements of his gold lamé suit on stage before being snatched up by the army. A lei of thick flowers hung over his gold jacket during his two shows at Honolulu Stadium on November 10, 1957. Otherwise he was dressed in black from head to foot. For his last pre-army concert the next evening at Schofield Barracks, he worked in a two-tone suit.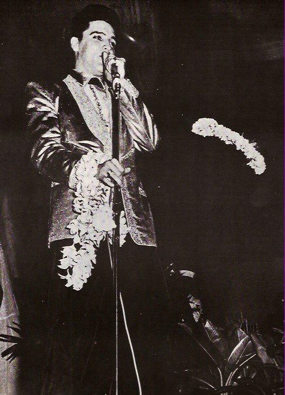 Colonel Parker put Presley's gold lamé tuxedo into storage during Elvis' two-year army hitch. The jacket would surface one more time. On March 25, 1961, Elvis gave a benefit concert for the USS Arizona Memorial in Honolulu. (photo left) The following day, the Honolulu Advertiser reported, "Elvis was wearing his famous gold jacket with the silvery glints like sequins, dark blue trousers and a white shirt and a blue string tie. He wiggles as much as he ever did. The Army didn't make him a bit conservative." After that performance, not only did Elvis never again wear any part of his famous gold suit, but the suit itself was never again seen in public during the remainder of his life.
So, why did Elvis stop wearing the gold lamé pants after just three occasions on stage? Several theories have been put forth. According to biographer Peter Guralnick, Elvis was embarrassed by the "clownishness" of the full gold suit. Also, apparently the gold was flaking off the pants when Elvis went to his knees on stage during the "Hound Dog" finale, causing Colonel Parker some angst. Vancouver, B.C., DJ Red Robinson says Elvis told him he didn't wear the gold suit because the creases made him look bad, and it was too hot anyway.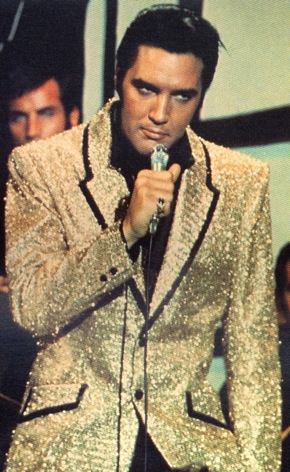 According to the Nudie Cohn website cited earlier, the entire suit, "was so heavy and constricting that Elvis took to matching the gold lamé jacket with black pants so that he could really move in his signature style."
Whatever his reasons, Elvis didn't forget the bad experience he had with the gold slacks in 1957. According to Gillian G. Gaar in Goldmine magazine, for one segment of the 1968 "Comeback Special," costume designer Bill Belew originally wanted Presley to wear an all-gold suit, based on the Nudie creation. When he pitched the idea, Elvis said, "Billy, I have to be honest with you. I always hated that suit, and I won't wear it." After Belew dropped the gold pants in favor of black ones and showed Presley the proposed jacket fabric, Elvis said, "Fine. I'll go with that."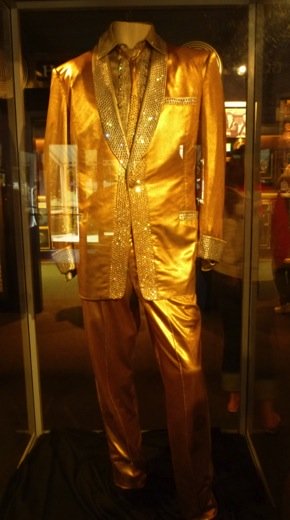 And to where did the original Presley gold lamé suit disappear after Elvis last wore the jacket in 1961? The answer came in 1987 when Elvis Presley Enterprises paid Colonel Parker $2 million for an estimated 35 tons of Elvis "stuff" that Parker had stored in four buildings in a Nashville suburb. It was a bargain price, considering the lot included the lost Elvis 1957 gold lamé suit. Perhaps the most iconic rock outfit in history, it alone is probably worth more than the original $2 million price tag EPE paid for the Colonel's complete collection.
Today it is on permanent display at Graceland for all Elvis fans to see and admire. — Alan Hanson | © May 2014
For more information, check out Bob Pakes' excellent photo essay:
A Touch of Gold Lamé (Elvis and Nudie Cohn)