Detroit: Home of America's 2nd
Most Fortunate Elvis Presley Fans
Certainly the most fortunate Elvis Presley fans were those who lived in Memphis during the period 1954-1977. Memphis residents had more opportunities to see Elvis perform live throughout his career than the citizens of any other city. (I'm excluding Las Vegas from consideration here, since Elvis' numerous shows there were concentrated in the 1969-1976 period and one two-week stretch in 1956.)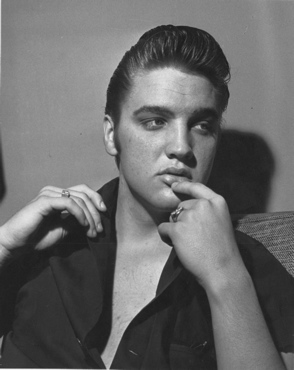 (Left: Elvis in his room at Detroit's Sheraton-Cadillac Hotel, May 25, 1956)
Other than Memphis, then, what city hosted Elvis on stage the most times spread out over his entire career? It turns out to be Detroit, where Presley appeared on stage seven times from 1956 through 1977. The city's residents never saw Elvis during his formative years of 1954-55, since he hardly ever performed outside the South then. However, they did see his show in May 1956, when his career was just starting to explode. He came back in the spring of 1957, when he was the biggest name in show business. Then, in 1970, when Elvis returned to live performing, Detroit was one of his first stops when he took his act back on the road. Presley returned to Detroit in 1972, 1974, and finally 1977, just four months before his death.
Surveying how the Detroit press reviewed Elvis' seven shows there through the years provides an overview of his stage career from beginning to end and with both its ups and its downs.
• May 25, 1956 —Fox Theater
Still a month away from his bombshell appearance on The Milton Berle Show, Elvis gave three shows to a combined audience of about 12,500 at Detroit's Fox Theater in his first appearance in the city. "Sporting a green jacket, tight pants and guitar, Elvis loped onto the stage," observed an unidentified reviewer in the Detroit News. "The guitar seldom got twanged, because Elvis was too busy flexing his knees and swinging his thighs like a soubrette in the palmy days of burlesque. With each manipulation, local adherents of the Presley cult cut loose with screams." Elvis' estimated pay for his three 30-minute shows was $10,000.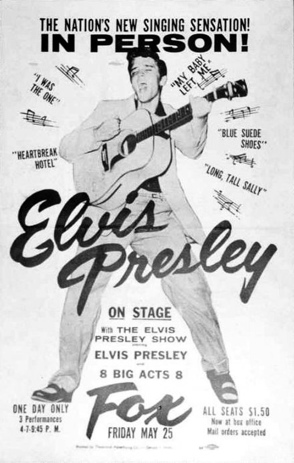 • March 31, 1957—Olympia Stadium
By the time he returned to Detroit 10 months later, Elvis was a movie star, having just finished work on his second film, Loving You. Detroit was one of only 18 cities Presley played that year, as he concentrated on his Hollywood career. This time he did two shows of 40 minutes each in the city's largest arena. "It was like a Saturday matinee at the movies, only a thousand times more shrill, penetrating and hysterical," noted John Finlayson in his Detroit News review. "His fans shrieked, sobbed, moaned and writhed in their seats, the noise reaching deafening crescendos with each intonation of the palpitating Presley voice." Finlayson noted reports that Presley was losing his hold on teenagers. "He may be, but it's not noticeable in Detroit," he concluded.
• September 11, 1970—Olympia Stadium
After two runs in Las Vegas in 1969 and 1970, Elvis went out on a full road tour for the first time in 13 years. Detroit was the fourth stop, so the city got to see Presley again in the full energy of his stage comeback. This time his single 45-minute show in the Olympia drew nearly 17,000 "screaming, jumping and almost hysterical fans," according to Tom DeLisle's article in the Detroit Free Press. "Evidently, 1956 wasn't that long ago … Not bad for a 35-year-old dude," he added. "Nothing had changed. Not the songs … Not the screams. Not the famous pelvis. Not the left leg. There it was, shaking and moving, ramming back and forth with the music. Making women swoon, fathers worry about their daughters." One thing had changed, though. Elvis was dressed "all in white, with a baby blue silk scarf tucked under his highneck shirt which plunged open to his stomach." The era of the jumpsuit had begun.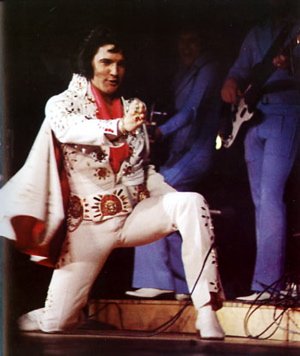 (Left: Elvis on stage in Detroit, Olympia Stadium, April 6, 1972 (© Sean Shaver)
• April 6, 1972—Olympia Stadium
"Ah that Elvis—He Never Changes," read the headline over John Weisman's Detroit Free Press review of Elvis' fourth Detroit appearance. A similar crowd of about 16,000 packed the Olympia to see Presley. Weisman seemed to be hinting that Elvis's Detroit show this time around was more of a royal appearance than a musical event. "He didn't have to sing, you know. All the crowd needed was to see him—jet black hair tossed carelessly, white go-go boots spotlessly tapping time with the 20-piece band, heavy browed bedroom eyes sneaking glances at the house … He tosses off his perfor-mance with the practiced air of royalty reviewing the troops. A bump here, a grind there. The right leg starts to gyrate then stops. He drops onto one knee—Profile Left. Then a quick turn, and the same pose, Profile Right. He splits the air with a 10-second series of karate feints and kicks, and the crowd goes wild." When Elvis left, the crowd did also, quietly. "None of the usual stamping, clapping stuff," noted Weisman. "After all, Elvis is royalty, and you never ask a king to take an encore."
• September 29, 1974—Olympia Stadium
Two years passed and Elvis is back at the Olympia, this time playing to an exact count of 17,105, according to Detroit Free Press reviewer Lawrence DeVine. Elvis is now 39, but little seems to have changed with his stage show. "For time, in its way, stood still as Elvis Presley, the regal rock-and-roller, cannonaded onstage in his third decade of breaking hearts and launching dreamboats," noted DeVine, who had trouble finding anything different in Presley's stage demeanor. Instead he concentrated on Elvis's latest jumpsuit. "[Elvis] showed up on stage in a pure white jump suit with a stand-up collar. On his back was a red-and-green rhinestone-encrusted dragon. A testament to Presley's innate good taste, the dragon did not light up or stick out is glass tongue." He could still pack them in, but was Elvis starting to get bored?
• October 4, 1974—Olympia Stadium
Peculiar scheduling brought Elvis back to Detroit just five days later. Bill Gary in the Detroit News openly declared what DeVine hinted at—Elvis was losing interest. "The 'king' seemed to take things more in stride," Gary observed. "He was casual, at times too much so, especially when he rendered some rather vapid versions of his old standards. He didn't sob 'Don't Be Cruel,' he retained his composure on 'All Shook Up' and he didn't sound particularly broken up about being stranded in 'Heartbreak Hotel.' Everything else seemed carefully planned and packaged … and then worn thin from the rigors of repeating it every night in a different city on the concert trail. It was also quite evident that Elvis is approaching 40. His voice has mellowed out into a pleasing baritone and there isn't a whole lot of shakin' goin' on anymore. His movement were more like graceful swoops than the controversial bumps and grinds of yesteryear."
• April 22, 1977—Olympia Stadium
A slightly smaller crowd of about 15,000 came to see if Elvis Presley was "literally bigger than he's ever been," explained Lawrence DeVine, who again reviewed Presley in his seventh, and final, appearance in Detroit. "Certainly Presley is about 25 pounds over his best days, and a robust part of that surplus hangs over the front of his wide, gold studded belt," DeVine observed. "The additional heft at times seemed to affect Presley the way it does Metropolitan tenors and NFL linebackers: the more size, the more hard-hitting results." Elvis' lack of inspiration was only too obvious to the writer. "Presley seemed down at times in his hour-long half of the evening. His onstage production, which seven years ago was so stunning, in the brilliance of his musicians and singers, and in the flash of its costume design, now is beginning to look stodgy because it is so predictable."
Of course, no one in the Olympia crowd that evening could have imagined that four months later Elvis would be dead. At least his Detroit fans would have the memories of the seven times Elvis came to town to share with them both the joys and distresses of his life on stage. — Alan Hanson | © August 2010
Reader Comment: I read this article and was surprised to see it didn't reference Elvis' December 31, 1975, concert at the Pontiac Silverdome. I know he was there because I was there too. Was it left out because the article talked about his visits to Detroit and the Silverdome is in Pontiac? The people who live here use Detroit as a broad, all inclusive term encompassing (or referencing) many cities in the area and I believe we would say that this concert would also be seen as one of his performances in Detroit. — Sue


Go to Elvis on Stage

Go to Home Page