The Killer and The King:


Jerry Lee Lewis Vs. Elvis Presley
"Can you imagine one little label in Memphis, Tennessee,
having Elvis Presley and Jerry Lee Lewis on it? You don't think
we laid some music on the world!" | Sam Phillips
Elvis Presley wasn't anointed the "King of Rock 'n' roll" by unanimous consent. In the fifties, other contenders vied for the title. Chuck Berry and Jerry Lee Lewis were two other frontrunners. All three contenders had their personal demons. In the end, Elvis ascended to the throne, in no small part because he had the sense to conceal his demons from rock 'n' roll's young citizens.
Chuck Berry was different. He was black, older, and recorded in Chicago. Elvis and Jerry Lee, however, were of a shared age and upbringing, which led them both to Sam Phillips' doorstep in Memphis.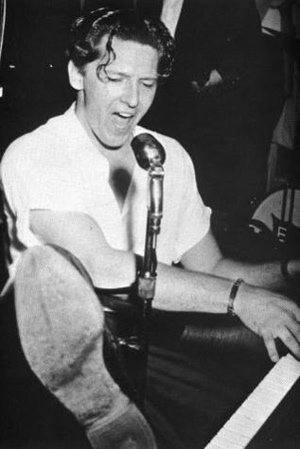 Ferriday was Jerry Lee's Tupelo. He was born in that Louisiana town on September 29, 1935, just about 10 months after Elvis' birth a couple of hundred miles to the northeast in Mississippi. Both were born into poverty, raised in the tenets of Christianity, and drawn to music at an early age.
During his school years, a nickname attached itself Jerry Lee—the Killer. "That's what all my friends called me," he explained years later. "I hated that damn name ever since I was a kid, but I been stuck with it. I don't think they mean it killer like I'd kill people. I think they meant it music'ly speakin'." (Unless otherwise stated, all Jerry Lee Lewis statements herein come from Hellfire, Nick Toches' acclaimed 1982 Lewis biography.)
The two future rock 'n' rollers experienced similar musical influences in their teenage years. In 1954 Jerry Lee played piano nightly in a band at the Wagon Wheel, a club on the banks of the Mississippi. "We played everything, man," recalled band leader Johnny Littlejohn. "We played everything from 'The Wild Side of Life' and 'Slippin' Around' to 'Big Legged Woman' and 'Drinkin' Wine, Spo-Dee-O-Dee.' Hell, we did 'Stardust.' Whatever we did, we did it honky-tonk style, hard-core barroom style." That same year, Elvis started his career at Sun Records, melding together the multiple musical styles to which he too had been exposed.
• Jerry Lee moved to Memphis
In an interview included in the DVD issue of Elvis: The Great Performances, Jerry Lee explained the life-changing decision he made in November 1956:
"I was reading a lot of magazines about Sam Phillips and Sun Records … so I told my dad, this is the man we need to go see. And we did. We drove down from Ferriday into Memphis and pulled up in front of Sun Records. I came in and auditioned for Jack Clement, who said I could never make it playing the piano. He said rock 'n' roll was out, cause Elvis had it all tied up. He said I could forget that. Well, I said, 'I don't think so.' I said, 'I'm a hit.' He said, 'They all say that, son.' I said, 'I'm not all. I'm different.'"
Sam Phillips was out of town, so Clement, then an engineer at Sun, taped Jerry Lee playing the piano and singing a few songs. One of them was Ray Price's recent hit, "Crazy Arms." According to Tosches, when Sam returned to the studio, Clement played that recording for him. "I can sell that," Phillips declared, and Jerry Lee Lewis was about to hit the big time.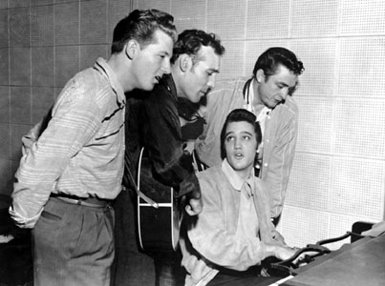 Just a month after Jerry Lee first walked through the door at Sun Records, a legendary gathering occurred there. On December 4, 1956, Sam asked Jerry Lee to play piano at a Carl Perkins recording session. Johnny Cash came to the session at Carl's request, and when Elvis unexpectedly showed up, the players for what became known as "The Million Dollar Quartet" were all in the studio. At the time Jerry Lee was generally unknown outside of the local area, while Elvis had become a national phenomenon in the year since Sam had sold his contract to RCA.
During the recorded jam session that followed, Jerry Lee and Elvis took turns singing. When Lewis sang a bit of "Crazy Arms," Elvis said, "The wrong man's been settin' here at this piano." Jerry Lee responded, "Well, I been wantin' to tell you that. Scoot over!" In Robert Johnson's newspaper article the next day, Elvis praised Jerry Lee. "That boy can go," he said. "I think he has a great future ahead of him. He has a different style, and the way he plays piano just gets inside me."
• There was a "Whole Lotta Shakin' Goin' On" at Sun Records
Memphis booking agent Bob Neal, who had been Elvis' manager when Presley was at Sun in 1954-1955, began booking Jerry Lee as a separate act at venues throughout the South. Soon, though, a Lewis Sun recording propelled him onto the national stage. "Whole Lotta Shakin' Goin' On" did for Jerry Lee Lewis what "Heartbreak Hotel" had done for Elvis Presley. Released in April 1957, "Shakin'" reached the top of the C&W and R&B charts. It then spent 29 weeks in Billboard's "Top 100" pop chart, peaking at #3. Jerry Lee performed it on The Steve Allen Show on July 28, 1957, a year after Elvis' controversial appearance on the same show.
Other hits on the Sun label followed for Lewis. "Great Balls of Fire" reached #2 on Billboard's singles chart in early 1958. It led to another appearance on The Steve Allen Show and one on American Bandstand. Best of all, from Jerry Lee's point of view, Elvis had been drafted into the army, leaving rock 'n' roll's throne open for Jerry Lee to occupy. "Breathless," Lewis' fourth single for Sun, was another top 10 record in 1958. It was written by Otis Blackwell, who had penned Elvis' two biggest hits, "Don't Be Cruel" and "All Shook Up." May 17, 1958, was declared "Jerry Lee Lewis Day" in Ferriday. The town's favorite son was on hand to receive the key to the city, as Elvis had on "Elvis Presley Day" in Tupelo on September 26, 1956.
At the very moment that he stood on rock 'n' roll's summit, however, Jerry Lee's career suddenly collapsed. On May 22, 1958, Jerry Lee arrived at Heathrow Airport in London to begin a concert tour. When reporters asked about the little girl accompanying him, Jerry Lee told them she was his wife. He gave her age as 15. It turned out that Myra Gale Lewis was actually 13 and was Jerry Lee's second cousin. To make matters worse, he had married her five months before his divorce from his second wife was final. The press in both England and the U.S. turned alternately nasty and comical toward the singer. Columnist Hy Gardner, who had conducted a high profile interview of Elvis in 1956, announced, "The Jerry Lee Lewises are going to have an addition to the family. He bought her a new doll." Dick Clark even banned Jerry Lee from American Bandstand.
During an interview at the Brooklyn Army Terminal before his departure for Germany, Elvis was asked his opinion on the controversy. "He's a great artist," Elvis asserted. "I'd rather not talk about his marriage, except that if he really loves her, I guess it's all right."
• Fall from Grace brought bitterness toward Elvis
Elvis' sympathy could not help revive Jerry Lee's career. There were no more hit records, no more TV appearances, no more big paydays. As he traveled around the country over the next few years, he played for hundreds of dollars a night instead of thousands. When he returned to Memphis from a tour of England in 1963, a reporter asked if the British compared him with Elvis. The question brought to the surface a bitterness toward his old rival. "I really wish people would stop tryin' to compare me with Elvis," Jerry Lee said. "We are entirely different performers. 'Bout the only thing we got in common is that we're from Tennessee."
Despite his fall from grace, Lewis was not about to give up his music. "I'm workin', and I'll keep workin'," Jerry Lee told a British interviewer in 1964. "I'll play dance halls, clubs. I'll do TV, movies. I'll work any way I can get it, as long as it's decent."
In the mid-sixties, Jerry Lee began to build a new, successful career in country music. The hits in that market kept coming, and by 1970 his concert price had risen to $10,000 a night. He bought an airplane, and in May 1970, flew to Las Vegas to record a live album at the International Hotel, where Elvis had returned to live performances the year before.
With both men having revived their careers, the old competition between them revived as well, at least in Jerry Lee Lewis' mind. In 1975, when they ran into each other in Las Vegas, Jerry Lee told Elvis, "You don't know what you're doin'. You're just Colonel Parker's puppet." Elvis responded, "Well, if I'm so dumb and you're so smart, how is it that I'm playing the main room and you're playin' the lounge?"
Still, Jerry Lee retained his old swagger. In August 1976, he told an interviewer, "There's very few great talents left. You got Elvis Presley, Chuck Berry, Charlie Rich, B. B. King. I'm not sayin' that I'm one of 'em—I'm sayin' that I'm the main one."
Later that same year, a drunken Jerry Lee pulled his car up against the front gates of Graceland at 3 in the morning. "I want to see Elvis," Jerry Lee shouted. "You tell him the Killer's here." When word came back to the security guard that Elvis didn't want to be disturbed, Jerry Lee exploded, "Git on that damn house phone and call him! Who the hell does that sonofabitch think he is? Doesn't wanna be disturbed! He ain't no damn better'n anybody else." As Jerry Lee yelled and waved his gun toward the house, Elvis had his gate guard call the police. They came, pulled the Killer from his car, cuffed him, and took him away.
• On Elvis' death … "Just another one outa the way"
That was nothing, though, compared to the insensitive statement Jerry Lee Lewis made to a country music magazine writer following Elvis' death nine months later.
"I was glad. Just another one outa the way. I mean, Elvis this, Elvis that. All we hear is Elvis. What the shit did Elvis do except take dope that I couldn't git ahold of? That's very discouraging, anybody that had that much power to git ahold of that much dope. All I did was drink whiskey.
"You expect me to sit here and tell a lie about something? Look, we've only got one life to live. We don't have the promise of the next breath. I know what I am. I'm a rompin', stompin', piano-playin' sonofabitch. A mean sonofabitch. But a great sonofabitch. A good person. Never hurt nobody unless they got in my way. I got a mean streak in me. Elvis did, too. He hid his. I don't hide mine. I gotta lay it open sometimes.
"Elvis. That sonofabitch died on dope. His heart was twice the size as normal. That's how much dope he took. I'm tellin' you what he done. He was a dope addict. I am an alcoholic."
I'd like to believe that Sam Phillips properly judged how the two rock 'n' roll icons felt about each other. "For two monumental people, you know you're gonna have a little jealousy," Sam once said, "which is really good if it doesn't go beyond the bounds of reasonable taste. Elvis Presley, everytime he had a chance to listen to Jerry Lee, he did. Every time Jerry [had a chance to listen to Elvis], he did. It wasn't just camaraderie. Total respect for each other. Great musicians." — Alan Hanson | © April 2012
Go to Elvis History

Go to Home Page