The Elvis Presley-Johnny Rivers
"Memphis" Recording Caper
In Careless Love: The Unmaking of Elvis Presley, biographer Peter Guralnick reported that singer Johnny Rivers musically sucker-punched Elvis by rushing out his version of "Memphis" in 1964, when he knew Elvis planned to release the same song as a single. Guralnick had interviewed Rivers and knew his side of the story, but chose to believe some of Elvis' "boys," who claimed Rivers had blindsided Elvis.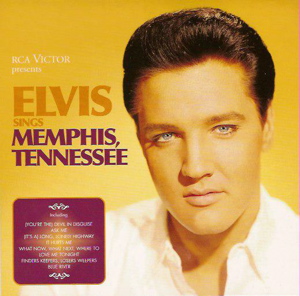 After Elvis heard Johnny's version of "Memphis," Guralnick claimed that Elvis said he "didn't want to see Johnny anymore." When Careless Love was published in 1999, Johnny Rivers quickly reacted. "Elvis and I were friends for years," he stated, "and I am personally offended and outraged that Peter Guralnick has joined the ranks of writers who have tried to profit from Elvis' downfall by taking a cheap shot with information that was not accurate."
Johnny Savage, a DJ on KALX Radio in Berkeley supports Guralnick's view of the Rivers incident. "At issue is not the province of the Chuck Berry song itself," Savage claims. "Lonnie Mack had a hit with an instrumental version less than a year prior, in 1963. At stake was honor and trust.
"Elvis was proud of his January 1964 re-recording, and house visitor and new pal Johnny Rivers made it clear he was enamored with it, by asking Presley to play it again, and again.
"Then Johnny cut and issued a version, not telling Elvis beforehand. When it hit the radio that May, Elvis realized he'd gotten burned, and told his guys to keep Rivers away. Rivers took the friendship and flushed it down the toilet for a hit single."
• There's evidence on both sides of the controversy
There is evidence to support both sides of the "Johnny Rivers incident" in question. First, Johnny Savage's belief that Rivers had "burned" Elvis is based on statements made by several members of Presley's personal entourage. According to Savage's research, the first mention of the incidence critical of Rivers probably appeared in Marty Lacker's 1979 book, Elvis—Portrait of a Friend. In later books, Elvis insiders Alan Fortas and Lamar Fike told similar stories. As further support for his belief that Rivers was at fault, Guralnick cited interviews he had done with Joe Esposito, Jerry Schilling, and Red West. In fairness, Guralnick did include the following disclaimer in his book: "It should be noted that Johnny Rivers today denies the knowledge and the rift."
Probably the most damning statement can be found in Alan Fortas' book. It reads as follows:
"Johnny told [Elvis] he loved it—thought it was a great groove. And then, the next thing you knew, Johnny cut it himself, with the same arrangement. 'Memphis' was Johnny's first hit, going all the way to number two, and it made him a star. Elvis wouldn't release his own version for a long time, then, because he didn't want to look as if he were copying Johnny. After that, Johnny was on Elvis' shit list, forever barred from coming to any of Elvis' homes."
• Rivers "outraged" when Guralnick book came out
After Guralnick's book came out, Rivers posted a news release on his web site, expressing "outrage" at the insinuation that he intentionally released his version of "Memphis" in an attempt to steal the song from his "friend" Elvis. He explained that he had been playing the song for years while he was an unknown, struggling musician.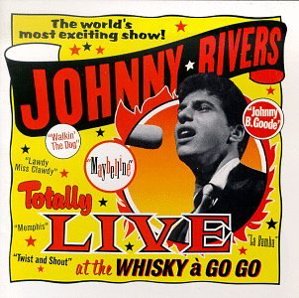 "My producer Lou Adler chose 'Memphis' to be released," Rivers insisted, "not me, only after the album 'Johnny Rivers at the Whiskey a Go Go,' had been released FIRST and was a success before any single was released." Adler corroborated Rivers' statement, adding, "At that time Johnny let me make decisions. When we cut Johnny's first live 'Whiskey' album, I didn't know he had heard any cover recording by Elvis."
Rivers also debunked the Guralnick statement that after Johnny's release of "Memphis," Elvis "didn't want to see Johnny anymore." Rivers countered with, "I was always Elvis' friend, even his personal guest at many shows for years at the International Hotel in Las Vegas … He gave me his personal table, brought me and my guests backstage, and on more than one occasion, introduced me to his audience and had me take a bow. Does that sound like someone who 'didn't want to see me' anymore?"
(Johnny Savage believes that Elvis was just being gracious and magnanimous to Rivers in Las Vegas. It was from Elvis' homes that Rivers was banned.)
To counter the testimony of Elvis' "boys," Rivers offered a letter from Elvis insider Larry Geller, who wrote: "What Peter Guralnick wrote is inaccurate. I was around Elvis in 1964 and never heard him say anything about Johnny and the song 'Memphis.' Elvis loved Johnny and respected him."
• It comes down to who you choose to believe
In the end, the whole "Johnny Rivers-Elvis Presley-'Memphis'" incident boils down to a "he-said, he-said" situation. And there are lots of "he-saids" on both sides. All of those involved in the controversy are subject to bias. Shades of interpretation are certainly in play, and possibly some untruthfulness on one side or the other, or both. Under those circumstances, the ultimate truth of what happened back in 1964 may never be established.
Johnny Savage chooses to believe Lacker, Fortas, Fike, West, Schilling, and Esposito. "If it never happened," he asks, "why did Rivers fall off the Presley map at that time? And why would the guys single out Rivers for scorn?"
As for me, I hope Rivers' didn't highjack Elvis' plan to release "Memphis" as a single. If he did, then his statements on his web site are a pack of out-right lies. I hope that's not the case.
• Was Elvis angry or gracious to Johnny Rivers?
As an Elvis fan, though, I would like to believe Rivers' version is truthful, because it would reflect better on Elvis than the one told by his "boys." I'd like to think that Elvis could have been charitable to Johnny Rivers in 1964. If he had truly been one of Elvis' friends, then I hope Elvis would have been able to let go of any perceived slight and congratulate Johnny on his first hit record. I suspect, though, that the truth is in the middle somewhere, shrouded in misunderstanding and pride, with both sides somewhat to blame for the cooling of their friendship. — Alan Hanson | © September 2008
Reader Comment: This story ("Johnny Rivers stole"Memphis") is pure poppycock.
1) The arrangements are totally different. JR's version barely resembles Lonnie Mack's take as well. (for one, it's slower)
2) Two different Elvis books (I don't recall which ones) claimed that in February 1964 Col Parker decided that all Elvis singles would be from Elvis' movies. "Memphis" was NOT a "movie song"
3) Elvis was NEVER a great interpreter of Chuck Berry (beginning with his take on "Maybelline"at the Louisiana Hayride).
4) If anything, this was professional jealously rearing its ugly head. Elvis' version of "Memphis" does not redefine the song (as Lonnie Mack's version and Johnny Rivers' version do). Rivers version was a fresh take with a classic intro and vocal phrasing that injects far more emotional investment in the song than Elvis' "lighthearted romp."—Mark (October 2015)
Go to Elvis History

Go to Home Page