Elvis at High Altitude
The 1971-76 Lake Tahoe Shows
It was the spring of 1967. High school graduation was coming up, and I was looking forward to a summer getaway before starting college in the fall. Since my wandering father had settled temporarily in the Lake Tahoe area, I decided to spend the summer there with him. The California-Nevada border runs through the lake and divides the resort area on the southern shore into two communities—the winter ski destination of South Lake Tahoe on the California side and the gambling houses of Stateline on the Nevada side.
My dad, who was a card room supervisor in the Sahara Tahoe's casino, got me a job as a bus boy in the hotel's coffee shop. It turned out to be a boring summer. Like any Nevada vacation area, Tahoe is a drag when you're not old enough to gamble. I couldn't even listen to my Elvis records, having left them at home in Spokane. Besides, at that time Elvis had reached the depths of insignificance in the pop music world. The Beatles and Bob Dylan had taken music in a completely different direction. It was, after all, the "Summer of Love." One day I drove into San Francisco to see what was happening there, but, as an Elvis addict, I couldn't imagine ever wearing flowers in my hair.
Neither could I imagine that just four short years later, Elvis would be back on top of his game and appearing before sold out crowds in the Sahara Tahoe showroom. Starting in August 1969, Colonel Parker committed Elvis to month-long Las Vegas engagements twice a year. In the summer of 1971, rather than send Elvis on a tour of one-nighters between the two stints in Vegas, Parker booked him into the Sahara Tahoe for two weeks leading into his August run at the International Hotel in Vegas.
Elvis opened the first of 28 shows at the Sahara in Stateline on July 20, 1971. He would come back again in 1973, 1974, and 1976, ultimately giving a total of 98 sold out performances in the High Sierra Theatre.
The high altitude setting provided both positive and negative side effects. According to Presley biographer Peter Guralnick, "Everyone appreciated the change of pace—things were a lot looser in Tahoe, there was less pressure, considerably less media scrutiny." Elvis paid a price on stage, however. "The high altitude left him and the band out of breath at times," noted Guralnick. Presley insider Lamar Fike added, "It's 6,200 feet at the lake. It just beat him up to sing."
• Elvis enjoyed the Lake Tahoe show room
Still, according to Guralnick, Elvis seemed to enjoy himself on the more intimate Sahara Tahoe showroom stage. And the Colonel had pushed up the take. He got Elvis $150,000 for the two-week engagement, $25,000 more than in Vegas. According to Marty Lacker, Parker made things pay off for the hotel by allowing them to seat eight people at showroom tables that normally sat four. That pushed the crowds in the 1,500-seat capacity High Sierra Theatre to nearly 2,000, comparable to the audiences in Las Vegas.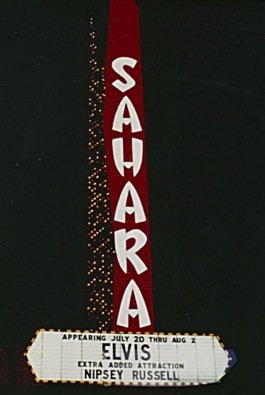 (Left) Photo courtesy Herb Maruska)
Although it probably wasn't needed, Colonel Parker plastered the hotel with his boy's name and image leading up to opening night. A July 28, 1971,Variety article described the Parker publicity push:
"It's wall-to-wall throughout the hotel as proof the hip-swinger's fortune still goes beyond his talent and abilities into splendid promotion. Posters of his torso line the walls. Employees wear Elvis buttons and straw hats. His name greets lookers from other mountain tops as it glitters atop the hotel roof. Tablers are handed Elvis souvenir kits upon being shown to their seats, bearing Elvis records, teddy bears, books and buttons, while souvenir stand barkers sell still more."
The show itself was pretty much the Vegas presentation, with a couple of changes. First, comedian Nipsey Russell did the opening 30 minutes, replacing Sammy Shore. More importantly, conductor Joe Guercio's exciting 2001: A Space Odyssey musical opening for Elvis had been finalized after some experimenting during the winter engagement in Vegas. "It was like the ultimate orgasm," Guercio said of what would become Presley's standard stage entrance music. Elvis loved the new opening, according to Guercio. "He didn't want to be just a guy walking out there; he wanted to be a god."
• Elvis: "He arrives catlike—slowly, yet majestically confident"
The initial Tahoe appearance in 1971 drew good reviews. Billboard noted Elvis worked so hard, "you'd think he almost needed the money. He left a capacity crowd … almost as exhausted (emotionally, if not physically) as he was." Variety added, "He arrives catlike—slowly, yet majestically confident and domineering. He remains that way throughout, talking little, always maintaining a distance between himself and auditors that allows him to remain an idol to be worshipped."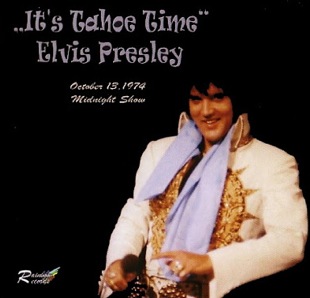 Off stage, however, troubles were brewing for Elvis at the Sahara Tahoe that summer. Flare-ups of the bizarre behavior that would haunt him throughout the seventies were coming to the surface. In an appalling affair corroborated by several Presley insiders, Elvis invited an innocent young woman he spotted in the showroom to his suite after a Tahoe show. In Palm Springs a short time later, Elvis induced her to consume Hycodan, a particularly strong narcotic cough syrup he was using at the time. When she later nearly died in a Palm Springs hospital as a result, Elvis seemed more concerned about keeping the episode out of the newspapers than about the girl's recovery.
• Tahoe Engagement #2: May 1973
When Elvis returned to the Sahara Tahoe in May 1973 for his second booking there, the effects of his prescription drug abuse were becoming evident on stage. According to Variety, "Elvis Presley is neither looking nor sounding good. Some 30 pounds overweight, he's puffy, whitefaced and blinking against the light. The voice sounds weak, delivery is flabby and occasional dynamic effort and no enthusiasm. Hit medley is delivered in listless fashion, 'Hound Dog' is muttered and 'C.C. Rider' sounds tired and perfunctory. A few femmes down front clutched the Presley legs and competed for scarves, but beyond ringside most of the audience looked serious indeed."
Elvis garnered some goodwill during his 1973 stay in Tahoe, thanks to a charitable effort, conceived, no doubt, by Colonel Parker. On Mother's Day, Elvis gave a special 3 a.m. concert, his fee for which was donated to the local Barton Memorial Hospital Auxiliary to help fund the hospital's new Cardiac and Intensive Care Wing. Parker also donated Presley souvenir material for the auxiliary to sell at a booth in the hotel.
His appearance and stage work much improved, Elvis returned to Lake Tahoe for his third engagement there in May 1974. Variety reviewed opening night: "Looking good this time (though about 10 pounds overweight), and performing with an engaging air of humor and self deprecation, the Elvis appeal hasn't waned … Much of the warmth Presley is able to generate in a huge room appears to come from rapport between the star and his own musicians and singers. The fun spills over and the crowd had received a decided boost by the end of the two hour show."
Again, though, troubles continued for Elvis off stage in Tahoe. This time a hallway fight led to a lawsuit, one of several that would plague Presley in his final years. Guralnick summarized the episode at the Sahara in 1974:
"The most notable event that occurred in the course of their stay was that Red [West] and David Stanley and several of the other guys beat up a land developer from Grass Valley, California, who showed up drunk and disgruntled outside the suite after paying a security guard to gain admittance for himself and his date. A number of fans witnessed Elvis simply standing there and observing the fight without doing anything to stop it, as four guys held the developer down, according to his later complaint, and the rest beat him to a bloody pulp."
Elvis may have looked good opening night, but he was unable to complete his two-week commitment. His departure a couple of days early was attributed to the flu. (To complete his obligation to the Sahara Tahoe, Elvis returned to do eight shows from October 11-14, 1974). By leaving Tahoe early, Elvis missed crossing paths with his daughter's future husband. The Jackson Five were booked into the High Sierra Theatre following Presley.
• Final Tahoe Engagement: Spring 1976
On April 27, 1976, I saw Elvis perform in my hometown of Spokane, Washington. It was the last stop on a seven-day tour leading up to his fourth and final engagement at the Sahara Tahoe from April 30-May 9, 1976. The combined tour and Tahoe shows taxed the strength and will of Presley, who had a meager 15 months to live.  Guralnick described the struggle:
"For much of the tour Elvis was alarmingly congested, and he continued to suffer memory lapses, even with songs he had been singing regularly since his return to live performing. Ronnie Tutt … observed that 'there were nights he was so tired or so down I felt like I had to physically hit the drums much, much harder that I had before.' To Myrna Smith and the Sweet Inspirations there was a clear physical dimension to the change. '[A lot of the time] when he first walked onstage, he'd be half asleep.'"
Elvis Presley fans who lived in and around the Lake Tahoe area from 1971-76 had the rare opportunity to see their idol appear five times during those years. For most of them, seeing him perform on stage in 1971 must have been an inspiring and exciting experience. For those who really loved him, though, that excitement must have slowly transformed into heartbreak as they watched Elvis gradually fade away with each successive Tahoe visit. When he last came in 1976, it was more of an appearance than a performance. Like them, I saw Elvis on stage at his peak and at his lowest. I suspect that, like me, most in those Tahoe crowds today feel privileged and thankful just to have seen him at all. — Alan Hanson | © March 2014