"Hasta La Vista Las Vegas"
Is Elvis Really L

eaving Sin City?
Everybody knows, "What happens in Vegas, stays in Vegas." Recent events, however, suggest that Elvis Presley, the city's most legendary icon, may be on his way out of town. In mid-March, writer Sally Ho's Associated Press story spread the word of his impending split with the desert city that had hosted hundreds of his stage shows and thousands of weddings in his name.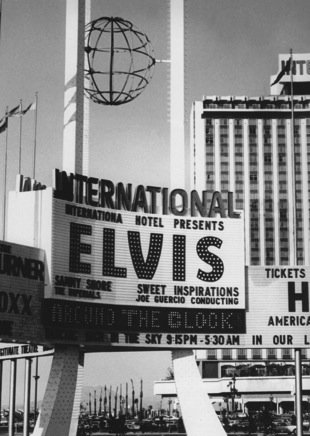 "For decades, Las Vegas has loved Elvis Presley," Ho noted, "—and loved him true—but the King's presence in modern day Sin City has lately been diminishing one impersonator at a time."
The event that initiated the story was the sudden closing in February of "Graceland Presents: Elvis the Exhibition" at the Westgate Las Vegas Resort and Casino. (The Westgate is the latest name on the former International Hotel, where Presley started his legendary Vegas run in 1969.)
The museum exhibit at the hotel, featuring hundreds of Graceland artifacts, opened with much ballyhoo and press coverage in April 2015. Only 10 months later, the doors closed, said Ho, "after failing to draw in many visitors to the museum exhibit, wedding chapel and theater."
It's the latest in a recent series of Elvis related enterprises that have folded in Las Vegas. The "Viva Elvis Cirque du Soleil" show at the Aria casino-hotel ended in 2012 after a brief two-year engagement. "The Elvis Experience," a Westgate stage show that debuted in April 2015, lasted only two months. Elvis themed weddings are down in Las Vegas, as are opportunities for Elvis Tribute Artists in stage shows and for impersonators posing for photos on street corners.
• Graceland suing to get its Elvis artifacts back
In her AP story, Ho provided the particulars surrounding the Westgate Elvis exhibit debacle. Stories produced by other news sources, however, revealed nasty details that can only poison the well for future Elvis projects in Las Vegas.
An exhibit company connected with the owners of Elvis Presley Enterprises signed a 10-year lease with the Westgate to operate the exhibition at the hotel. Graceland loaned Presley artifacts to the operators to be put on display in the exhibition. When the operators stopped paying the rent in February, the Westgate closed the exhibit and put all the Graceland items under lock and key. The hotel claimed it had spent millions of dollars preparing the exhibit space, chapel, and theater, and was seeking to recoup that money from the exhibit operators. Graceland, meanwhile, has sued to force the Westgate to return its Presley items.
So, while the three parties are tied up in legal struggles, a pile of priceless Elvis artifacts continue to be held hostage deep in the bowels of the Westgate Hotel in the Nevada desert.
So, just what Presley treasures are collecting dust there while the lawyers argue? According to a March 6 article in the Las Vegas Sun, they include: "The American Eagle jump suit he wore onstage at the Las Vegas Hilton in 1972, the tunic he wore on an opening night in July 1969, a telegram he sent to Barbara Streisand on opening night at the International, the jumpsuit he wore in the film 'Viva Las Vegas' and all of the original Sun records Presley recorded with Sam Phillips." Also among the reported "hundreds" of items, now on ice, that Graceland loaned for the exhibition are jewelry, letters, a high school yearbook, and objects from Elvis and Priscilla's wedding.
Eventually the litigants will resolve their issues and Graceland will retrieve its Elvis relics. The underlying question will remain, though. Is Las Vegas through with Elvis Presley? It's hard to imagine, after he meant so much to the city for so many years. "He probably played Las Vegas more than any other entertainer who ever played Las Vegas," former mayor Oscar Goodman said recently. "People would come to Las Vegas just to hear Elvis Presley, and he had a phenomenal influence on our community." Sean McBurney, a GM at Caesars Palace, added, "Elvis really set the stage for artists to come to Las Vegas at the peak of their career and play for an extended period of time. We have so many artists that have followed his way, but make no mistake, it started with Elvis."
• Las Vegas reinventing itself without Elvis
The reality is, though, that Las Vegas has a history of reinventing itself and discarding symbols of its past. As a CBS News story recently pointed out, the mobsters are gone, the Liberace Museum is closed, and it's hard to find showgirls in Vegas these days.
Elvis is still around, but his influence is visibly fading. One Elvis clad wedding officiator says Vegas Presley style ceremonies are down 25 per cent in the past year. And Elvis impersonator Ted Payne told Ho that it's getting tougher for him to make a living posing for photos with tourists on city sidewalks. "When I first started out," he explained, "I wouldn't get out of bed unless I (could) make at least $150. Now, these days, $50 is a great day."
As hard as it is for Elvis fans, we have to face the reality that our King of Rock 'n' roll is aging out of his long held eminence in Las Vegas. Many of us who came to Elvis in the '50s and '60s remain loyal, but our numbers are being diminished every day. There's a younger crowd which found Elvis in his jump-suited incarnation in the '70s, and some of we older fans have been able to pass our passion for Elvis down to our children, but collectively we can't keep Elvis relevant forever. Vegas has always been about "butts in the seats" and "cash in the can." When Presley's image can't produce anymore, he'll be callously banished from the Strip and sent packing back to Heartbreak Hotel.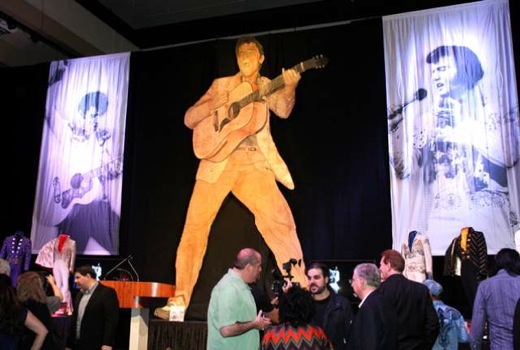 • Finding a way to reestablish Elvis in Vegas
It will take some imaginative thinking to rebuild Elvis's charm in Las Vegas. It's all in the hands of Authentic Brands Group, the company that purchased Elvis Presley Enterprises (EPE) in November 2013. Unfortunately, the company's ability to think "outside the box" in marketing Elvis is suspect, considering it was behind the failed exhibition in Las Vegas. According to John Katsilometes writing in the Las Vegas Sun, both EPE and hotel officials jumped into the deep end without first measuring the depth of the water. "[They] were so confident of Graceland's success," Katsilometes noted, "they practically laughed at the idea of market-testing the project before opening the exhibit. The attitude was, 'It's Elvis in Vegas. What possibly could go wrong?'"
Can Elvis make a comeback in Las Vegas after the Westgate mess is cleaned up? Can he be rebooted in some way to make him relevant to the younger crowd that now gathers in the city's nightclubs and day clubs? One thing's for sure—the Elvis tribute artists and impersonators have got to go. "We've seen his jump-suited image taken out of context and used as a kind of comedic costume," Katsilometes observed, "inspiring $20 plastic sunglasses with fake sideburns at Fremont Street kiosks."
The Sun writer believes that the best shot at a Presley resurgence in Las Vegas is for those who knew him best to come to the desert and lead the revival:
 "I offer this without knowing how the Presleys would feel about such a venture, but a multimedia show hosted by Priscilla, maybe co-hosted by Lisa Marie, would be a way to focus on the Elvis legacy authentically, with the use of home movies and film clips and his best television appearances, including his 1968 'Comeback Special' on NBC. We have seen success with such biographical productions in Las Vegas."
Something like that could be a start, but it's unlikely that Priscilla and Lisa Marie would commit to fronting such a Vegas event over the long run. Maybe there are a few others who could take turns hosting an Elvis "Comeback" show in Vegas, but let's face it, those who knew Elvis best are aging out along with his fans.
• Just so Elvis remains the King in Memphis
Honestly, it doesn't really bother me if Elvis' star fades in Las Vegas. I haven't been there in 15 years and the city has no appeal for me in the future. Vegas now caters to the desires of millennials who play the tables and party day and night. It's remarkable that, for decades after his death, Elvis' allure lasted so long in a city notorious for changing its personality on the fly and discarding its past icons. Certainly, Elvis Presley will always be associated with Las Vegas—the movie, the song, the wedding, and the record-breaking stage shows. The connection won't be diminished by the absence of Elvis impersonators on Vegas street corners and in wedding parlors.
Elvis fans needn't worry about his lasting legacy as long as he remains King in Memphis. In Sally Ho's AP article, EPE's Jack Soden declared Elvis alive and well in his hometown, citing an increasing number of Graceland visitors and the building of The Guesthouse at Graceland, a 450-room, $75-million hotel close by. The number of annual Graceland visitors has been staying steady at around 600,000, 40 per cent of which, Soden claims, were born after Elvis' death. When and if those numbers start going down and the new hotel can't fill its rooms, then the Presley faithful can start to worry. For now, though, it's now worth wasting time and energy mourning Elvis' fading star in Las Vegas. (Alan Hanson (© April 2016)